The Timekettle Fluentalk T1 portable translator is the best choice for people who love exploring new countries or have businesses spread across the globe.
Pros
Lightweight and portable
95% accurate translation
Supports image translation
Smooth navigation
A two-year global unlimited data plan for Free
Cons
A bit expensive
Output depends on the clarity of the input
Editor's rating: 🌝 🌝 🌝 🌝
Price: $299.99
"If you talk to a man in a language he understands, that goes to his head. If you talk to him in his own language, that goes to his heart." – Nelson Mandela
Learning a new language is challenging, no matter how fancy it sounds. But should a language barrier stop you from exploring opportunities waiting on the other side of the world? Certainly not! So, what can be done?
Let me introduce you to Fluentalk T1 handheld translator device. This easy-to-use translator is a perfect choice for those who frequently travel. The device offers superfast language translation in more than 40 different global languages and in 93 accents. Smooth navigation, sleek design, and high-end efficiency are what make this product a worthy pick.
Read this article to get a detailed analysis of the hand-held translator device. And trust me, this won't be another flattery translator device review. It's an unfiltered analysis.
Fluentalk T1 Specifications
| | |
| --- | --- |
| Size | 116.8 x 58.6 x 11.2mm |
| Weight | 115g |
| Screen size | 4.0″ |
| Storage capacity | 3G RAM and 32G ROM |
| Battery | 1500mAh |
| OS | Android 10 |
| Camera | 8 megapixels |
| Microphone and speakers | Mullti-microphone setup with dual speaker support |
| Connectivity | Wi-Fi/Nano-sim/E-sim (Built-in) |
Fluentalk T1 language translator unboxing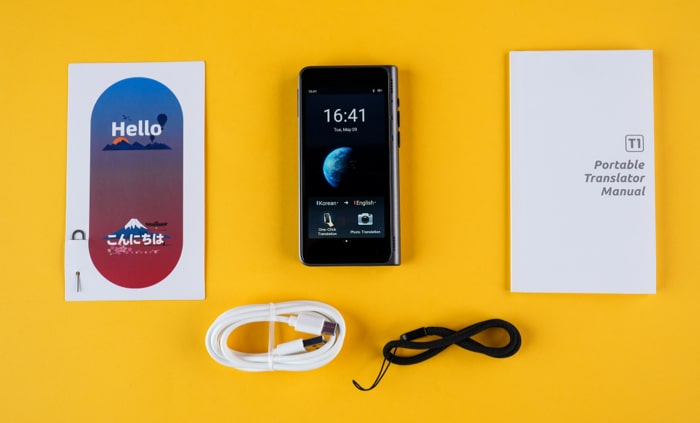 This might sound clichéd, but I had my love-at-first-sight moment while unboxing Fluentalk T1 translator device. The outer box carrying the device was classy, chic, and innovative. It had a thin, transparent foil covering. The stretch of green added a pop of color to the otherwise white background of the box.
Inside, I found an envelope carrying the SIM ejector tool and a user manual. Below the envelope was my star product – Fluentalk T1 portable translator. Just below the device, there was a tiny box carrying the lanyard and the charging cable.
My overall experience of unboxing Fluentalk T1 was quite good. Now, let's move to the features of this translator quickly.
Fluentalk T1 – Design
Sleek, trendy, and convenient – that's how I would like to define the physical build of this portable translation device.
Measuring 116.8 x 58.6 x 11.2mm, the voice translator is super convenient to carry around. The 4-inch screen lets you access a big, clear display. Moreover, the superior-quality plastic used in the device ensures durability, whereas the curvy sides allow a firm grip.
On the right side, the device houses yellow, blue, and red buttons. The round yellow button is the power button, while the red and blue buttons aid translation in the one-click mode. More on that later.
Two speakers also adorn the sides of the translator. The other side of the translator carries the volume rocker and the nano-SIM tray. The USB-C charging point is at the bottom, along with the lanyard hole and a speaker.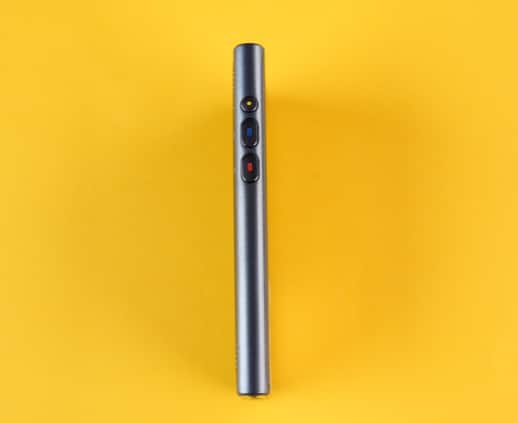 Battery, storage, and connectivity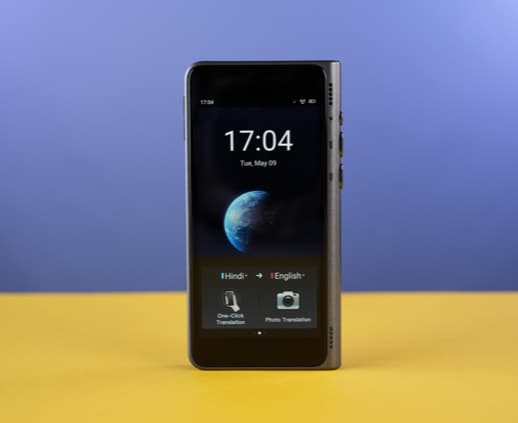 The Fluentalk T1 translator device comes packed with a powerful 1500mAh rechargeable battery. So, you can skip the hassle of frequent charging.
Regarding storage, you get 3GB of RAM and 32GB ROM storage with this instant handheld translator device.
The translator boasts Wi-Fi and nano-SIM support for smooth connectivity. Additionally, it has an embedded e-SIM plugged with 2 years of cellular international data support for free!
Bluetooth connectivity and flight mode are also offered by this efficient translator.
Microphone, speakers, and camera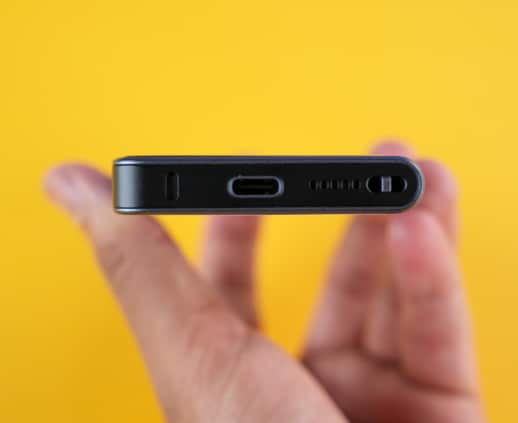 With Fluentalk T1, you get an array of best-in-class microphones and speakers. The top of the device has two microphones, while the bottom has one.
In addition, you can find two speakers on the right side and one at the bottom, next to the lanyard hole. Ideal placement and top-notch quality ensure accuracy in translation.
For image translation, Fluentalk T1 has an 8MP camera at the backside. There is also a flashlight just below the camera. So, all you need to do is to click a picture. Then, the camera instantly scans the text to display the translated version in your preferred language.
Fluentalk T1 – User interface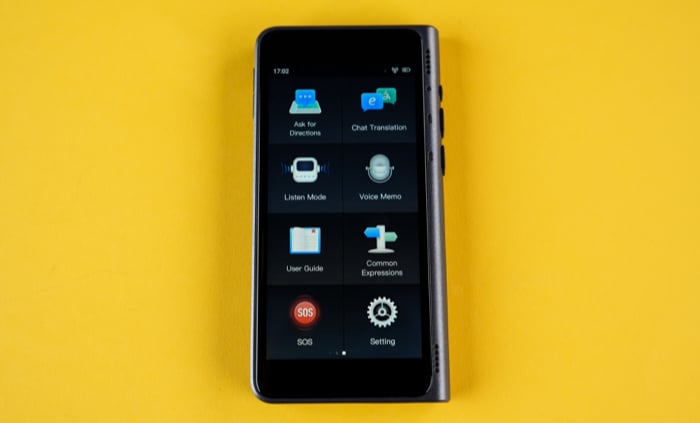 If I were to define the user interface of Fluentalk T1, I would wrap it up in a single word – Simple.
Fluentalk T1 is backed by Streaming ASR Technology, 150 servers, and accelerators globally. So, you get instant translations in about 0.2 seconds.
Be it the quick touch response, swift scrolling, or structured navigation – this device for translating languages is a worthy pick. A simple swipe and you can switch to-and-fro from one feature to another in a jiff. All this makes the device one of the best gifts for travelers.
The optimal distance for recording is within 0.5m. The advanced technology ensures high responsiveness and accurate delivery. Though, when I tried using it to translate the chit-chat of my friend's group, the device's responsiveness became wonky. It captured the voices and translated the information into bits and pieces.
Pro tip: While using Fluentalk T1, ensure to cut down noises.
Translation Modes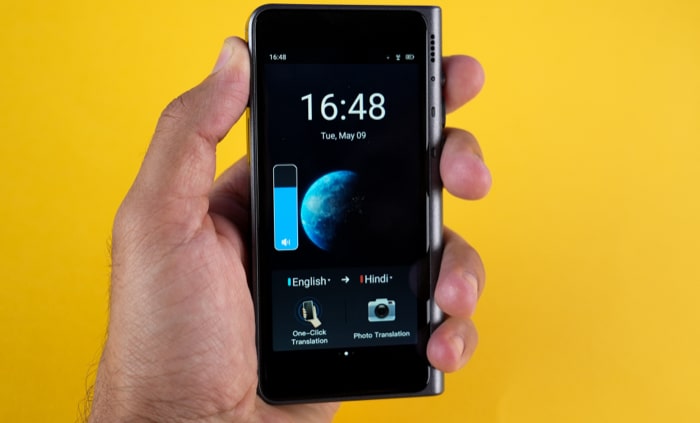 In my opinion, a gadget must spoil users for choice. Fluentalk T1 does just that by offering you four unique modes of translation.
One-click translation
This is undoubtedly the most convenient translation mode offered by this device. First, tap on the One-Click translation option available on the home screen. Then, select your native and preferred language by clicking on the two language sections at the top. You can also pick the accent of your choice.
Next, press and hold the translation button associated with your native language and dictate. The device translates it into the desired language in real-time.
In addition, you can tap on the switch icon below to initiate a two-way conversation in both languages. The translator device also has a swear filter active in English only.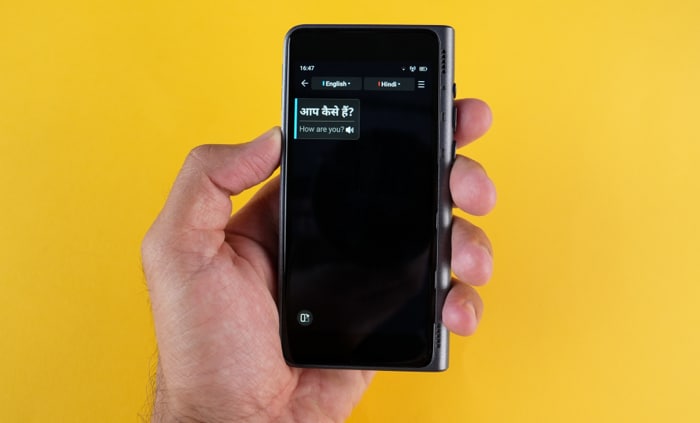 Chat Mode
If you want to converse with a foreign native, you can use the Chat Mode. One person can speak via the top microphone, while the other uses the bottom microphone. Just tap on the play icon placed in the middle and start conversing.

Ask for Directions
'Ask for Directions' is a perfect feature for those poor with directions. I am one of them, so I was elated when I came across this feature. It helps you pre-set catchphrases which can help you in your time of need. When stuck, double-tap the power button to access this feature quickly.
Listen mode
The Listen Mode allows you to record and translate what another person is speaking. The online language translator device types the information in your desired language in sync with the speaker.
I used this feature to convert a Korean song into English. Unfortunately, the translation was not satisfactory. However, the outcome was excellent when I tried converting an English podcast into Hindi. So, I guess the translator device works best with a steady voice flow.
Offline translation
Network glitches are common during cross-border traveling trips. However, with the Fluentalk T1 translator device in hand, you will always feel safe. Download your preferred language pairs in advance and use them when your network flickers.here is also an option to view line-by-line translations. In addition, the device lets you switch to the original text with a single tap on the below-mentioned ic
Interestingly, the device lets you download 13 language pairs for offline translation. You won't find a better offline language translator device than this.
Photo translation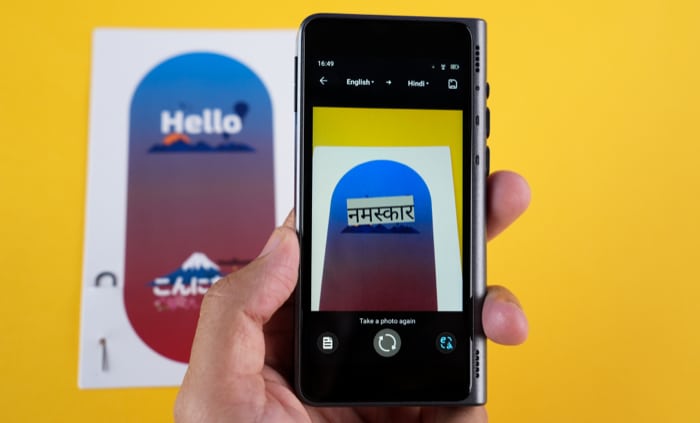 Photo translation is handy, especially when exploring a new place. Use the camera mounted on this translator to click pictures of signboards, restaurant menus, billboards, documents, etc.
The camera scans the image and displays the translated text on the image. There is also an option to view line-by-line translations. In addition, the device lets you switch to the original text with a single tap on the below-mentioned icon.
Other features
Translation record: Fluentalk T1 has a translation record feature that stores all your activities in one place. Tap on the stored record to play it out loud. You can edit or delete these records at your convenience.
Voice Memo: Voice Memo lets you record a text in your native language. The feature comes in handy if you want to skip writing content.
Common Expressions: The device stores common expressions in its database to simplify your work. These are categorized under different headings: urgency, hospital, restaurant, bank, traffic, hotel, and shopping.
SOS: With SOS support on your Fluentalk T1 translator device, you can seek instant help from authorized agencies in need.
World Clock and Currency Exchange: The device simultaneously displays the clocks of two countries. Additionally, the currency exchanger will save you from getting tricked by the locals.
Is Fluentalk T1 a worthwhile buy?
iGeekometer
Build quality
Features and Facilities
User interface
Value for money
Perfect finesse in design and the exemplary 95% accurate translation capacity adorning this tiny device will leave an ever-lasting impact on you. Oh, you can call it Timekettle's very own magic wand!
Instant voice/image translation, voice recording, two-way chat translation, etc., are some of my favorite features of this translator. The battery support is also quite impressive. After two days of extensive working, the device showed a 59% battery charge. That's rich.
The only downside of this best pocket translator device is that it needs to be fed with a clear input to get an accurately translated output. Also, the hefty price of the translation device can be a significant downturn for many users. So, don't hesitate to weigh the pros and cons before investing.
Price: $299.99
Fluentalk T1 Handheld Translator review summary
Fluentalk T1 Handheld Translator review summary
Fluentalk T1 is an efficient Handheld translation device that bridges the gap between your native language and a foreign language. Its small size, high-end accuracy, and excellent user interface make translating languages a cakewalk.
Fluentalk T1 is an efficient Handheld translation device that bridges the gap between your native language and a foreign language. Its small size, high-end accuracy, and excellent user interface make translating languages a cakewalk.
Readers like you help support iGeeksBlog. When you make a purchase using links on our site, we may earn an affiliate commission. Read Disclaimer.