Timekettle M3 translation earbuds are designed for on-the-go travelers; it makes multi-lingual casual conversations and simple business meetings effortlessly smooth.
Pros
Cool splittable case design
Supports 40 languages and 93 accents
Up to 25 hours of battery life
Allows taking calls and listening to music
Cons
Doesn't support bi-directional simultaneous translation
Rating: 🌝 🌝 🌝 🌝 🌜
Price: $119.99
Check out on: Timekettle | Amazon
It's no surprise that people have become reliant on earbuds— they make our lives easier by allowing us to listen to music, take calls, and block out the hustle and bustle of life.
If you're looking for the perfect earbuds for your next travel or a must-have for travelers, the Timekettle M3 is your best bet. It performs all the functionalities of standard earbuds and doubles as a portable translator to break any language barriers you may encounter while traveling. Interested to find out more about Timekettle M3?
Here's a detailed review of these AI-powered 3-in-1 Translator earbuds.
What's included in the box?
Timekettle M3 earbuds
Charging case
USB charging cable
Three different sizes of ear tips
User manual
Quick start guide
X30 Fish card
Specs
Battery: 50mAh
Bluetooth Connection Distance: 10m
Charging Time: 1.5h
Battery Charging: USB Type-C
Smart Sentence Segmentation: RNNVAD (Recurrent Neural Network Voice Activity Detection
Compatibility: Android 7.0 or iOS 12.0 and above
Languages: Arabic / Bulgarian / Cantonese / Catalan / Chinese / Croatian / Czech / Danish / Dutch / English / Finnish / Filipino / French / German / Greek / Hebrew / Hindi / Hungarian / Icelandic / Indonesian / Italian /Japanese / Korean /Malay / Norwegian / Polish / Portuguese / Romanian / Russian / Slovak / Slovenian / Spanish / Swedish / Tamil / Telugu / Thai / Turkish / Ukrainian / Urdu / Vietnamese (and 93 Accents)
8 Languages for Offline Translation: Chinese ⇆ English, Japanese, Korean, French, Spanish, Russian, German English ⇆ Chinese, Japanese, Korean, French, Spanish, Russian, German
Warranty: 12 months for the earbuds and six months for the accessory
Design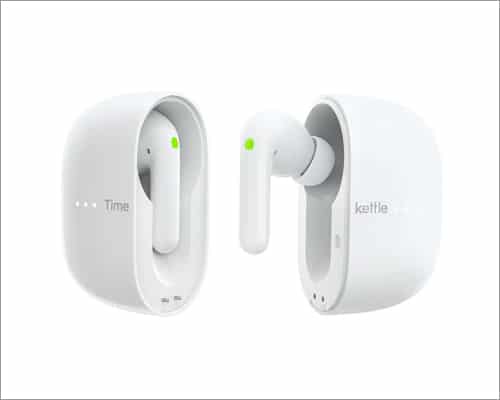 The Timekettle M3 Translator Earbuds come with a lightweight and sleek design. If you're looking for the best gift for travelers, this one is a good option. It only weighs 6.28 oz (178g), which is barely the weight of your passport.
It comes in black and white colors. But what'll catch your and other people's attention is its case. Its charging case is small, slim, and splittable — you can literally pull them into two, with each earbud fitting snugly on each side. The charging case also features three white LED lights on each side, indicating their charging/power status.
The earbuds have the same color as their case and come with three different sizes of silicone ear tips to ensure that they fit snugly on every ear type. The earbuds also have LED lights that indicate when they're powered on and their battery life.
The Timekettle M3 Translator Earbuds also sport an ergonomic design, allowing it to adapt to most people's pinna for a snug yet comfortable fit.
Features
The Timekettle M3 packs multiple features that make this translator device ideal for everyday use, entertainment, and travel.
1. 3-in-1 function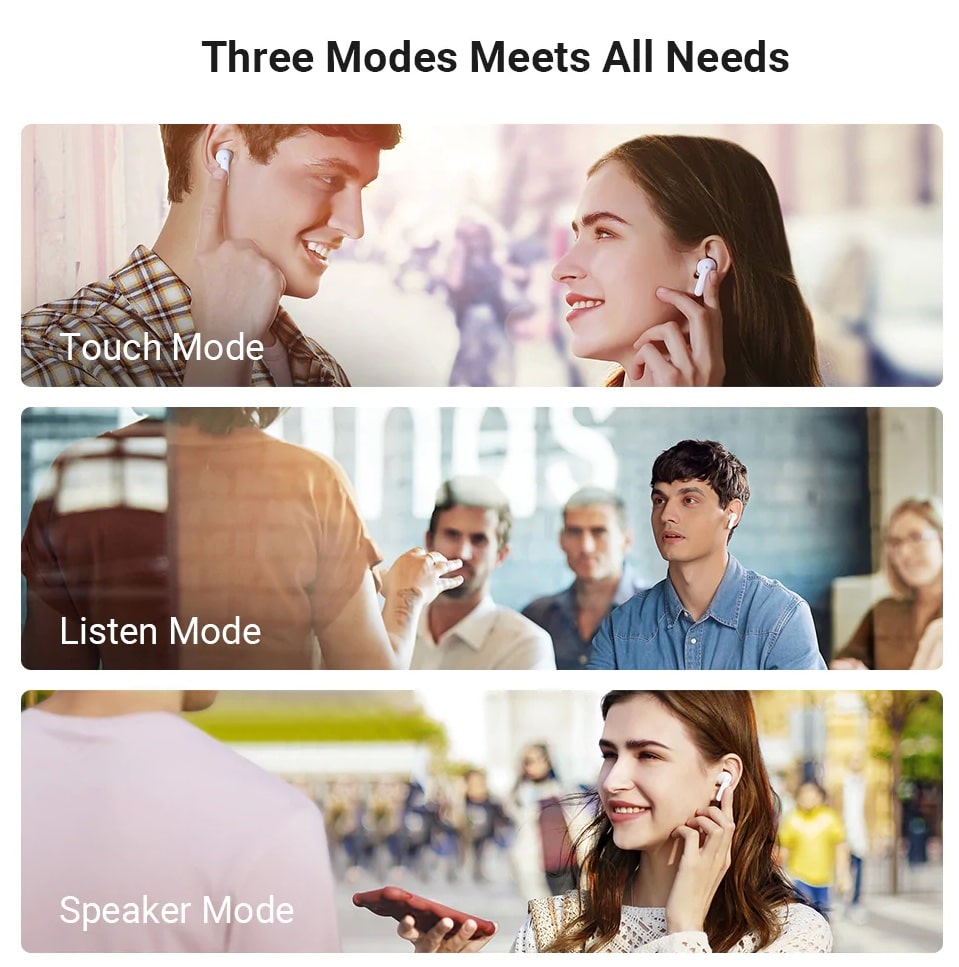 Timekettle M3 is not only perfect for getting those fluent and accurate translations, but they're also ideal for listening to music and taking calls.
These translating earbuds work like regular earbuds. Just connect them to your device via Bluetooth and enjoy.
2. HybridComm system
Timekettle uses cutting-edge technology called the HybridComm system to enable hands-free cross-language communication while seamlessly translating languages smoothly and fluently in real-time. This core technology will be unveiled at the 2023 International CES. You can find more info here about this CES exhibition if you're planning to visit CES from 5th-8th January.
This technology consists of three components:
BoostClean Speech Technology: This technology zeroes in on the speaker's voice and eliminates noise that may interfere with the conversation. Thanks to machine learning and AI, you're promised higher translation and pick-up accuracy the more you use it.
TurboFast SI Technology: This technology enables Kettle's devices to send and receive signals via Bluetooth at the same time. This simultaneous interpretation technology allows users to record, playback, and translate at the same time, boosting communication efficiency by 200%.
UniSmart AITP (AI Translation Platform): A global low-latency adaptive cloud platform that allows Timekettle devices to support more than 110 languages in over 40 countries.
3. Three translation modes
Aside from promising 95% translation accuracy, the Timekettle M3 Translator Earbuds are pretty versatile in translating and can adjust to different scenarios. You have the option to choose from three different translation modes:
Touch Mode: This mode allows simultaneous interpretation of lengthy back-and-forth conversations and requires each person to use one Timekettle M3 earbud. Whoever wants to speak will have to tap the earbud and talk, and the device translates this for the other person and sends it to their earbud.
Speaker Mode: This mode is ideal for short exchanges and such as asking for directions while traveling abroad. Here, you retain both earbuds while the other person uses the Timekettle app on your device to translate what they're saying. This is also great when more people need to hear the translation since the app will play the translation through your earbuds and your device's speakers.
Listen Mode: This mode is excellent for one-way translation, such as watching a foreign show or listening to a conference or lecture spoken in a different language. In this mode, you must place your device near the speaker to let the app translate in real-time and transmit the translations right to your earbuds.
4. Active noise cancellation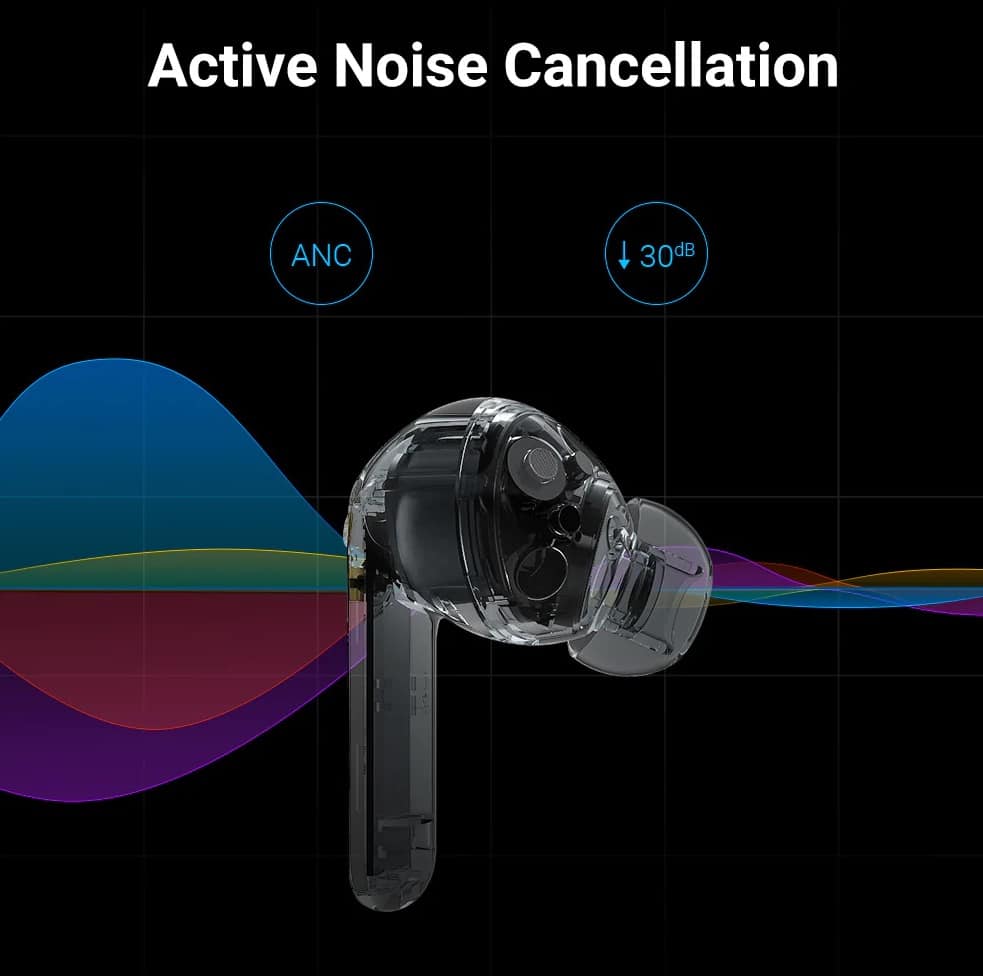 It's one thing to try to listen to translations while you communicate and quite another to focus on the translated voice amid a noisy environment. What's excellent about Timekettle M3 is that it has active noise cancellation (ANC), which tunes out external noise so that you may focus on understanding what the other person is saying.
Timekettle M3 integrates a dual microphone pick-up array, allowing it to offer up to 30dB of noise-canceling capability.
5. Extensive language and accent support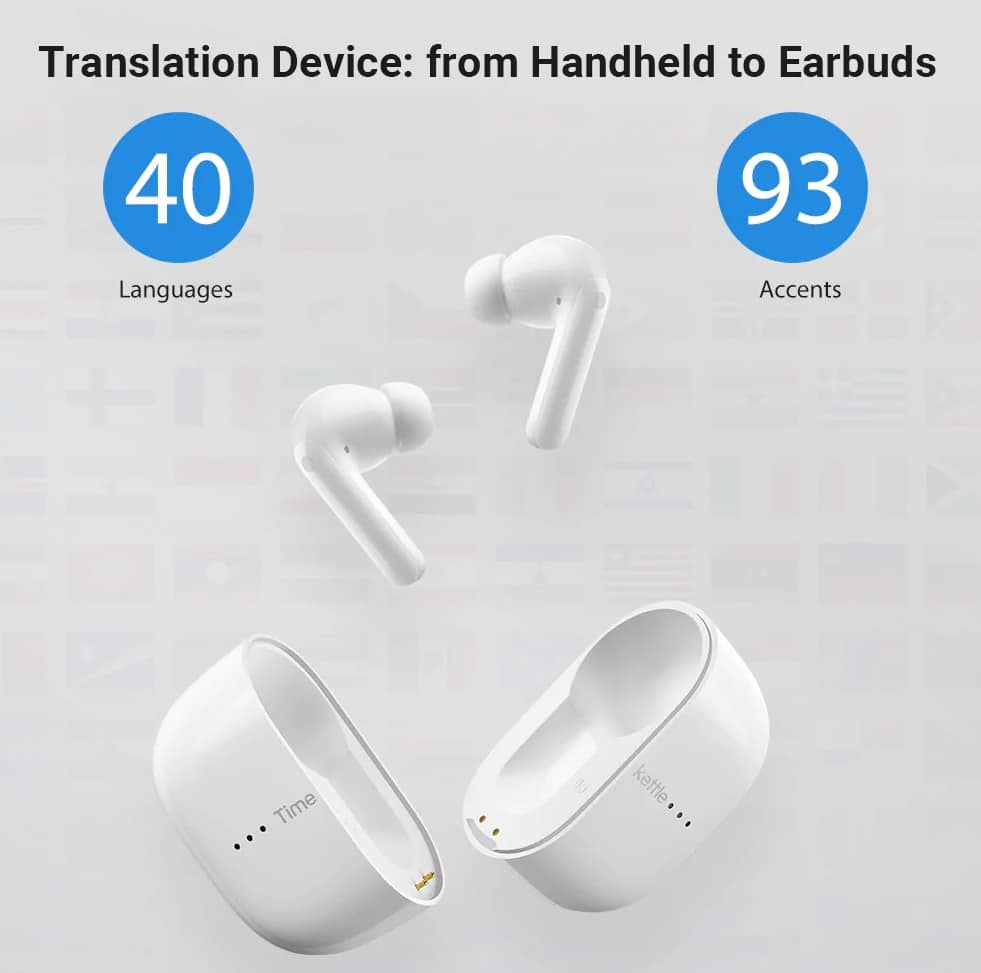 Timekettle M3 supports 40 languages, covering most countries and regions. It also adapts to dialectic differences by offering support for 93 accents. For example, it supports 15 accents for Arabic, 3 for Chinese, and 14 for English.
Timekettle M3 also features offline translation in 13 pairs of languages.
6. Long battery life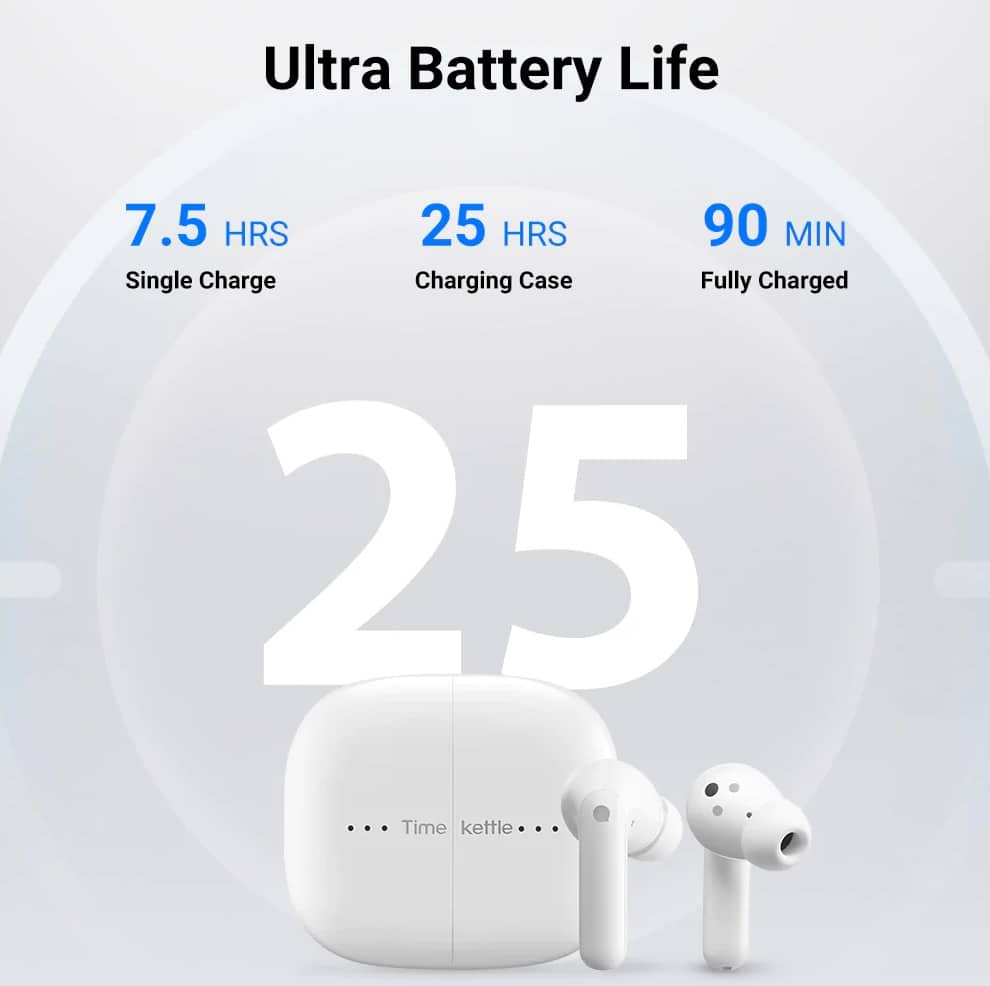 A single full charge of the M3 can last approximately 7.5 hours. But with the charging case, your device can last up to 25 hours, giving you an entire day of worry-free use.
Price and availability
You can purchase Timekettle M3 Language Translator earbuds directly from their official store, or from major online marketplaces such as Amazon and Walmart.
The Timekettle M3 costs $149.99 with online and offline packages. This price includes the offline package, which lets you download offline language bundles for offline translation, you can translate the main languages without the internet. However, there's a bundle of Timekettle M3 with Zero-Type C1 available at a sale price of $158.99!
Timekettle M3 vs. Timekettle WT2 Edge
For starters, it's pretty easy to tell these two devices apart. The Timekettle WT2 Edge opted for the traditional charging case design, compared to the split magnetic case the Timekettle M3 has.
But the primary difference between the cost-effective Timekettle M3 and the pricier WT2 Edge is that the former allows for bi-directional simultaneous translation. This means you can listen and speak to other people simultaneously, allowing users to have more casual, normal-paced conversations sans the pauses and translation latency.
It's also designed for lengthier conversations like lectures, business meetings, and striking conversations with peers who speak different languages. Meanwhile, the M3 is ideal for shorter conversations and casual translations, like asking for directions or ordering in a restaurant.
But as mentioned above, Timekettle M3 is a 3-in-1 earbud, meaning you can make calls and enjoy your favorite Spotify playlist. On the other hand, WT2 Edge is primarily a real-time translator and does not function as a regular earbud.
Final verdict
iGeekometer
User Experience
Features
Design
Fit and portability
Sound quality
It is an ideal travel companion, ready to break language barriers anytime. Whether you're traveling abroad, attending a business meeting, or simply interacting with people from different countries, the Timekettle M3 Translator earbuds will help you better connect with anyone at any time.
Check out on: Timekettle | Amazon
Timekettle M3 Review summary
Timekettle M3 Review summary
Timekettle M3 Language Translator earbuds are by far one of the best translator earbuds in the market. It is the sweet spot between performance, features, and price. It offers extensive language and accent support, active noise cancellation, long battery life, portability, and a sleek charging case—all at an affordable price.
Timekettle M3 Language Translator earbuds are by far one of the best translator earbuds in the market. It is the sweet spot between performance, features, and price. It offers extensive language and accent support, active noise cancellation, long battery life, portability, and a sleek charging case—all at an affordable price.
Readers like you help support iGeeksBlog. When you make a purchase using links on our site, we may earn an affiliate commission. Read more.
Rachel loves anything Apple —from iPhones, to Apple Watches, to MacBooks. She is also a medical writer and a ghostwriter for various publications.