Wondershare Repairit is a powerful and easy-to-use software that repairs corrupted photos, videos, audio, and files on your PC or Mac regardless of the level of damage. It boasts a high recovery rate and can restore even the most severely damaged files. The repair tool has an online and desktop version and supports a wide range of file formats.
Pros
Supports over 25 commonly used file formats for files, photos, and videos
Easy, clean, and intuitive UI
Offers flexible pricing plans
Lightweight software; available online
High recovery rate
Cons
Does not allow you to save files on the trial version
Lack of customization options
Steep pricing
Does not support HEIC file format (the most used file format of photos taken via the iPhone)
Download now: Wondershare Repairit
Have you ever felt heartbroken when you found your most treasured photos and videos damaged and corrupted? Apparently, it's a common issue.
Wondershare Repairit promises to restore your corrupted files, images, audios, and videos with a 95% recovery rate and boasts a simple three-step process for recovering your beloved files.
In this review, I've checked these claims and features to see if the app is as excellent as it claims.
If you're wondering why the brand sounds familiar, it's because Wondershare is a known brand for its innovative technologies catered to solve the problems of digital creators. Wondershare is behind other known software like Filmora, PDF Element, and Dr. Fone.
Wondershare is an award-winning brand with over 1,200 employees, distributed in six offices worldwide. They have been "recovery experts" since 2003.
Wondershare Repairit is a great tool that lets you repair a myriad of files that have been corrupted or damaged due to the reasons listed in the next section.
Common causes of file damage
Before we delve into the solution, let's first explore the problem. Files are very susceptible to becoming corrupted. That's why it's always ideal to back up your files.
There are many causes behind corrupted or damaged files. Listed below are the most common:
Unplugging without properly ejecting the storage device
Cutting off the power or switching off the camera while saving, processing, downloading, or viewing files
Any interruption during file copying or transfer from one device to another
Using an incorrect file extension
Continuously capturing images
Corruption or bad sectors in the storage device
Physical damage to the device caused by heat or moisture
Operating system crash
Recording videos or capturing images while the device has a low battery
Unmounting memory card or SD card from camera or device while still in use
Improperly removing or inserting a storage device from the computer
Camera malfunction, like crashing, hanging, or freezing while capturing images or videos
Use of untrusted third-party software
Storing the file in a corrupted location, like capturing images and storing them on a corrupt memory card
Playing or viewing a file in an unsupported media player
Saving a file on a data card without storage space
A less common but probable cause of corrupted files is when your Mac is infected with the virus. You only have limited ways to fix these issues without using the software.
So if you need your files back asap, you might consider using Wondershare Repairit. Most repair services cost a fortune, but you can opt to use Repairit online for free.
Below I'll flesh out some of the exclusive features embedded in the tool, making it an excellent choice over its competition.
File repair
The file repair tool supports various file formats from various devices.
Videos
File formats: MOV, MP4, AVI, FLV, M2TS, MKV, MTS, 3GP, MXF, KLV, INSV, M4V, WMV, MPEG, ASF
Devices: any camera or device, including Canon, Go Pro, and mobile phones
Photos
File formats: JPEG, PNG, JPG, NEF, NRW, RAF, DNG, ARW, GPR, TIF, TIFF, CRW, CR3, CR2, GIF, SR2, ORF
Devices: PC and Mac computer disks, USB flash drives, SD cards, digital cameras, and mobile phone
Audios files
File formats: M4A, WAV, AAC, FLAC, and MP3 files
Devices: portable recorders, recording software, shooting apparatus, downloaded file
Files
PDF documents: supports 1.2, 1.3, 1.4, 1.5, 1.6, and 1.7 versions
MS Word documents: supports 2019, 2016, 2013, 2010, 2007, and earlier version
Excel: supports 2019, 2016, 2013, 2010, 2007 versions
Powerpoint: supports 2019, 2016, 2013, 2010 and 2007 versions
Wondershare Repairit provides a solution for many cases, like unreadable files, frozen or blurry videos, humming and rumbling audio, and pixelated or greyed-out photos. Whether the 
Even better, it allows you to repair in batches to add multiple files in one go.
Another good thing about Wondershare Repairit is that it has no file size limitation, given the reality that most modern videos and photos are recorded using high-end gadgets. It also supports hi-res clips recorded in 4K, 8K, and full HD.
Preview option
The Preview option may sound pretty basic, but it's one of Repairit's best features. It lets you preview your videos in snippets to ensure that your video quality is intact. This saves you a lot of time and enables you to find the remaining issues quickly so you can skip to Advanced Repair mode.
It also lets you preview photos and videos in different resolutions and file formats to let you choose which one is most satisfying for you.
The extracted thumbnails also help you scan your repaired files for any remaining damaged ones.
Advanced repair mode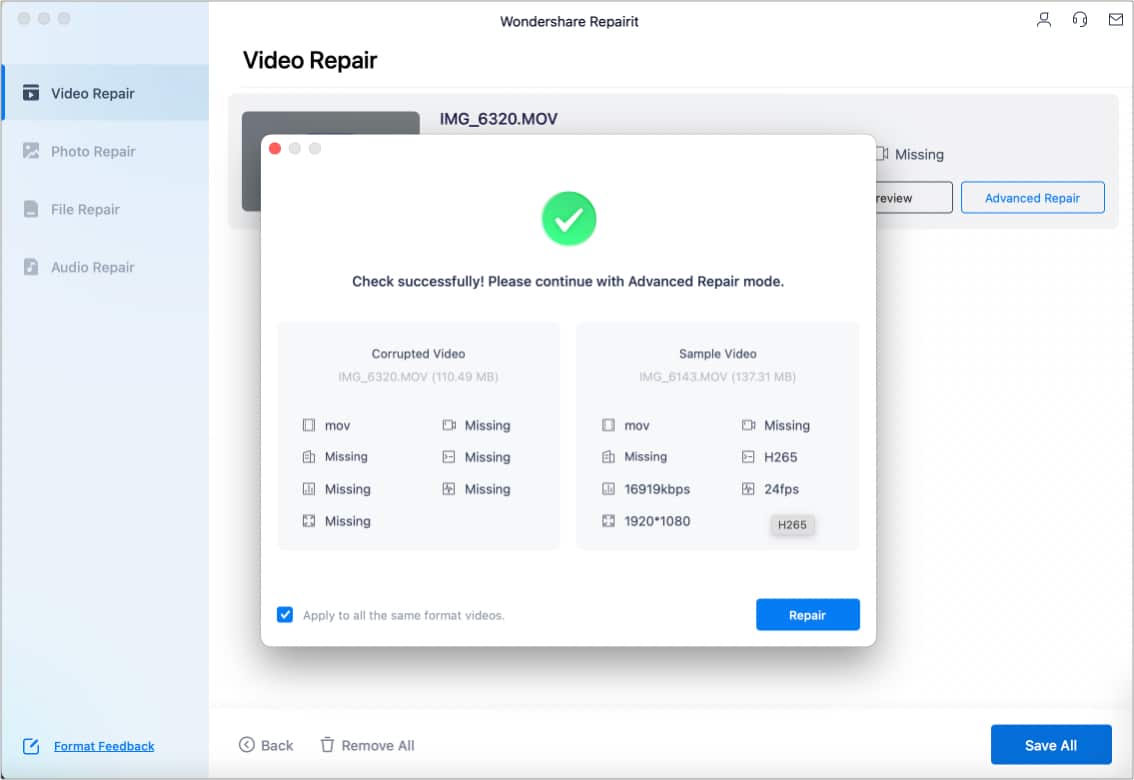 This feature further fixes severely damaged files that Quick Repair can't fix. It uses sample files automatically or lets you add samples from which it uses as a template to restore the file.
Naturally, this option takes more time than the Quick Mode, but you're sure to get a more satisfactory outcome.
Friendly UI
Wondershare Repairit has a pretty intuitive and easy-to-use interface. All you need to do is to select the corrupted files and hit the Repair option. Everything else is done automatically by the tool.
It is available on two of the most used platforms or operating systems: macOS and Windows OS. Just be sure that you have the necessary tech specifications to run it. To be specific, you'll need:
Mac: macOS 10.10~macOS 10.15
A minimum of 700MB of space
Windows 11/10/8/Vista/7
How does Repairit work?
Regardless of the platform and file type you plan to restore, you'll need to follow a simple three-step process.
Step 1: Choose the feature that you want to use.
You'll see four options on the left-side pane if you've selected the regular individual plan over a particular sub-product. Choose from:
Photo Repair
Video Repair
Audio Repair
File Repair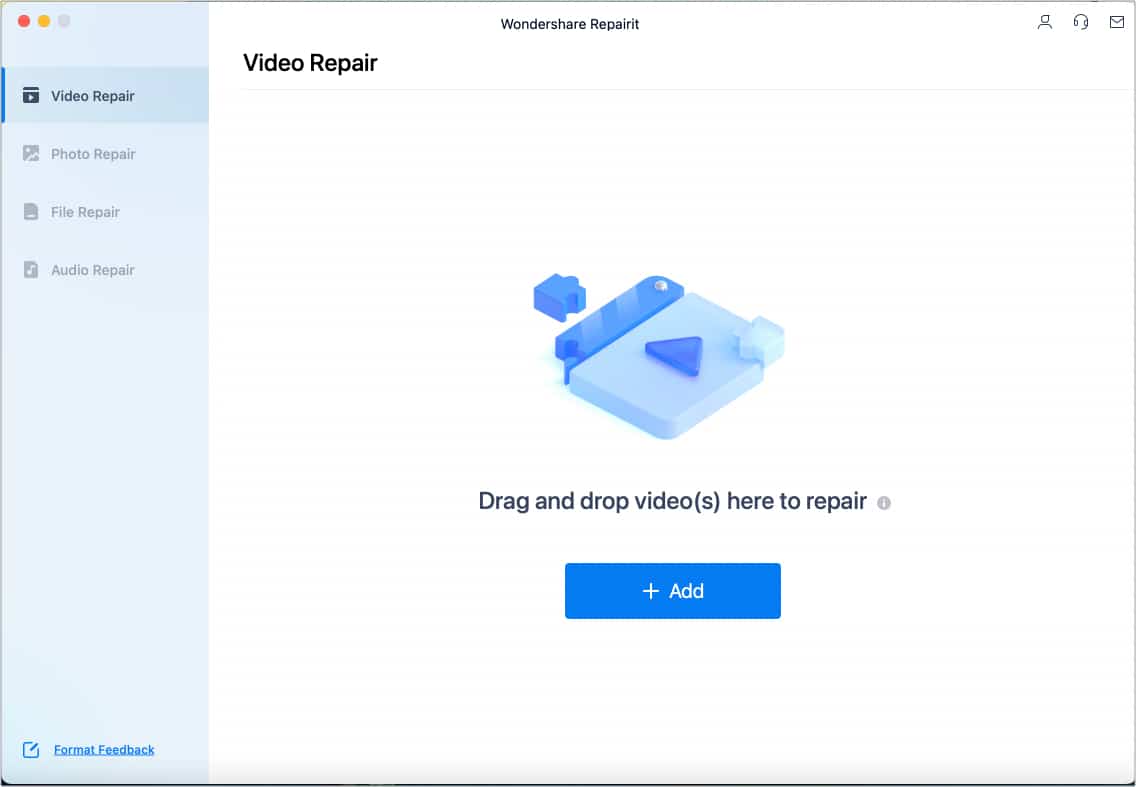 Step 2: Choose the corrupted file you want to repair.
Click the + Add button to locate the files from your computer, or simply drag and drop your files into the window. Once done uploading, click the Repair button. Depending on the items' file size, it may take some time to finish.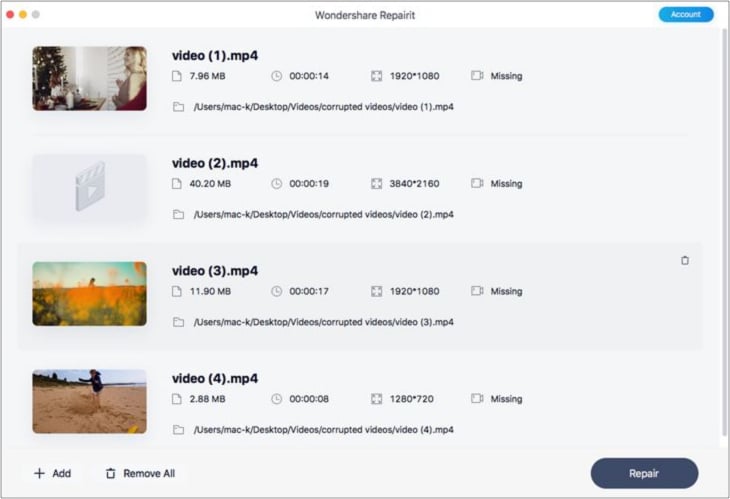 Note: If you perform a batch repair, you cannot manage each file while the Repair process is ongoing. That is, you cannot stop the restoration of one video and continue the others. You can, however, click the trash bin that appears when you hover the cursor to the uploaded video.
Step 3: Preview and save your file.
Once the repair is complete, you'll get a prompt that tells you to preview and save the files. Just click the Preview button. If you're happy with the results, choose Save. Select where you would want to keep your repaired files to → Save.
Caution: Wondershare Repairit warns against saving the items back to the path where you lost them.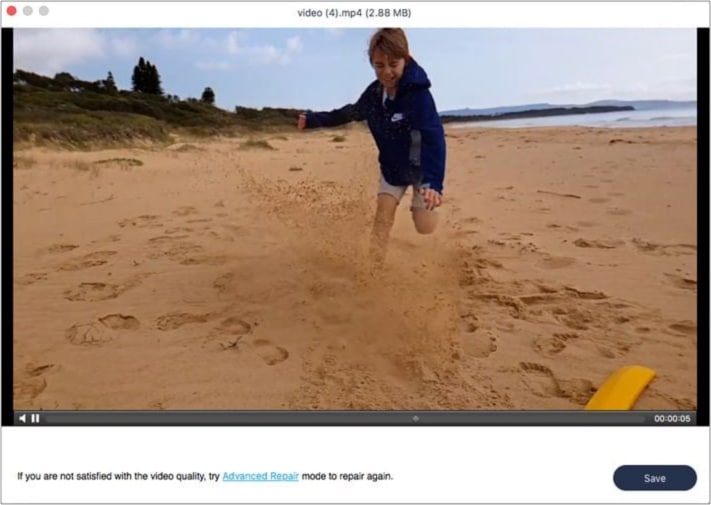 Step 4: Advanced Repair
Items successfully repaired will show a checkmark with the word Successful under it. Severely damaged files may not meet repair expectations and may not be resolved by a Quick Repair. You should see the word (x) Failed under these items.
Click Advanced Repair to repair the severely corrupted file. You'll then get a prompt to add a sample device → click the folder and find a sample photo or video → choose Next. If your sample file meets the criteria, a prompt will tell you to proceed with Advanced Repair mode → click Repair.
Well, for starters, it's Wondershare! The developer is popular among digital creatives for the host of tools they have made, like Filmora. With three easy steps, Wondershare Repairit covers all your repairing needs. I find the tool very easy to use. It's also a pretty lightweight software, consuming minimal power and battery.
So far, the only major con I've had was that HEIC, the file format of iPhone photos, is not supported by the software, which makes it impossible to repair—even with Advanced Repair—corrupted iPhone images.
Aside from that, I haven't found any major cons to using the tool. A minor issue is that it doesn't offer customization, which is not a big deal given that the tool focuses on repairing and restoring damaged files.
Overall, it's a simple, intuitive tool that lets you troubleshoot almost all errors related to corrupted files, including freezing frames, missing audio, and blurry images.
Pricing
Note that you can try this app for free; however, it's highly restricted in the file formats it support and the number of files you can repair. Your access to its advanced features is also limited.
You can choose from a monthly, annual, or perpetual license. One downside is that the price difference for the options is too narrow. If you frequently need your files restored and repaired, I guess a perpetual license is a good investment.
If this is out of your range, you can purchase a subscription for a particular sub-product instead of getting all the features in the individual plan.
Subscription cost:
$79.99 (monthly subscription)
$99.99 (yearly subscription)
119.99 (perpetual subscription)
Is Wondershare Repairit the best repair kit?
iGeekometer
UI
Features
File format support
Value for money
Wondershare Repairit is an excellent and advanced repair tool that can fix most types of corrupted files. It possesses several unique features yet is user-friendly enough that non-techy individuals would not have trouble navigating it.
Read more:
Readers like you help support iGeeksBlog. When you make a purchase using links on our site, we may earn an affiliate commission. Read Disclaimer.