We all want the latest technology, but with the high price tag on the iPhone, paying for it may be a challenge. The good news for iPhone users who want to upgrade to the newest model is that financing a smartphone has become the norm.
You have several options to either pay for the phone right away or to spread the cost over a period of time. These are a few options available to you.
1. iPhone Upgrade Program with Apple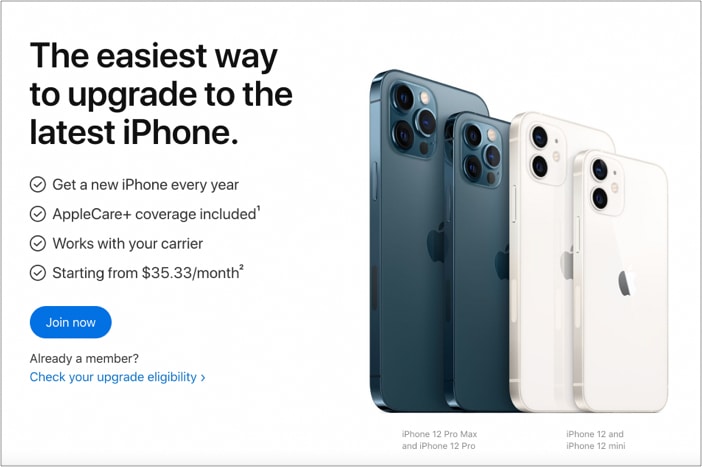 With the current iPhone line-up costing as much as $1,100, Apple knows that the price may be a little higher for some. Hence, they developed a program to help customers with good credit and also upgrade their phones regularly.
Members are eligible to receive 0% APR financing for a new phone and AppleCare+ by splitting the cost for these services into 24 monthly payments. After you've made 12 of these payments, you can trade in your current phone for the newest version. When you trade in your phone, you'll start to pay a new 24-month installment loan.
If you want to apply for this program, Apple partners through Citizens One. However, you can also apply through Apple's website.
When you fill out an application, Apple will connect you to your carrier. The cost can vary slightly, depending on your model and storage options. For example, the standard iPhone 11 with 64GB of storage will cost approximately $35/month, while the most expensive model in the series, the iPhone 11 Pro Max with 512GB storage, will cost almost $70.
2. Carrier financing
If you want to pay for the phone through your current cell phone provider, you also have options here. Many wireless providers have their installment plans. These may come with a 0% APR if you sign a two-year contract.
You may have to put down a down payment unless you already have a phone that you can trade-in. Some carriers may also have an activation fee, typically less than $50.
Carriers such as Verizon and AT&T also offer upgrade programs. These allow customers to finance a new phone ahead of time.
In order to get the newest phone, you typically have to pay at least 50% of the cost of your current phone before you can trade it in for a newer one. You may also have additional requirements that are dependent on your current device and carrier.
3. Credit card financing
Certain credit cards may offer to finance. For example, if you have Apple's credit card, the Apple card, you're eligible for 0% APR financing over 24 months.
This can be a good deal as you'll also get 3% back on the new phone when you purchase instead of having to wait until you've completely paid for it. If you have a phone eligible for trade-in, you may also have a lower monthly cost.
Barclaycard also has financing on Apple products if you open a card and purchase within 30 days of opening. If you purchase an iPhone, you can be eligible for 0% APR financing for up to 18 months depending on the model of the iPhone. This can be a good option if you're a new customer. However, it's not available for existing customers.
4. Personal loans
If you want the newest phone but don't want to sign a two-year contract, a personal loan allows you to finance an iPhone. It may also give you more flexibility to repay the phone by giving you a longer period of time to pay.
You also won't be restricted to any particular model of iPhone. This can be one of the more expensive options, though with loan interest rates ranging from 6-36%. Many personal loan providers may not offer a loan under $2,000, so this may limit your options.
There are loan-matching services providing guarantor loans that allow you to purchase the phone with a guardian or family member backing your loan.
That was our list of the best ways to pay for an iPhone!
While there is not one clear best option for financing your new iPhone, consider which option is going to save you the most money in the long run while also getting you the model you want.
Always consider trading in your current phone and checking with your current provider to learn more about your options. By taking the time to consider your options or waiting for a discount, you'll get a great phone without overpaying.
Which one are you going to choose? Share them in the comments below!
Read more:
Readers like you help support iGeeksBlog. When you make a purchase using links on our site, we may earn an affiliate commission. Read Disclaimer.