With the latest advancements in technology, the MacBook Pro has undergone various changes over the years. The stunning display and performance make users wonder about different ways to protect their investment, and one way to do so is by using a screen protector.
It's vital to keep the display safe from scratches, cracks, and other types of damage. But with so many different options available, the process gets very tricky. To make it easier for you, we've compiled a list of the best screen protectors for your 14-Inch MacBook Pro.
1. Kensington elite magnetic privacy screen – Editor's Choice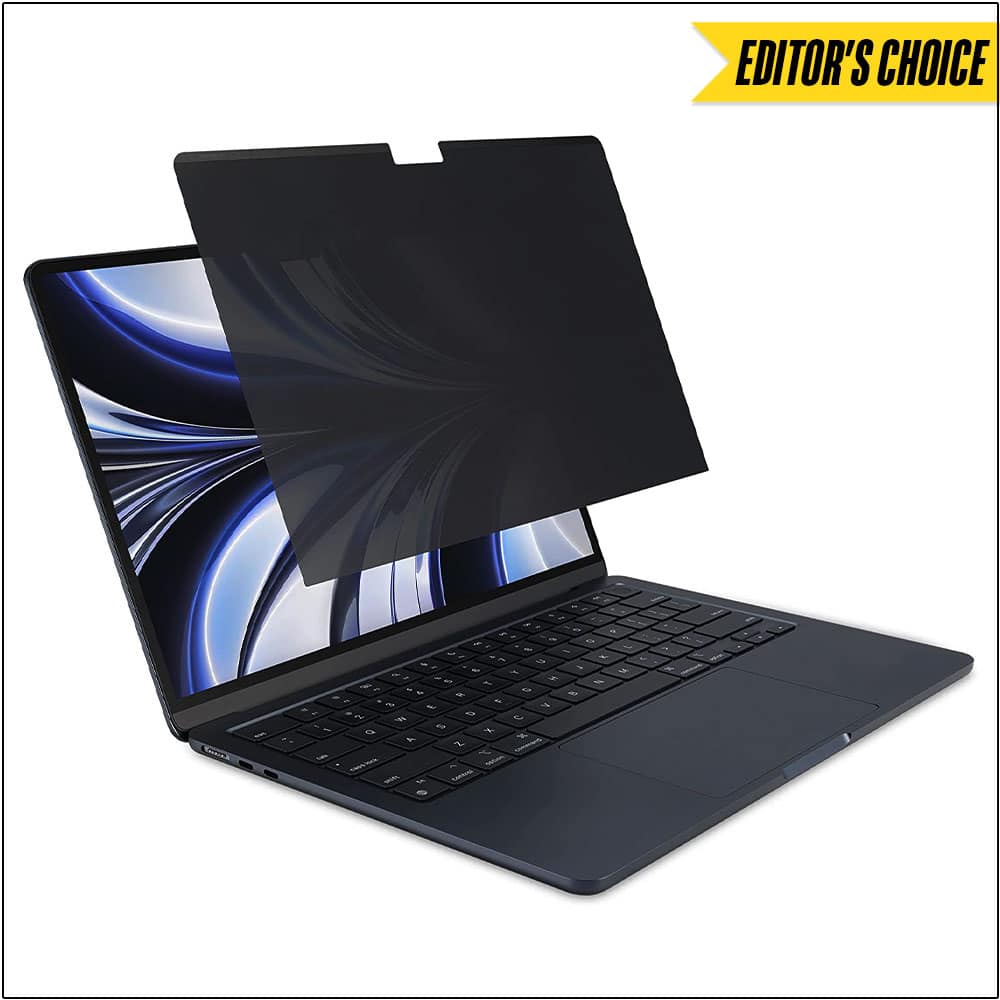 If you want a reliable and durable MacBook Pro screen protector that can withstand scratches and general wear and tear, you should get this offering from Kensington. The design of this privacy screen provides protection against prying eyes, delivering security for a full-frame screen. The magnets built-in to the frame prevent any accidental damage and leave no gap between the screen's edge and cover.
You'll experience significantly less eye strain as this screen blocks out about 22% of blue light emitting from your laptop. You can experience improved viewing clarity with the help of a low reflective coating that reduces glare from outside light. All in all, this screen protector offers unparalleled protection and privacy for your MacBook Pro.
Pros
Includes cleaning cloth and screen holder
TAA compliant
Adhesive less attachment
2. Supershieldz anti-glare screen protector – The protection professional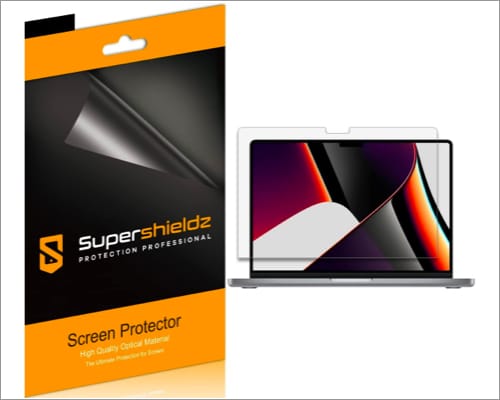 Supershieldz Anti-Glare screen protector is the best accessory for your MacBook; it is designed to protect the screen of your laptop from every possible scarring. The scratch-resistant and anti-glare elements of this protector ensure that the display of your Mac is safe from dust and scrapes. Furthermore, you can remove the protector as per your preference since it leaves no residue behind when removed.
The high-quality Japanese PET film and ultra-thin layers provide a hassle-free installation maintaining the sensitivity and clarity of the screen. With long-lasting qualities preventing the screen from turning yellow or fading with time, Supershieldz is one of a kind. If you're trying to sustain the screen of your Mac without spending a hefty amount, then this screen protector is a perfect choice.
Pros
Comes in a pack of 3 pieces
Handy installation guide
Matt finish
Cons
The installation feels like a two-person job
3. Moshi iVisor XT screen protector -Multi-layer protection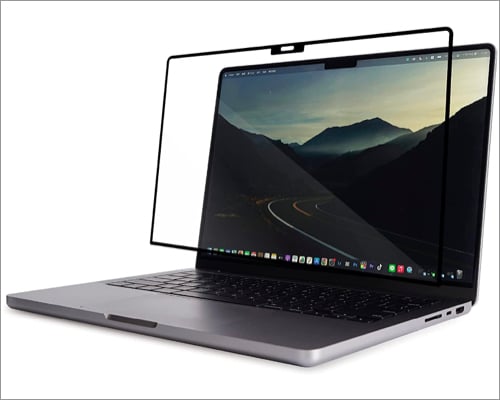 With a smooth, crystal-clear surface, Moshi iVisor screen protector effectively resists scratches and smudges without compromising touch sensitivity or clarity. The advanced adhesive technology holds the protector on the screen for longer and firmly once applied. It furthermore ensures long-lasting cleanliness as iVisor clear screen protector is washable and reusable.
With its bubble-free technology, the display protector allows for a smooth installation without any ridges. The ultra-clear material is virtually invisible, giving you a full, high-definition view of your device. All in all, this is a great screen protector for the 14-inch MacBook Pro and will keep your device looking like new for a long time.
Pros
Highly durable
Glossy finish
The box includes a microfiber cloth
4. Spigen tempered glass screen protector – Sleek and slim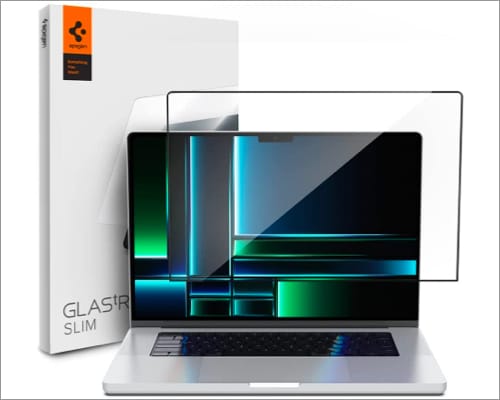 If you're a MacBook user, then you would have definitely heard about the Spigen tempered glass screen protector. It is widely known for providing excellent protection and comes with a sleek and slim design that fits perfectly on the display. The Spigen screen protector offers top-notch protection against dirt and scratches with its 9H hardness, oleophobic coating, and bubble-free installation.
Plus, there is no negative impact on the touch experience due to its unique glossy finish. The finish also enhances the look of the MacBook by providing a distinctive glaze. Therefore, if you're looking for a decent screen protector that fits your budget and provides lifelong protection for your Mac, the Spigen tempered glass screen protector is the way to go.

Pros
Prominent quality
Fits perfectly
Obstruction free
Cons
Does not prevent glare
Decent screen quality
5. Mamol privacy screen – Easy to install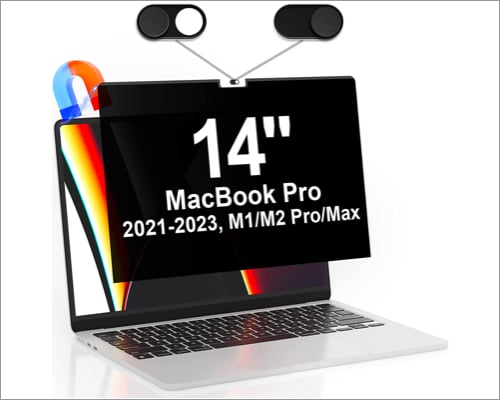 As MacBooks are becoming prevalent in our day-to-day lives, it's vital that we protect them from dust, scratches, and other similar factors. Mamol privacy screen is just another way to do that and more. In addition to protecting your laptop screen, it offers complete solitude from unwanted viewing. It means you don't have to worry about prying eyes when you're using your MacBook in public.
It can effectively block 67% of blue light and UV emitting from the LCD screen and reduce visual fatigue. The instant Snap-On magnetic attachment makes it very convenient to attack and detach the screen protector as per your liking. With a lifetime warranty and 24-hour instant customer service, Mamol's privacy screen is one of the best choices for your device.
Pros
Anti-glare and bubble-free installation
Blocks visibility from the sides
Adhesive free
Cons
Overpriced
Slight tremble can make this fall off
6. Stary screen protector – Matte and glossy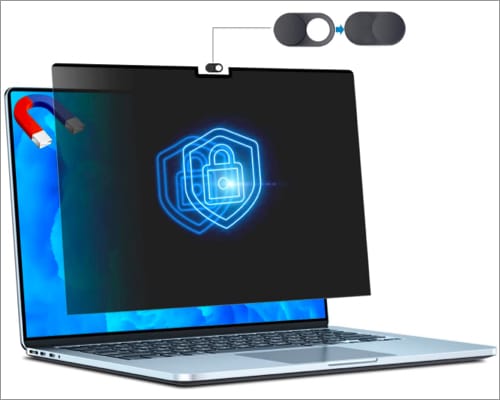 Stary privacy screen protector is another great option for those who are wary of their surrounding while operating MacBooks. Featuring an impact and scratch-resistant build, this screen protector is the ultimate solution to protecting your laptop screen from knocks and bumps. Also, the magnetic anti-glare filter is enabled with a 95% transparency rate that protects your eyes from eye fatigue by preserving screen brightness.
With an additional sliding camera cover, you can enhance the level of privacy. Topped with smudge-resistant technology, you don't have to worry about your fingerprint marks obscuring your view. Even if you're a novice, 24/7 customer support is at your service. Whether you're working in the office or browsing online at home, the Stary privacy screen is the perfect way to keep your device safe and sound.
Pros
Multiple Add-Ons available
180 days money-back guarantee
3H anti-scratch design
Cons
Vision blocking may not be as effective
7. SenseAGE privacy screen – Privacy first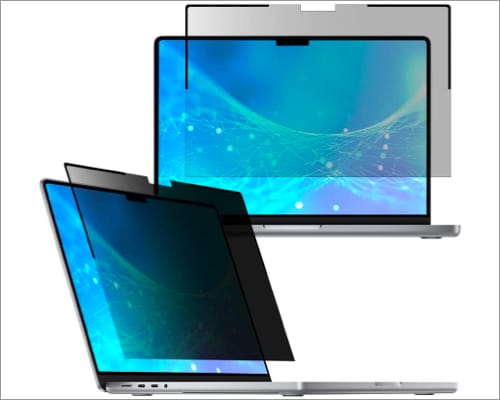 Owning a MacBook Pro requires a sense of responsibility to protect it from dust and scratches that may affect its performance. But now you can rest assured with SenseAGE privacy screen, a comprehensive way to protect your laptop screen from a series of unpredictable damage. Furthermore, with its proprietary privacy filter, this screen protector also blocks out prying eyes from seeing your display, ensuring that your data remains secure.
This adhesive-less screen protector is designed to snugly fit your MacBook Pro, allowing you to navigate and surf with ease. The anti-reflective surface can enhance your viewing experience and protect your eyes by blocking out 96% UV and reducing blue light by 70%. For ultra-thin design and anti-glare coating, make sure to get the SenseAGE privacy screen.

Pros
Bubble free
Applicable for both matte and glossy side
Blue light filter
Cons
The bottom is not magnet enabled
8. ANTOGOO V anti-glare screen protector – Budget-friendly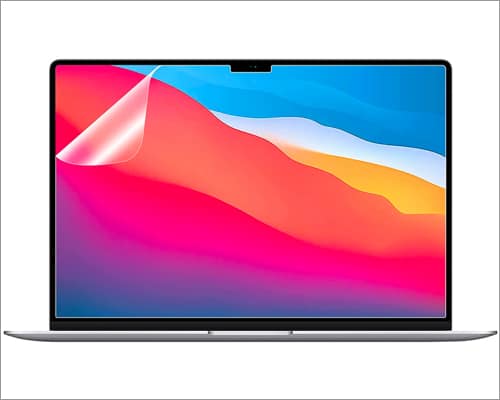 As the perfect companion for your laptop, a screen protector is not only a practical way to safeguard the display but also a great way to personalize your device. Therefore, complete your Mac with the ANTOGOO V anti-glare screen protector. This 7-layered film is engineered to reduce glare and reflection while preventing unwanted smudges. Featured with a matte-finish coating, it's well suited for both indoors and outdoors.
Apart from keeping your screen looking new and vibrant, it additionally protects your eyes from harmful blue light. The bubble absorption adheres to easy installation, causing no ruckus. Even if there are a few bubbles occurring, they can be removed by pressing gently. At last, there is no residue left if you end up removing this guard from your screen. Following these factors, you can make your MacBook a lot safer by preserving the display for years to come.

Pros
A pack of 2
High-definition screen
Anti-glare acts up to the mark
Cons
Poor product packaging
Bad customer support
9. MOSISO blue light blocking screen protector – Reusable protector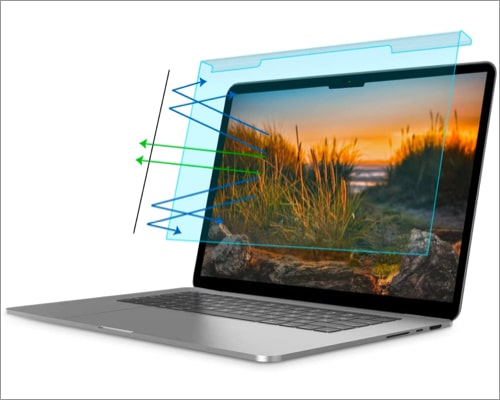 MOSISO has been a popular name in the business of screen protectors, known for its reliable and excellent products. Following its chronology, the MOSISO blue-light-blocking screen protector is designed to protect your laptop screen from dust and scratches while reducing blue light emissions leading to eye strain and headaches. It curbs and filters out 99% of harmful UV and reduces the impact of anti-blue light by 45% for HEV protection.
Made with high-quality acrylic material, this ultra-thin screen protector provides 95% transparency and will allow you to experience the original screen brightness without darkening. Furthermore, the hanging panel design makes this screen protector reusable. This offers added protection for your laptop's display over time. With its affordable price point and impressive protection, the MOSISO Blue Light Blocking Screen Protector is the perfect way to keep your 14-inch MacBook Pro looking its best.
Pros
1-year warranty
Smudge-proof
Easy to use
Cons
Woeful adhesive
The hanging clips are mid-quality
Who let the dust out?
Screen protectors are a great way to keep your MacBook Pro in pristine condition. Whether you want to reduce glare, protect your privacy, or block harmful UV light, there is a screen protector available to meet your needs. However, don't forget to look for one that is specifically designed for your MacBook's model. With the right protector in place, your 14-inch MacBook Pro will be well-protected for years to come.
Thank you for reading, and don't forget to drop your thoughts in the comments below.
Read more:
Yash is a driven individual with a passion for technology and its impact on our world. His aim is to educate and inform others about the newest advancements in technology and how they can benefit society. In consonance, he is deeply indulged in anime and Marvel Cinematic Universe, if not writing.