The new M2 Pro and M2 Max-powered MacBook Pros have started a new era of high-end productivity. So, you must protect this premium and expensive laptop with the perfect case.
Here, I've rounded up the best cases for 14-inch MacBook Pro. Therefore, choose the right one among slim and lightweight options or rugged and protective designs to keep your Mac safe and stylish.
1. Spigen Thin Fit case- Editor's choice
If you are a minimalist like me, you will love this ultra-slim case. The Spigen Thin Fit case keeps your MacBook Pro sleek and adds little to no weight. It's made from durable polycarbonate for durability and longevity. Also, your new MacBook Pro remains scratch-proof and crystal-clear.
Besides, its added bumps around the hinge and TPU rubberized feet provide a non-slip grip and protect against drops. Finally, I liked its snap-on design that makes installation simple. The precise cuts ensure proper heat ventilation and easy access to USB-C ports and charging.
Pros
Snap-on design
Rubberized base
Transparent and minimal
2. Incase Hardshell case – Lightweight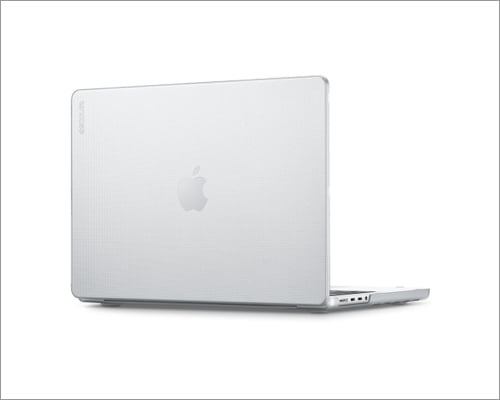 The Incase offers a lightweight hardshell case for MacBook Pro 14-inch. The stylized textured dots looks elegant, whereas hard plastic and synthetic are injection-molded to make the hardshell durable and form-fitting. So, your MacBook is safe from drops and scratches. Additionally, the bottom part has rubberized feet for better ventilation and stability.
Pros
100% recyclable materials
Textured dot pattern
Precisely molded
3. Tech21 Evo Tint case – Antimicrobial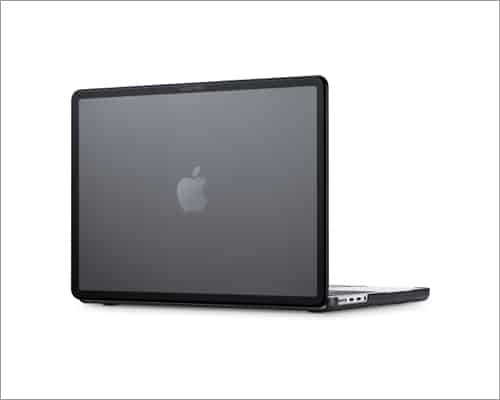 Are you also conscious of your hygiene? Then try this antimicrobial case for your MacBook Pro 14-inch. Tech21 uses impact-resistant materials to create multi-layer protection and side bumpers. Additionally, the ultra-thin and lightweight cases have a UV-resistant solution that keeps them crystal clear.
Therefore, your MacBook can withstand bumps, shocks, and drops. In addition, the anti-slip feet provide a good grip. Finally, I liked its carbon-tinted translucent version more than the clear-back one. Both are immune to anti-yellowing and scratch-fading. The only concern is the hefty price tag.
Pros
Transparent with carbon tinted effect
Advanced antimicrobial technology
UV-yellowing resistant
4. SUPCASE Unicorn Beetle case – Rugged protection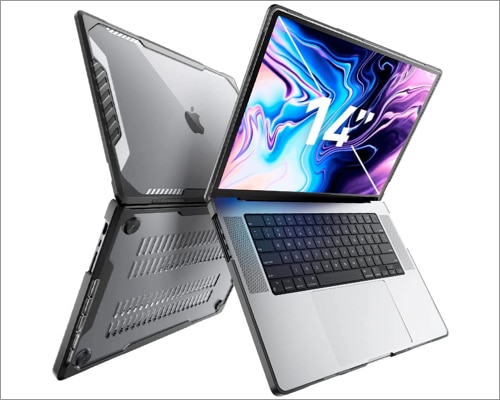 The SUPCASE Unicorn Beetle MacBook Pro case offers military-grade protection from drops and scratches. The design includes premium shock-absorbing wraparound TPU bumpers and a transparent back panel. Besides, the brand has used dual-layer hybrid polycarbonate to make the exterior.
The material is totally free from BPA, BPS, and BPF. Thanks to the two-piece snap-on installation system, you can easily attach it to your MacBook. Moreover, the raised rubber feet and air vents aid in heat dissipation. After buying, you will get a 365-day warranty on this award-winning case.
Pros
Dual layer hybrid structure
Sturdy TPU bumpers
Honeycomb ventilators
Check out on: Amazon | SUPCASE
5. MOSISO Hardshell case bundle – All-in-one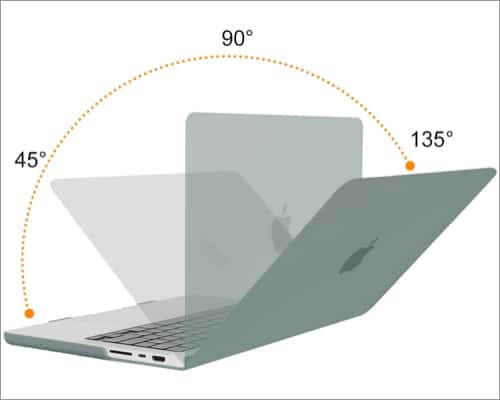 MOSISO hardshell case for MacBook Pro 14-inch comes with a color-matching keyboard cover skin, a screen protector, and a pouch. So, you don't need to buy them separately. It is actually a plastic-polycarbonate shell with no cut-out design. Therefore, you can access all buttons and ports without taking the case off.
Besides, there is two-row ventilation to avoid overheating. Also, the keyboard cover is detachable and waterproof. But, the case sometimes gets scraps and stains because of the smooth texture. On the other hand, the brand offers a vast collection of solid color cases, so browse through them and choose the one for you.
Pros
Flexible
Get a keyboard cover skin and a screen protector
Good heat disbursement
Cons
Catches stains and fingerprints
6. KECC MacBook case package – Aesthetic looks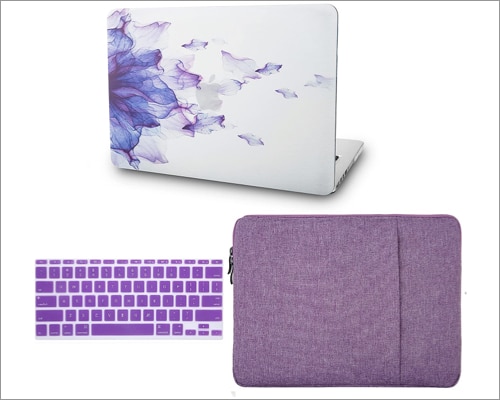 Here it is if you want to have a colorful case for your MacBook Pro. KECC offers beautiful oil-painted hard cases. It has a smooth yet sticky rubberized external texture for additional grip. So, your MacBook becomes fingerprint, scratch, and slip-proof. Moreover, the sturdy case has a sleek and shiny two-piece construction for easy installation.
As the cases are custom-made, it fits snugly. Also, the rubber feet grips to ensure your Mac is steady on the surface. But there's no extra bumper at corners multiplies the chances of shattering. You may check their extensive design library if you only want a unique appearance.
Pros
Soft touch texture
Multiple oil-painted color options
Get a keyboard cover and laptop sleeve
7. Urban Fit case – Fabric finish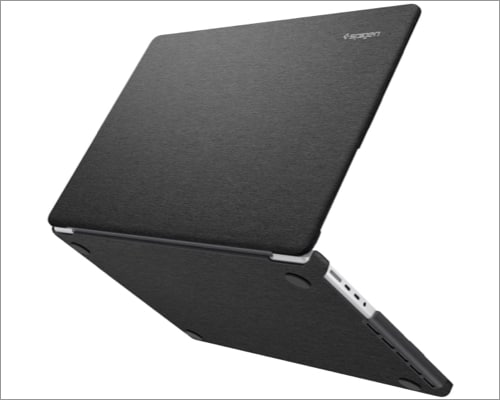 If you want to give an ever-green professional look to your 14-inch MacBook Pro, the Spigen Urban Fit is ideal. Its sleek knitted fabric on the outer shell provides a comfortable grip. Besides, the textured finish is scratch-proof.
I like to use it as the soft cover transforms into a stand. Again, it has a magnetic closure. So, your Mac can automatically detect wake and sleep.
Pros
Knitted fabric soft cover
Scratch proof
Magnetic closure
Cons
The bottom feet lack proper grip
So, that's all for today!
There are many great options available to protect your new MacBook Pro. So, consider your own needs and preferences when choosing a case. Getting the best 14-inch MacBook Pro case is essential to keep it safe and look new and stylish for a long. So, which one are you going to get? Let me know in the comments below!
Explore more…
Readers like you help support iGeeksBlog. When you make a purchase using links on our site, we may earn an affiliate commission. Read more.
Ava is an enthusiastic consumer tech writer coming from a technical background. She loves to explore and research new Apple products & accessories and help readers easily decode the tech. Along with studying, her weekend plan includes binge-watching anime.