Platformer games offer players an excellent test of skill and agility. After numerous failed attempts, the thrill of making it past a difficult obstacle provides almost unparalleled satisfaction. This sense of achievement is often addictive, making platformer gamers one of the most popular genres you can find in gaming.
Today, we will look through some of the best iOS platformer games. Let's dive in!
1. Dan The Man – Editor's choice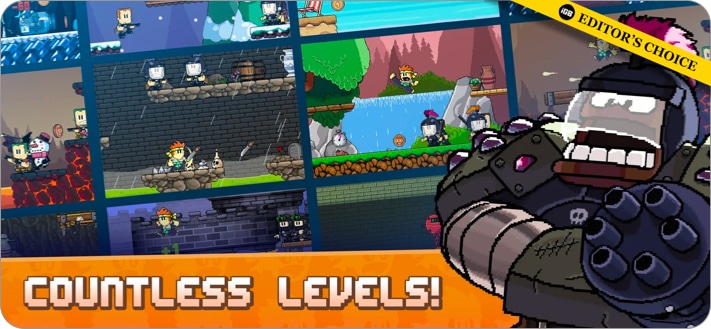 As you can understand by the game's title, this isn't a game meant to be taken seriously. However, this doesn't mean that the game isn't difficult. By any standard, it's one of the most difficult platformer games for iPhone you can play today.
The game is perfect for playing with a friend. If you remember playing retro games in co-op mode, with a split-screen mechanism, Dan The Man will have you reveling in nostalgia. Moreover, it's a hilarious story, backed by plenty of in-game content and upgrades for your characters.
Additionally, boss battles in the game make it more challenging. You must coordinate properly with your friend if you want to complete the levels. Even if you don't have a friend to play the game with, the online component will pair you with players from worldwide!
Unfortunately, the game has moved completely to a freemium model. This means that the free version of the game will bother you with constant ads.
Price: Free (In-app purchases start at $0.99)
2. Dead Cells – Unique action gameplay
Dead Cells is a platformer game with excellent combat mechanics intermixed with RPG elements. The game's novelty comes from the fact that it offers a non-linear progression system, which is rare in this genre.
Talking about this in more detail, the game changes the levels each time you die. So, you might not face the same enemies or go through the same level for the rest of your playthrough. This keeps the gameplay fresh and replayable.
Moreover, you have to learn the attack patterns of your enemies well. One wrong move could send you back to the start of your game's run. The game's RPG elements also help customize your character's build to suit your playing style. If it sounds like a lot of fun, trust me – it is!
However, the game's learning curve can be steep for newcomers.
Price: $8.99 (In-app purchases start at $3.99)
3. Super Mario Run – Endless platforming
If you want a game that doesn't end and constantly challenges you, Super Mario Run is the one. Not only does it bring back memories of playing Mario on the Nintendo 64, but the new sheen brings the perfect amount of modernity to the franchise.
This game is an endless running game, meaning that the levels are endless. Your only objective is to pass the hurdles, whether they're enemies or obstacles, and achieve the highest score possible. In typical Mario fashion, whether you jump over them or crush them beneath your plumbing boots, your score is what counts.
Furthermore, you can pull tricks on 24 exciting courses and six worlds that the developers are offering! Unfortunately, most of the game's content is locked behind paywalls.
Price: Free (In-app purchases start at $9.99)
4. Playdead's INSIDE – Grim and thought-provoking
Very few platformer games come with a message at the end of the road. Even fewer with cryptic messages that will have you sit in silence and think. INSIDE is one of those games.
The first thing you'll notice about the game is the graphics. It's elegant and minimalist, without looking drab or boring. Moreover, it's got some intriguing puzzles that will challenge your problem-solving skills. Besides, the game's platforming is mostly basic, with some additions to set pieces.
Although the game is a visual and puzzling delight, the story is far too short.
Price: Free (In-app purchases start at $6.99)
5. Apple Knight – Retro vibe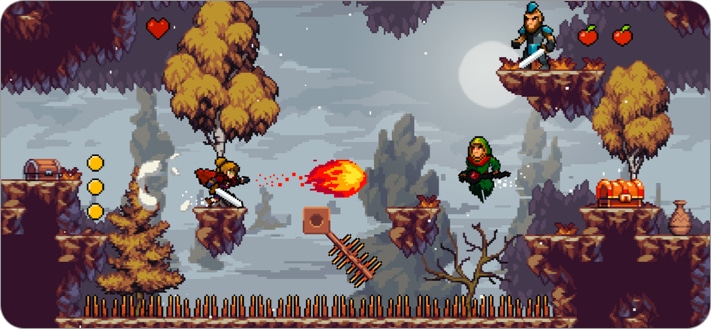 Apple Knight is one of the most nostalgic games you can play today. The pixel aesthetic takes you back to the olden days of gaming.
It has everything you need in a game with "Knight" in its name. From vast levels waiting to be explored to dragons meant to be slain, Apple Knight has a little bit of everything. There are two difficulty levels based on your skills. Moreover, you can choose between two playable characters, upgrading their abilities and armor.
The RPG elements in the game are too basic for my liking, however.
Price: Free (In-app purchases start at $0.99)
6. Sonic The Hedgehog 2 Classic – Vintage goodness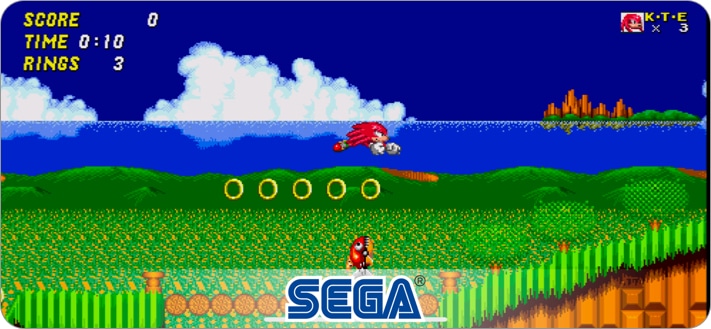 SEGA has produced some excellent platformer games. Now, the company brings all its vintage games to the iPhone. Sonic The Hedgehog 2 Classic is one of the ported games, and without a doubt, it's already one of the best iOS platformer games.
You have to stop Dr. Eggman's nefarious plans with the help of Sonic, Tails, and Knuckles. Of course, there's plenty of content to go through. The platforming elements truly bring Sonic's powers to life, and the epic boss battles keep you hooked throughout.
The game's free version suffers from too many ads, unfortunately. It can be quite annoying.
Price: Free (In-app purchases start at $1.99)
7. Hotel Transylvania Adventures – Best for kids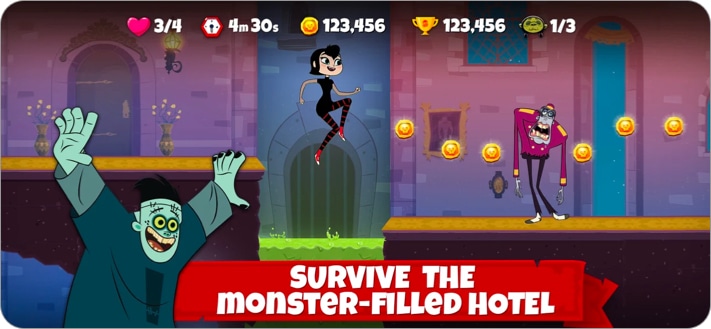 Hotel Transylvania is one of the most popular animated films for adults and kids. However, if you want your kids to play the best platformer games for iPhone, Hotel Transylvania Adventures is the game you should download. It's also one of the best iOS games for kids!
You can choose from multiple characters such as Dracula, Hank, or Mavis. Each character has a unique trait that gives a different vibe to each playthrough. Additionally, there are over 80 levels. So, if you were looking for a way to distract your kids, this game can help!
However, most of the content in the game is available upon payment.
Price: Free (In-app purchases start at $1.99)
8. Lep's World – Perfect for casual players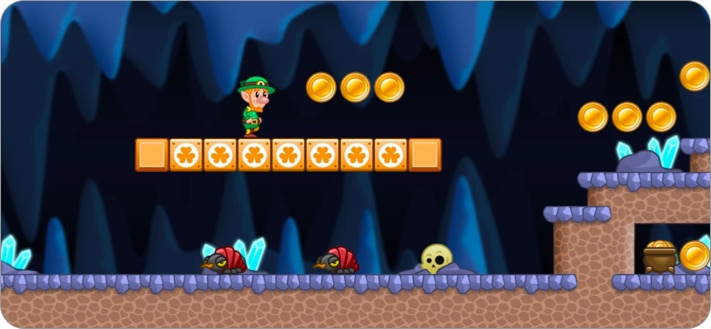 Booting up Lep's World will immediately remind you of the older Mario games. If you like the aesthetic of Mario, you're going to love Lep's World.
The game's objective is simple – you have to help Lep find his pot of gold. Unfortunately, it's not at the end of a rainbow. The game's level design is excellent, giving you enough challenge without losing out on accessibility. Moreover, it's got 160+ levels to explore!
The game can get quite boring in the later stages, though. The developers should add more varying content to keep the game engaging.
Price: Free (In-app purchases start at $0.99)
9. Super Fowlst 2 – Highly underrated
I bring one of the most underrated iOS platformer games – Super Fowlst 2. The game's replayability is unparalleled, especially because the levels keep changing every time you play.
This replayability results from an algorithm providing unlimited levels with different enemies each time. Moreover, there are power-ups to gather as you defeat some mean bosses. These bosses provide a healthy dose of a challenge as well.
The game is slightly buggy, though. Hopefully, the developers will iron out these issues soon.
Price: Free (In-app purchases $3.99)
The takeaway
So, these were my picks for the best platformer games for iPhone. What do you think of the list? Did I miss any of your favorite platformer games? Post your thoughts and suggestions in the comment section. Maybe you can suggest a platformer game that I haven't played yet!
Read more:
Readers like you help support iGeeksBlog. When you make a purchase using links on our site, we may earn an affiliate commission. Read Disclaimer.