Choosing a gaming mouse can be a challenging task. Regardless of whether you're playing a fast-paced FPS or need precise movements in strategy games, a proper gaming mouse can make a big difference in the long run. Bearing this in mind, I've curated a list of the best gaming mouse for Mac that you can buy today.
I've also segregated them based on specific qualities. This should help you choose a Mac gaming mouse that suits your needs and budget. Having said that, let's check out the list!
1. Razer Basilisk X – Editor's choice
Razer is one of the most premium gaming companies on the planet. The company has almost everything to offer in multiple relevant segments, whether it's gaming mice, keyboards, or even gaming laptops. So, it's unsurprising that the Razer Basilisk X is the best gaming mouse for Mac that you can purchase at the moment.
This wireless gaming mouse comes with dual connectivity options – 2.4Ghz and BLE. You can also switch on Razer's signature HyperSpeed Wireless Technology using a 2.4Ghz dongle for the ultimate gaming experience. Apart from this, the mouse's 5G Advanced Optical Sensor provides up to 16,000 DPI and over 99% tracking accuracy for the most precise movements.
Furthermore, the mouse has an exceptional battery life as well. If you're using the HyperSpeed Wireless Technology, the mouse will provide around 285 hours of usage. Utilizing the Bluetooth mode will grant a whopping 485 hours of battery life!
Finally, you're provided with six programmable buttons, which can be customized based on the games you play. Razer has also included a 2-year warranty for the product for long-term satisfaction. Unfortunately, some users have complained about connectivity issues when using Bluetooth. So, you'll have to be wary of this issue.
Pros
Up to 16000 DPI
Multiple connectivity options
Great battery life
2-year warranty
Cons
Bluetooth connectivity isn't the best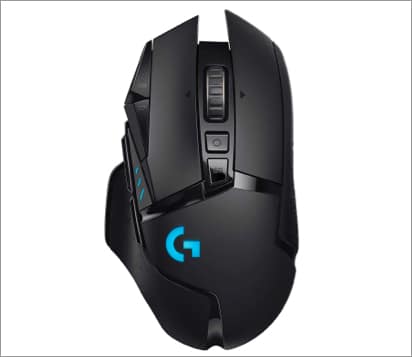 Logitech's large selection of computer peripherals is definitely an advantage when you're looking for a Mac gaming mouse. Moreover, the brand has been around for quite a few years and has established a worthwhile standard in every category. With the Logitech G502 Lightspeed, you're getting one of the best gaming accessories for Mac that money can buy.
The biggest draw of the mouse is the Lightspeed connectivity, at an extraordinary 1ms ping. Additionally, the lightweight internal endoskeleton frame provides durability without adding weight to the mouse itself. Logitech has also included six adjustable weights, which you can add or remove based on your comfort and requirement.
Furthermore, if you're someone who's into high-level gaming or programming, the 11 customizable buttons on the mouse will prove to be more than enough for your needs. Lastly, the LIGHTSYNC RGB system intelligently reacts to your system's lighting system and gameplay, changing colors to match the entire ensemble.
However, my only issue with the mouse is its battery life. Although the battery is rechargeable, it only provides 60 hours of battery life on a single charge.
Pros
Very low latency
The weight of the mouse can be adjusted
Up to 11 customizable buttons
A beautiful RGB lighting system
Cons
Battery life could be much better
3. SteelSeries Rival 3 – Budget buy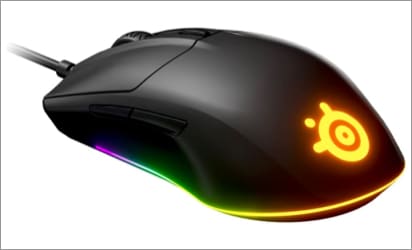 A mac gaming mouse can be quite expensive, especially if you want plenty of customization and durability. Incredibly, the SteelSeries Rival 3 aims to bring these features at a fraction of the cost.
The mouse uses a high-grade polymer body for satisfactory durability. Moreover, SteelSeries has claimed that the mouse is highly ergonomic in shape and can handle up to 60 million clicks. This is the same as their Pro gaming product lineup.
However, what sets this mouse apart from the competition is the fact that it has a significant amount of onboard memory. This onboard memory allows you to save custom polling rates, key configurations, and up to 5 different sensitivity settings.
Some users have stated that the mouse emits a squeak when clicked. This could be slightly annoying in the long run, even if it's not a dealbreaker.
Pros
Decent durability for the price
Plenty of onboard memory to save multiple different settings
Cons
The mouse sometimes emits a squeak on harder clicks
4. Logitech G603 – Sleek design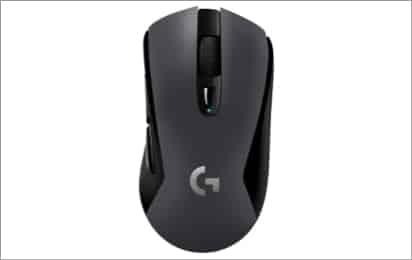 As important as precision and features may be in a gaming mouse for Mac, design is another factor to consider. After all, the MacBook, regardless of the model, gives off elegant and minimalist vibes. Considering how loud and obnoxious some gaming mouse designs can be, the Logitech G603 mouse's design is a breath of fresh air.
The black and gray color combination on the mouse pulls through beautifully, offering a sleek aesthetic that would go well with any gaming setup. Moreover, it's packed with features too. In fact, it includes Logitech's leading HERO optical sensor and Lightspeed wireless connectivity technology to deliver precision while preserving battery life.
It has up to six programmable buttons, which are enough for most gamers and coders. The lightweight build also relieves the mouse of too much weight without compromising durability. Logitech has also used sustainable materials for the product, ensuring it's Climate Pledge Friendly.
However, If you're a fan of side-scrolling buttons, you'll have to compromise on it with this product.
Pros
Elegant and sleek design
Fairly lightweight
Quite durable
Climate Pledge friendly
Cons
No side-scrolling buttons
5. UHURU WM-02 – For intermediate gamers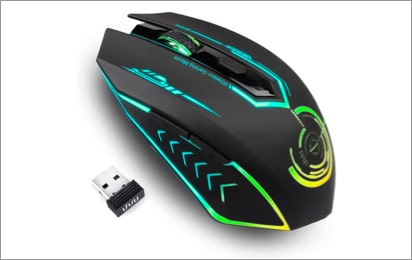 Not all of us here are beginners when it comes to gaming. If you've been gaming for quite a while but aren't at the stage where you would spend over $50 on a Mac gaming mouse, this product by UHURU should fit the bill perfectly.
This gaming mouse for Mac comes with the standard six programmable buttons and has up to five adjustable DPI levels. In fact, the DPI for the mouse goes up to 10000, which is a fairly strong number. Apart from this, the Anti-Skid scrolling wheel ensures that even the wheel clicks and scrolls are precise to the touch.
The mouse uses a 2.4Ghz wireless technology and can be operated up to 15m away. Although the design is pretty good, with up to seven unique pulsating colors, you might face issues with the battery. The company claims you can get up to 1.5 hours of usage for 7 to 10 days on a single charge when using the mouse wirelessly.
Frankly, this doesn't constitute decent battery life, and you're better off keeping it connected to the MacBook at all times.
Pros
Five adjustable DPI buttons
Anti-Skid scrolling wheel for stability
Good connectivity options
6. Redragon M722 – Lightweight champion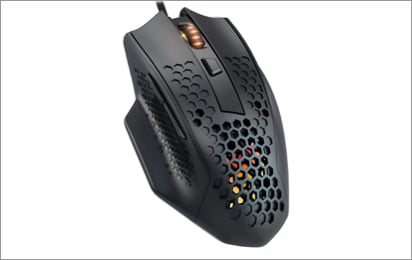 The best gaming mouse for Mac is one that is not just light on your pocket but also lightweight in use. The Redragon M722 Mac gaming mouse for Mac weighs just 58 grams, making it one of the lighter choices in the gaming mouse segment.
This lightweight design combines a honeycomb design to give the mouse a unique feel and aesthetics. Since it's a wired gaming mouse, Redragon has provided a 1.8m ultraweave braided cable to ensure that your movement isn't limited.
Additionally, it offers six customizable buttons and a high 12,400 DPI to allow for multiple sensitivity levels. To ensure smoother operation, you'll also find PTFE skates at the bottom of the mouse to effortlessly glide on different surfaces.
The only major gripe with this mouse is that the software needed to customize the buttons is difficult to find. This is thanks to a lack of instructions from the company on the software specifics.
Pros
Extremely lightweight at 58 grams
High DPI of 12,400
Both wireless and wired connectivity
Cons
Software instructions are missing
7. Logitech G305 – Excellent battery life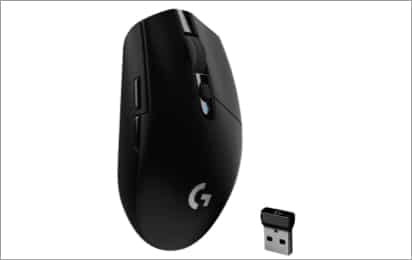 Battery life is one of the most important factors in a wireless mouse. No matter the number of features the mouse may have, bad battery life will render it almost useless. With the Logitech G305, you're getting a gaming mouse for Mac that truly delivers excellent battery life, even months after usage.
The first thing you'll notice about the mouse is the design. It's sleek, elegant, and minimalist. The product is also fairly lightweight, weighing just under 100 grams. Additionally, Logitech has equipped the mouse with its Lightspeed wireless technology to provide a super-fast 1ms report rate.
This mouse is also the perfect travel companion, thanks to the lightweight yet durable design and the built-in nano receiver storage. The company has also claimed that the mouse provides stellar battery life, coming in at 250 hours of usage.
Moreover, with the signature HERO optical sensor, the mouse supports up to 12000 DPI and has increased power efficiency. Finally, the mouse has six programmable buttons for beginner to intermediate-level gaming.
Unfortunately, the mouse tends to suffer from the double-click issue, which registers a single click as a double-click instead. This problem happens due to the internal sensors weakening over prolonged use.
Pros
Superb battery life
Quite lightweight at 99 grams
High sensitivity at 12000 DPI
Cons
Suffers from double-click issue over time
8. DAREU EM901 – Decent value for money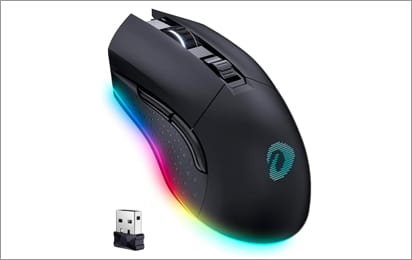 Gamers function like any other consumer on the planet – we look for the best bargain and product that gives us a bang for our buck. Thankfully, the DAREU wireless gaming mouse provides great value for money, with a decent balance between price, features, and durability.
This is one of the few gaming mice that offers seven programmable buttons at this price range, with two dedicated buttons for changing the DPI. The mouse also provides wireless and wired modes, with the wireless mode providing 2.4Ghz connectivity.
It also has a built-in 950mAh battery, providing up to 55 hours of wireless use. Finally, with the ambidextrous design, you won't have to worry about using the mouse, regardless of your dominant hand. Nonetheless, the 40 to 55-hour battery life isn't excellent, but this is manageable thanks to the wired connectivity option.
Pros
Good balance between price and features
Seven programmable buttons are a boon
Built-in 950mAh battery
Cons
Battery drains unusually fast when being used wirelessly
Final thoughts
What did you think of my list of the best gaming mouse for Mac in 2022? This list includes the best products for different use cases and specifications. However, if you think I've missed out on your favorite Mac gaming mouse, do let me know about it in the comment section below. I'll be sure to check it out!
Love gaming on Mac? Here are some articles you need to check
Readers like you help support iGeeksBlog. When you make a purchase using links on our site, we may earn an affiliate commission. Read Disclaimer.