Although Mac isn't ideal for gaming, Apple has been making headways in the gaming scene, especially with the release of the M2-based MacBooks. With such powerful processors, it only makes sense that we take full advantage of them with some of the best Mac games. Moreover, with the best gaming accessories for Mac, you can take your gaming experience to a whole new level.
1. Logitech G502 Hero – Editor's Choice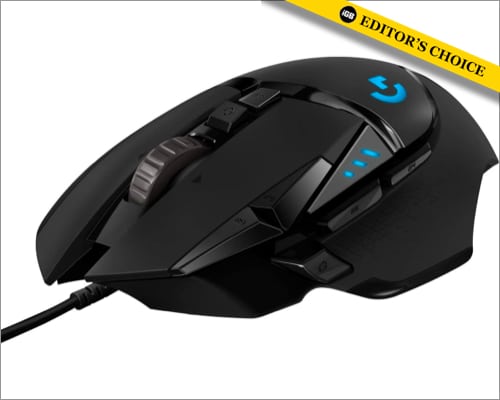 In the case of most games (competitive or otherwise), having a decent and sensitive mouse is important for a third-person or first-person shooter. The Logitech G502 Hero is the mouse that best serves this purpose.
The mouse uses an advanced optical sensor, called the Hero 25K Sensor, that provides up to 25,600 DPI with zero smoothing, filtering, or even input acceleration. It's also laden with buttons – 11 buttons to be precise – all of which are customizable based on your gameplay requirements. To top things off, the mouse comes with five 3.6g weights that you can adjust based on your needs.
Furthermore, with LIGHTSYNC technology powered by Logitech G Hub, you can adjust the RGB lighting with over 16 million colors to choose from. Basically, you get the ultimate personalization experience with the mouse. Essentially, you won't find a better gaming mouse for Mac than this beauty!
Pros
Huge 25,600 DPI
Adjustable weight distribution
Elegant RGB lighting
Cons
Quite small and may not fit larger hands.
Check out on: Amazon
2. Razer Kraken Ultimate – Noise cancellation headset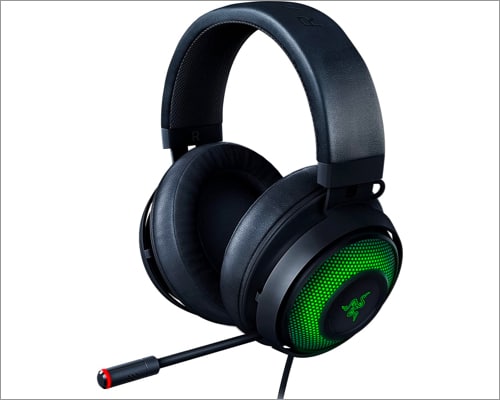 A good gaming headset is essential, especially if you're into competitive online gaming and streaming. A good headset will help you immerse yourself in the gameplay. And, for games such as PUBG, where sound is of paramount importance, you'll have a better idea about your opponents' locations.
Bearing this in mind, the Razer Kraken Ultimate is, as the name states, the ULTIMATE gaming headset that you can purchase today. It's a highly durable headset with an aluminum and steel frame construction that's guaranteed to last you for a considerable amount of time.
Moreover, its sound drivers produce positionally-accurate audio over 360 degrees to ensure the best possible sound reproduction and spatial awareness. Furthermore, you can sync the headset with all your Razer Chroma devices for a beautiful RGB-based presentation. The headset is capable of utilizing 7.1 Surround Sound channels and provides you with an improved mic with Active Noise Cancellation (ANC) to ensure that background noises don't ruin your gaming experience.
Overall, it's definitely worth the investment.
Pros
7.1 Surround Sound channel support
Active Noise Cancellation
Excellent build
Cons
Forces you to install bloatware
Check out on: Amazon
3. Keychron K4 – Mechanical gaming keyboard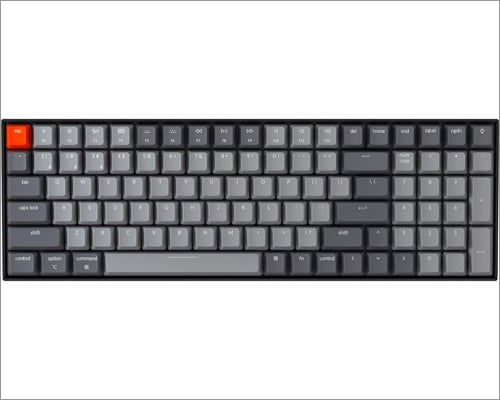 A good gaming keyboard for Mac accomplishes two things. First, it's an excellent keyboard in general, with a great typing experience and durability. Secondly, it can handle all the hard presses during intense gaming sessions. With Keychron K4, you get a wireless gaming keyboard that doubles as an excellent external keyboard for your Mac.
The keyboard has a 96% key layout, comprising 100 keys. It also has a compact design, making it highly portable for your business and work trips. Moreover, you'll also find all the necessary Mac-specific function keys on the keyboard. The keyboard can also connect with up to 3 devices simultaneously, thanks to the Broadcom Bluetooth 5.1 chipset.
You don't have to worry about durability, either. With competitive gaming being as intense as it is, the keyboard uses Gateron G Pro Mechanical Red Switch keys that have a lifespan of over 50 million keystrokes.
You can also use it in both wired and wireless mode, with the former made possible through a USB Type-C connection. Additionally, the wireless mode provides battery life of up to 240 hours on a single charge, thanks to the 4000mAh battery.
To sum up, the Keychron K4 is an excellent choice if you're looking for the best gaming keyboard for your Mac!
Pros
100 keys with a Mac-specific key layout
Bluetooth 5.1 connectivity and can connect to 3 devices simultaneously
240 hours of battery life on a single charge (wired)
Cons
Tall framing can be difficult on the wrists
Check out on: Amazon
4. 8Bitdo SN30 Pro controller – The classic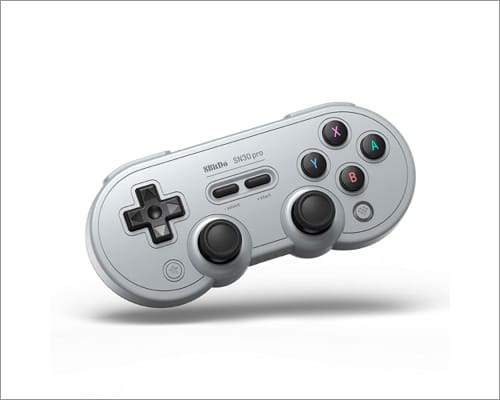 Gaming controllers are some of the most important gaming accessories, regardless of the game that you're playing. Most games feature full controller support, especially when it comes to PlayStation or Xbox layout controllers. With the 8Bitdo SN30 Pro, you get an Xbox layout and a retro look that would remind you of the days of the older Nintendo consoles!
Don't be fooled by the simple yet retro look, though. The controller is fully featured, providing a full button set with clickable joysticks, rumble vibration, motion controls, wireless Bluetooth connectivity, a rechargeable battery, a home button, a screenshot button, and a USB-C connector.
You can also connect the controller to your Nintendo Switch, thanks to the built-in three-axis gyroscope and three-axis accelerometer, resulting in 6-axis somatosensory gaming experience. There's also a special Custom Burst button, through which you can change the button settings and customizations on the fly. These features make it one of the best game controllers for your Mac!
Unfortunately, if you've got bigger hands, I wouldn't recommend buying this controller, as it's quite compact and may not fit larger hands properly.
Pros
Beautiful retro look
Provides all the modern features
6-axis somatosensory functionality
Custom Burst feature
Cons
Compact size isn't ideal for people with bigger hands
Check out on: Amazon
5. ADATA RGB SE900 external SSD – Faster transfer speeds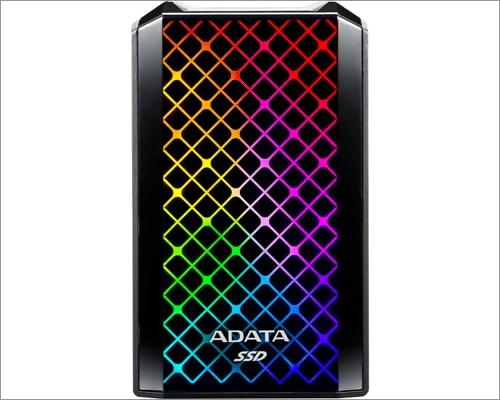 With games incorporating better textures and huge in-game worlds, the sizes of games have increased exponentially in recent years. It can often be difficult to accommodate these large games into the in-built SSD of your MacBook. This is when an external SSD can come into use. With the ADATA RGB SE900, you get a gaming SSD that not only stores up to 2TB of storage space but also provides high transfer speeds for the maximum FPS.
The SSD utilizes USB 3.2 Gen2x2 interface, which can deliver up to 20GB/s transfer speeds. To put things into context, you can transfer a 10GB 4K resolution movie from the drive to your PC or vice-versa in mere seconds. With such high transfer speeds, you can install the game into the SSD and connect it to your Mac for a seamless gaming experience. Moreover, the game's textures will load much faster than your usual SSD or HDD.
This device also features a Beehive RGB Light Wave style, which provides beautiful lighting effects after being connected to the MacBook. However, you won't be able to change the lighting style or customize it. Moreover, you'll have to reformat the drive to use with a Mac.
Pros
Up to 2TB storage space
20Gbps transfer speeds
Elegant Beehive RGB Light Wave design
Cons
Lighting settings are pre-set and can't be changed
Check out on: Amazon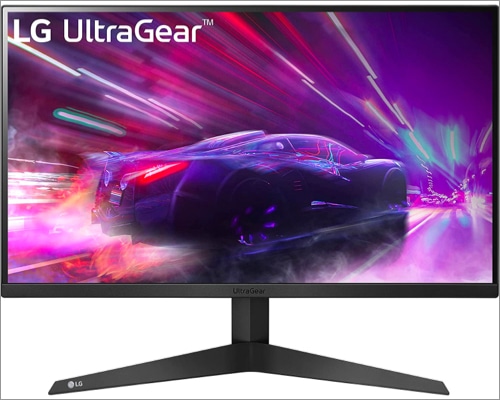 Though the latest Macs offer excellent displays, the best gaming scenarios often require larger monitors with better specifications and capabilities. If you're looking for a gaming monitor to pair your Mac with, this LG monitor is exactly what you're looking for.
The monitor comes with 24-inch screen size and a 165Hz refresh rate. It also comes with AMD's FreeSync Premium to ensure the highest framerates when gaming and optimizations for various games. Moreover, the bezels on three sides of the screen are so thin that they're virtually borderless. This provides a larger screen space for a better field of view, especially in first-person games.
Apart from this, the 1ms MBR helps smoothen your gameplay by reducing the motion blur and ghosting. You can also adjust the monitor's tilt based on your comfort levels. Along with this, the monitor comes with an in-built gaming UI that provides features such as Black Stabilizer, Crosshair, and Dynamic Action Sync.
Overall, the monitor comes with plenty of features for the price you're paying.
Pros
165Hz refresh rate
AMD FreeSync Premium enabled
UltraGear Gaming UI features such as Dynamic Action Sync provided
Check out on: Amazon
7. Razer Thunderbolt 4 dock – 10 ports in 1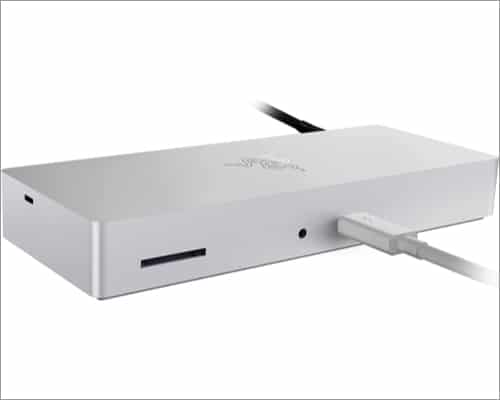 Most gaming setups nowadays tend to have multiple connections that can be difficult to manage. Moreover, it's utterly challenging to find a dock that provides Thunderbolt 4 compatibility as well. Thankfully, with Razer's Thunderbold 4 dock, all of these problems are fixed.
The Razer Thunderbolt 4 Dock is certified to provide USB4 compliance, up to 40Gbps speeds, and even backward compatibility with Macs. Additionally, it's pretty versatile, with four Thunderbolt 4 ports, three USB-A 3.2 Gen2x2 ports, and even an Ethernet port. Furthermore, if you're using an Intel-based Mac, you can connect up to two 4K 60Hz displays with the dock. For M1-based Macs, you can connect one 4K 60Hz display.
This device also takes away simultaneous charging concerns, as you can now charge your Mac and other connected devices at the same time. Overall, this dock will provide you the versatility and cable management that your gaming setup has lacked all this while. With a single hub, your setup management will become much easier!
Pros
40Gbps transfer speeds
Plenty of connectivity options
Excellent cable management
Multiple charging options
Check out on: Amazon
Final thoughts
Now that you've got an idea about which are the best gaming accessories for Mac, which one do you think you'll be purchasing? If I've missed out on your favorite Mac gaming accessory, let me know about it in the comment section, and I'll be sure to check them out!
Read more:
Anirban is a literature post-grad who delves in philosophy and postmodern novels when not writing on tech and gaming. His love for research is only trumped by his love for chai and heavy metal.