While the keyboards provided with MacBooks are quite ergonomic and benefit various work styles, constantly working on them can be tedious on the laptop itself. If you work for hours each day, it can cause issues with the keyboard relatively early. The best keyboards for Mac are your solution to this issue!
This list provides the best Mac keyboards that you can use for programming, editing, and beyond. Let's dive into the list and find the right keyboard for you!
1. Apple Magic Keyboard – Editor's choice
Connectivity – Wireless, Bluetooth, Lightning to USB
Weight – 0.86lbs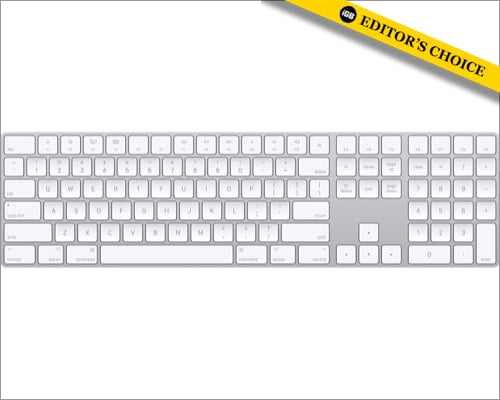 If we're talking about MacBooks, we must talk about the Apple Magic Keyboard. It's simply the best Mac keyboard you can use today.
Low key travel spaces and scissor mechanisms form this keyboard's core lead to a precise typing experience. Moreover, it's got an extended layout with arrow keys and dedicated document scrolling keys for a great user experience.
Additionally, it comes with a rechargeable battery. You don't have to worry about the battery, though. Since it pairs seamlessly with MacBooks, the battery usage is highly optimized. However, the price factor could put off a lot of potential customers.
Pros
Compatible with all Mac devices
Good battery life
Great build quality
Excellent typing experience
2. Logitech MX Keys advanced keyboard – Best low-profile keyboard
Connectivity – Wireless
Weight – 1.9lbs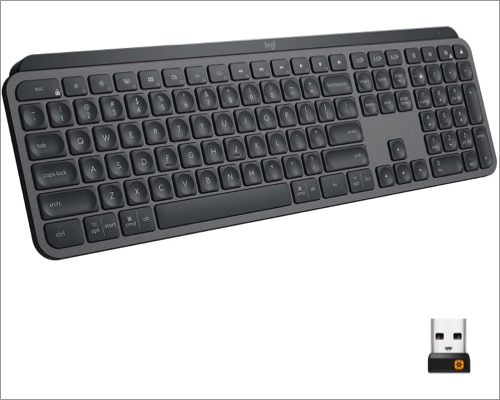 When you lay your eyes on this offering by Logitech, you'll understand why it's one of the best Mac keyboards. The spherically dished keys ensure that you get a beautiful typing experience.
Working with this keyboard is extremely convenient, as it can detect your hand's proximity and automatically light up. This ensures that you don't have to worry about working in low light, and your typing will be as accurate as ever. Since it pairs with three different devices simultaneously, it doesn't interrupt your workflow.
The keyboard also comes with a 1-year warranty.
Pros
Hand proximity detection
Good Bluetooth connectivity
Climate Pledge friendly
1-year warranty
Cons
Build quality could be better
Check out on: Amazon | Best Buy
3. Logitech ERGO K860 – Excellent ergonomics
Connectivity – USB
Weight – 2.56lbs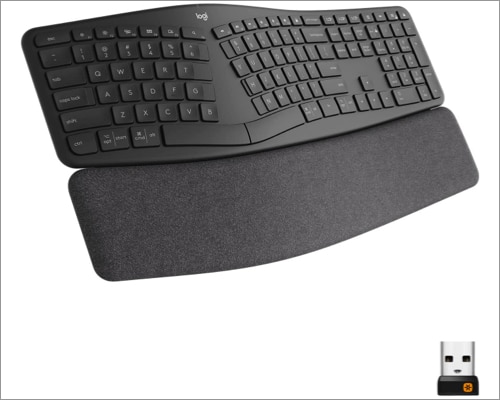 While some keyboards make minor changes for better ergonomics, what if the entire keyboard's form factor was changed to accommodate the perfect ergonomics? You don't have to wonder much about it with the Logitech ERGO K860.
Almost immediately, the keyboard's shape will startle you. The curved keyframe reduces the stress on your hands and wrist so that you can work more efficiently. Besides, the keys are scooped for better finger posture, and the palm rest can be adjusted to your comfort. If you face serious wrist issues when typing, you should try this keyboard.
The keyboard is also Climate Pledge Friendly, with 71 percent of the keyboard made from post-consumer recycled plastic. Unfortunately, you'll have to get on a cleaning job quite often with this keyboard. The provided wrist rest can get dirty easily.
Pros
Ergonomic design
Climate Pledge Friendly
Adjustable palm rest
Cons
Accumulates dirt easily
Bulky
Check out on: Amazon | Best Buy
4. iClever BK10 – Pairs with 3 devices simultaneously
Connectivity – Bluetooth
Weight – 1.11lbs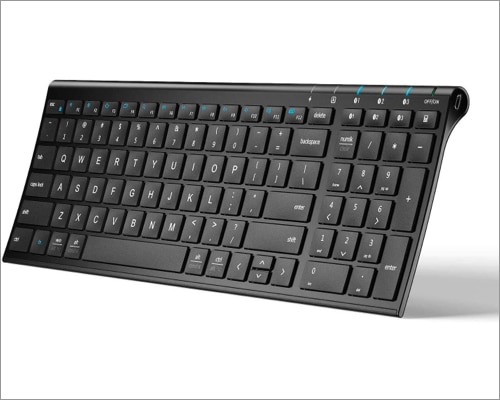 Sometimes, you need a keyboard for MacBook Pro or Air that doesn't burn a hole in your wallet. For these situations, you can check out the iClever BK10.
Don't be fooled by its aggressive pricing. The build quality of the keyboard is much better than you'd expect. Moreover, its Bluetooth technology is good enough to pair with three devices simultaneously. The battery life on the keyboard is decent too, with the company claiming that it can provide 90 hours of continuous typing.
While this is a slim keyboard, its looks are purely functional. However, if you're looking for an elegant design, this keyboard won't provide it.
Pros
Decent pricing
Pairs with three devices simultaneously
Great battery life
Slim form factor
Cons
Isn't the quietest keyboard
Check out on: Amazon
5. KLIM Chroma – Comes with a 5-year warranty
Connectivity – Bluetooth
Weight – 1.06lbs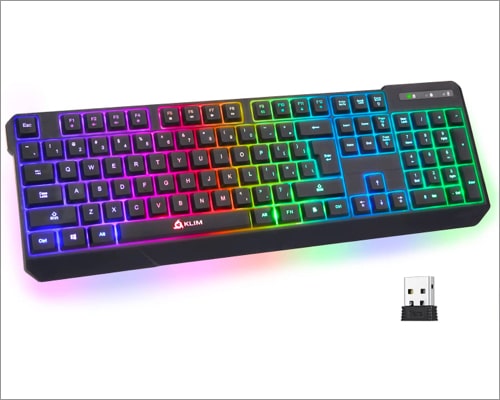 If you're looking for aesthetics, this KLIM Chroma keyboard is for you. This inexpensive, RGB-backlit keyboard for Mac delivers all the fundamentals.
The low actuation distance on the keyboard allows for faster typing speeds and reaction times in online games. It's also easy to install. You need to plug in the USB receiver, and done! No need to install any drivers.
Here's the kicker – it has FIVE years' warranty! That's right. While you're not paying a premium for the product, the five-year warranty makes it future-proof as a secondary gaming keyboard.
However, people have reported that the Bluetooth connectivity isn't the best. To maintain a stable connection, you'll have to stay close to the USB receiver.
Pros
Low actuation distance leads to a good typing experience
Easy to set up
5-year warranty
Cons
Bluetooth connectivity has some issues
Check out on: Amazon
6. Keychron K2 – Best mechanical keyboard
Connectivity – Wireless, Wired
Weight – 2.2lbs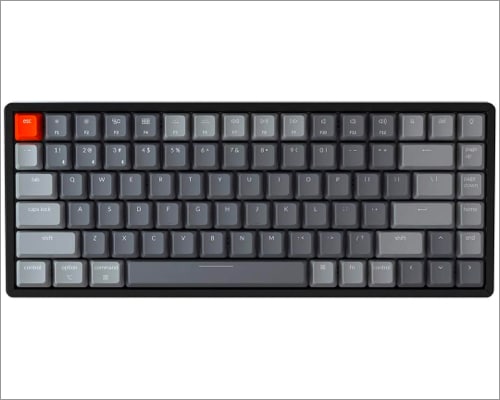 This 84-key device from Keychron provides a compact form factor while keeping the best facets of a gaming keyboard. Although it doesn't look like a gaming keyboard at first glance, its features will win over even the most skeptical gamers.
It also has all the necessary Mac function keys, an aluminum frame for toughness, and RGB lighting for the aesthetics. Gateron Mechanical keys ensure that even the most intense gaming sessions don't wear out the keycaps. Lastly, the battery life on this mechanical keyboard is simply amazing, with a massive 4000mAh battery.
The keyboard isn't the best for typing, however. The keys are quite tall and will lower your typing speeds. But if you're used to this design, you won't like anything other than this!
Pros
Perfect for competitive gamers
Mac-based key layout
4000mAh battery gives it a long life
Decent build quality
Cons
Tall keys might hamper typing speed
Check out on: Amazon | Keychron
7. Macally – Magic Keyboard-like design
Connectivity – Wireless
Weight – 0.93lbs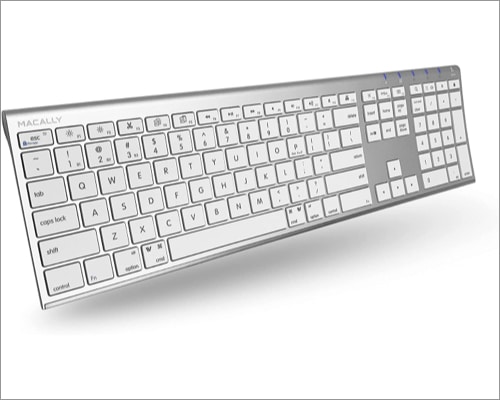 This ultra-slim keyboard from Macally is perfect if you're looking for a Mac keyboard that doesn't try anything extravagant in the design department. It looks and feels efficient.
The keyboard comes full size, with 110 keys for 20 shortcut keys, a number pad, and all the required presets. Moreover, it's only 15 millimeters thick, making it extremely sleek and lightweight. You can connect with up to three devices simultaneously for seamless workflow as well.
The power-saving feature in the keyboard isn't all that great, though. If it's not in use for a while, it powers off. This can be annoying for most people.
Pros
Sleek and minimalist design
Full-size keyboard with all the Mac shortcut keys
Lightweight
Cons
Decal on key designations come off quickly
Check out on: Amazon
8. OMOTON – Value for money
Connectivity – Bluetooth
Weight – 0.75lbs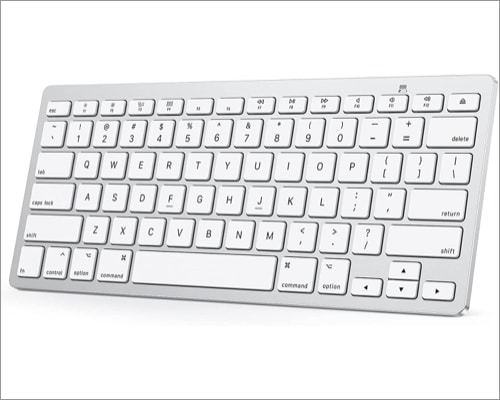 If you want a keyboard that provides compatibility, ergonomics, and a good design aesthetic without costing you a fortune, the OMOTON keyboard is what you need. This Bluetooth keyboard also has a smaller form factor, making it easy to carry.
Not only is the keyboard priced well, but it's also compatible with a range of Apple Mac products. You can connect the keyboard with many Apple devices, from Mac Pro to the iMac. It's also got 12 shortcut keys placed according to the macOS user experience for maximum efficiency.
It's not a silent operator, however. The keys make some noise when you're typing.
Pros
Compatible with all Mac devices
Compact form
Plenty of Mac shortcut keys
Cons
Tends to be noisy when in use
Check out on: Amazon
9. Das Keyboard 4 – Durability champion
Connectivity – USB
Weight – 2.90lbs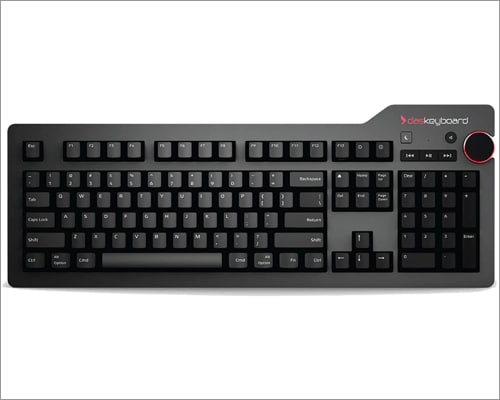 The Das Keyboard 4 is one of the most durable mechanical keyboards for Mac that you can find on the market. Its tough frame is complemented by the Cherry MX Brown keys for an excellent user experience.
Apart from the durable shell and tactile keys, you also get an N-Key Rollover and a couple of USB 3.0 ports for data transfer. Additionally, all the essential Mac shortcuts are on the keyboard, along with dedicated media controls and a noticeable volume knob. Basically, whether you're a workaholic or an audiophile, the keyboard fits both bills perfectly.
Unfortunately, this durability comes at a cost. The Das Keyboard 4 is exceptionally heavy, thanks to the hard frame and full size.
Pros
Highly durable
High-speed USB 3.0 ports for transferring data
Dedicated media controls and Mac shortcut keys
Check out on: Amazon | Best Buy
The takeaway
So, these were my picks for the best keyboards for MacBook Pro, Air, or any other Mac. I've tried to include keyboards for multiple budgets and use cases. Hopefully, it'll be easier to make a purchasing decision if you're in the market for an external keyboard for Mac.
If there are any of your favorite keyboards that haven't been listed here, let me know in the comments below!
Read more:
Anirban is a literature post-grad who delves in philosophy and postmodern novels when not writing on tech and gaming. His love for research is only trumped by his love for chai and heavy metal.