Choosing a keyboard for your work and gaming needs can be daunting. There are so many keyboards, and many can be customized to fit your needs. While this is a subjective topic, a few things we can all agree on is that the keyboard needs to be durable, look good, and not cost a fortune.
For these reasons, mechanical keyboards are the way to go. You'll find out why later on. But first, let's have a look at the best mechanical keyboards for Mac.
1. Velocifire M104 – Editor's choice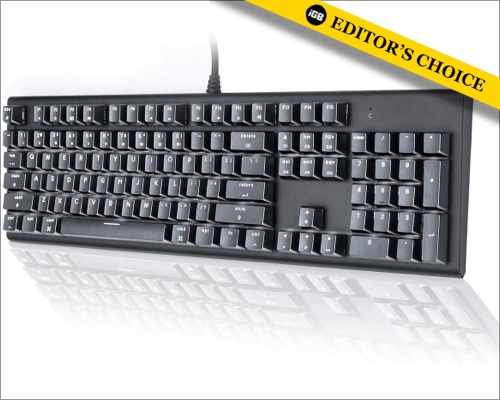 The Velocifire M104 isn't a keyboard designed for specific use. It's not meant purely for either gaming or office work. Rather, it fits into the sweet spot between gaming and official work. That's where its strength lies!
The solid frame construction supports a full-size 104 keyset. The construction also makes the keyboard feel sturdy. This is a good thing as the keyboard isn't exceptionally expensive either. Despite the relatively cheap pricing, you won't consider the build flimsy.
There are numerous lighting options you can choose from, and they have their settings for brightness and speed. Besides, you'll find secondary keys for media playback. The keyboard comes in black, giving it a sleek and minimalist look.
Additionally, you can also get the keyboard with or without O rings, depending on your preference.
The ergonomics of the Velocifire M104 aren't great, though. You can't adjust the keyboard's angle, so you'll have to place it on a flat surface to type properly.
Pros
Good balance between work and gaming
Reasonable pricing
Sleek look
Durable
Cons
Ergonomics could've been better
Check out on: Amazon
2. Kinesis Freestyle Edge – Best for gaming
If you're looking for a gaming keyboard that provides you with the best ergonomics, you should look at Kineses Freestyle Edge.
The first thing you'll notice about the keyboard is its split design. It's split down the middle based on the correct keyset placements. This makes it easier to type and reach certain key combinations.
Moreover, if you're gaming and playing the latest shooting games, you can move the right module out of the way to be replaced with your mouse.
The keyboard features Cherry MX switches that provide low but tactile feedback. This entails the fastest responses in gaming when you're in the middle of an intense battle.
The entire keyset can be customized both in function and lighting. You can change the RGB color scheme to suit your entire setup.
My only issue with the keyboard is that you'll have to buy a lift kit if you like using your keyboards at a particular angle. The kit isn't provided with the keyboard, despite the price tag.
Pros
Excellent for gaming
Split design gives good ergonomics
Highly customizable
Tactile feedback
Cons
A separate lift kit is standard at this price range
Check out on: Amazon | KinesisGaming
3. Logitech G915 – Best wireless mechanical keyboard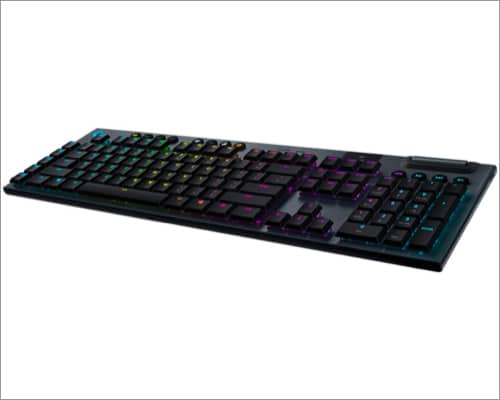 Logitech has been a company mostly known for its computer peripherals meant for official use. With the Logitech G915, you can find a good mix of work and gaming.
While this can be a good gaming keyboard, I'd prefer to use it for office work and other media. The lighting technology, powered by LIGHTSYNC, allows you to customize the lighting based on the movie or the song you're listening to.
It's also a completely wireless keyboard, which exponentially increases the ease of use. You don't have to fear latency issues or lag either. The Bluetooth provided with the keyboard connects smoothly, and you're not likely to face any hassles.
Dedicated macro customizable keys and its thin build also add a certain style. Moreover, the build quality is premium, and the keyboard won't pick up knicks on light to moderate bumps.
Despite these hefty features, the keyboard is far too expensive. I'd recommend you to wait for good deals on this one.
Pros
Completely wireless
Dedicated macro keys
Decent build quality
Check out on: Amazon | Best Buy | Logitech
4. Das Keyboard 4 – Durability champion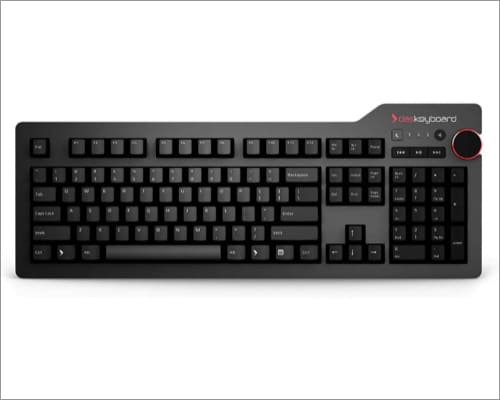 If you're clumsy and want a durable keyboard that can last you for ages, check out this Das Keyboard 4.
The keyboard has excellent build quality, combined with aluminum, making it one of the sturdiest keyboards you'll ever lay eyes on. It's also Mac-specific, so you'll find dedicated keys for macOS.
Moreover, there are 2 USB ports and media control buttons for your playback needs. The key switches are Cherry MX mechanical, making them ideal for working. You can also choose the switches depending on the actuation distance and feedback you prefer.
The multiple USB ports also make it easier to plug in your gaming controller, webcam, or microphone. All-in-all, there's a lot of versatility on offer here.
The only caveat of this keyboard would be that you can't adjust the typing angles. If you've got wrist issues, I'd recommend buying a separate lift kit or wrist rest.
Pros
Highly durable
Perfect for the office use
In-built USB ports provide versatility
Dedicated keys for macOS
Cons
Separate wrist rest or lift kit isn't provided
Check out on: Amazon | Best Buy | DasKeyboard
5. Drop Shift mechanical keyboard – Best mini keyboard for gaming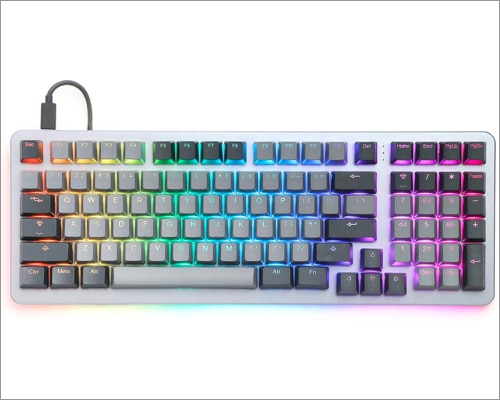 The Drop Shift keyboard is meant mostly for gaming. However, it can function well for other situations as well.
The keyboard comes with a fully customizable keyset, and you can switch keys to fit your preference in mere seconds. The key switches themselves are Cherry MX, which guarantees a low actuation distance and lightning-fast feedback.
The build quality is premium too. In fact, this is the company's most ambitious keyboard, with anodized aluminum the primary material. Moreover, it is smaller than a traditional keyboard, providing ample desk space.
Of course, you can change the lighting options for a lower profile when working. For intense gaming sessions, the lights can be customized for numerous patterns.
Be careful when ordering this keyboard, though. It's better to test before buying, as some users have reported defective keys and not-so-friendly customer support.
Pros
Great for gaming
Customizable keyset and lighting
Very responsive
Small form-factor
Cons
Lack of proper customer support
May come with defects
6. Matias Tactile Pro – Best for Apple ecosystem
For Apple enthusiasts who want the feel and look of an Apple keyboard, the Matias Tactile Pro is a good substitute, especially when you're about to replace your older keyboard.
The keyboard has the throwback looks that made us fall in love with Apple products in the first place. Despite its nostalgic exteriors, it comes with a heap of modern features.
This keyboard will remind you of the Apple Pro Keyboard days. It comes with high feedback tactile keys, perfect for people who prefer the sound of keys clacking.
Moreover, if you are into the Apple ecosystem, the Matias Tactile Pro would be a good choice as it sits well with most Apple products. Basically, it's a near-perfect keyboard for the office environment.
What I didn't like about the keyboard is that it's expensive for the features it brings. If Apple products take your fancy and money is no object, you can give this keyboard a shot.
Pros
Perfect for Apple ecosystem
High tactile feedback for typing satisfaction
Good keyboard for office use
Cons
Expensive for the features it brings
7. Womier K87 – Best looking mechanical keyboard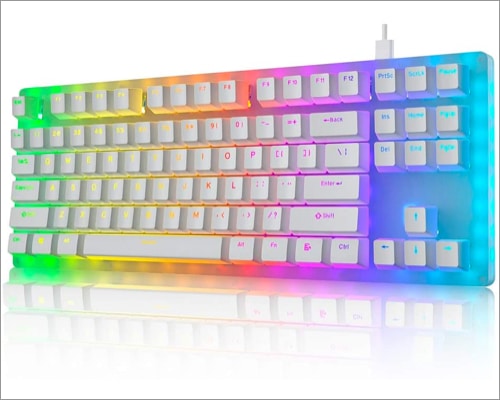 There are many aesthetically pleasing keyboards. However, Womier K87 is one of the best-looking keyboards under $100.
The entire frame of the keyboard is made of a transparent glass panel. While you might wonder about the durability of such a frame, I assure you that it can withstand light to moderate bumps.
The keyboard itself is compact, and this increases its portability. The glass panel comes in extra handy when customizing the RGB lighting to your liking.
The keycaps are PBT double-shot, meaning that though the key legends lack the sharpness of ABS, they will withstand most spillages. They're also more durable than their ABS counterparts.
Lastly, the keyboard is easy to use with its plug-and-play connectivity. But you might have to update the keyboard software to make it work properly under macOS.
The keyboard's rubber feet don't give much incline when typing. So it may not be ergonomic for some people.
Pros
Looks great
Compact size
PBT keycaps
Easy to use
8. Keychron K6 – Portability master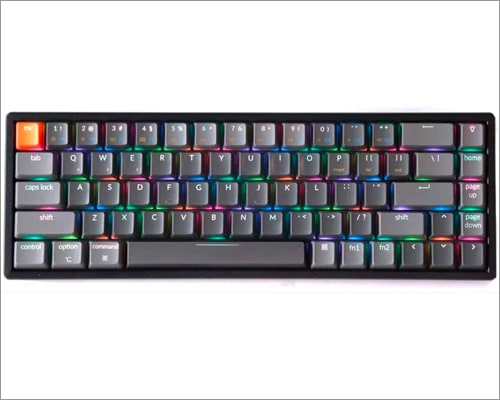 Keychron K6 is a highly portable keyboard that prides itself on its reliability and ergonomics. Further, it's also customizable with key switches and keycaps.
This is a 65% keyboard, implying that while you don't get the luxury of the Numpad section, you still have access to the arrow keys. Therefore, there's no need for a second layer to move the cursor around.
There's a Mac-specific function row for quicker actions while working. You can also connect the keyboard with a maximum of 3 devices via Bluetooth.
The battery capacity is 4000mAh, and the company claims that the keyboard can work for up to 72 hours on a single charge. Overall, it's a nifty keyboard for those who want a certain level of customization without the flashy aesthetics of most gaming keyboards.
While you can use this keyboard for gaming, I'd prefer using this for work. Personally, I didn't like the ABS keycaps as they're not durable. Besides, the RBG lighting scheme seems rather redundant, thanks to the design choices.
Pros
Portable
Mac-specific function row available
Can be connected with 3 devices
Good battery life
Cons
Lighting scheme doesn't work well with the design
ABS keycaps don't last long
9. EPOMAKER GK96S – Best connectivity and versatility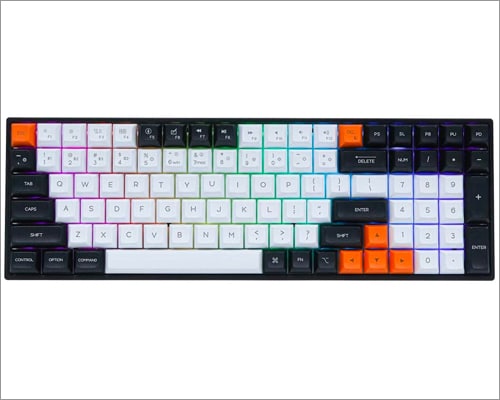 If you're looking for a no-frills, no-nonsense keyboard for Mac, the EPOMAKER GK96S should be hot on your list. The keyboard comes with 96 keys and is one of the most compact in this category. The key switches can also be swapped to switches of your liking, from Cherry MX to Gateron.
More importantly, the keyboard supports Bluetooth 5.1 and can connect with up to four devices with minimal latency.
The keyboard's battery is a respectable 4000mAh, perfect for long-term use on a single charge. As for the keycaps, they're made of PBT material. While they're not as shiny as their ABS counterparts, the keycaps will last longer.
The RGB lighting onboard has 9 unique effects, and you can download more of them online.
I've noticed that the opaque keycaps don't work well with the lighting system onboard. If you want the lighting effects to be more noticeable, you're better off replacing the keycaps with something more translucent or transparent.
Pros
Highly compact
Bluetooth connectivity is near perfect
Battery life is decent
Cons
Lighting system isn't great
Check out on: Amazon | Epomaker
10. iKBC W200 – Minimal mechanical keyboard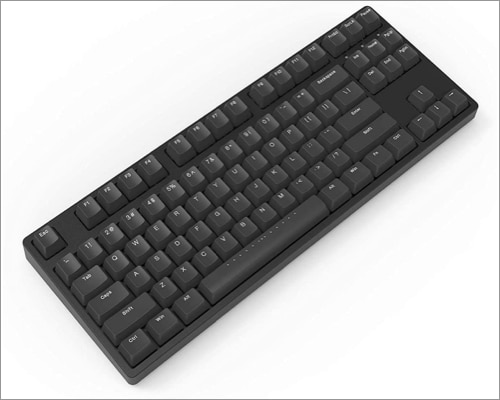 This is the perfect example of the minimalist mechanical keyboard. The iKBC W200 is meant for pure typing joy.
The keyboard is loaded with Cherry MX Blue switches. These offer high initial resistance for satisfying tactile feedback when typing.
It's easy to set up as well. There's no need for software – you just plug in the wireless receiver in the USB port and start using the keyboard.
You can also adjust the height of the keyboard with the provided adjustable stands, and the keycaps are long-lasting and durable, thanks to the PBT double-shot molding.
What I didn't like about this device is that it can get pretty loud in office environments, and the 2.4Ghz wireless connectivity results in some latency.
Pros
Minimalist design
Cherry MX Blue switches for high feedback
Easy to set up and use
Adjustable height
Cons
High feedback switches may not work well in an office environment
Check out on: Amazon
Why are mechanical keyboards better?
Mechanical keyboards are usually the preferred keyboards for gaming and other intensive tasks. While you may find other keyboard types, such as membrane, a dome switch, or scissor-switch keyboards, here's why you should go for a mechanical keyboard:
1. Durability
Mechanical keyboards use plastic key switches instead of standard rubber. These are tested to withstand up to 50 million presses without losing functionality.
Rubber switches often wear down much faster, especially if you press their keys hard. Since gaming can be an intense experience, rubber switches will start to wobble after extended usage. This is why mechanical keyboards are superior for gaming and otherwise.
2. Responsiveness
Most keyboards with switches other than mechanical require you to press them completely so that the input is taken and processed by the computer. With mechanical switches, pressing them halfway down will send the signal for processing.
This decreases the reaction time and gives you faster response times in a competitive game. If you're on track to become a pro gamer, mechanical keyboards are the way.
3. Maintenance
Since mechanical keyboards are made of plastic switches, they're easier to maintain. A quick cleanup will have your mechanical keyboard looking brand new regardless of spillages or dust settling down.
Unfortunately, other types of keyboards require you to be far more careful when maintaining them. Dust and stains aren't easily removable from these types of keyboards.
4. Customization
Mechanical keyboards are highly customizable. From the key switches to the keycaps, there are many things that you can change to suit your gaming style. On the other hand, other keyboards offer limited choices in terms of customization.
Even for typing, mechanical keyboards allow you to choose the right type of keycaps and key switches for your typing preferences.
5. Overall experience
Apart from the reasons listed above, there's a certain comfort to mechanical keyboards that you can't find in others. Moreover, with most mechanical keyboards, you can press a certain amount of keys together without any issue. You know that this feature is extremely necessary if you're a gamer.
The issues with mechanical keyboards would be that they can get pretty loud, based on the switch type, and they can be absurdly expensive. However, I'd argue that you'd be getting your money's worth despite the price tag.
Ready for a new typing experience?
Think of mechanical keyboards as an investment. They offer a premium typing experience and are essential for gaming as well. I've tried to include the best mechanical keyboards for Mac in this list, under the essential categories and different price segments.
Have you ever used a mechanical keyboard? Do you prefer them over membrane and dome switch keyboards? Tell us about your experience in the comment section below!
Read more:
Readers like you help support iGeeksBlog. When you make a purchase using links on our site, we may earn an affiliate commission. Read Disclaimer.