Sometimes, the things that help protect your most valuable gadgets are the cheapest. Losing a $174 AirPods Pro is a huge loss, but it happens every time. AirPods are tiny, so the closer they are to your palm, the safer. I bring you the best and cheapest watchband holders to protect your AirPods with style at all times.
Besides securing your AirPods, these holders will help you access them easily while cruising through your busy schedules. Keep reading, and you'll soon get the best AirPods watchband holders for yourself.
1. BabyValley wrist band for AirPods – Editor's choice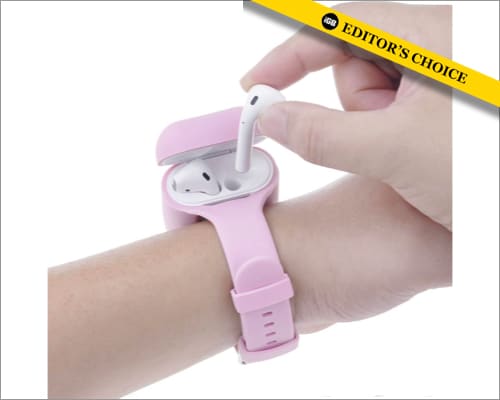 Regardless of how busy your day is, the BabyValley wristband secures your AirPods and makes them accessible as you go. It has a wristwatch design. So, all you need to do is turn your wrist to pick your earpieces. Besides, this is available for both AirPods and AirPods Pro.
The rubberized silicone strap is similar to a wristwatch thong to hold firmly to your wrist. You'll find the surrounding thickness valuable for extra protection. And the entire body is smooth, adding to its comfortability and giving it sleek compatibility with wireless charging.
The BabyValley AirPods wristband comes in different colors and undoubtedly fills the arm with style. The winning design in this one features a silicone pod where you'll insert your AirPods case. The friction in the silicone pod interior prevents your AirPods from sliding off.
Pros
Access your AirPods easily
Supports wireless charging of your AirPods
Grips the AirPods case and prevents it from sliding
Multiple color options
Check out on Amazon: AirPods | AirPods Pro
2. Finenic (2 PACK) Airpods holder – Best for minimalists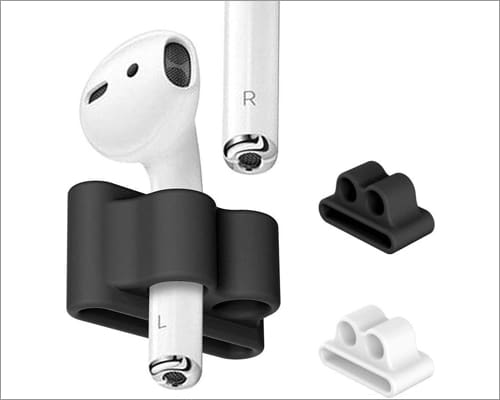 The Finenic AirPods holder is suitable for minimalists. And instead of the strap-form design, the silicone holder features a 0.9-inch wide silicone clip formed into two earpiece gripper holes that hold your earpieces. The holder comes as a pair. No matter what you pick, you always get a black, paired with another light color.
What's admirable about the Finenic AirPods holder is that you can attach it to a regular wristwatch or an Apple Watch; all you need to do is wear it on your watch strap. It doesn't enclose the earpieces, so all it takes is to pluck them out whenever you need them.
The holes holding the earpieces have the typical silicone grip, but they're definitely not suitable for smaller traditional AirPods. But Apple AirPods and AirPods Pro will sit well in the holes.
Pros
Makes your earpieces more accessible
Add an extra style
Silicone material enhances grip
Lightweight and less bulky
Cons
Smaller AirPods might fall off
You'll have to transfer the earpieces to the pod to charge
3. XORDING AirPods Band Holder – Lightweight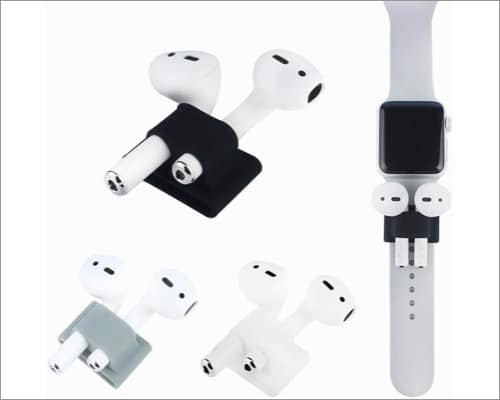 The Xording AirPods holder is similar in design to the Finenic holder and is compatible with the AirPods Pro. This one also features a minimal design and is attachable to your Apple Watch.
Xording also comes in three colors: grey, black, and white. So you'll get the three colors when you order this item. I find that reasonable since these colors are compatible with any watch color or design.
The strap grip is also 0.9 inches wide, so it fits a typical Apple Watch strap. Its holes also have enough friction to grip your earpieces firmly, considering it's a silicone material. So, you can go about your day without worrying about losing your AirPods.
The only con with these wristband holders is that you keep separating the earplugs from the pod.
Pros
Three colors
Access your AirPods easily
Silicone material grips earpieces firmly
Cons
You'll have to separate the pod from the AirPods
4. AWINNER holder – 3-in-1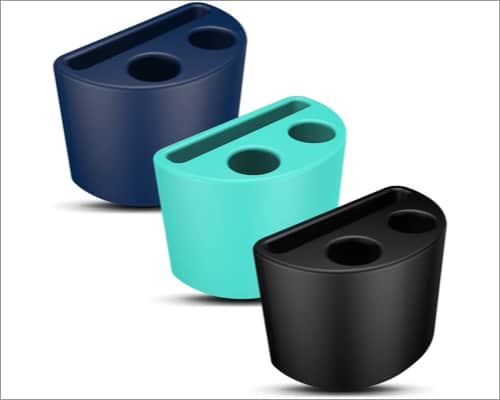 You'll also attach the AWINNER AirPods holder to your Apple Watch or a regular wristwatch. But while it uses your watch's strap, it has a strap grip hole extending to either side to fix firmly to your Watch.
The entire design of the AWINNER holder is a silicone material. A pack of this holder comes in three pieces, and each trio provides three color options; you can order the blue, cyan, and black group, or if you prefer brighter colors, you can go for the pink, white, and red combinations.
The earpiece holes hold your AirPods firmly, so they don't fall off, and it's also compatible with the AirPods Pro. Interestingly, the silicone material is bulky around your AirPods, adding a layer of protection and grip to your earpieces.
Pros
Bulkiness protects the AirPods
The silicone hole offers a firm grip on your earpods
Versatile color options
Cons
Separating the AirPods from the pod might create charging problems if the battery runs out
5. TenCloud wristband accessories for Airpods case Support – Comes as a pair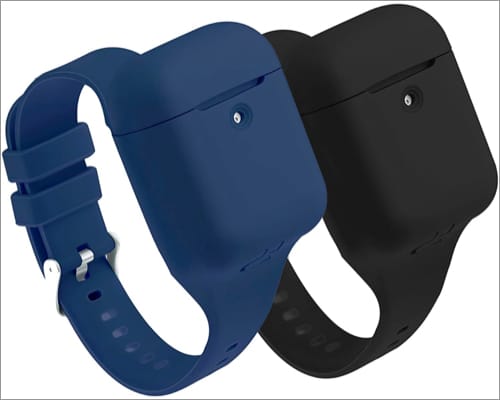 The TenCloud waistband holder is a wrist grip, and its entire body is a silicone material. Like the BabyValley brand, you don't need to worry about separating your AirPods from the pod during charging, as this one also supports wireless charging.
The port opening on the underside also allows you to plug in a charger easily and prevents dust or dirt from entering the port since it's closable. The TenCloud AirPods holder also comes in pairs; each has different color combinations. So ordering one of these gives you a pair of wristband AirPods holders with different colors.
The entire strap is smooth and easy on the wrist. While the AirPods holders are enclosed and compatible with 1st and 2nd-generation AirPods, it's not a good fit for the AirPods Pro.
Pros
The enclosed grip offers additional protection
Wireless charging support
A closable opening for charging prevents dust and dirt
Cons
Not compatible with AirPods Pro
6. Chofit silicone wristband for Airpods – Simple design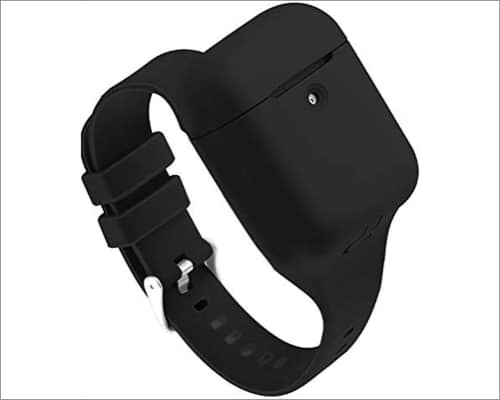 Here's another AirPods wristband holder with the strap and the entire body made with silicone. It's stylish and durable with the typical strap design, and you can choose from four colors: black, blue, pink, and white.
As with other AirPods holders with a similar design, this one also has a closable opening for charging, and the spotted opening towards the top side lets you know if it's charging or not.
This holder is compatible with most AirPods. However, you might want to look elsewhere if you want something for your AirPods Pro.
Pros
A closable opening for charging protects the port
Four color options
Enclosed design and grip prevent loss
Cons
Not compatible with the AirPods Pro
7. Darangs AirPods protective case – Complete AirPods kit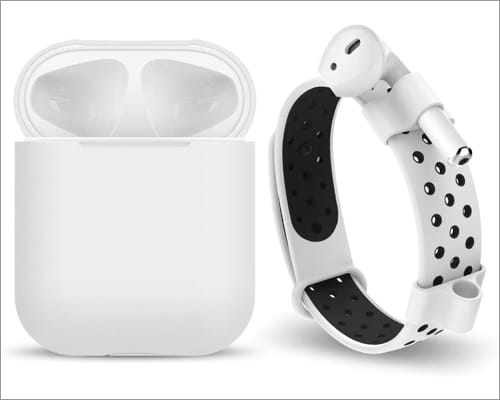 The Darangs brand offers a complete AirPods kit. And this includes a silicone case and watchband holder for the AirPods, offering protection, safety, and convenience all at once. I recommend this if you're looking to buy an AirPods case and a band holder at a time without trimming your budget.
This AirPods holder commands style and functionality, considering that it's lightweight, simple, and compatible with any AirPods type, including the AirPods Pro. The case also supports wireless charging and has openings for the charging port and charge indication LED.
The watchband holder on this one is unique and comes as a wristband with distinctly separated AirPods holders, holding your earpieces firmly. Invariably, it still follows the watch design convention, but this time, it's an adjustable strap, so you can fix it firmly while walking, jogging, or running.
Pros
Uniquely designed
Compatible with all AirPods
Get an AirPods case and a watchband holder
Supports wireless charging
Prevents dust and dirt from settling in the port
Cons
You still have to transfer the AirPods into the pod during charging
8. iKammo anti-lost silicone holder – 12-month warranty
The iKammo anti-lost AirPods holder belongs to the non-strapped group of AirPods holders. It keeps your earpieces closer to you with a 0.9-inch wide grip attached to your Apple Watch. The iKammo AirPods holder is compatible with any AirPods type, including the AirPods Pro.
The material is silicone, so like other brands, it has a firm grip on your AirPods with the two holding holes. Although the grip fits most watch straps, it surprisingly gets loosened sometimes, creating a free, inconvenient movement of the AirPods along the watch strap.
Pros
Compatible with all AirPods
Doesn't look bulky on the wrist
Excellent silicone grip
Cons
Separates the AirPods from the pod
9. APSkins AirPods watch band holder – Lifetime warranty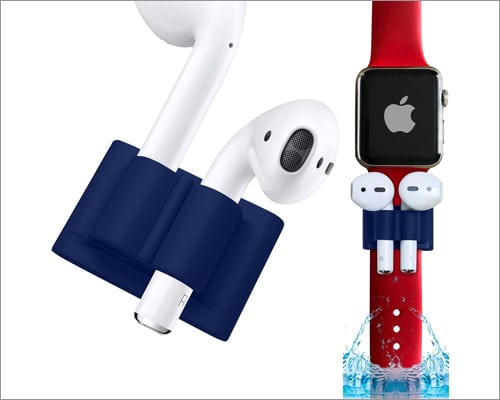 Although the APSkins AirPods holder follows a similar convention as Fenic and iKammo, the brand wins the heart of many for providing a lifetime warranty. Hence, you get a free replacement when it breaks. I can't say the same thing for a lost one, though, as the company needs the broken one for recycling.
The material on this one is silicone, offering a firm grip on the watch strap and the AirPods simultaneously. And like the rest, it's compatible with all AirPods versions, including the AirPods Pro.
The APSkins AirPods holder also comes in style, as you have up to four color options to pick from when placing an order. The only complaint I have with it is there's no black or white color, which I bet many people's favorites.
Pros
Can hold AirPods of various sizes
Lifetime warranty
Lightweight and minimal design
Four different colors
Cons
Available colors are selective
Tiny gadgets like the AirPods will probably get lost easily without the right tool protecting them. These watchband holders work great for keeping your AirPods safe and making them accessible. Plus, they all have some features in common.
The APSkins is my favorite and has served me for more than a year. What's your choice and why? Let me know in the comment section below.
Read more:
Readers like you help support iGeeksBlog. When you make a purchase using links on our site, we may earn an affiliate commission. Read more.
Idowu is an avid tech writer and a software surfer who loves covering knowledge gaps in consumer software, including anything related to iPhones. Well, when he's not reading and learning new things, you'll find Idowu losing gallantly on a solid chessboard or virtually on Lichess.