With the rise of AI technology, it is exciting to see how it can be used to create stunning works of art in minutes. After trying several AI art generation apps on my iPhone, I've narrowed down the top picks that will inspire you. Whether you're a professional artist who wants to experiment with AI or just have fun with art, these apps are worth a try. So, let's dive into the best AI art generator apps for iPhone!
1. starryai – Editor's Choice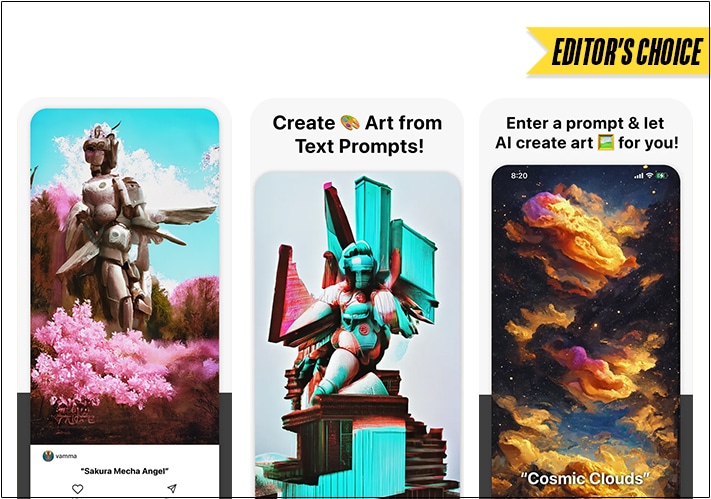 starryai is a text-to-image generator app. You need to enter your prompt for the AI engine and choose a preferred style to produce amazing, high-quality artwork. The app offers five watermark-free art pieces every day. The best part I found was I got complete ownership of my work. So, I could use them anywhere without copyright issues.
Additionally, you can modify a particular section of the artwork using the retouch option. Simply mark the areas you don't want and offer a suggestion on how to alter them. There is a wide range of styles, aspect ratios, and customization options. I liked its user-friendly interface and easy-to-use controls. But sometimes, the app includes weird artifacts in the image.
Pros
Artists have full ownership of their creations
Customizing options
Get 5 free artworks each day
Price: Free (In-app purchases starts at $7.99)
2. Wonder – Showoff your art gallery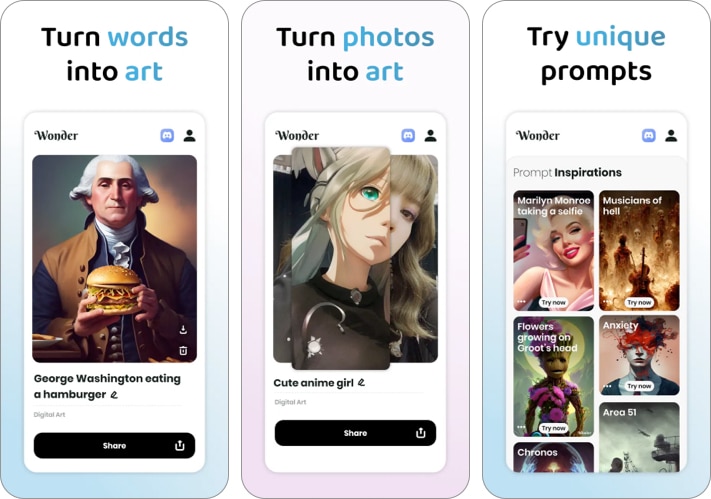 Wonder app is the Pinterest of AI art and is undoubtedly one of the best AI apps out there. You must enter unique prompts and choose an art style to create original artwork and share on your Wonder profile. Also, if you can't decide on the right prompt, you may take inspiration from elsewhere. I have tried creating images using poems, song lyrics, movie characters, landmarks, etc.
It produced beautiful images each time. However, in the case of nude art, you may face heavy censorship. Also, to make the arts unique, the app has well-known art forms like elaborate baroque paintings, dystopian synth-wave landscapes, etc. Another interesting feature is a photo-to-art converter. You can easily animate your pictures or selfies.
Furthermore, it allows you to directly share your art on social media and your Wonder profile. But there is no option to modify a generated art. So if you don't like a part of the art, you need to regenerate it. I struggled to create a proper human portrait; sometimes, it blurs the face, or the hands are not completely visible. Also, most features are paid for.
Pros
Range of styles
Convert your photos into artwork
Get prompt inspirations
Cons
Unnecessary censorship
Only one aspect ration
Price: Free (In-app purchases starts at $2.99)
3. WOMBO Dream – Create unique wallpaper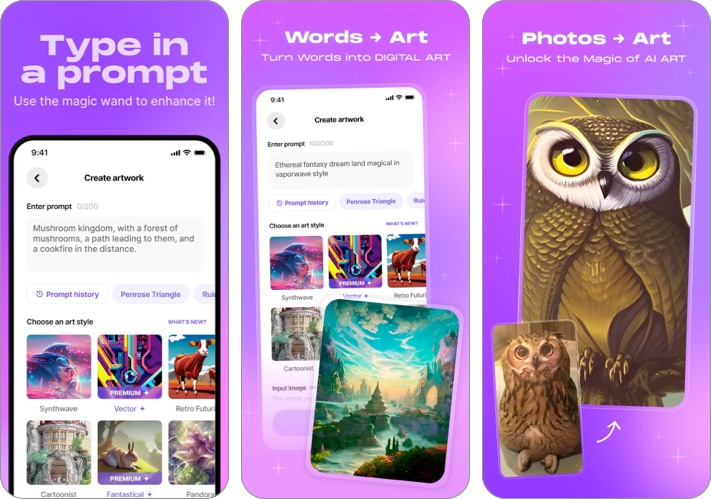 WOMBO Dream indeed justifies its name. It uses AI to transform text into images and stunning digital artworks of different styles like Realism, VFX, Anime, avatars, Street Art, etc. Besides, you may play with various colors, textures, and patterns with the art maker function. I mostly use its Edit with Text feature, which uses AI to follow your instructions and make modifications.
Also, you may transform your photos and drawings into digital artwork. After generating art, you may save it in your profile for public viewing. I love to browse the arts of famous AI artists worldwide via the Discovery feed. You may also follow your favorite artists to stay updated. But I felt the app was a bit pushy and prompted me to take the subscription.
Pros
Multiple outputs for one prompt
Transform drawings into AI art
Edit images by writing instructions
Price: Free (In-app purchases starts at $9.99)
4. Dawn AI – Generate your avatar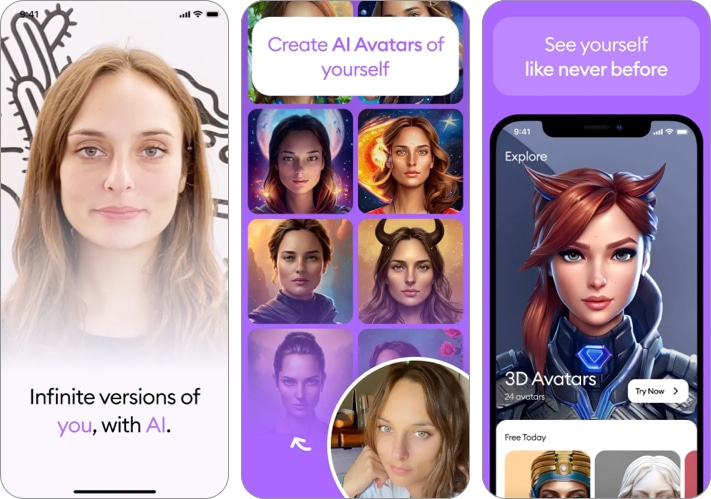 How about reimagining yourself like a Marvel superhero? Dawn AI makes it possible. It takes your photos and transforms them into stunning avatars following your written prompts. Also, it offers dozens of potential styles and limitless filters like Fantasy, Oil painting, Cinematic lighting, Kodak film, Fine art, Hyperrealism, Anime, etc.
Besides, the app has good integration with social media platforms and lets you share your new avatars on Snapchat, Instagram, Roblox, Clubhouse, etc. To make it more enjoyable, Dawn AI adds new AI styles daily on its Explore page. But each pack needs to be purchased, and the weekly $5 subscription is steep indeed!
Pros
Unique portraits using filters
New AI styles everyday
Edit photos with AI
Cons
Absurd in-app purchases which are unworthy
Price: Free (In-app purchases starts at $1.99)
5. DeepArtEffects – AI Photo Editor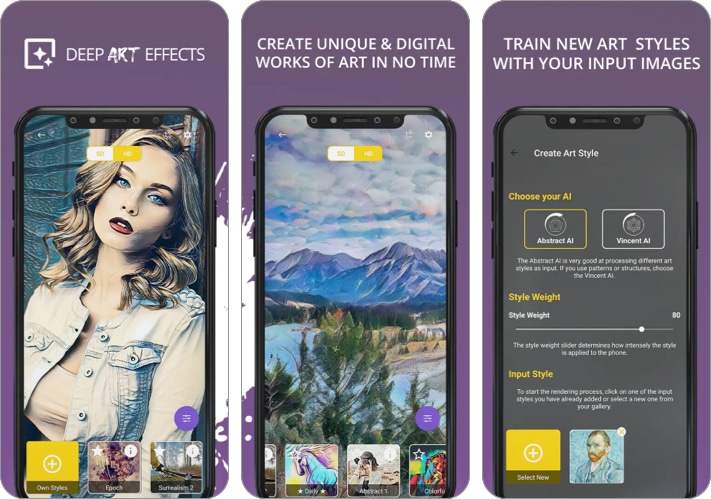 DeepArtEffects takes photo editing to the next level. It offers high-quality photo filters using AI, neural networks, and machine learning algorithms to turn your selfies into fine art paintings. The best part is there are 40+ art effects and filters, including free and premium. I use the app to transform my photos into the art style of famous painters like Van Gogh, Leonardo da Vinci, Picasso, etc.
Also, you can create your own art styles by providing reference paintings. All the images are exported into 1080 pixels for the highest quality. If you take a subscription, you may export in Ultra HD 3840 pixels without a watermark. Besides, the app is also privacy concerns and promises not to share the processed images with other parties.
Pros
Privacy focused
Ultra HD resolution
Create your own art styles
Cons
The user interface needs improvement
Price: Free (In-app purchases starts at $1.99)
6. Lensa AI – AI video editor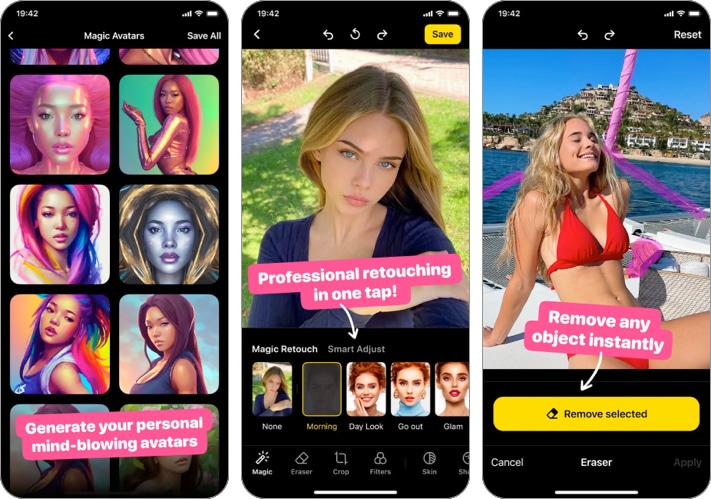 Like DeepArtEffects, Lensa AI creates magic in your photos and videos with the help of AI. Its retouching features are more advanced than traditional editing apps. I prefer to use the Smart Adjust feature that performs the edits in one tap. Besides, you can remove objects from the image, change the backdrop or modify the subject of any image.
Also, for video editing, you can make your background blur to get the DSLR effect. The separate editing panels for foreground and background help to focus on details. Moreover, the Magic Avatar feature lets you create unique character art from your photos. But I faced some functional issues while using the feature in the free version.
Pros
Ultimate beauty enhancement
Edit the backdrop of any image
Make avatars
Cons
The app is glitchy and unresponsive
Price: Free (In-app purchases starts at $2.99)
7. Artist.ai – Real-life face creation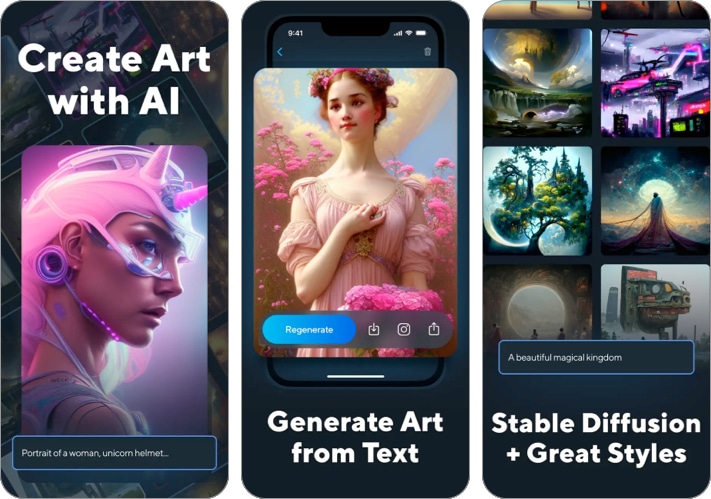 Artist.ai is ideal for generating digital human portraits. Using stable diffusion and unique styles, it understands your prompts and creates original art pieces. There are several AI-powered art styles, including anime, Van Gogh, 3D, Cyberpunk, comics, conceptual art, etc. Besides, it's the only app that offers advanced generation settings.
You can modify the process stages, CFG scale, and the seed of the art to enhance your artwork. Also, you may use a reference image to copy the art style. Also, its AI Art model produces accurate facial features. I liked its regenerate art feature. You can regenerate several art pieces inside the same project. So, maintaining your creations becomes easier.
Pros
Advanced generation options
Supports custom reference images
Multiple regenerations
Cons
Heavy restrictions on prompt writing
Price: Free (In-app purchases starts at $4.99)
8. AI ARTA – Get art inspiration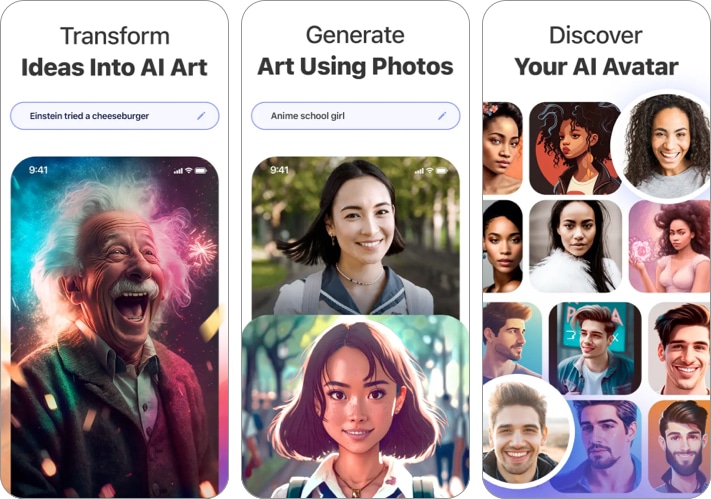 AI ARTA app is made to generate accurate images according to your prompts as it's trained with millions of photos from the internet. It has many artistic mediums, from funny pencil doodles to astounding photorealism. You can also turn your photos into artwork or use them as a reference.
I like its Get Inspired page, which collects famous art creations of AI artists and creates a feed. You may also browse through their portfolio. Also, the Surprise Me section helps to get innovative and fascinating art recommendations. And don't worry if you are a beginner. The app provides a tutorial to create artwork using AI.
Pros
Create AI art from sketches
Exclusive art feed
Digital Art and Anime styles
Cons
Too much inappropriate ads
Price: Free (In-app purchases starts at $4.99)
9. Anime Art – Delve into the world of animation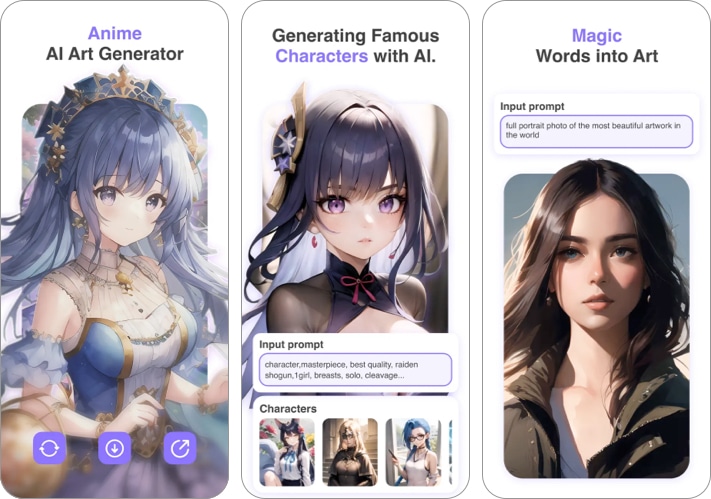 As the anime culture is blooming, how about reimagining the popular characters or creating a new unique anime character? This fantasy AI art generator uses three AI models, anime diffusion, steady diffusion for real-life art, and fantasy diffusion for abstract art. After writing your prompt, choose a category and art style.
You may also regenerate an artwork to adjust its pixel sizes and ratio for better quality. Besides, in the gallery show area, you may see gorgeous and imaginative images for inspiration. You may also create a personal gallery and save all your AI-generated art. I mostly use its batch production feature to generate multiple artworks together.
Pros
Three art modes
Quality adjustment features
Generate AI art in 3 seconds
Cons
Most features are behind a paywall
Price: Free (In-app purchases starts at $7.99)
How AI Art generator apps work
AI art generator apps use deep neural networks and machine learning algorithms to produce digital art. These algorithms are trained to detect patterns and styles to create unique pieces using extensive collections of already-created artwork. It analyzes text prompts and visual inputs and uses creative filters and effects to produce original art pieces.
Given the wide range of alternatives available, picking the finest AI photo generator app might be challenging. So, here are a few things to consider:
The output quality or the caliber of the artwork produced.
The app should be able to handle several input forms, including photos, videos, and audio. Also, it should provide various styles or genres to pick from.
The user interface should be simple and beginner-friendly.
The speed of art generation is also quite important, particularly for batch production.
You should take the app's price into account. Select an app whose cost is acceptable, given the caliber of its features and the outcomes it produces.
Unleash your creativity!
The best AI Art Generator apps have revolutionized how we create and experience art. These have opened up a world of possibilities for artists and non-artists alike, allowing us to experiment with new techniques, styles, and forms of expression. Web3 enthusiasts also use AI photo generators to create unique NFTs.
It is because an AI art creator can do everything from creating hyper-realistic portraits to generating abstract and surreal images. Try them if you want to add excitement and creativity to your art practice. You might just discover a new passion for art that you never knew existed!
Explore more…
Readers like you help support iGeeksBlog. When you make a purchase using links on our site, we may earn an affiliate commission. Read Disclaimer.