What you need to know:
Apple Pencil tips are available in all major retail outlets.
To replace the tip, simply squeeze the old tip with two fingers and turn it counterclockwise until it unscrews. Now, place the new tip and turn it clockwise until it's tight.
Whether an artist, a corporate employee, or a student, Apple Pencil, and iPad are a perfect combo to work efficiently. However, like most gadgets, Apple Pencils don't last a lifetime. Their tips wear out or stop responding over time. Luckily, Apple offers Pencil tip replacements that you can change by yourself.
But while changing the tip, you need to be cautious as it might damage your Pencil. If you aren't sure about when and how to do it, read this article explaining the same. Let's start with the basics.
How long does it take for an Apple Pencil tip to wear out?
The life of an Apple Pencil tip depends on your usage and how well you maintain it. If you are a heavy user, you should replace the tip within 6 months. On the other hand, if you don't use the Pencil often, it will last you more than a year without any replacement.
When to replace the Apple Pencil tip?
Here are some instances that hint it's time to replace the tip of your Apple Pencil.
It feels jagged
The tip of the Apple Pencil is round and smooth. But after using it for some time, the tip gets jagged and won't be that smooth while gliding over the screen. If you feel the same while using your Apple Pencil, it's time to change the tip.
Other than that, if you see the metal inside the tip showing up, you should replace the tip as soon as possible since the metal end can damage the screen of your iPad.
Your iPad won't respond to it
If your iPad fails to respond to the Apple Pencil, it could be because of an old tip. But before you jump to a conclusion, unpair, pair, and charge Apple Pencil and see if your iPad responds to it. If it doesn't work, change the tip and see. Replacing the tip should be the last resort.
It's been a long time
If you are a light user, the tip will last for a long time. But that doesn't mean it will last for an eternity. It's better to change the tip after a year or two, whether you use it or not.
Where to find Apple Pencil replacement tips?
The Apple Pencil tips are available on the official website. Other than that, the tips are available through many online and offline retailers but make sure to buy genuine tips to ensure your experience isn't ruined. Hence, ordering it from the Apple Store or website is the most reliable option.
How do you replace an Apple Pencil tip?
To replace the Apple Pencil, you have to unscrew the current tip. To do it:
Squeeze the current tip between two fingers.
Turn it counterclockwise to unscrew it.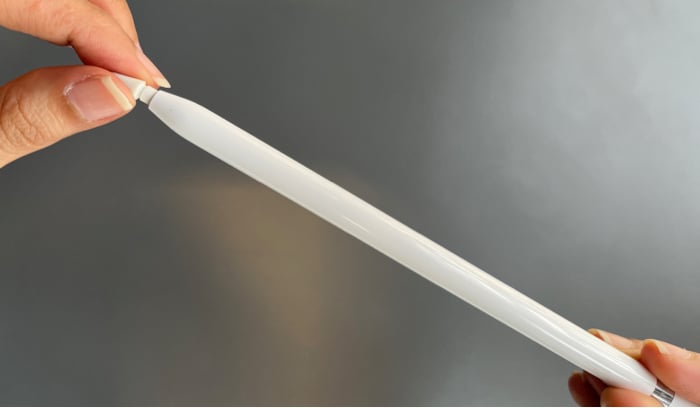 Now that the old tip is out, place the new tip back:
Place the new Pencil tip on the metal prong.
Screw the tip by turning it clockwise until it's tight.
That's it! You have successfully replaced the tip of your Apple Pencil. Now, get started with your work.
FAQs
Q. Do Apple pencils come with spare tips?

Apple used to provide one extra tip with the Apple Pencil Gen 1. However, after launching the Apple Pencil Gen 2, the company removed all the extra accessories. So, you will have to buy the spare tips.
Q. Does the Apple pencil tip wear out fast? 

It depends on how much you use it. If you use the Pencil for hours every day, you may have to replace it within some months, and if you don't use it much, the tip will last for more than a year.
Q. Is there any difference between Apple Pencil 1 and Apple Pencil 2 tips?

No. You can use the same tip for both Apple Pencil 1 and 2. Just make sure you are buying genuine tips.
Wrapping Up…
I know how much Apple Pencil is worth for artists. Hence, when the tip is worn out, it undoubtedly affects the work. I hope this helped you understand when and how to quickly replace the Apple Pencil tip.
I think Apple should have continued to ship extra tips with the new Apple Pencil. What do you think about it? Let me know in the comments below.
Read more:
Readers like you help support iGeeksBlog. When you make a purchase using links on our site, we may earn an affiliate commission. Read more.
Anoop loves to find solutions for all your doubts on Tech. When he's not on his quest, you can find him on Twitter talking about what's in his mind.