As a music lover and iPhone user, I've recently tested out two of the most popular music streaming services available on the App Store – Apple Music and Amazon Music. Both apps offer extensive music libraries, personalized playlists, and offline listening options. But as I delved deeper into each service, I discovered some distinct differences.
In this editorial, I'll share my personal experience and provide a comprehensive comparison of Apple Music vs. Amazon Music. So, whether you're trying to decide between the two services or just curious about how they stack up against each other, read on to find out which one I think comes out on top for iPhone users and why.
Apple Music vs. Amazon Music – Detailed comparison
When comparing Apple Music and Amazon Music, it's important to consider the overall user experience, pricing, music library, exclusive content, etc. Apple Music has seamless integration with the Apple ecosystem and offers exclusive content such as live radio stations and original shows.
On the other hand, Amazon Music offers a more affordable pricing structure, with a free ad-supported tier. Also, I got a cheaper subscription plan as a Prime member. Additionally, Amazon Music has built-in Alexa, making it a great choice for those who use voice assistants regularly.
So, let's dig into each parameter and see which one wins the ultimate battle!
1. Subscription plans
When I bought my AirPods Pro, I got 6 months free subscription to Apple Music. After that, it billed $10.99 per month. As it seemed costly to me, I thought of switching to a Family Plan worth $16.99 monthly. So, my other family members could enjoy the premium service at one cost. In contrast, I first joined Amazon Music Free and later opted for an Individual Plan at $8.99 per month.
I have shared the whole pricing chart for a better overview:
Apple Music
Amazon Music Unlimited
Starting Price
$10.99/month
Free
Individual Plan
$10.99/month
Non-Prime: $10.99/month
Prime: $8.99/month
Student Price
$5.99/month
Non-Prime: $5.99/month
Prime: $0.99/month
Family Package
$16.99/month
$15.99/month or $159/year (Prime members only)
Annual Plan
$109/year
$89/year (Prime members only)
Others
Voice Plan: $4.99/month
Single Device Plan: $4.99/month
At first glance, it may seem Amazon Music offers the best subscription pricing. However, take into account the $139 annual cost of Prime. So, including the Unlimited membership for $89 per year for Prime members, it's costing way more than Apple Music. However, my brother is enjoying the premium at only $0.99 per month as an eligible student.
Also, if you have an Amazon Echo device and are a Prime member, you can get Unlimited for only $4.99 a month. However, your membership will be restricted to just one speaker. Last but not least, Amazon offers a Family Ultimate Plan for six members, which costs $15.99 per month.
Though Apple has raised the prices recently, I feel it's more affordable than Amazon Music Unlimited. That's because you don't need to purchase an additional membership. Also, you can't forget the benefits of having an Apple One plan. So, contrary to popular belief, Apple Music has better and cheaper overall plans.
Winner: Apple Music
2. Free trials
My mantra is – whenever in doubt, always opt for a free trial. And Apple Music is the ideal guinea pig in this case. There are multiple ways to get a long free trial of Apple Music. Normally, Apple provides a one-month free trial, but you can get 6 months free on a purchase of an eligible Apple device and 3 months free via Shazam.
I enjoy Apple Music completely free as I got Apple One subscription😉. Also, for its paid music service, Amazon does provide a free trial, but it only lasts for 30 days before charges are applied.
Winner: Apple Music
3. User interface
The UI for Apple Music is classic: clear, light, minimalistic, and aesthetic. It offers a convenient drag-and-drop feature to transfer tracks to various playlists. The best part is all playlists are categorized under sections for a clear view. In contrast, Amazon Music's interface resembles Spotify with its tiny tiles and bright lettering against a black backdrop.
Other than the slight changes in style in both apps, there isn't much of a practical difference overall. However, whenever I am looking for new music, Amazon Music's Find page is more logical as it's organized by genre structure, which appeals more.
In this case, I can't decide on a winner as the user experience completely depends on personal choices. As a long-term Apple user, I feel more homely at Apple Music.
Winner: Tie
4. Music library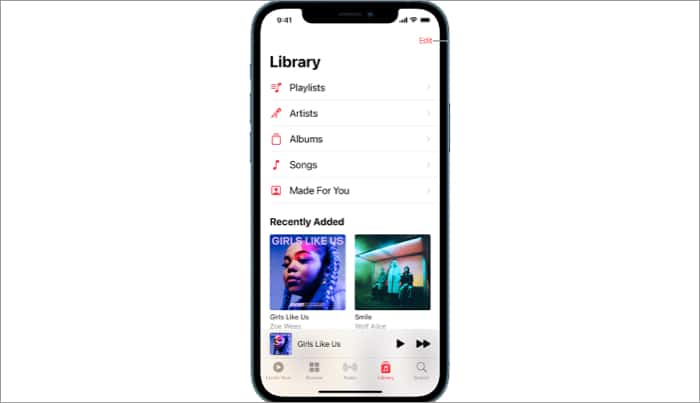 Both Apple and Amazon Music have 100 million songs available. Additionally, Apple has over 30,000 expert-curated playlists and original shows, concerts, and exclusives, and live & on‑demand radio stations hosted by artists. Off late, I fell in love with Apple Music Classical, which features the largest classical catalog.
The majority of Apple Music's music selections are curated in hundred categories under the 'Browse' area. Playlists like Today's Hits, New Music Daily, and Daily Top 100 make it simple for fans of popular music like me to keep up with all the latest releases. Also, Apple Music offers many niche music with independent artist playlists, video playlists, and stations.
Apple Music also helped me uplift my mood by offering curated mood playlists. The customization algorithm is terrific, as the app asks you to choose a few of your favorite artists when you sign up. Then using this data, Apple Music creates playlists, the daily mix, and updates the For You section with new releases to suit your tastes.
You're likely to discover the same tracks on Amazon Music, so don't worry about losing out on new releases. However, it places a greater emphasis on 'popular' music tracks as only a few categories are accessible in the Home area of Amazon Music. I felt it was more like "best of the best" compilations made out of what is popular in the app.
There are a total of 12 playlist categories, including Pop Culture, Rap Rotation, and All Hits, and they cover the most popular genres. However, I didn't find any independent or niche music featured, and I had to actively search for these specific songs. Also, Amazon Music doesn't have mood playlists and world music charts, and the suggestion accuracy isn't great.
Winner: Apple Music
5. Variety of curated content
Both services continue to provide their own distinctive brand of non-music material like videos, podcasts, talk shows, etc.
Besides music, I actively follow podcast shows, and Amazon Music makes it easy as it includes a dedicated podcast section with 70,000 unique shows. It also gives access to behind-the-scenes videos, live performances, and unique sessions like "Prime Day Show," interviews, and playlists of music videos. Unfortunately, Apple didn't provide a lot of podcasts on its Music app and developed a different app for this.
Both services use curated material in a very similar way, assessing your listening patterns to create playlists that include both your favorite songs and brand-new music that they believe you'll like. Also, both create and play playlists based on genre and even the time of day, such as selecting cheerful music to get you moving in the morning.
Winner: Amazon Music
6. Streaming quality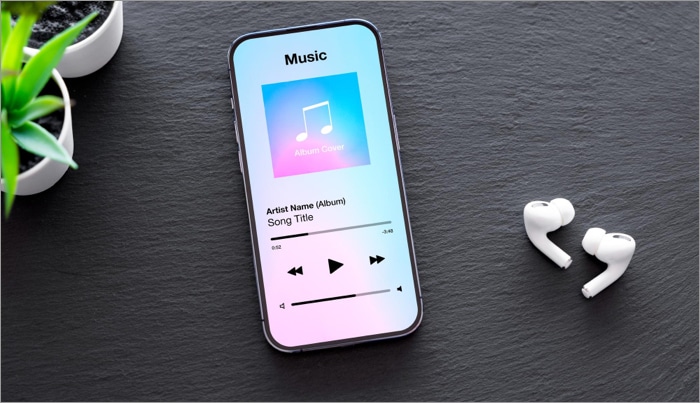 When it comes to resolution and bit rate, Apple Music has excellent audio quality. It stands out because of its lossless streaming at up to 24-bit/192kHz and "CD-quality" at 16-bit/44.1kHz with True Hi-Res Audio. If lossless music is not your thing, Apple Music provides 256kbps AAC files for the highest quality.
Besides, it uses the ALAC (Apple Lossless Audio Codec) format, which keeps the original audio file's data to convert its music tracks to Lossless Audio. So, you will listen to the same form as when they were first recorded in the studio.
Similarly, Amazon Music also has high-resolution Ultra HD support and lossless audio with the same bitrate. But for the best quality on iPhone, you'll probably need an external DAC (digital-to-analog converter) for the Hi-Res Lossless tier. Also, you can select audio quality (low/medium/high), which varies from 48 Kbps to 320 Kbps.
So, most of the audio quality settings are the same for both platforms on iPhone. Nevertheless, Apple beats Amazon Music in terms of HD streaming quality of 24-bit/48 kHz.
Winner: Apple Music
7. Data usage
Whenever I am on the go and use cellular data while streaming music, data usage is the biggest concern. That's why I have taken this into account while comparing Apple Music vs Amazon Music Unlimited.
Apple Music uses approximately 200MB data on Wi-Fi or 75MB data over cellular network hourly when streaming in its original 256kbps AAC format. Amazon Music, on the other hand, does not specifically indicate the music format. However, I think it's the standard AAC or MP3 files.
For the lossless options, I was charged between 720 and 2900 MB of data per hour at the highest settings on both platforms. Therefore, while in a poor network area, I faced some playback troubles because of the greater audio quality and increased data usage. There was latency and buffering that lasted for approximately 3–4 seconds.
To cure this high data consumption, Amazon Music offers an easy method to save data. You may turn on Data Saver settings or choose low audio-quality streaming. Also, on Apple Music, you can save your cellular data but that's a workaround, not in-app settings. In my experience, both platforms' playback had little to no lag when in data-saver mode.
If you are not an audiophile for me, you won't notice much of a difference between the highest-quality streaming of the same song. Therefore, if you're concerned about using up your cellular data, Amazon Music's ability to choose the bitrate may be helpful.
Winner: Amazon Music
8. Headphones experience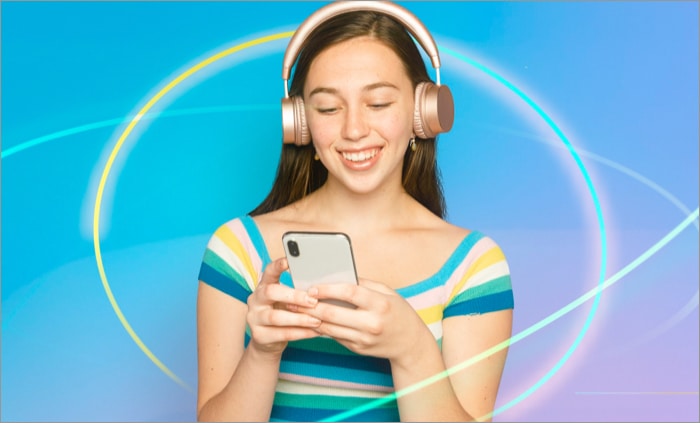 Any music streaming comparison is incomplete without testing out their sound immersion levels. Both Apple Music and Amazon Music differ in terms of 360-degree sound. I always get a wholesome listening experience thanks to Dolby Atmos with Spatial Audio. It provides a virtual 3D experience even when used with headphones.
To beat the experience, Amazon has tied up with Sony and included support for Sony 360 Reality Audio. Also, you will get the Dolby Atmos feature. But note that the 360 Reality Audio is restricted to the Echo Studio, Sony RA3000, and RA5000 speakers, while Dolby Atmos playback is only supported by the Amazon Echo Studio.
As most of the time I use my AirPods, Apple Music is my go-to music app.
Winner: Apple Music
9. Offline listening
Both Apple Music and Amazon Music Unlimited provide offline listening and download 100,000 songs to your library. You may access your Apple Music library on any device, thanks to the iCloud Music Library feature. It enables you to sync any downloaded music across any device with the same Apple ID.
However, Amazon Music doesn't have an equivalent to this convenient feature. Amazon Music Unlimited users can save downloaded tracks across a maximum of 10 devices. You can't sync those devices to access or update your library.
Winner: Apple Music
10. Music sharing
You may follow your friends on Apple Music and share your custom-made playlists with them. Also, the For You tab will display what your friends are listening to. Although it lacks these features, Amazon Music Unlimited does allow you to share song links via text.
When it comes to social media integration, I prefer Spotify over Apple Music and Amazon Music. However, Amazon Music has some workaround as I could upload music tracks straight to the social network via the app. On the other hand, I could only share songs with Apple Music members via AirDrop.
Winner: Amazon Music
11. Integration and voice assistants
Siri is already my best friend, and with the Apple Music subscription, it has become my personal DJ. You manage playing songs, queue up tracks, research song details, add music to your library, play your favorite playlists, or even play something new using Siri. Apple Music has specific Siri features and automation for a better user experience.
You may use Amazon's Alexa voice assistant if you have Echo speakers or an Amazon Fire TV. It provides many of the same DJ abilities that Siri does. I tried to configure Apple Music to stream on Amazon Echo devices. But the experience is less smooth, and there are no Alexa skills available.
Apple's HomePod speakers and Apple TV 4K, on the other hand, are designed to be used with Apple Music. It supports Siri features to manage and access playlists. You can only stream music to HomePod from your iPhone running the Amazon Music app. But remember, none of the other features won't work.
I find Siri shortcuts for Apple Music more convenient, easy to use, and time-saving. If you are habituated to Alexa, then Amazon Music is ideal for you.
Winner: Tie
12. In-car experience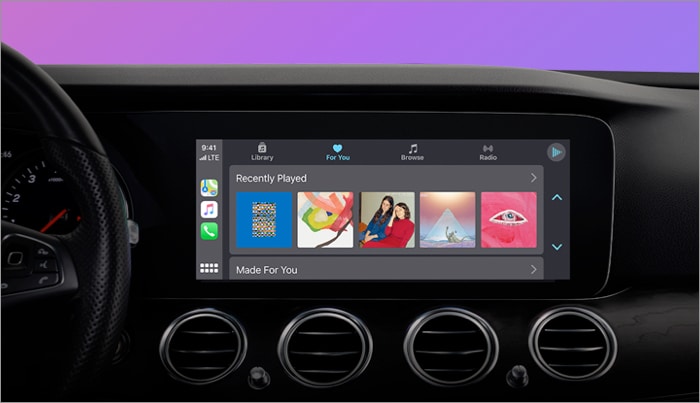 Both Apple Music and Amazon Music are supported by Apple's CarPlay technology. If your car lacks CarPlay, you may still connect your car's infotainment system to Apple Music from an integrated app, via Bluetooth, or over a cable connection without any external device.
Amazon Music best works with Alexa Auto, which has to be built-in. You may buy an Echo Auto device to stream Amazon Music on the go and enhance your listening experience.
Winner: Apple Music
13. Additional features
Most of the features are the same on both music streaming platforms, such as immersive sound, Dolby Atmos, built-in equalizer, song lyrics, etc. But there are a few unique functions available.
Apple Music
Apple Music is dominating the music streaming services as it provides many more additional features, making it more valuable as a purchase. Apple Music highlights the narratives of artists in specific playlists under the Behind the Songs section. Additionally, I really like the Apple Replay, which compiles your most-heard songs in a year.
Also, the Spatial Audio by Dolby Atmos gives listeners an even more immersive listening experience. One of the rare features is Saylists, which encourages better speech articulation for people with speech-sound disorders (SSD).
Apple Music's true area of expertise is radio. The Radio tab offers three flagship channels that stream live to 165 different countries: Music 1, Music Hits, and Music Country. Also, you can even tune in to foreign stations for the latest in sports, news, interviews, and talk shows.
In addition, it provides specially selected music stations tailored to your listening preferences. For more personalization, I have created my own radio station on Apple Music. Moreover, the Radio tab has the most well-liked radio programs and playlists from earlier years archived.
I also rely on Apple Music during my house parties, thanks to the Apple Music Sing karaoke feature. It's more enjoyable to hit every beat thanks to 5 new lyrical features. You can sing hit songs with real-time lyrics and flexible voices that enable you to sing solo, duet, or backing harmonies.


Additionally, with Apple Music Live, I enjoy concerts of my favorite artists from the comfort of my couch. You may watch all ongoing concert series to see unique performances that were live-streamed.
Amazon Music Unlimited
Whenever I want in-depth information on any music tracks, I go to the more information section in the Now Playing page of Amazon Music. Also, the DJ Mode is a highlight that makes the playlist function as a hosted listening event. Besides, Amazon Music Live enables musicians worldwide to stream their Twitch live streams to their subscribers.
Amazon Music also provides radio stations, but in contrast to Apple Music, its default radio station selection is pitiful and doesn't allow you to build a station from a song, album, artist, or playlist.
Final verdict
It's time for the final judgment of the Apple Music vs Amazon Music comparison. In my comparison parameters, Apple Music took the lead in most cases.
Both apps provide high-resolution lossless music and have huge library collections. You will also get a sizable quantity of video material and other distinctive elements like radio and live streams. So, in terms of providing a top-notch listening experience, both apps are still fairly competitive. It all comes down to personal choices and what's more convenient for you.
Who should get Apple Music?
If you use iPhone and other Apple devices like me, Apple Music enables more seamless device connectivity. Also, its user interface is elegant, and the album covers are beautifully animated. Besides, Apple Music Radio is very useful to those who love listening to the radio. Also, it is ideal if you want highly customized playlists and unique music and video content.
Who should get Amazon Music?
The affordable Amazon Music subscriptions make sense if you're already a Prime member. Even more so if you're on a tight budget since you can use the free plan. However, I think the free plan is very limited and excessively ad-supported. Amazon Music is your best option if you also value having easy access to podcasts. Additionally, you can enjoy Amazon Music more with an Amazon Echo device.
FAQs
Is it worth upgrading to Amazon Music Unlimited?
If you already have a Prime subscription and Alexa-enabled devices, Amazon Music Unlimited is ideal. You can listen to 100 million songs ad-free, download them, and share them on your social media network. The Free plan of Amazon Music is very much limited and not for audiophiles.
Is Amazon Prime Music the same as Amazon Music Unlimited?
Amazon Music Unlimited is an independent streaming music service with unique features for a better listening experience. In contrast, Amazon Music Prime is included with your Prime membership and doesn't support HD, Ultra-HD, and Spatial Audio streaming.
I hope that this evaluation has helped you make a decision. If you are still confused, you may sign up for a free trial version of both apps and give them a try.
Explore more…
Ava is an enthusiastic consumer tech writer coming from a technical background. She loves to explore and research new Apple products & accessories and help readers easily decode the tech. Along with studying, her weekend plan includes binge-watching anime.