iPhone 13 mini might not be the sharpest kid in town, but it offers the best of both worlds. It's feature-packed and budget-friendly; and oh so good-looking! Although other iPhones in the lineup are overshadowing it. At least that's what I believe, but why have I fallen head over heels for iPhone 13 mini?
Well, let me take you on this journey of discovery with me. Maybe towards the end, we'll be on the same page. And whether you end up loving or hating it, share your feelings in the comment section below.
1. Compact design
I am not a big fan of the 'the bigger, the better' philosophy, especially when it comes to phones and screens. Your daily devices should be handy and easy to carry, and the 5.4″ iPhone 13 mini is just that.
Plus, you get a 20% smaller notch this time around, i.e., a 20% extra screen. That's not too much, but every drop matters, right! 😉
The iPhone 12 mini wasn't a success story, and many thought Apple would shut down the mini line. But I guess, second time's a charm! iPhone 13 mini has taken a giant leap in terms of power, performance, and camera.
And the best part is that the mini has plenty of 'might almosts' at par with its contemporaries, iPhone 13, iPhone 13 Pro, and iPhone 13 Pro Max.
2. Battery life and performance
iPhone 13 mini takes the most prominent issue in iPhone 12 mini, battery and turns it around. Apple has redesigned iPhone 13 'inside and out.' It comes with a 10% battery boost, 28% brighter screen, up to 50% faster CPU, and 30% faster graphics than the competition.
iPhone 12 mini
iPhone 13 mini
Battery
2,425mAh
Up to 1.5 hours more
Video playback
Up to 15 hours
Up to 17 hours
Audio playback
Up to 50 hours
Up to 55 hours
Display
Super Retina XDR display
Super Retina XDR display
Size
5.4″
5.4″
Resolution
2340‑by‑1080 pixel
2340‑by‑1080 pixel
Brightness
HDR
Typical

1200 nits max
625 nits max

1200 nits max
800 nits max
Chipset
A14 Bionic
A15 Bionic
Plus, you get ceramic shield glass, IP68 water and dust resistance, 5G, and more in a mid-range phone. Yes, it skips on ProMotion and that lucrative 120Hz refresh rate, but you get some and lose some when you pay less $$.
Though I must say, the iPhone 13 mini has great specs for any casual user. It can seamlessly handle surfing, multiple app usage, gaming, audio calling, messaging, etc.
3. Most advanced dual‑camera system ever
Oh yes! The camera setup needed a separate section. Usually, when you buy a budgeted phone, the camera is somewhat compromised. To some extent, it happened with iPhone 12 mini and iPhone 12 as well. A lot of things like sensor-shift optimization were MIA.
However, this time around, things are quite different. iPhone 13 mini boasts some awesome camera updates, almost at par with iPhone 13 Pro and Pro Max.
| Features | iPhone 13 mini | iPhone 13 Pro/Pro Max |
| --- | --- | --- |
| Digital zoom | up to 5x | up to 15x |
| Portrait mode | ✅ | ✅ |
| Sensor‑shift optical image stabilization | ✅ | ✅ |
| Dual optical image stabilization | ❌ | ✅ |
| True Tone flash | ✅ | ✅ |
| Night Mode | ✅ | ✅ |
| Deep Fusion | ✅ | ✅ |
| Smart HDR 4 | ✅ | ✅ |
| Photographic Styles | ✅ | ✅ |
| Macro photography | ❌ | ✅ |
| Apple ProRAW | ❌ | ✅ |
| Cinematic mode | ✅ | ✅ |
| ProRes video | ❌ | ✅ |
| Time‑lapse | ✅ | ✅ |
| LiDAR | ❌ | ✅ |
See, you are not missing up on a lot. Yes, not having macro photography and 15x digital zoom can be a bummer. But would you really miss having LiDAR, ProRAW, ProRes on your device? Especially when the new diagonally placed lenses are doing the trick?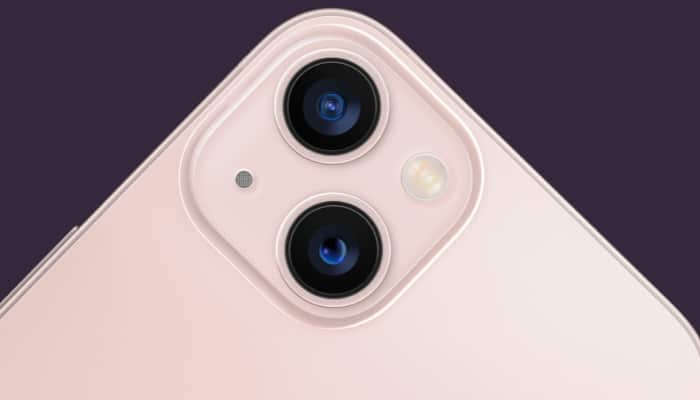 I. The new architecture: Magic of diagonal thinking
The iPhone 13's camera bump has lenses set at 45 degrees. And while the memers are having a field day, Apple took this action to fit the:
Biggest Wide camera sensor – To capture 47% more light.
Sensor-shift optical image stabilization – Keeps your shots super steady.
Faster Ultra-Wide camera sensor – Get more details, even in the darker areas of the image.
And that's not all! iPhone 13 mini will also boast the following features.
II. Cinematic mode
Ever heard of the term shift focus? Well, thanks to Apple's brilliant hardware and machine learning, the iPhone 13 mini can now auto-shift focus from one subject to another and bring awe-strikingly beautiful depth-of-field effect in your videos,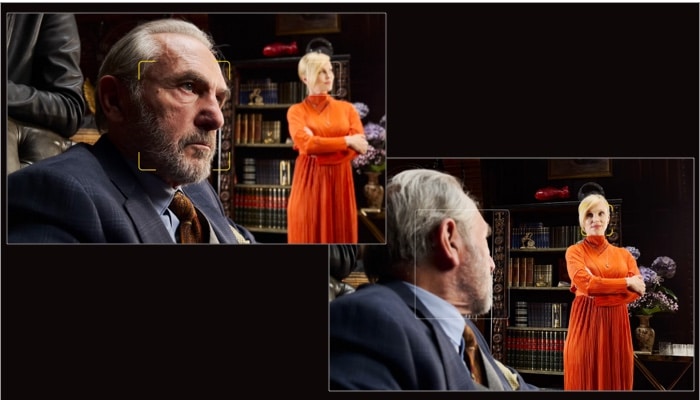 Imagine those cinematic-style birthday videos, TikToks, or YouTube videos you can make. Moreover, you can change focus and manipulate the depth effect after the shoot while editing the video on the iPhone.
Even those expensive professional cameras don't have this kind of skill set yet! Want more from your videos? Mini has that too:
Cinematic video stabilization – 4K, 1080p, and 720p
Dolby HDR video recording – Up to 4K at 60 fps
4K video recording – At 24 fps, 25 fps, 30 fps, or 60 fps
1080p HD video recording – At 25 fps, 30 fps, or 60 fps
720p HD video recording – At 30 fps
Slo‑mo video – 1080p at 120 fps or 240 fps
Time‑lapse – With stabilization and Night mode
III. Smart HDR 4
Apple's proprietary feature also gets an upgrade and can now help you take awesome group photos. It could recognize up to four people in the frame and adjust the contrast and lighting accordingly.
Most importantly, it also considers skin tones, so no one is washed out, and everyone looks their flawless selves.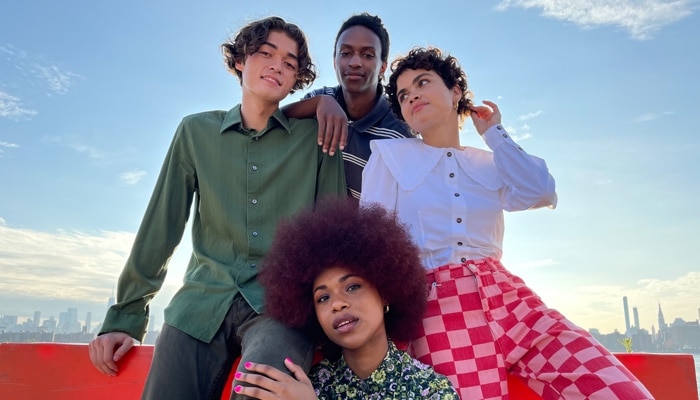 IV. Photographic Styles
Another masterstroke from Apple, and I am so happy that it is not limited to the Pro models. Some like it Vibrant or Rich Contrast or Warm or Cool; so iPhone 13 mini dresses your photos in your 'style.'
And don't make the mistake of comparing Photographic Styles with a filter or preset. Because unlike the latter two, the former takes care of preserving skin tones.
4. A mind-boggling front camera
It keeps getting better. Despite being cramped in a 20 percent smaller notch, the TrueDepth camera system is as advanced as it gets and lends you almost all features the rear camera does.
Cinematic mode video recording – 1080p at 30 fps
Cinematic video stabilization – 4K, 1080p, and 720p
Night mode
Deep Fusion
Smart HDR 4
Photographic Styles
Dolby HDR video recording – Up to 4K at 60 fps
4K video recording – At 24 fps, 25 fps, 30 fps, or 60 fps
1080p HD video recording – At 25 fps, 30 fps, or 60 fps
Slo‑mo video – 1080p at 120 fps or 240 fps
Time‑lapse – With stabilization and Night mode
So, everything from your selfies or groupfies, selfie videos, vlogs, and more are sorted. Do I need to give you more reasons to fall in love with iPhone 13 mini? Well, there is actually one important one! Keep scrolling…
5. Price: 2x the storage for the same $$
| Model | Storage | Price at release |
| --- | --- | --- |
| iPhone 13 mini | 128 GB | $699 |
| iPhone 12 mini | 64 GB | $699 |
| iPhone 13 | 128 GB | $799 |
This year, Apple skipped the 64GB variant and doubled the storage capacity, i.e., 128GB. Interestingly, it did not up the price of the base model. Now, add the superbly pro-like features into the mix; the iPhone 13 mini offers great value for money, doesn't it?
Yes, I see the chink in my argument. iPhone 13 mini's 256GB and 512GB variants are priced similar to iPhone 12 mini, i.e., $799 and $999. So the double storage concept doesn't work here. But that doesn't make them any less value for money.
You get a host of amazing features – a bigger battery, faster chip, brighter screen, smaller notch, smarter cameras. Now, isn't it worthwhile?
iPhone 13 mini is indeed a great entry-level iPhone
Before I say my final piece, let's address the elephant in the room – why iPhone 13 mini and not iPhone 13?
After all, the duo offers almost the same features, and iPhone 13 has a bigger battery and screen in its favor. Well, it also carries an additional $100 price tag. Money that you can invest in Apple Care+ or for accessories like charging brick.
Jokes apart, $100 can make a difference if you are a small business owner, budding entrepreneur, student, or parent. Plus, it barely compromises on features. You can seamlessly use it to build your business, start your influencer journey, keep in touch with your kid/elderly at all times, and so much more.
Most importantly, you get to enter/expand the Apple ecosystem without hitting your wallet too hard. As I said at the top of this article, iPhone 13 mini offers the best of both worlds. And that's why for me iPhone 13 mini is the best iPhone Apple has to offer this year.
What about you? Did I manage to tilt your perception? I would love to hear your side of the story. Share your views and comments for iPhone 13 mini in the comment section below.
Read more:
Readers like you help support iGeeksBlog. When you make a purchase using links on our site, we may earn an affiliate commission. Read Disclaimer.