Like iMessage and WhatsApp, Snapchat also lets you pin conversations to your feed's top. This ensures that you never miss a message from people who matter most in the sea of notifications. Let me tell you more about it and then show you how to pin someone on Snapchat from iPhone easily.
What does pin conversation mean on Snapchat?
When you get a new Snapchat message or reply to one, it moves to the top of the chats' screen. This is common with all messaging apps.
However, pinning a chat ensures that even if a new message comes, it stays below the pinned chat. Thus, if you want to organize your important chats or wish to keep the loved one's chat at the top (so that you never accidentally miss it among several messages), pinning is a great little feature.
Many people also asked me "How to tell if someone pinned you on Snapchat?" Well, you can't. When you pin a friend's or group's chat, they aren't notified. Pinning is for your convenience.
Now that you know the basics, here is how to do it.
How to pin a conversation on Snapchat from iPhone
Open Snapchat and swipe left to right on the camera screen to see all your chats.
Long-press a chat and tap More.
Tap Pin Conversation.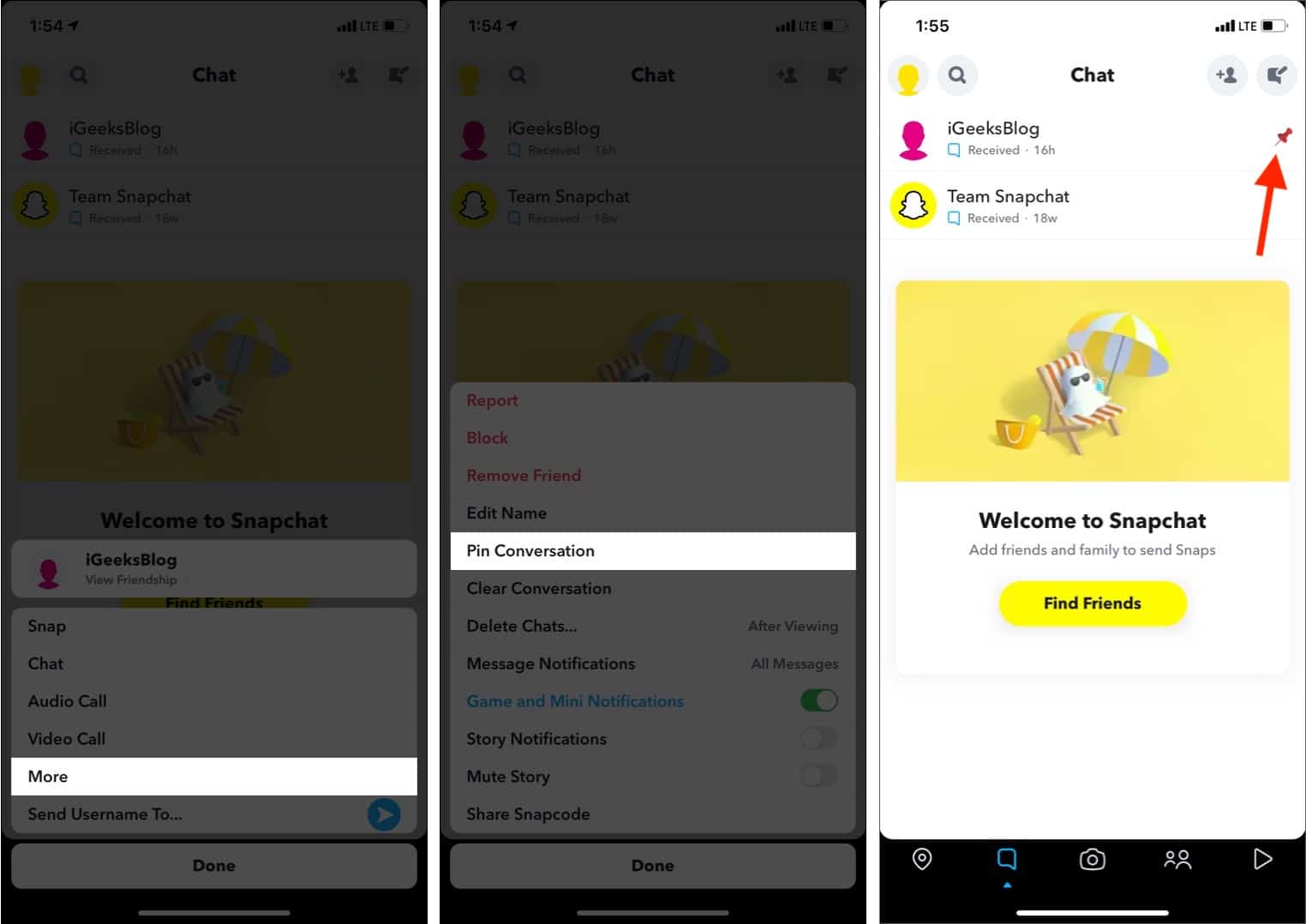 Notes:
As of now, you can pin Snapchat chats only on an iPhone. This feature is not yet rolled out for Android.

You can pin up to three chats on Snapchat.
If you no longer want to keep the current chat pinned, you can simply unpin it.
How to unpin someone on Snapchat from iPhone
Go to the Snapchat chat screen.
Long-press a pinned chat and tap More.
Tap Unpin Conversation.
Another method: Open a friend's chat, tap their profile picture → three vertical dots icon → Unpin or Pin Conversation.
How to change the pinned chat emoji on Snapchat
When you pin a chat, you see a pin icon next to it by default. If you like, you can customize it to any other emoji you like. Here are the steps to do that.
Inside Snapchat, tap your profile picture at the top left.
Tap the Settings icon at the top right.
Under Additional Services, tap Manage.
Tap Friends Emojis.


Tap Pinned Conversation and choose a different emoji.
Now, go to the chats screen, and you will see this new emoji instead of the pin icon next to all your pinned chats.


This is how you can pin, unpin, and customize pin emoji on Snapchat. I hope this guide was helpful, and now you have no trouble pinning your chats. If you have additional queries, share them in the comments below.
You will also enjoy reading:
I have been an Apple user for over seven years now. At iGeeksBlog, I love creating how-tos and troubleshooting guides that help people do more with their iPhone, iPad, Mac, AirPods, and Apple Watch. In my free time, I like to watch stand up comedy videos, tech documentaries, news debates, and political speeches.