When choosing a premium laptop, the first choice that comes to mind is definitely MacBook. On the other hand, a lot of regular users are habituated to using Windows laptops. So, there's always been a fierce rivalry.
In 2022, Dell redesigned the XPS 13 model and released a new variant as a great Windows alternative to the MacBook Air M2. But should you choose a Windows laptop over MacBook Air M2? I'll compare Dell XPS 13 (2022) and MacBook Air M2 and help you come to a conclusion!
MacBook Air M2 vs Dell XPS 13 (2022) – Specs
MacBook Air M2
Dell XPS 13 (2022)
Size
11.97 x 8.46 x 0.44 inches
11.63 x 7.86 x 0.55 inches
Weight
2.7 pounds
2.59 pounds
Display
13.6 inches (2560 x 1664)
13.4-inch FHD (1920 x 1200)
CPU
Apple Silicon M2 chip 8-core
12th Gen Intel Core i7-1250U 10-core
GPU
8-10 core M2 GPU
(configurable up to 10-core)
Intel Iris Xe integrated graphics
RAM
8GB to 24GB
8GB to 32 GB
Storage
256GB to 2TB SSD
512GB to 2TB SSD
Ports
Two Thunderbolt / USB-4
3.5 mm headphone jack
Two Thunderbolt 4 / USB-4
Battery
52.6 watt-hour
51 watt‑hour
Camera
1080p HD camera
720p at 30 fps HD RGB camera
Audio
Four-speaker sound system
Dual stereo speakers
Price
from $1,199
from $999
The MacBook Air M2 vs. Dell XPS 13 comparison depends on a lot of things. I have considered most of the parameters like design, display, performance, connectivity, battery life, and much more. So, let's dive into the nitty-gritty to differentiate the advantages and disadvantages. Keep reading for my personal experience and detailed analysis.
MacBook Air M2 vs Dell XPS 13 (2022) – Design
MacBook Air M2 is ultraportable for its compact size. It is really sleek, measuring only 0.44 inches thick. Also, Apple has gone for a larger 13.6-inch display while being 20% smaller than Air M1. The notch at the top of the screen looks futuristic and is a significant design modification.
Besides, I like Apple's environment-friendly approach to using recycled materials. The all-aluminum chassis strikes robustness and scratch resistance. Moreover, the front lip makes it simple to hold and opens with only one hand. In terms of appearance, all four colors are beautiful, but I admire the Midnight one. It's elegant and looks classy.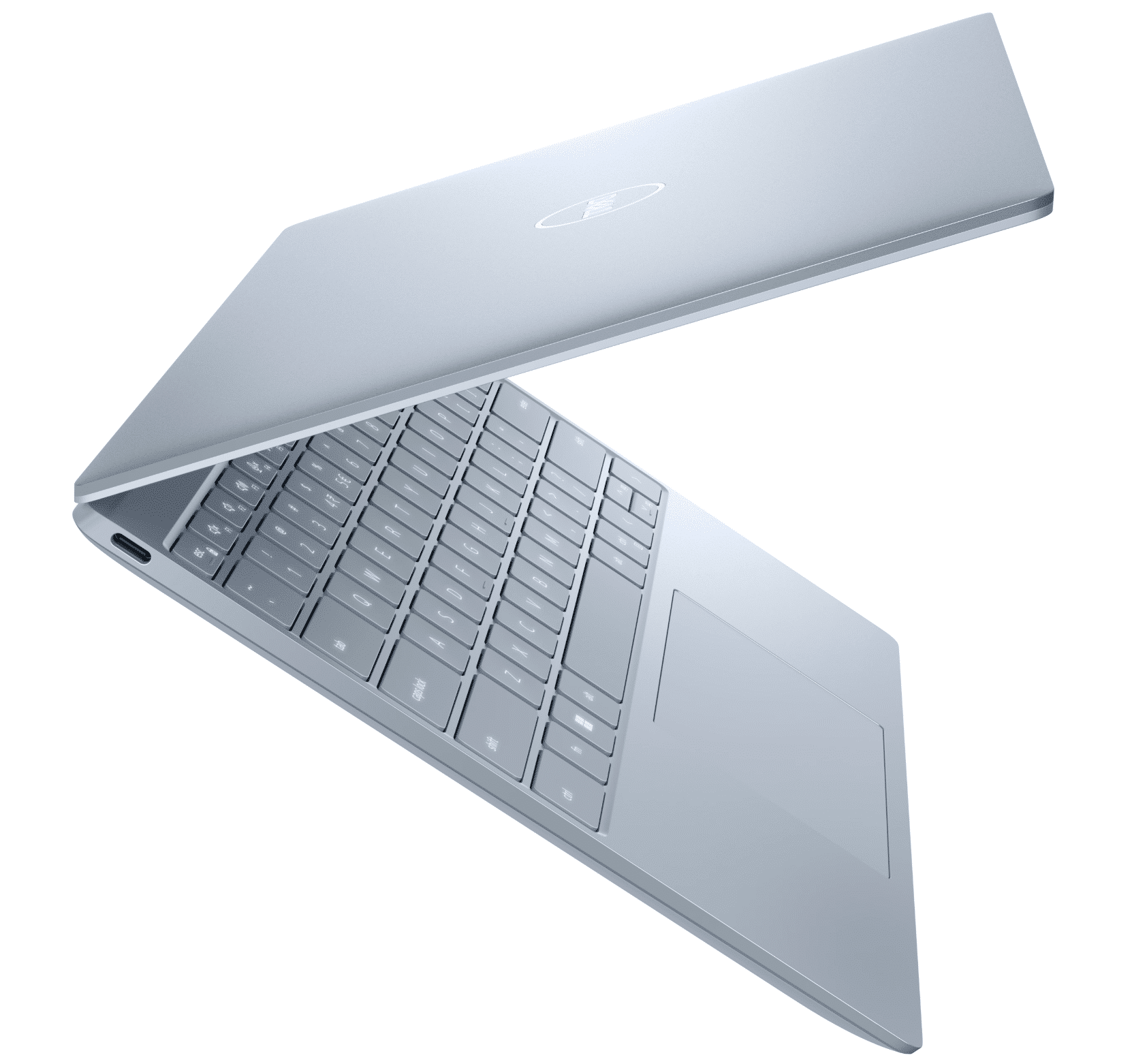 On the other hand, Dell has redesigned XPS 13 to be more minimal, durable, compact, and lightweight. It only weighs 2.59 pounds, lesser than MacBook Air M2. Although it has fewer alternatives, the Sky and Umber color looks unique on an aluminum finish. Both tonal and subdued shade reduces contrast inside for a classic appearance.
So, there isn't much of a difference; both of them are easily transportable. However, the MacBook Air is substantially thinner than the XPS 13. If you often carry your laptop, Dell will be ideal for its lightweight and compact length.
MacBook Air M2 vs Dell XPS 13 (2022) – Display
The MacBook Air M2 has a larger 13.6-inch Liquid Retina LED-backlit display. Also, it supports 2560 x 1664 pixels, 500-nits brightness, and P3 wide color gamut – making texts super crisp and visuals vivid, sharp, rich in contrast, and colorful. I love editing my photos and binge-watching anime, thanks to HDR support and IPS technology.
In contrast, Dell XPS 13 features a 13.4-inch FHD+ InfinityEdge(bezel-less) display. I was able to stream at 1920 x 1200 pixels with a 16:10 aspect ratio. So, you can't enjoy 4K and HDR content on it. Moreover, its brightness score is around 470 nits, lower than Mac. However, color reproduction and accuracy are excellent.
The display recorded 74.4% of the DCI-P3 color space and 105% of the sRGB color range. Comparatively, the Air M2's display scored 107% and 75.9% on those respective tests. The Delta-E accuracy score for the XPS 13 is 0.18 as opposed to the Air M2's 0.22. Here, the only differentiator is you may get a touch-enabled display and 4K resolution in the XPS Plus model.
MacBook Air M2 vs Dell XPS 13 (2022) – CPU and GPU performance
I think the most important aspect of the MacBook Air M2 vs. Dell XPS 13 is the performance. Let's see the Geekbench 5.4 benchmark comparison and performance overview.
| | | | |
| --- | --- | --- | --- |
| | Single-core CPU | Multi-core CPU | Power efficiency |
| Dell XPS 13 2022 | 1,596 | 6,489 | 77 |
| MacBook Air M2 | 1,911 | 8,965 | 96 |
Apple has incorporated its next-generation M2 chip with an 8-core CPU: 4 performance cores at 3.5GHz frequency and 4 efficiency cores at 2.4Ghz frequency. Dell XPS 13 runs on Intel 12th gen i7-1250U. It has 10 cores: 2 performance cores at 1.1 base frequency and 4.7GHz Turbo Boost frequency, and 8 efficiency cores at 0.8 base frequency and 3.5GHz Turbo Boost frequency.
| | | |
| --- | --- | --- |
| Integrated Graphics | Intel Iris Xe Graphics (96EU) | Apple M2 GPU |
| GPU Base Clock | 300 MHz | 500 MHz |
| GPU Boost Clock | 950 MHz | 1398 MHz |
| Shading Units | 768 | 1024 |
| TMUs | 48 | 64 |
| ROPs | 24 | 32 |
| Execution Units | 96 | 128 |
The 8-core GPU, 16-core Neural Engine, and high-performance media engine boost the performance of the MacBook Air M2. For extreme video editing capabilities, Apple allows for configuring your Mac with a 10-core GPU. In contrast, XPS has Intel Iris Xe Graphics. As you see in the table, Apple is much more powerful than Intel.
At the same power consumption of around 15W, Apple's 10-core GPU can achieve 2.3x the performance of an Intel Core i7-1255U. Besides, the i7 can't maintain its peak performance for very long. I noticed it while exporting an FHD video, whereas Mac allowed me to edit 8K and 4K ProRes videos.
But note one thing MacBook Air lacks an active cooling fan. Therefore, when the CPU is overworked for a long, its performance may suffer a little. But both devices fall short in terms of gaming performance though macOS-specific games run more smoothly on Apple's laptop.
Therefore, you may choose a MacBook Air over a Windows laptop in terms of performance.
Memory capacity
In MacBook Air M2 vs Dell XPS 13 comparison, Dell has the only advantage in RAM. You may customize it with up to 32GB of RAM as compared to Mac's 24GB. To make it up, Apple has used an upgraded LPDDR5-6400 memory type instead of LPDDR5 5200 MHz. Also, note that Apple's M2 processor employs unified memory.
Unified memory is integrated into the chip rather than a separate component on the motherboard. That's why the CPU and GPU can freely access the memory and produce higher bandwidth of 100GB/s. Besides, XPS 13's maximum storage capacity is 1TB, but Apple provides up to 2TB, giving the MacBook Air an edge.
Operating system and user experience
Besides all tech specs, I indeed focus on the laptop's user experience. And I am sure you will end up choosing between MacBook Air M2 vs Dell XPS 13 based on their operating systems. Most people already have their preferences. If you like Windows, you will go for Dell XPS 13. As I primarily use Apple products, I favor macOS for better integration.
The macOS is often regarded as the greatest choice for creative professionals because of its great productivity. I do most of my work using Apple's built-in apps and don't need third-party software. Moreover, it syncs with my iPhone, iPad, and Apple Watch – making the work easier. Besides, macOS prioritizes security and privacy above everything.
On the other hand, the Dell XPS 13 runs Windows 11 and offers extreme compatibility, customization, and multi-tasking experience. Besides, the OS's aesthetic is appealing and beginner-friendly. Windows is also a superior gaming platform. But in terms of mobile integrity, it's more limited than Mac.
MacBook Air M2 vs Dell XPS 13 (2022) – Battery life
For me, the battery life is another major aspect of a laptop as I mostly work on the go. My Air M2 provides me with an average of 14-15 hours of battery life. Most of my work includes continuous web browsing at medium screen brightness in dark mode. Apple claims this laptop can stand up to 18 hours of Apple TV app movie playback.
The XPS 13 runs up to 11-12 hours in low brightness. To test the battery in extreme conditions, I streamed 4K videos at 50% brightness. It reached 100 to 0 in eight and a half hours. Another thing I noticed was that the Dell laptop heated up high, and the fans were a bit noisy. In contrast, Mac is quieter because it uses balanced performance and passive cooling.
Keyboard and touchpad
The Magic Keyboard on the MacBook Air M2 is quick and responsive. I enjoy writing long articles without any wrist pain. All 78 keys have enough travel space, quiet soft touch, and an ambient light sensor. The full-height function key row features most shortcuts and controls.
Not to mention, its Force Touch trackpad is larger than most laptops and supports multi-touch gestures for increased productivity. Also, the trackpad has pressure sensors for clicks, acceleration, and precise drawing. Besides, I love the Touch ID key – it unlocks my Mac, helps me enter passwords, and makes secure purchases.
On the other hand, the XPS 13's keyboard was just large enough to accommodate 83 backlit keys. However, I felt a little congested. One thing I liked in Dell's laptop was the softly textured carbon fiber-coated palm rests which are missing in this model.
MacBook Air M2 vs Dell XPS 13 (2022) – Ports and connectivity
Both laptops only have two Thunderbolt 4/USB-C ports.
But MacBook Air M2 has an edge thanks to the quick-release MagSafe 3 power connector and 3.5mm headphone jack. You may connect one external display with up to 6K resolution at 60Hz and other USB-C peripherals. I was able to transfer up to 40Gb/s speed via the Thunderbolt 3 port.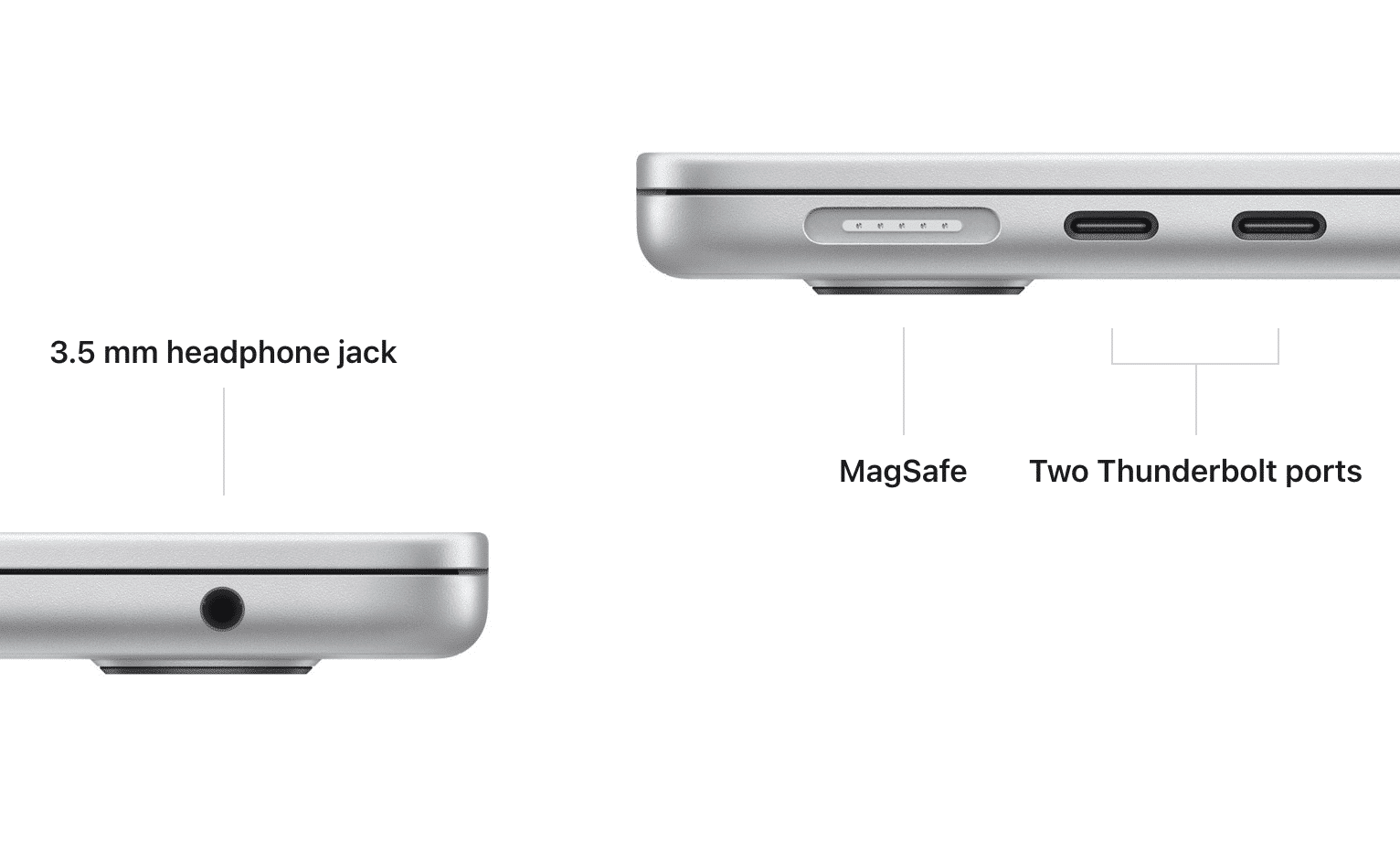 In contrast, Dell has eliminated the headphone jack and microSD slot. Only two ports make it difficult to use more than one peripheral. I was required to use the USB-C hub to set up my workstation. The only good thing is Dell provides USB-C to USB-A 3.0 adapter and USB-C to 3.5mm headset adapter for free. But I prefer a headphone port to an adapter.
Dell has covered up for this by including Wi-Fi 6E 1675 support, whereas MacBook Air doesn't has this latest version and only connects to Wi-Fi 6 wireless networks.
Webcam and sound
Apple has included a 1080p HD camera which features a low light restoration. It is decent but not outstanding. However, this webcam is still superior to the XPS 13's subpar 720p camera. It works fine in good lightning condition but captures faded-out and blurry videos. Dell claims to add a dual-sensor sensor camera that separates infrared from RGB.
In terms of sound, MacBook Air M2 has a three-array mic with beamforming algorithms to enjoy FaceTime and communicate clearly and loudly in meetings. Besides, the quad speaker's setup with two tweeters and two ultrathin woofers supports Spatial Audio and Dolby Atmos. Dell XPS 13 only has a dual-array mic and dual stereo speakers
MacBook Air M2 vs Dell XPS 13 (2022) – Pricing
| | | |
| --- | --- | --- |
| Specs | MacBook Air M2 (256GB SSD) | Dell XPS 13 (512GB SSD) |
| 8GB RAM | $1199 | $999 |
| 16GB RAM | $1399 | $1099 |
| 24GB RAM | $1599 | ❌ |
| 32GB RAM | ❌ | $1349 (1TB SSD) |
You can upgrade the MacBook's SSD storage by adding extra cash for each variant. For example, you may buy a configuration of 8GB Unified Memory with 1TB SSD at $1599 or 8GB RAM with 2TB SSD at $1999. The highest configuration of 24GB Unified Memory with 2TB SSD is priced at $2399.
Dell also provides options for upgradation. But note that a 1TB SSD memory configuration is only available for the 32GB RAM version. You may get the touch display in the base model at $1099 and 16GB RAM with 512GB SSD storage at $1199. So, in terms of upgradation, Dell XPS 13 is less flexible.
Final verdict
The Dell XPS 13 2022 model has an ultraportable design that makes carrying it simple. Indeed, it lacks the features of a MacBook, but it's good battery life and affordable price make it a laptop worth considering.
But there are a lot of reasons to choose a MacBook Air over a Windows laptop. It offers a sleek design, a powerful performance, longer battery life, loud speakers, quick charging with MagSafe, additional ports, and a crispier and more colorful display.
My MacBook Air integrates into my digital workspace very well. I can receive calls and notifications or browse my photo gallery from my iPhone without touching it. So, it is the ideal laptop for the most all-encompassing experience, despite being more expensive.
So, ultimately, your particular demands will determine which of these two excellent laptops you should choose. If you're not committed to the Apple ecosystem and really want a Windows laptop, you may go with the Dell XPS 13 Plus or Dell XPS 15 OLED, which offers superior specifications.
Explore more…
Readers like you help support iGeeksBlog. When you make a purchase using links on our site, we may earn an affiliate commission. Read Disclaimer.