Just recently, a bug caused Instagram's iOS app to crash immediately upon opening, causing frustration among users. While you can access the platform through a web browser, many may not enjoy the different interface the mobile app offers.
Fortunately, there are several ways you can try and fix your Instagram app crashing on your iPhone. In this article, I'll go through 13 potential ways! So, let's get started.
1. Check your internet connection
Before attempting to troubleshoot any issues, make sure you have a strong connection. When you're on a weak Wi-Fi connection or relying solely on your mobile data, Instagram may not be able to load and work properly.
Try switching to another network or wait for your current one to become stronger before trying again. Check if your network connection is stable by playing some videos on YouTube or searching for something on Google.

2. Turn Airplane mode on/off
Sometimes, simply turning Airplane mode on for a few seconds before disabling it can help fix all sorts of issues. Doing this will disconnect you from any network connections and could potentially fix the problem.
Just head to the Control Center and tap the button with a plane to enable it.


3. Force quit and restart Instagram
Any app can crash due to temporary glitches or if you've left it running in the background for a long time. Force quitting and restarting the app could help get rid of these errors and make sure everything is running smoothly.
To force quit the Instagram app:
On iPhone with a Home button: Double-click the Home button and then swipe up on the Instagram app's preview to close it.
On iPhone with Face ID: Swipe up from the bottom of your screen and hold, then let go once you see the App Switcher. Swipe left or right to locate Instagram, then swipe up on the app's preview to quit it.


Once you're done, restart the app and see if it works.
Additionally, closing other running apps in the background can improve the iPhone's overall performance, especially if you're experiencing some lags and crashes.
4. Check Instagram's server status
If the Instagram app isn't working properly, then it could be due to server issues or because the app is undergoing maintenance. To check if this is the case, you can visit Down Detector and see if any outages have been reported.
If confirmed, there's nothing else you can do but wait until their developers fix their server issue.
5. Check and manage your iPhone's storage
If your Instagram keeps crashing, especially after taking many photos or downloading heavy files, this could be due to your iPhone's limited storage.
To ensure that you have enough space for the app to run properly, go to your device's Settings → General → iPhone Storage. Tap each app to check how much storage you've used up, and then delete any unnecessary apps to free up some space by tapping Offload App.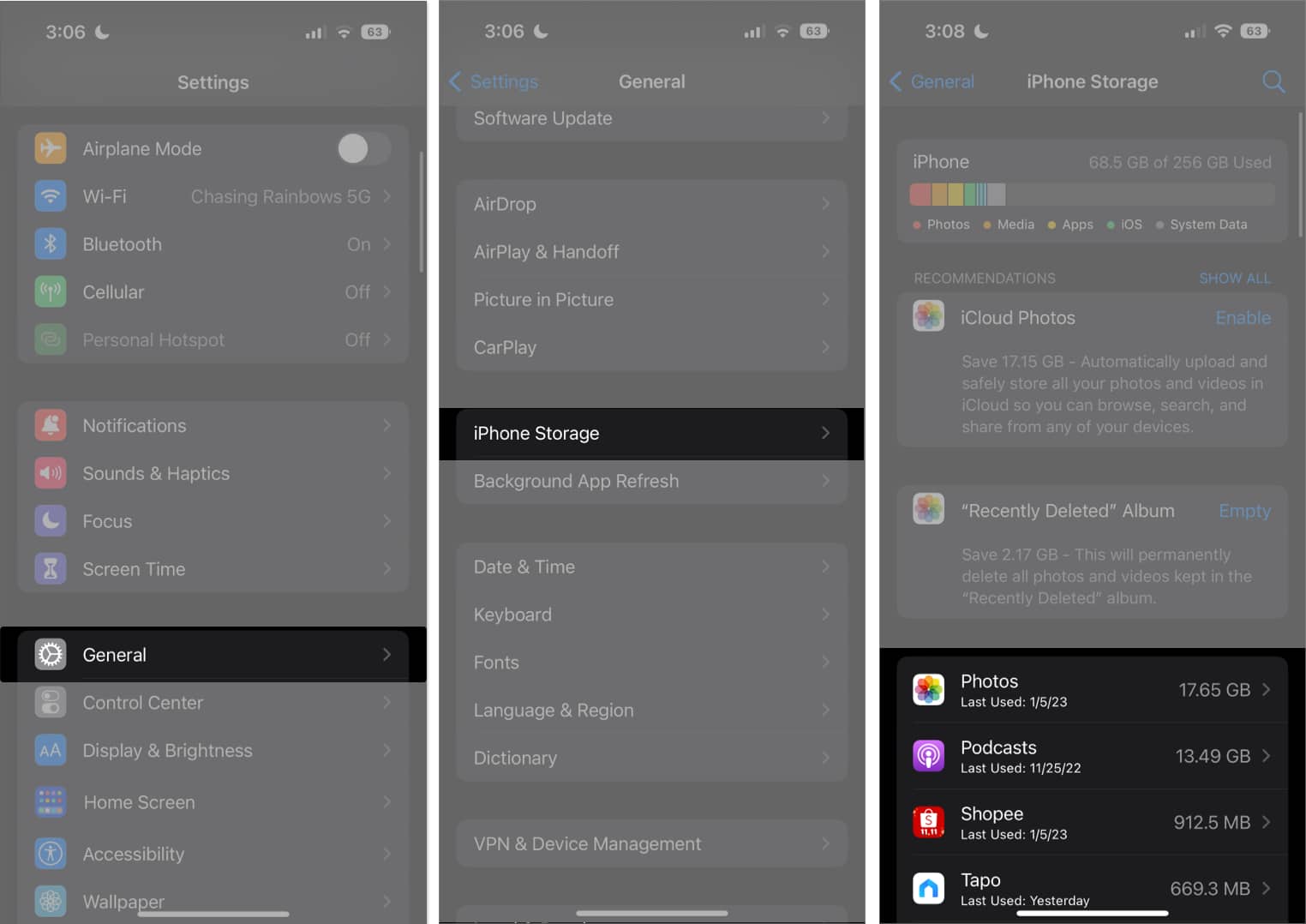 In case you need more help to add more room, try these different ways to free up space on your iPhone or iPad.
6. Restart your device
Rebooting your iPhone can be an easy fix that resolves temporary glitches and clear out its memory. Doing so can be beneficial if you're experiencing lags or other issues when using the Instagram app.
7. Update Instagram app
When your app is no longer compatible with your device, you can expect issues to show up. To ensure that you're using the latest version, head to the App Store → tap on your profile icon → scroll down to find Instagram on the list. If an update is available, download it and see if it fixes your crashing issue.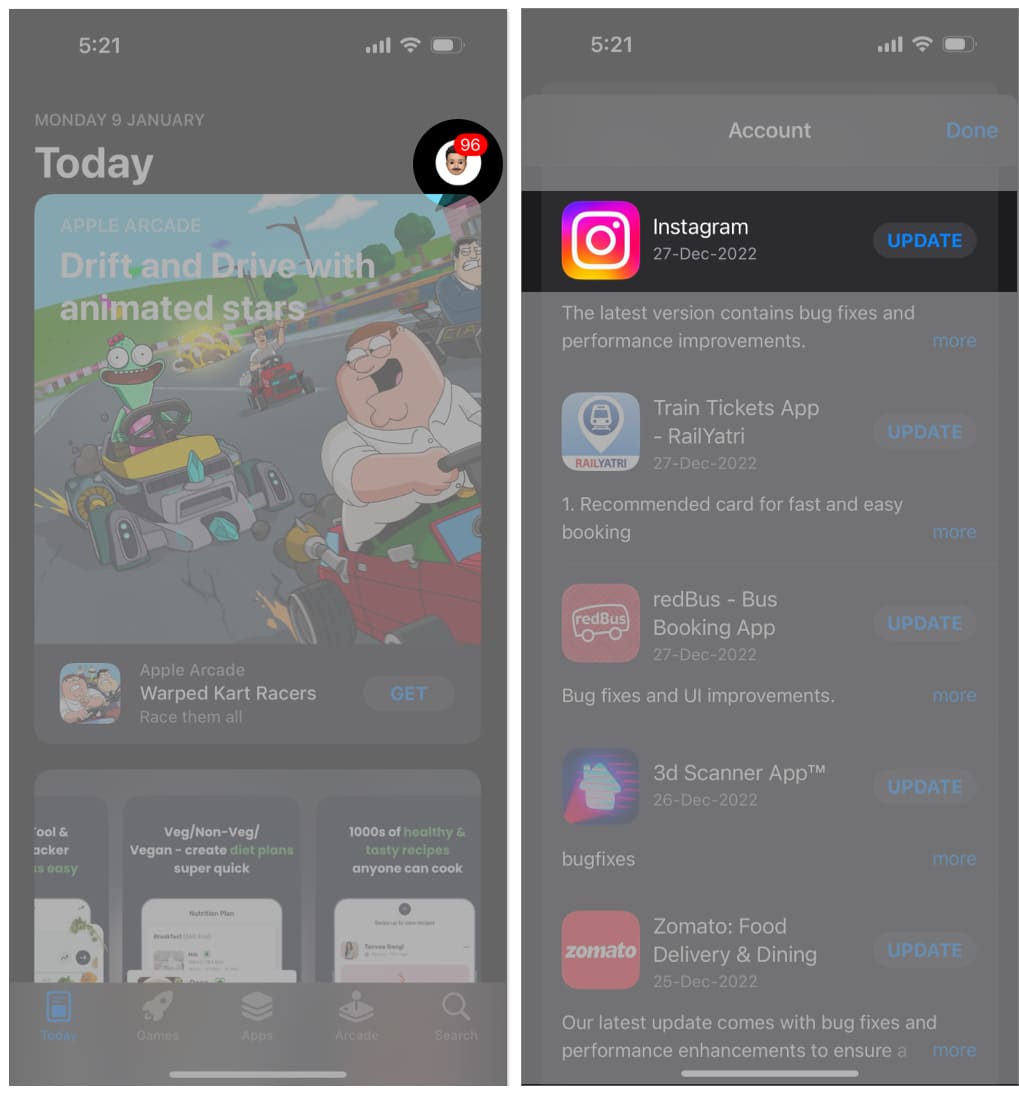 8. Update your iOS
Similar to the above, it's crucial to update your iOS version to make sure that the apps you're using are compatible with it. To do so, head over to your device's Settings → General → Software Update, and if there's an update available, download it.


Apple also releases updates regularly that include bug fixes and improvements which could help Instagram and other apps to run more smoothly on your iPhone.
9. Give required permissions to Instagram
Any app is bound to crash if it doesn't have the necessary permissions to access the required data or execute an action. To make sure that Instagram can get access to your device's features:
Go to Settings, then scroll down until you see all the apps on your iPhone.
Tap Instagram, then toggle everything the app needs to operate.


10. Uninstall and reinstall app
To do this, simply tap and hold the Instagram app icon.
Tap on the Remove button (-) that appears on the app's upper left side.
Then confirm your action by tapping Delete App.


Once done, go to App Store, search for Instagram again, and download and install it.
Launch the app after and see if this fixes your crashing issue.
Note: You can also delete the app from the App Library: tap and hold the app icon → Tap Delete App twice.
11. Check your Language & Region settings
There may be instances where you changed your regional and language settings, say to be able to download a particular app, but forgot to switch back. Altering this setting could lead to unwanted crashes as Instagram fails to authenticate you properly. Sometimes, third-party apps could also accidentally modify your language settings without you knowing.
To ensure that Instagram can run properly, set this setting back to your current location. To revert your settings:
Go to Settings → General.
Select Language & Region. Make sure your Region is set correctly.


12. Reset Network Settings on your iPhone
If you accidentally tinkered with your iPhone's network settings, it's possible to cause instability on your device and make apps that rely on the internet, like Instagram, crash.
Resetting your Network Settings should help clear up any issues and return it to its default settings.
Note that doing this doesn't delete your data except any saved Wi-Fi passwords. To do this:
Go to Settings → General.
Select Transfer or Reset iPhone.
Tap Reset → Reset Network Settings.


Enter your passcode and confirm the reset.
Once everything's done, open Instagram and see if it works normally.
13. Erase all Contents and Settings on your iPhone
It's very rare that you have to resort to this solution, but if all else fails, you can try erasing your iPhone and setting it up as a new device. This will erase all the data on your device — including possible third-party apps that could be causing conflicts with Instagram.
Just be sure you've backed up your data before proceeding with this step. To erase all contents and settings on your iPhone:
Go to Settings → General.
Choose Transfer or Reset iPhone.
Select Erase All Contents and Settings.


Enter your passcode and confirm to proceed with the reset.
After everything is done, start setting up your device as new and re-download Instagram.
What else you can do?
If you've exhausted all the troubleshooting tips above and Instagram still keeps crashing, it's probably a good idea to reach out to Instagram Support directly. The friendly folks there are usually pretty helpful and should be able to provide you with further assistance on how to get your app back up and running.
I hope that this helped solve your Instagram crashing issue. If something else worked for you, let us know in the comments!
Read more:
Readers like you help support iGeeksBlog. When you make a purchase using links on our site, we may earn an affiliate commission. Read Disclaimer.