Things to know before using Freeform app on iPhone and iPad
You need to turn on Freeform from iCloud Settings.
You must have iOS 16.2, iPadOS 16.2, or later.
Finally, the wait is over, and the Freeform app is available on iOS 16. It is a new flexible canvas collaborative whiteboard from Apple. You may have seen some features of this at the WWDC22 main keynote in June 2022. This article will explore how to use the Freeform app on your iPhone or iPad.
What is Apple Freeform?
Freeform is a new built-in whiteboard in Apple devices. It is a versatile canvas where you can collaborate with over 100 people on a single board. So, work together on real-time design sketches, create mood boards, and discuss ideas with your team. Also, you can FaceTime or send messages to other team members while collaborating on a board.
This digital whiteboard allows adding images, videos, PDFs, documents, links, etc. Also, you can use different colors, brush types, shapes, and doodling elements. I liked its features of adding comments and scanning documents directly from the app. Besides, with unique cursors, you can immediately see the activities of each collaborator on the board.
You may use the app on your iPhone, iPad, or Mac. But iPad users have the advantage of using it with Apple Pencil. Let's see how to use Freeform.
How to enable Freeform on iPhone and iPad
Launch the Settings app on your iPhone → tap your name to open your Apple ID.
Select iCloud.
After that, tap Show All under the Apps Using iCloud section.
Finally, scroll down and toggle on Freeform.


How to use Freeform app on iPhone or iPad
Freeform is only accessible on iOS 16.2, iPadOS 16.2, and macOS Ventura or later. So, if you haven't already, update your iPhone, iPad, and Mac to the latest version. Your home screen will display the Freeform app as soon as the update is installed. To open the app, tap it.
For the first time, a welcome message will show up. So, select Continue to create your first board. It will start off blank. And you can see a toolbar at the bottom of the screen.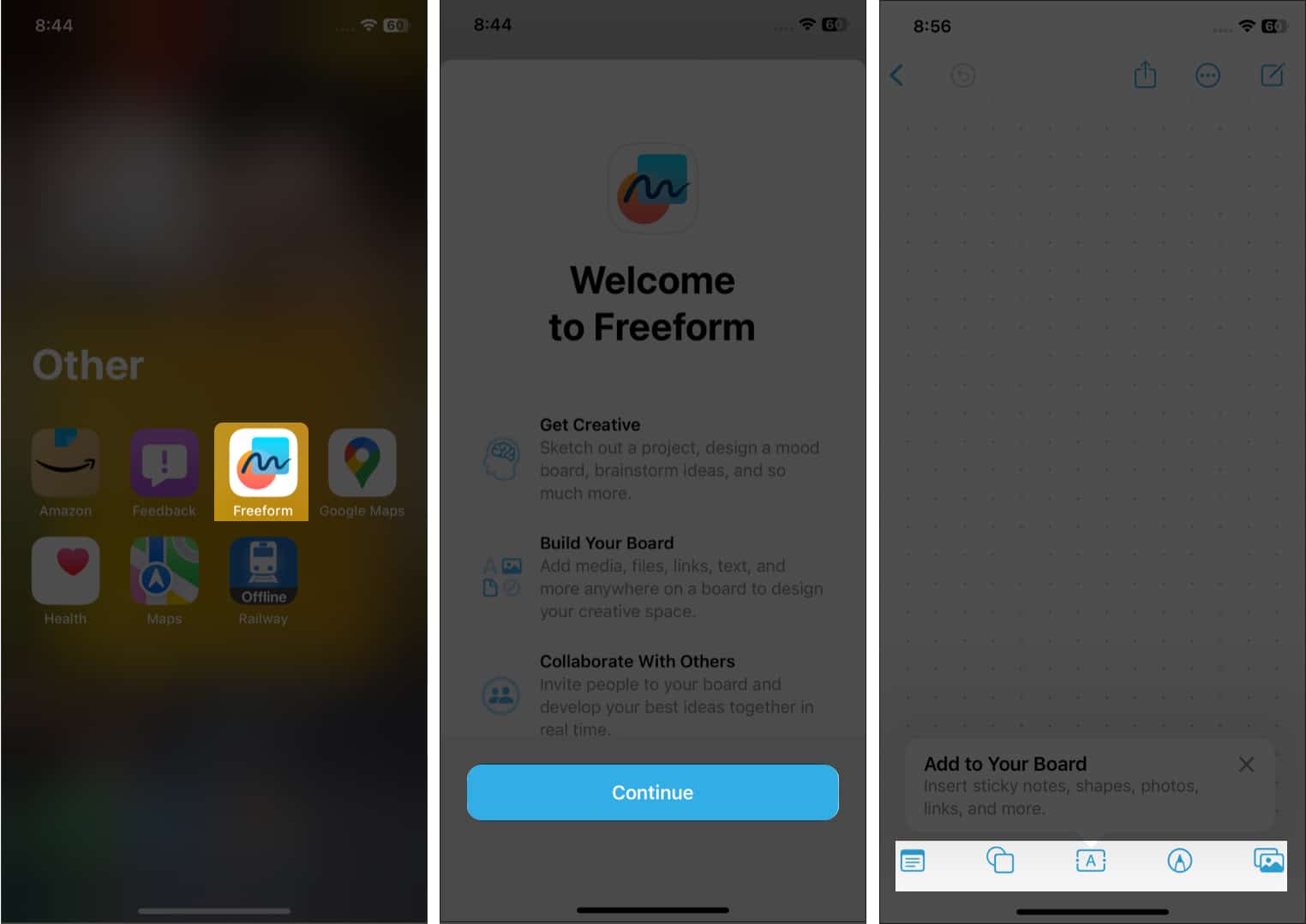 Also, there are sharing, editing, and other options to organize your board. Don't worry! I will discuss each function step by step.
I can assure you Freeform will feel familiar. Because all its navigation is similar to Apple native applications like Notes, Pages, Reminders, or Files. You can see your boards from the main page, including All Boards, Recents, Shared, Favorites, and Recently Deleted.
You may interact with all of your boards from All Boards. From Recents, you can access boards recently created or edited. The Shared folder makes it easier to find the collaborated boards. Besides, if you have deleted any board by mistake, you can retrieve it from the Recently Deleted section within 30 days.
Also, there is a Search bar, a button for creating a new board, and editing options on the top. If you tap the three-dot icon, you may organize your boards by sorting them and making date-wise groups. Also, see your boards in the list view. As you have turned on iCloud sync, you can see your boards across all devices.
Create a board and use the Freeform toolbar
When you first launch the app, it will open a blank canvas with dots. So you can start doodling. Rather than that, you may tap New Board from the Freeform home page. Or select the Pen icon from the All Boards section. After completing your work on the board, tap Done to save everything. You can also choose the Pen icon from the board to create a new one.
Now that you have made a new board, let's jump into its features. There are five functions toolbar on the board. You can customize all elements and place them anywhere by dragging them.
Note: Tapping it will add a yellow sticky note on your board. You may edit it and move around to highlight a certain part of your board.


Shapes: The Shapes icon unfolds a slew of pre-defined shapes and objects. You can find basic lines, circles, arrows, 3D objects, animals, food, people, etc. Altogether, there are 16 different categories with 700 unique shapes. Also, use the Search button to discover a certain item quickly. Besides, it allows changing a shape's color, size, location, etc.


Text box: Selecting this icon will add a text box with customizable fonts, styles, colors, and sizes. Besides, change the indent, add bullet points, duplicate the text box, or copy the style. So, you can write titles or descriptions on a board as per your preference.


Pen: Apple's extensive selection of brushes and pens displays when you click it. You may also change the brush type, color, stroke width, opacity, etc.


Attachment: You may insert photos and videos from your iPhone or iCloud. Or directly scan a document using the built-in document scanner or click a photo right from the board. You may also annotate them as per your preference without leaving the app. The best part of Freeform is you can add any website link.


You may also see four icons at the top of your board. They are Undo, Share, Menu, and New Board options, respectively. If you tap the three-dot icon Menu, you will have the options of Rename, Duplicate, Favorite, Find, Hide Grid, Export as PDF, and Print options.
Easy collaboration is one of the finest features that set apart the Freeform app on iPhone and iPad. Besides, you may export your board as a PDF to share a static copy with others or save it to Books. For that:
Tap the three-dot icon at the top of your board. Or hold the board from the All Boards page and tap Share.
Then, select Export as PDF.
Finally, choose Save to Files. Also, you can send this via Mail or Messages. Or save the PDF in the Notes or Books app.


Steps to add people to a Freeform board:
Choose the Share button at the top of your board.

Now the Share Sheet will pop up. Here you can change the invitation settings. If you customize the Share Sheet, you may modify the default sharing permissions. Additionally, you may forbid people from inviting anybody.
Next, choose the app to send the link to your team.
If you set the invite settings to Anyone with the link, you may swipe left to right and choose Invite with Link.


Then tap Copy Link from the Actions list.


After you have shared a board, you can see a Collaborator icon beside the Share button. Tapping on it will allow you to start a chat, audio call, or FaceTime with your team. Also, you can manage the sharing permissions by choosing Manage Shared Board.
Scaling your board on Freeform
At first glance, you may think of this as an "unlimited canvas," as there are no board borders. Although it technically isn't limitless. The scaling ranges from 10% to 400%. You may use the scaling tool on the bottom left of your board on Freeform on Mac or iPad. Or pinch to zoom in and out with two fingers to modify your board size. The zoom level on the board is 100% by default.
Use Freeform in dark mode
Like the Notes app, you may think using Freeform in dark mode will convert the canvas to black. But no! When using dark mode, only the toolbar dims, and the board remains white. Rather than that, all other app pages, like the Folders page or the All Boards page, will be in dark mode.
Turn on Apple Pencil support for Freeform on iPad
Apple Pencil will be the ideal companion to use the Freeform app and doodle on it. So, why not give it a try? Get your iPad and follow the instructions:
Go to Settings and tap Freeform by scrolling down.
Toggle on Select and Scroll under the Apple Pencil section.
So, that's all for today, folks!
Freeform will be the next definition for the digital whiteboard. You can brainstorm with your teammates by simply creating a board. What do you think about this new app on iOS 16? Let me know in the comments.
Explore more…
Ava is an enthusiastic consumer tech writer coming from a technical background. She loves to explore and research new Apple products & accessories and help readers easily decode the tech. Along with studying, her weekend plan includes binge-watching anime.