Turning off distractions like notifications from apps and texts from peers can be what we need to wind down to sleep or prevent us from waking up too early—this is what iPhone's Sleep Mode does. But sometimes, muting these off too early causes us to miss time-sensitive notifications.
Don't worry! In this article, I'll teach you how to turn off Sleep Mode on your iPhone. But first, let's understand what it is.
What is iPhone's Sleep Mode?
Sleep Mode is a Health app feature for iPhones running iOS 14 and later. The feature allows you to create a sleep schedule for yourself to meet your minimum sleep goals. Besides, it also enables you to customize the alarm for specific days in the week.
That's not it! Sleep Mode also works in sync with Sleep Focus, a default Focus mode. It allows you to concentrate on the task by minimizing the display and temporarily silencing specific notifications based on your preferences.
However, you may want to turn it off if your sleep schedules are variable and the alarm tends to disrupt your sleep, or you wish to receive time-sensitive notifications, texts, or calls.
How to turn Sleep Mode off from iPhone's lock screen
Your lock screen will inform you if your iPhone is on Sleep Mode by indicating that the Sleep Focus is on. It will also state if an alarm is pending. To turn it off from your lock screen:
Press the side button or the Home button of your iPhone.
Tap Dismiss → Sleep Focus (bed icon).
You'll be directed to the Focus mode options.
Now, unselect Sleep.


How to disable Sleep Mode via the Control Center
Another way to turn off Sleep Mode temporarily is to turn off Sleep Focus. You can easily access it through the Control Center. Accessing it may differ based on the iPhone model you're using:
For iPhones with Home buttons: Swipe up from the screen's bottom.
For iPhones with Face IDs: Swipe down from the screen's upper right corner.
Once you're in the Control Center, tap the Sleep (bed icon) to turn Sleep Focus off. If you're interested in customizing your Control Center, here is a detailed guide on everything you can do with iPhone's Control Center.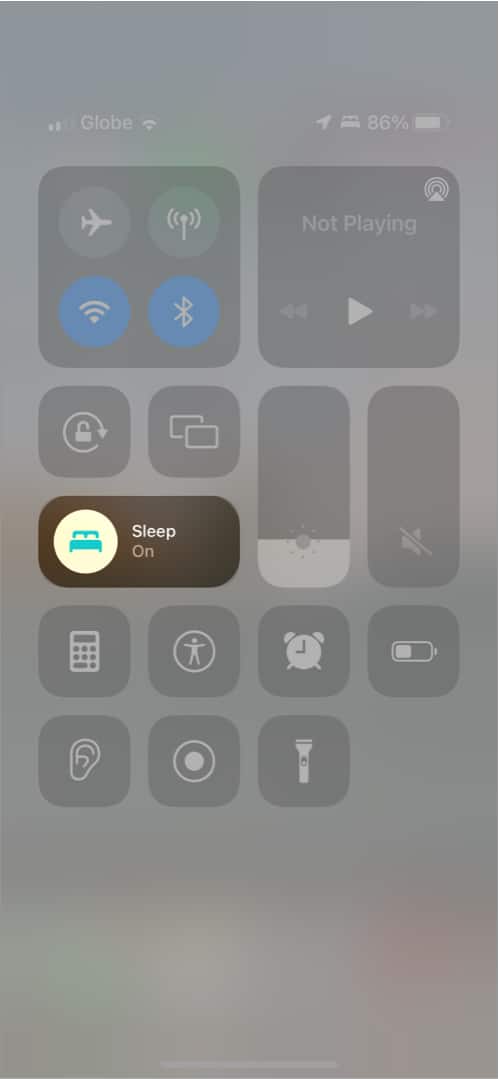 Turn off Sleep Mode permanently in iPhone's Health app
If you've decided that Sleep Mode doesn't work for you and want to get rid of it entirely, you would need to turn the feature off from your Health app. To do this:
Open the Health app → tap the Browse tab → search for Sleep.
Scroll down to the bottom and tap Options.


Toggle off Turn On at Bedtime or Turn On at Wind Down if you have enabled Wind Down.


Aside from sleep, the Health app houses many other valuable features. You can track your menstrual cycle and even add your workouts.
Wrapping up…
Sleep Mode and sleep schedule are useful features that help you get better sleep. However, work and other urgent matters may require you to wait on important notifications and delay bedtime for later. So, turning off Sleep mode on your iPhone is helpful at times!
Have other related queries? Share them in the comments below.
You may like to read these…
Readers like you help support iGeeksBlog. When you make a purchase using links on our site, we may earn an affiliate commission. Read more.
Rachel loves anything Apple —from iPhones, to Apple Watches, to MacBooks. She is also a medical writer and a ghostwriter for various publications.