FoneGeek iOS system recovery tool for Windows and Mac helps users resolve any issue with their iPhone and iPad without losing data. It is a trustworthy solution for every beginner and professional.
Pros
No data format is necessary
Easy-to-use interface
Clear instructions
Cons
Does not support Windows 11
Monthly plan pricing
Price: Monthly plan starting from $23.95
No matter what, having a dead iPhone or iPad is amongst the scariest of nightmares. And if you're living it right now, we have you covered. FoneGeek iOS system recovery promised to resolve over 200 system issues.
And I have put it through the wringer to test and review it. The great part is that you don't need to be an expert to troubleshoot the issue. Plus, your iPhone/iPad data might survive. So, let's see how FoneGeek helps.
FoneGeek iOS system recovery review: All you need to know
If your iOS device is stuck on the Apple logo, DFU/recovery mode, or even on the black or white screen of death, FoneGeek is a worthy candidate to solve all these problems.
With just two options on the startup screen, this one is the easiest iOS recovery software I have encountered. Notably, the two system repair options, Standard and Advanced mode, are available as soon as you launch.
Standard Mode: It fixes problems like the black screen of death and being stuck at DFU or recovery mode. Without erasing any data.
Advance Mode: If the standard mode does not work, only this comes into play. But it erases all the data.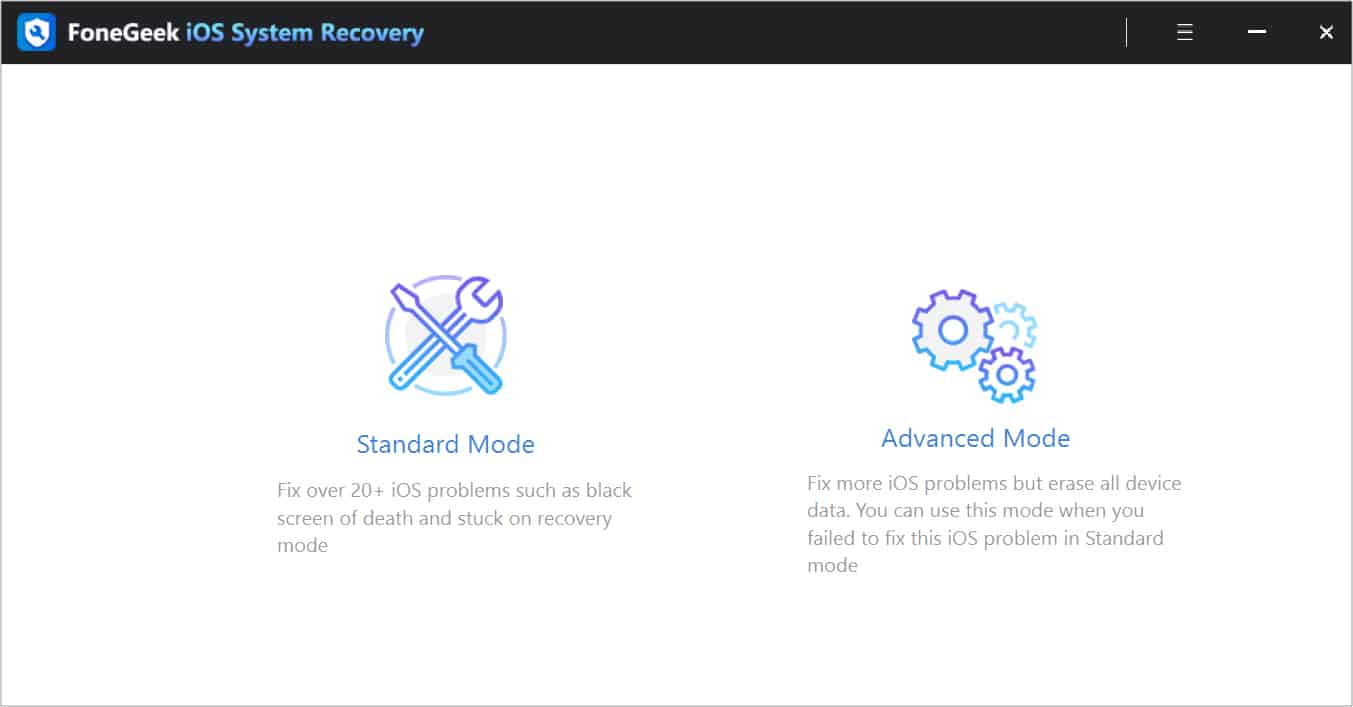 I think I've made it very (repeatedly) clear that FoneGeek is easy to use. Now let's see the proof of that statement.
How to use FoneGeek iOS system recovery to fix your iPhone or iPad
The software allows you to fix your dead iOS device with just 4 steps.
Launch the software and choose between Standard or Advanced mode.
Connect your iOS device using a data cable in DFU mode.
Follow the on-screen instructions for your device to put it in DFU mode.
When it detects your phone in DFU mode, it will ask you to download firmware for the device.


Once downloaded, click "Fix Now" in the prompt.


Everything will be automatic afterward.
It's really as simple as that. However, I should mention that your PC should have the latest version of iTunes. Otherwise, your DFU mode will not be recognized.
I love that you get all the help you need, as you're clearly instructed on how to put your iPhone into DFU or recovery mode (available for all iPhone models). It makes it easy for even rookies to use and revive their iOS devices.
Supported Devices
FoneGeek has got you covered for both sides if you are using Windows or Mac. They have recovery software for both of these Operating Systems.
iOS devices
iPhones: iPhone 14, iPhone SE 3/2, iPhone 13 (mini), iPhone 13 Pro (Max), iPhone 12 (mini), iPhone 12 Pro (Max), iPhone 11, iPhone 11 Pro (Max), iPhone XS (Max), iPhone X/XR, iPhone 8 (Plus), iPhone 7 (Plus), iPhone 6s (Plus), and iPhone 6 (Plus).
iPads: iPad Pro 5/4/3/2/1, iPad Air 5/4/3/2/1, iPad mini 6/5/4/2/1, and iPad 9/8/7/6/5/4/3/2/1.
iPod Touch: iPod touch 7, iPod touch 6, iPod touch 5, iPod touch 4, iPod touch 3, iPod touch 2, iPod touch
iOS versions – iOS 16, iOS 15, iOS 14, iOS 13, iOS 12, iOS 11, iOS 10, iOS 9, iOS 8, iOS 7
Why FoneGeek recovery?
At iGeeksBlog, we care about our users' comfort, so whenever we feel they need some help or tools, we readily provide them with all the guidance and references we can.
FoneGeek iOS system recovery completely matched the vibe. It's easy to use and offers a hassle-free, almost sure-shot way to recover your iPhone or iPad. Here are some key features I loved about the software,
Forthright interface.
Well illustrated guide for everything we require.
Different sections for iOS device generations.
Automatic detection of device-specific firmware.
Ensures data safety.
iGeekometer
Features and Facilities
User interface
Value for money
As a whole, FoneGeek iOS recovery software is a great choice for anyone who wants to recover their iOS device. In most cases, it even retrieves your data, so it's a win-win situation. If you are looking to revive your iOS device, you should definitely give this a try.
Pricing
Notably, the monthly subscription plan is slightly expensive, especially if you're looking at one-time use. But if you're going for a 1-year or Lifetime plan, it is relatively cheaper (even than its competitors).
You might like:
Readers like you help support iGeeksBlog. When you make a purchase using links on our site, we may earn an affiliate commission. Read Disclaimer.