Apart from eating good food and doing workouts regularly to stay healthy, knowing the SAR (Specific Absorption Rate) value of the iPhone can help to understand if it can harm you or not. Here, I'll help you understand what SAR value is, how to find the SAR value of your iPhone, and also share tips to reduce the radiation emitted from your iPhone.
What is SAR value of iPhone?
There is a high chance of you hearing about the SAR value while buying an iPhone or browsing the internet. Regardless, you may doubt what the SAR value of the iPhone is. Well, SAR, short for Specific Absorption Rate, measures the amount of radio frequency energy absorbed by the body when using a device.
With this metric, you'll be able to determine the level of radiation emitted by your iPhone. The SAR value is expressed in units of watts per kilogram of body weight (W/kg). Every phone has a different SAR value while obeying the norms set by each government.
The Federal Communications Commission (FCC) sets the maximum SAR limit for mobile phones at 1.6 W/kg in the US. This limit is based on guidelines from the International Commission on Non-Ionizing Radiation Protection (ICNIRP) and is considered safe for public exposure.
Now that you know what SAR value is, let's look at how you can check the SAR value of your iPhone.
5 Ways to find your iPhone's SAR value
SAR might feel too technical, but in reality, checking your iPhone's SAR is a very simple and easy process. To make things easier, I'll show you 5 ways in which you can do the same too! So, without further ado, let's dive into it.
1. Check SAR value from the official link
There is an official link to check your iPhone SAR value. All you have to do is:
Go to Apple's RF exposure page link.
Choose iPhone.
From here, choose your iPhone model.


On the next page, you'll get all the information regarding the SAR value of your iPhone.
2. Check SAR value of iPhone through a box
Most people prefer to keep their iPhone boxes with them to claim a warranty when needed or for resale purposes.
Whatever the case, if you have your iPhone box, simply rotate the box, and you can see the SAR value behind the iPhone box.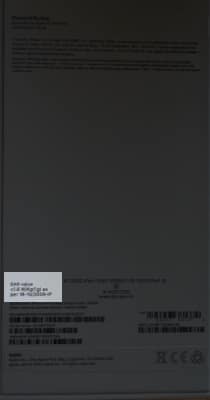 3. Check the iPhone user manual
Apart from the iPhone box, you can also check the manual or documentation inside the box to get more information about your iPhone. However, it might take a bit longer than flipping the box to find it.
4. Use the USSD code to find SAR value
Open the Phone app.
Enter *#07# and hit the call button.
Select RF Exposure.


Tap the SAR value link at the bottom of the page.
On the new page, scroll down to see the SAR value of your iPhone.


5. Check Settings
Open Settings.
Tap General.
Select Legal & Regulatory.
From here, choose RF Exposure.


Tap the link at the bottom of the page.
Here, you can see the SAR value of your iPhone.
How much SAR value is safe for head and body?
The ideal SAR value varies depending on the region you are living in. All manufacturers have to follow the regulations set by the concerned authorities; hence, you can be assured that you are using devices that won't cause any harm.
Why? Because there haven't been any scientific proof that radiations from iPhone or any other smartphones can cause long-term health effects.
FAQ
How to reduce iPhone radiation?
To reduce radio emissions during phone calls, use wired headphones, earphones (not Bluetooth ones), or your smartphone's speaker mode. Also, avoid making calls when the signal is weak.
Stay safe while using your iPhone
Now that you know about Specific Absorption Rate (SAR) value and how you can check that on your iPhone, you can take necessary measures to reduce radiation consumption. Although if you still have any doubts or queries, feel free to drop them in the comments.
More interesting reads:
Readers like you help support iGeeksBlog. When you make a purchase using links on our site, we may earn an affiliate commission. Read Disclaimer.