Water is essential in our homes but can go haywire if not regulated. In one way or another, you might have faced issues like pipe bursts and overflowing of water from washing machines, taps, and others. While you can fix minor leaks quickly, large ones can be troublesome.
As a result, you may incur property damage. If not, the nearby electronics can be in trouble. To prevent such instances from occurring, you can use an excellent smart water leak sensor. I've curated a list of the best smart water leak detectors for you, and some of them even support HomeKit, allowing you to control them using your Apple devices.
1. Eve Water Guard – Editor's Choice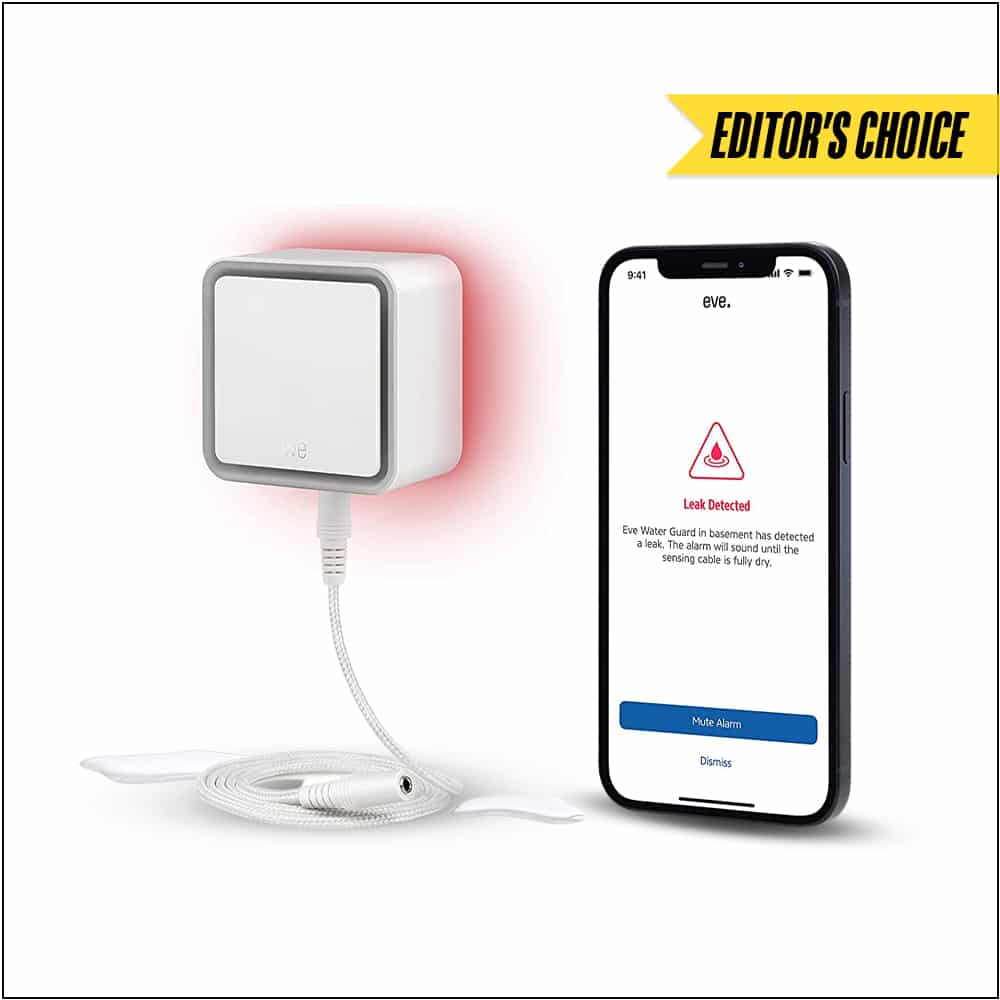 The Eve Water Guard is the best smart leak detector you can get for your home, especially if you have one or more Apple devices. When it detects water, it triggers a loud siren of 100dB with a red flashing warning light. It also sends a notification to your Apple Watch, iPhone, iPad, or Mac about the same.
It comes with a 6.5 ft (2m) cable for detecting water leaks in large areas and can be expandable up to 490 ft (150m) cable if needed. Furthermore, it supports Bluetooth, Thread, and HomeKit, so it's futureproofed for a good time. It's perfect for bathrooms, basements, and kitchens with high chances of water leakage.
Pros
Apple HomeKit and Thread supported
Expandable cable supported for wide-area leak detection
Loud siren with red flash warning light
2. Meross Smart Water Leak Detector – Best Homekit water leak sensor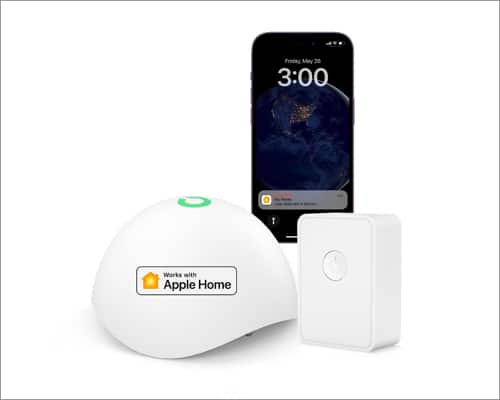 Meross Smart Water Leak Detector is another great water leak sensor that supports Apple's HomeKit. It is a nickel-plated carbon-steel water leak detector with an IP67 water resistance rating. As a result, it works without any problem in a high humidity environment without you worrying about rusting or any other build quality issues.
Furthermore, it comes with high sensitivity, but you won't hear false alarms. It triggers a real-time local alarm whenever the water threshold reaches 0.5mm and sends notifications to your phone. It works with Wi-Fi, and one hub can control up to 16 Meross sensors. With a battery life of 18+ months, you can use and export its data anytime you want.
Pros
Apple HomeKit supported
18+ months battery life
IP67 water resistance rating
Nickel-plated carbon steel build
Cons
HomeKit setup can be clumsy
3. YOLINK Smart Home Starter Kit – Best value for money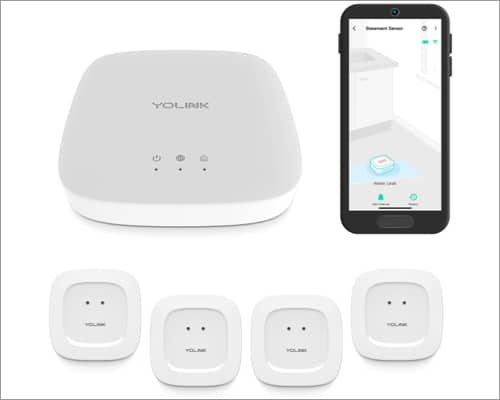 If you're not looking specifically for a HomeKit-enabled device, then YOLINK's smart home starter kit is an excellent choice. It comes with one hub and four water leak sensors, and the installation is also quick. Using the proprietary app, you can control it with your Android device or iPhone.
Moreover, it supports a range of ~1320 ft and a device-to-device pairing system that works with a LoRa-based wireless network. As a result, the devices will continue to work even if there's a power outage or no Wi-Fi connectivity. You can also opt for text SMS on your phone, but it's limited to 20 free SMS, and you can purchase more if you go through frequent leaks.
Pros
Wide area support
Works without Wi-Fi or during a power outage
Sends text SMS (if opted)
Cons
Can have issues when disconnected from Wi-Fi
No Apple HomeKit support
4. D-Link Wi-Fi water leak sensor – Best water leak sensor kit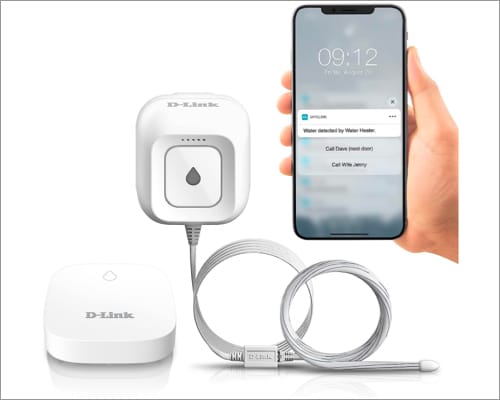 If you use many D-Link products, you should go with the D-Link Wi-Fi water leak sensor. It's easy to install, and all you've to do is place the Master Sensor Plug into the power outlet and the Sensor Pods wherever you want to detect water leakage. It has a 1.6 ft sensing cable, which you can extend to 4.9 ft with an extension cable.
It supports up to 16 remote Sensor Pods you can control using the myDlink app on your Android device or iPhone. It uses two AAA batteries to power it up and produces a loud 100dB siren sound when set off. It also supports Wi-Fi, allowing you to connect it to a Google Nest speaker that announces the water leak when detected.
Pros
Google Nest supported
Expandable cable supported for wide-area leak detection
Loud siren with red flash warning light
Proprietary app available for both Android and iPhone
Cons
Can have issues during power outages
5. Aeotec SmartThings Water Leak Sensor – Best water leak sensor for Samsung users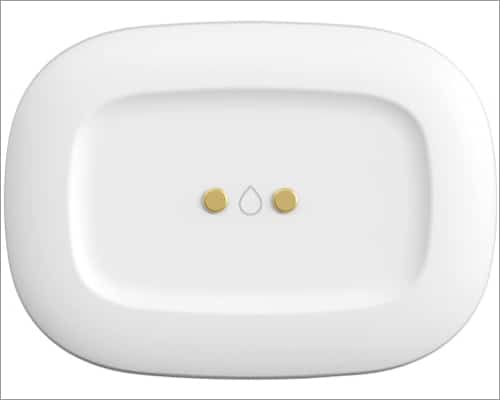 If you want something more aesthetically pleasing in your home, try looking at the Aeotec SmartThings water leak sensor. As the name suggests, it's perfect for those who use Samsung devices, where you can find SmartThings. It's easy to install, and with a slim and compact design, it can fit almost anywhere.
Besides water leakages, it also monitors the temperature of your room. Whenever there's a sudden drop in the temperature apart from its operating temperature of 32°C to 104°C, it'll light up the siren for you to check for abnormal moisture. You can set it to shut down electronics automatically when a water leak is detected. Moreover, it uses a CR2 battery that also comes in the package.
Pros
Samsung SmartThings and Zigbee supported
Temperature detection
Small and compact
6. METAK water leak sensor – Cheapest water leak detector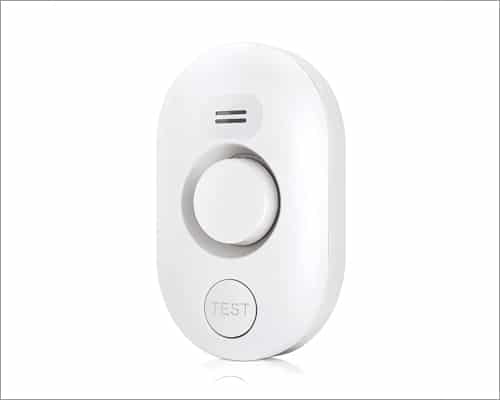 If you're looking for a cheaper option, you can go with METAK's water leak sensor. It's best for those who want to detect water in small areas such as pipes or sinks. It doesn't need wires or setup to work, making it easy to install. When triggered, it produces a loud alarm of 100dB, but you can also mute it when you don't need it.
Furthermore, it has an IP66 water resistance rating, allowing it to work even in high-humidity areas. You get up to two years of battery life with METAK's water leak sensor. When it runs out of battery, you'll receive a low battery notification with a beep and flashing red light.
Pros
Completely standalone sensor
IP66 water resistance rating
Loud siren
Cons
No support for smart home systems
Final thoughts…
So these were some of the best smart water leak sensors you can get for your home to make it smart. Some of them also support Apple's HomeKit, so if you have an Apple device, you can set them up quickly. However, others mentioned in this list are also good alternatives if you don't have a HomeKit-enabled device. Let us know which smart water leak sensor you choose for your home.
Read more:
Readers like you help support iGeeksBlog. When you make a purchase using links on our site, we may earn an affiliate commission. Read more.
Sajid is an Electronics and Communications Engineering graduate who loves writing about tech. He's primarily interested in writing about Android, iOS, Mac, and Windows. You'll find him watching Anime or Marvel when he's not writing.