As technology advances, more smart home devices are emerging to enhance living spaces. For example, the HomeKit garage door opener allows you to control your garage door remotely with voice commands or through an app on your iPhone. Here, I will highlight the best HomeKit garage door openers, providing all information you need to choose the perfect one for your home.
1. Nexx smart Wi-Fi controller NXG-300 – Editor's Choice
Nexx NXG-300 smart garage door opener offers to control and automate your garage by setting a schedule for remotely opening and closing the door. It has sensors to detect up and down motions. Whenever your garage door is opened, you will get a voice announcement, and if you forget to lock the door, it sends push notifications on your iPhone.
It also has a snooze feature to keep the garage door open. You may command Nexx Home via the app or by speaking to Siri. Also, the app shows a history of who is entering or leaving and when for better security. The Just Drive feature lets you go hands-free if you want more ease.
Employing geofencing technology, Nexx automatically instructs the garage door to open when your car enters the driveway. The Wi-Fi controller also supports Bluetooth capability, so you can control the garage door without the internet. In addition, you can install the wireless sensor system in just ten minutes. Most importantly, there is no hidden fees or ongoing monthly subscription.
Pros
Install in less than 10 minutes
Voice announcements
Instant push notifications
No fees
Cons
The garage open/close status has glitches
2. meross MSG100 smart garage door opener remote – Works without hub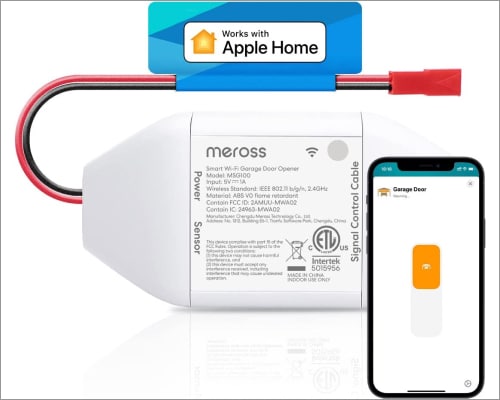 meross smart garage door opener remote works with over 200 garage door models. So, you don't need any extra accessories to control your garage door via HomeKit. It has a high-sensitivity sensor that keeps the signal consistent while monitoring the state of the garage door.
Once you connect it successfully, you can use the meross app on your iPhone or voice commands to operate your gadgets hands-free. Note that you must have an internet connection. Besides your Apple devices, the app is compatible with CarPlay and also shows records the garage door activities.
The best part is you will get several alerts, such as garage door open/close status, overtime, and overnight notification, reminding you to shut the garage door.
Pros
Works with CarPlay
Timely status notifications and reminders
Stronger Wi-Fi connection
Cons
HomeKit integration is faulty sometimes
3. ismartgate PRO – Control multiple doors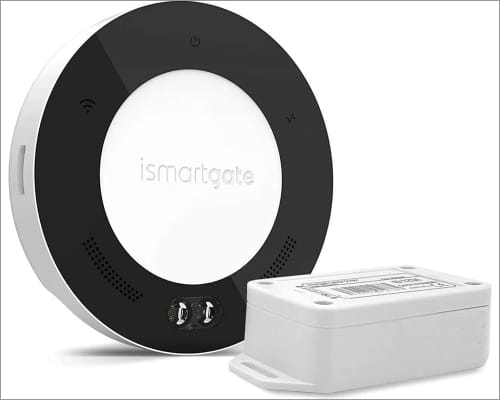 most garage door models and controls have a maximum of 3 doors. Also, the free home integration includes compatibility with Google Home, Apple HomeKit, Amazon Echo, Samsung SmartThings, and IFTTT. Therefore, you may use Siri to control the doors or create automations via IFTTT.
The brand offers a customizable app to create garage door open/close schedules based on GPS or time. In addition, you may set alerts for garage temperature. Moreover, it sends visual and audible notifications whenever the door has activity. Besides, the app lets you watch and record live videos from your security cameras.
Pros
Garage door automation
Live video monitoring
Customized alert tunes for different doors
Cons
Messy installation
Customer support needs improvement
Check out on: Amazon
4. Tailwind iQ3 smart automatic garage controller PRO – Advanced protection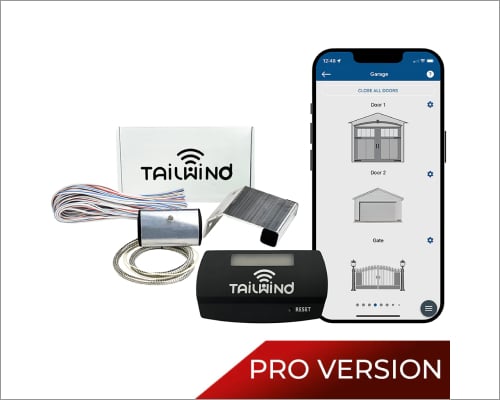 Tailwind iQ3 is the advanced Apple HomeKit garage door opener. It incorporates Tailwind's proprietary technology to manage the door safely and automatically. You can install it easily with extra-long sensor cables. The door sensor with an integrated light can be mounted on a regular J-track. One controller can handle up to 3 doors.
Besides door position detection, you may create automation, set a schedule, and customize the notification triggers. You will see the user's name and the automation that opened the door in notifications and event history. Also, the app has some unique features like Night Mode, which shuts the door automatically at night.
I liked its Timed Auto-Close feature that notifies you or shuts the door if left open for up to 60 minutes. Moreover, you can lock the door permanently while on vacation. So, no one can break in. The cross-family sharing enables you to share access with other family members. If the internet is out, the Bluetooth connectivity keeps it active.
Pros
Configurable partial opening
Works on Apple Watch
No hidden charges
Check out on: Tailwind
5. Chamberlain myQ garage control – Automated garage hub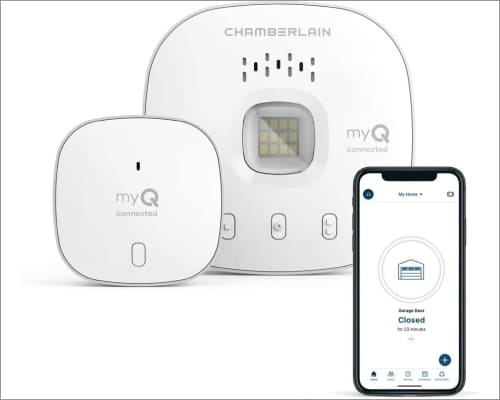 Chamberlain offers a complete garage automation hub for sectional garage doors. You can use this device if your garage door model has any security sensors. After installing the hub, you may open and shut your garage door and get status alerts using the myQ app. Remember that the hub must be set up within 50 meters of the router.
Additionally, the app lets you set a schedule of opening or closing at specific times. You may use the myQ guest function to give access to three people to manage your garage safely. Besides, the app provides a limited-time free integration with IFTTT and Google Assistant for advanced automation.
If you add another sensor to the hub, you may control a second door. It also supports Key By Amazon, wherein Prime members can securely deliver packages inside their garages.
Pros
Compatible with Amazon Key
Modern design
Routine scheduling
Cons
Connectivity issues
Additional hub needed for HomeKit support
Check out on: Amazon | Chamberlain
6. YoLink garage door controller – Longest wireless range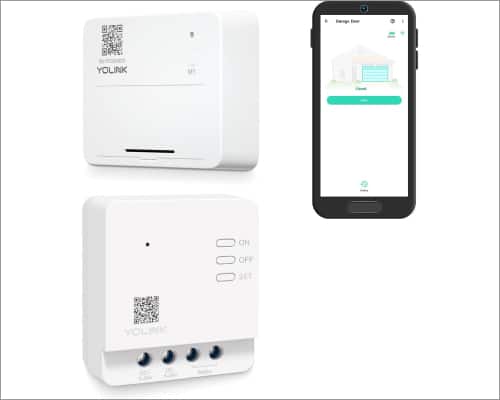 YoLink HomeKit garage door opener offers a long-range yet low-power system. It comes with LoRa technology, so you can use it in places like basements, outside porches, sheds, free-standing garages, etc. Also, the batteries may last up to 5 years. The device is compatible with the standard sectional, roll-up, and tilt-up garage doors.
Besides, the door sensors can track the door movements and report them. The app sends real-time early-warning alerts through emails, text messages, and iPhone alerts, which are customizable. But it doesn't have a sound system for audible alerts or sirens. But remember, you can't use it without YoLink Hub. The hub enables all third-party integration with Alexa, Google Home, or IFTTT.
Pros
Open door reminders
Smart fob controls
Low power consumption
7. eKyro HomeKit garage door opener – Reliable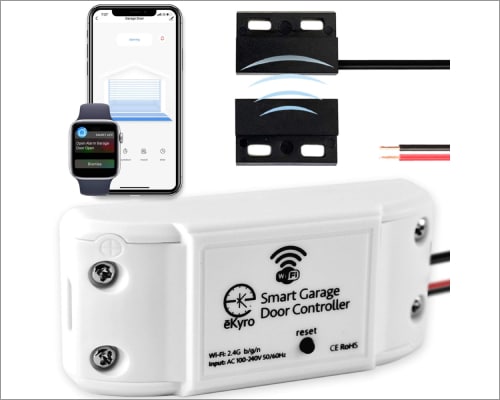 eKyro provides a universal adapter that links to openers and your Wi-Fi to automate the garage door. You can open or close the door remotely using your iPhone and Siri or Apple Watch. Besides, you may set a closing time schedule. One sensor can only control one door. The best part is you will get all features free without any subscriptions.
Pros
Reliable wired sensors
Scheduled closed-door checks
Share door permissions with family
Cons
Need a sensor for each door
Check out on: Amazon
Smarten your garage!
The HomeKit offers homeowners a convenient and secure way to control their garage doors. With the best HomeKit garage door openers, you can enjoy features like remote access, voice commands, and easy integration with other smart home devices. Whether you're looking for a simple, affordable option or a high-end model with advanced features, I've covered each to fit your needs.
Explore more…
Readers like you help support iGeeksBlog. When you make a purchase using links on our site, we may earn an affiliate commission. Read more.
Ava is an enthusiastic consumer tech writer coming from a technical background. She loves to explore and research new Apple products & accessories and help readers easily decode the tech. Along with studying, her weekend plan includes binge-watching anime.