There's no doubt that a robot vacuum cleaners makes your life easier by wiping away all the dirt and dust at your home. It's quite easy to control, operate and given the size of this robotic cleaner, it's now become the most loved automatic cleaners for every home worldwide. It can do everything, be it cleaning up the pet hair or the carpet dirt or even the hard floors.
There are various needs of getting a vacuum cleaner. It might be to pick up the pet hair, clean the dirty carpet every week, or maybe the hard floors. Well, it's a daunting task to find a perfect one for your home for a specific task. And this is why we've categorized everything so that it will be easy for you to pick the best budget robot vacuum cleaners.
Best robot vacuum for hardwood floors
Making the adjustments from hardwood floors to carpets and vice-versa is vital for a robot cleaner. So it must be capable to clean both, the hard floors and carpets simultaneously. To ease your task, we've got some of the finest robot vacuum cleaners for hardwood floors. Read the detailed reviews below.
1. yeedi vac 2 pro robot vacuum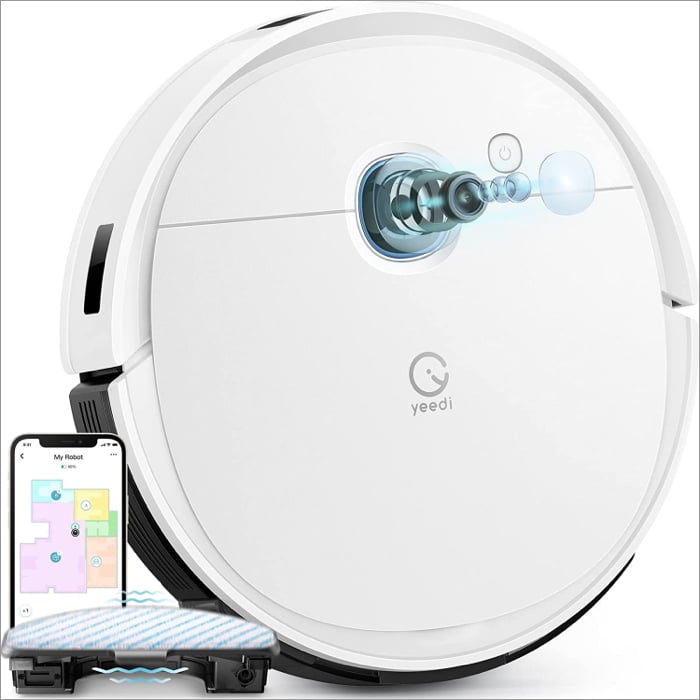 Think robotic vacuum cleaner couldn't mop your house and keep it speck-free? Think again because yeedi vac 2 pro perfectly imitates the manual mopping (back and forth) motion, and that too 5x faster. So, you get the effects of deep cleaning every time.
Furthermore, it amalgamates structured light technology with a 3D imaging algorithm, allowing the robot to map your rooms to perfection and avoid obstacles, including carpets. The smart robot wouldn't run on the carpet during mopping mode and would auto-increase suction power during vacuuming mode.
Further, it comes with a one-year worry-free warranty, boasts a 5200mAh battery capacity, and works for over 220 mins.
There's more! You can customize vacuuming and water flow levels, cleaning sequence, and more via the yeedi app. And it auto- recharges the battery when low and, once charged, resumes cleaning where it left off.
USP: Patented oscillating mopping motion
2. Coredy
Be it under the bed of above the carpet, Coredy is an advanced robotic cleaner that wipes dirt and dust within no time. The 3-point cleaning system and the dual-edge brushes not only cleans the hardwood floors but also cleans the carpets which are not every cleaner's cup of tea.
Just like any other cleaner, it comes with a sensor that protects against the collisions and crashes which might damage your furniture. With multiple cleaning modes, it makes it easy for you to pick one of them. Edge cleaning, spot cleaning, single room cleaning, max vacuum cleaning and manual cleaning are the different modes available in Coredy's cleaner.
It can clean up to 120 minutes of non-stop cleaning and this might be sufficient for a small to medium house owner to get it done at one go! The suction power is around 1400PA and it's extremely quiet which is under 60dB.
USP: 5 Cleaning Modes
Check out on Amazon
3. Pure Clean
Pure Clean is a trusted brand on Amazon when it comes to hard floor vacuum cleaners. Besides using the cleaner in a normal way, you can also schedule a particular time so that it can clean the house whenever you want to.
The auto recharge function ensures that the robot vacuum cleans the house for 90 minutes and it gets back to recharge dock to get charged. Its dual rotating brushes make it easy to clean the hardwood floors and can easily shift from carpets to floors and floors to carpets.
Besides this, it also cleans the pet hair and it comes with 24w powerful suction. The dust is locked in the bin and the filter keeps the allergies away!
USP: Suitable for Hardwood Floors and Pet Hair Cleaning
Check out on Amazon
4. Lefant
With a decent suction of 1200Pa, this affordable vacuum cleaner for hardwood floors would be my choice if finding a cheap yet best product was my focus. Besides cleaning hardwood floors, it keeps your carpets clean and creates a healthy environment.
It can clean your home for up to 2 hours and can cover 150 square meters with ease. This should be your go to option if you own a medium-sized or a small home. With free move technology and the built-in sensors, it protects itself from the collisions and crashes.
USP: Affordable Robot Vacuum Cleaner
Check out on Amazon
I hope you now got the answer to what is the best robot vacuum cleaner for hardwood floors. Let's now see which cleaners are best suitable for a large-sized house!
Best robot vacuum for carpet cleaning
Carpet cleaning is most probably the toughest task to perform when you aren't an expert. Rather than going for carper cleaning services every month or two, you must get one of these robot vacuums for carpet cleaning right away!
1. iRobot Roomba 675
With an automatic cleaning head, this cleaner adjusts its height according to the floor or carpet beneath it. Along with that, it's equipped with a 3-stage cleaning system which includes loosening, lifting and suctioning the dirt, dust, hair etc from the carpet and hardwood floors too.
The direct detect sensors are something that I loved about this iRobot Roomba vacuum cleaner. Where ever the dirt is more, these sensors guide Roomba to work harder so that the place is cleaned thoroughly. The edge sweeping brush ensures that there's no debris left away from the corners and edges.
You need not worry about operating this cleaner as it supports Google Assistant voice commands and Alexa through iRobot Home App. It runs for 90 minutes continuously until it recharges automatically.
USP: Edge Sweeping Brush
Check out on Amazon
2. Eufy BoostIQ RoboVac
With over 7000 positive ratings on Amazon, this vacuum cleaner from eufy speaks volumes about its quality and the results. The jumps from hard floors to carpets are very clean and it moves gently when it switches the surfaces.
One can easily control this robot vac using the remote control. All you need to do is set the timer, adjust the features as per your cleaning purposes, set back to relax and leave the rest to BoostIQ RoboVac! It doesn't make much sound, at least not more than a microwave.
Take note that it's not suitable for large size carpets as it's capable of cleaning medium-pile carpets only. Besides this, it also cleans your hard floors as well. It can work continuously for almost 100 minutes and it is a self-recharging robotic cleaner.
USP: Easily Shifts from Hard Floors to Carpets
Check out on Amazon
3. Bagotte
With a powerful suction of 1600PA, it keeps your floors and carpets crystal clear all the time. It doesn't sound much as compared to other automatic vacuum cleaners and even before you notice the dust or dirt, it cleans up everything in the surrounding.
It's thinnest of all the vacuum cleaners available with 2.73″ thickness. The 360-degree sensor protects the cleaner from drops and collisions. Moreover, it comes with a magnetic strip to control the boundaries of the cleaner effectively. Right when the device senses it's running out of power, it automatically turns to the charging station for a quick charge.
Besides cleaning the carpets, it also picks up the pet hair and cleans the hard floors up to some extent as well. It comes with a 12-month worry-free warranty and you can consult a person anytime as Bagotte provides 24-hour technical support.
USP: Powerful Suction
Check out on Amazon
So these were some of the best automatic vacuum cleaners for carpet cleaning which are suitable for small to medium-sized homes. Of course, you can use it for a large home, but it might require multiple charges which is completely fine.
Best robot vacuum for pet hair
Pet hair is hard to clean and many vacuum cleaners don't pick up the hair leaving the space unclean. So to get out of those hurdles, it's essential that you get one of the best robot vacuum cleaner for pet hair. Let's have a glimpse at some of them so that it's no more a daunting task for you to pick one!
1. ILIFE V3s
ILIFE's vacuum cleaner has been around for a while and is the most trusted brand when it comes to pet robot vacuum cleaners. It's designed with tangle-free pet hair care technology which leaves no stone unturned when it comes to picking up the hairs, debris and dirt from the floors and carpets.
With a slim design, it can clean under the furniture, beds etc which is not easy for most of the cleaners. And that's where most of the dirt and pet hair hides. It can be used for 90 to 100 minutes at one go and the self-charging feature takes care of the rest once the power is running out.
It's mandatory to clean the filter after every use and replace it once in a month if you're using it regularly. Just with one touch on the remote, it cleans everything at your home.
USP: Designed to Pick Pet Hair
Check out on Amazon
2. Neato Robotics
In spite of being on an expensive side, this robot cleaner for pet hair is loved by more than thousands of customers around the world. And if you want a uniquely designed robotic vacuum, Neato Robotics' D-shaped design is what you would love. It comes with laser guided mapping through which it can easily navigate your home.
It has a 70% larger brush as compared to the other robotic cleaners and this makes it a perfect one to pick the pet hair to the maximum. The cleaner also integrates with Alexa, Google Home and Echo so that you can control the device with a voice command.
The lithium-ion battery is capable of withstanding 120 minutes of continuous cleaning and it's enough to cover the whose in one go! It's easy to use and it cleans most of the corners at your home. So, sit back, relax and get Neato Robotics vacuum cleaner for your home today!
USP: 70% Larger Brush
Check out on Amazon
I hope these are more than enough for you to pick the top pet hair robot vacuum cleaner. Let's now move on to the next category.
Best robot vacuum for large house
When it comes to robot vacuums for a large house, you need to be choosy! But with our top picks, it's now easy for you to pick one of them to clean the large space at your home.
1. iRobot Roomba i7+ (7550)
You can forget about vacuuming for months at a time with the Automatic Dirt Disposal on this innovative vacuum. It can empty itself for up to 60 days. It features AllergenLock Bags that capture and trap 99% of pollen and mold to keep you and your family healthy throughout the year.
The i7+ maps out the layout of your home so that it can expertly clean and navigate in neat and efficient rows. And when it's running low on battery, it recharges & resumes cleaning too. Cleaning crumbs is now as easy as saying, "Roomba, clean under the kitchen table." Use your voice assistant to make this vacuum clear messes right when they happen.
USP:Voice assistant enabled
Check out on Amazon
2. Roborock S6
With extra long battery life, Roborock is by far the only robot vacuum, at least for me, that can clean the home for 3 hours on a single charge and that too in quiet mode. Well, if that's the point, you better know which vacuum cleaner is best for your large home now.
With intense suctions and deep cleaning of cracks and corners, Roborock's cleaner is one of the best in the business. The balanced mode allows you to use the cleaner even in the night besides daylight. It works with Alexa voice commands if you integrate it via Roborock's app.
The features like selective room cleaning and customization make this robot vacuum a go to option for any large house owner. It's available black and white color variants.
USP: 3 Hours Battery Life
Check out on Amazon
3. Neato Robotics D6
The multi-floor mapping along with Wi-Fi connectivity makes this cleaner unique on today's list of robot vacuums. The laser technology makes it easy for the robot to map and navigate around the house. Once the mapping is done, leave the rest to this smart robot cleaner.
If you're having a multi-story home, you can easily create separate maps for each floor and then the robot follows the mapping accordingly to clean the floors, corners, cracks, carpets, pet hair and pet leftovers too. It's capable of cleaning your large home for almost 120 minutes.
USP: Multi-Floor Mapping
Check out on Amazon
So, that's all for today, folks!
Final Verdict!
If I had to pick just one robot vacuum for all the house needs, I would go with iRobot Roomba 980 on any given day as it cleans everything and is perfect for any house size. And if I had to pick for a multi-storey building, I would go with Neato Robotic D6 as it's capable of creating multi-floor maps altogether.
Recommended Posts You Might Like:
So which one of the above robot vacuum cleaners would you buy for your home? Do let us know in the comment section below!
Readers like you help support iGeeksBlog. When you make a purchase using links on our site, we may earn an affiliate commission. Read more.
A self-professed Geek who loves to explore all things Apple. I thoroughly enjoy discovering new hacks, troubleshooting issues, and finding and reviewing the best products and apps currently available. My expertise also includes curating opinionated and honest editorials. If not this, you might find me surfing the web or listening to audiobooks.