I overlooked the essence of computer stands for long before realizing it was all I needed for the muscle strains. And when I got one, the back pains vanished into thin air!
Here's the thing: placing your computer below your eye level contributes to back pains, neck strains, and shoulder snap. And of course, all these reduce productivity. Using a stand raises your MacBook to your eye level, so you don't have to bend the neck and strain the spine while working.
Plus, it relieves the pressure on the vent and prevents processor overheating. So, if you're looking to increase your productivity, here are the best MacBook stands worth your cash! Let's get started!
1. Lifelong UPRYZE Laptop stand – Editor's choice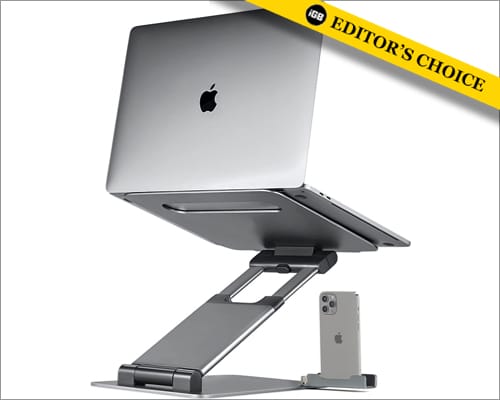 Lifelong offers one of the best ergonomic stands giving you the best experience while using your MacBook. Since the holding base has a maximum length of 13 inches and the leg rises to 20 inches, it is perfect for Macbooks.
The Lifelong UPRYZE stand also folds into a flat piece to fit perfectly into your bag. So, it's also easy to carry. With its versatile adjustability, you can use it on the tabletop or place it on the bare floor, depending on your likes. The hinges also allow you to tilt the stand backward or forward as you like to any viewing angle.
As a plus, a little stand on the side is also available to hold your smartphone while you work. This one also has an opening on the base to release heat. And there's an anchor at the front of the holder to prevent your laptop from falling.
Pros
Highly ergonomic and functional
Fold flat and move easily
Multiple adjustment levels
Suitable for various use-cases
Built-in phone holder
Cons
Phone holder isn't adjustable
Adjusting height and angles may be difficult initially
Check out on: Amazon | Lifelong
2. Soundance Laptop Stand – Detachable design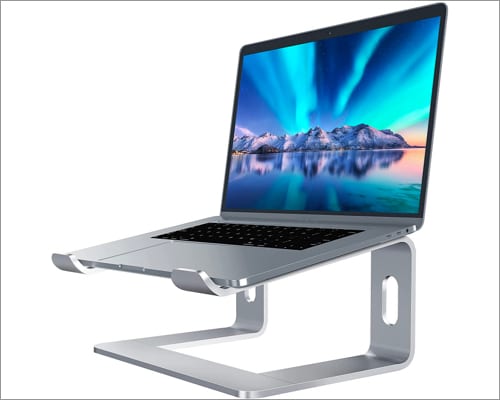 The Soundance laptop stand is sturdy, simple, and easy to set up. It features a thickened aluminum alloy and raises your computer by 6 inches to conveniently position your head.
Each holder on either side is 9.5 inches long and 10.2 inches apart. That separation distance is fair enough as most MacBooks are more than 11 inches wide.
Soundance's stand also has a front braze to prevent sliding, and there's a space to place your keyboard on the lower step. The top of each holder is rubberized to allow your computer to stick to the stand without falling. Additionally, there's a rubber stage at each corner of the feet to help glue this to your tabletop.
Pros
Comfortable and easy to set up
The space between each arm and underneath allows proper ventilation
Rubberized components prevent slipping
Easy to install
Cons
Not ideal for taller people as the height isn't adjustable
Disassembling requires efforts
3. Bestand laptop stand – Comes with a 1-year warranty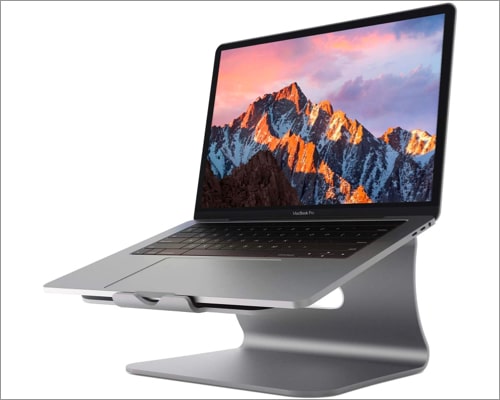 With its rear braze and a 4mm thickness, the Bestand laptop stand has top-notch strength despite its simple appearance. It wields a 7000 series aluminum material, the sturdiest alloy of aluminum you can find. So, of course, you can trust this not to collapse, corrode, or wear out.
In addition to a fore anchor, the dotted silicone pad at each corner of the handle top sticks your laptop to the arm and prevents it from sliding off.
There are slits on the handle to ventilate your MacBook properly. However, this stand isn't adjustable but is 9.44 inches wide towards the front end and raises your laptop by 5.51 inches.
Pros
Slit design allows excellent ventilation
Strong and durable material
1-year warranty
Premium look
Rubber grip keeps it stable
Cons
Non-adjustable height
Older MacBooks may slide as the stand is a bit small to hold them
4. Twelve South Bookarc Mod for MacBook – Most space-efficient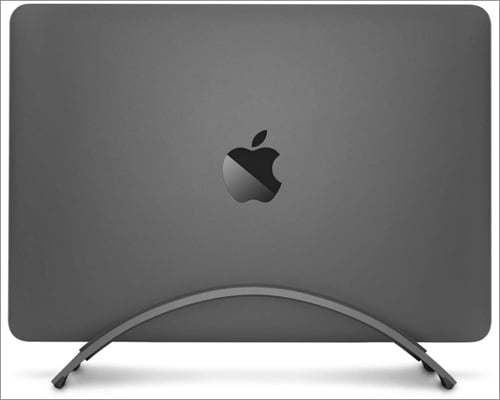 Do you often cast your MacBook to a larger monitor to use it in clamshell (close-display) mode? Twelve South has delved a little from the norm and added this folding Bookarc stand to its collection. It features an aluminum material and is compatible with 13 to 16-inch Macbooks.
The stand holds your Macbook vertically in closed-display mode when casting onto a wide, taller screen, saving space on your tabletop. In addition to space-saving, it also takes your Macbook off the table to keep it clean and evade accidental spills. And no worries, the holder fits Macbooks of various lengths so that yours won't fall off.
Pros
Suitable if you own a tall monitor
Expands your workspace
Durable material
Keep your Macbook off the table to avoid liquid spills
Cons
Only supports Macbook's closed display mode
Check out on: Amazon | Twelver South
5. SmartDevil laptop stand for desk – Rotating base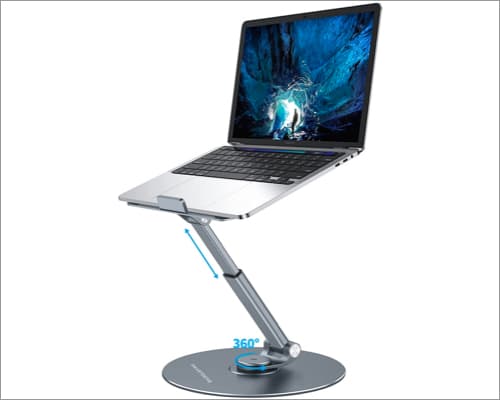 The SmartDevil laptop stand is another flexible and functional stand for your Macbook. This one is an aluminum alloy material with a slender neck region that's extensible to 20 inches and holds up to 19.8 pounds.
The arm is 11.02 inches wide and has two slits serving as heat sinks to keep your MacBook's inner components from heating up. The SmartDevil stand has 360 degrees rotating base for spinning your laptop to different angles. Silicone pads on the surface of the arm and a front braze also prevent your device from falling off.
Pros
Simple and sturdy
Foldable and easy to carry
Silicone pads grip your MacBook perfectly
360-degree rotatable
Heat sink design
Cons
Requires strength to extend or compress the stand
6. Roost V3 laptop stand – Most lightweight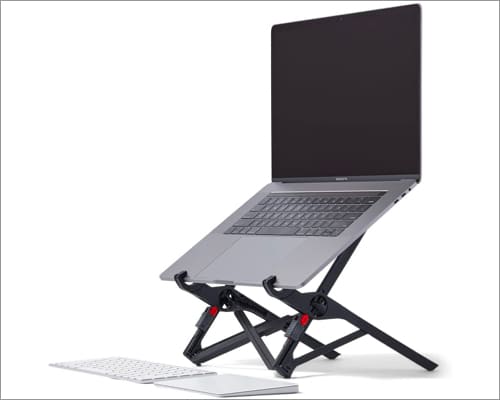 The Roost laptop stand has come a long way since version 1.0, but 3.0 (V3) has even better optimizations. It features thermoplastic elastomer rubber and polycarbonate material. Hence, it's compact, sturdy, and unbelievably lightweight.
Ultimately, you can collapse this into a portable stick with a single flap and insert it into your bag without stress. There's a pivot grip on either side of the stand to hold your laptop tightly. These also make it easy to close your PC without risking a fall.
It has many flexible hinges and is adjustable to seven different heights between 6 and 14 inches to bring your laptop to your eye level.
Pros
Portable, strong, and lightweight
Highly ergonomic
Easily extensible and foldable
Extended stand gives it stability
Cons
Lower height adjustment is limited to 6 inches
Expensive
7. AboveTEK Genie Book stand – Most compact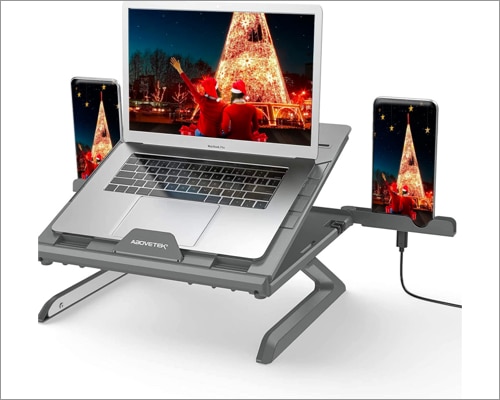 The AboveTEK Genie stand is stylish, slim, and compact. Its entire frame is silicone and acrylonitrile butadiene styrene material. And you can fold this flat and insert it into your bag easily. There's also a smartphone holder on either side to hold your phone while you work.
Although the leg isn't extensible beyond a fixed point, it has a hanger beneath the holder base that fits into nine different grippers for height adjustment. Like most laptop stands, it has a front braze to ensure that your laptop doesn't fall off. However, that's also flippable to add to its compactness.
The slits on the sitting base are also well-spaced for proper heat dissipation. And this is 11 inches wide, suitable for holding all models of MacBook.
Pros
Compact and fairly ergonomic
Easy to set up
Different height adjustments
Smartphone holder is raised for proper viewing
Cons
The leg isn't adjustable
iPhone may not fit perfectly in the stand with its cover
Check out on: Amazon
8. Twelve South Curve – Sturdiest laptop stand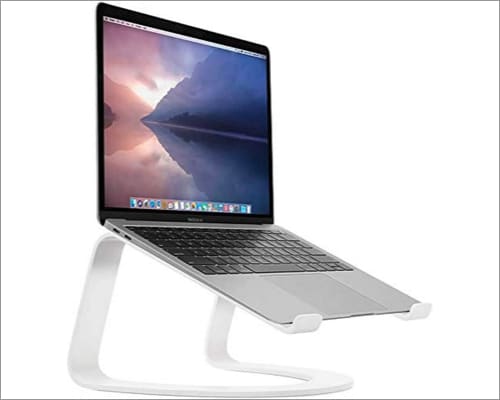 Here's another simple laptop stand from Twelve South. This comes through in an aluminum alloy material and has a fixed height of 6 inches. The PC holders on either side are also distant apart. So this might not be suitable for smaller or mini laptops.
However, this is perfect for all MacBook models. An anti-slip silicone pad runs across the entire length of each PC sit to prevent it from sliding off or getting scratched. There's also a curved braze in front to further guard your MacBook against sudden fall.
Pros
Simple and strong design
Silicone pads prevent your MacBook from sliding or scratches
Curved front anchor for protection fall
Available in two colors
Cons
Non-foldable
Non-ergonomic
Check out on: Amazon | Twelve South
9. Nulaxy laptop stand – Great colors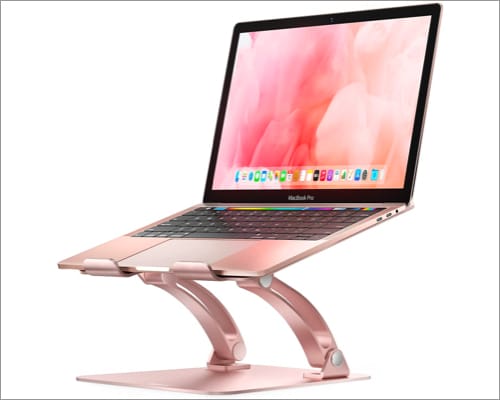 The Nulaxy laptop stand features a high-quality aluminum alloy plate and holds your PC on a silicone-padded seat. There are two sturdy legs with adjustable hinges capable of upholding a mass of 44lbs. These also raise your laptop as high as 10.6 inches.
It has three height adjustment options, and the seat is 10.2 inches wide. So it's suitable for laptops with sizes ranging from 10 to 16 inches. The silicone pad at each corner of the PC seat increases the friction between your PC and the stand to prevent sliding off.
This one also comes in three different colors, so you have a couple of choices at your disposal. The hinges might also use some extra strength, but you should expect this since you want stability at any height.
Pros
Ergonomic
Comes in different colors
Elegant, sturdy, and stylish
3 Height adjustment options
Has front anchors
Cons
Height adjustment might use some strength
Front anchors might hurt wrists after extended use
There you go with the best MacBook stands!
Adding a solid stand to your MacBook makes it easier to use. Plus, it reduces stress, improves your posture, and increases productivity. Moreover, most of these stands support other laptops besides MacBook as well. I have kept the list balanced in terms of height adjustment.
Which one of these stands are you buying? Let me know in the comment section below.
Read more:
Idowu is an avid tech writer and a software surfer who loves covering knowledge gaps in consumer software, including anything related to iPhones. Well, when he's not reading and learning new things, you'll find Idowu losing gallantly on a solid chessboard or virtually on Lichess.