Arcade games have been around for decades. In fact, they were one of the first genres of games ever released to the public. Years later, the genre is still going strong with some great entries. This is despite the stiff competition it faces from the multitude of games available today.
If you're part of the niche market that prefers arcade games, I've curated the list of the best arcade games for iPhone. Let's check the entries, shall we?
1. Angry Birds 2 – Editor's choice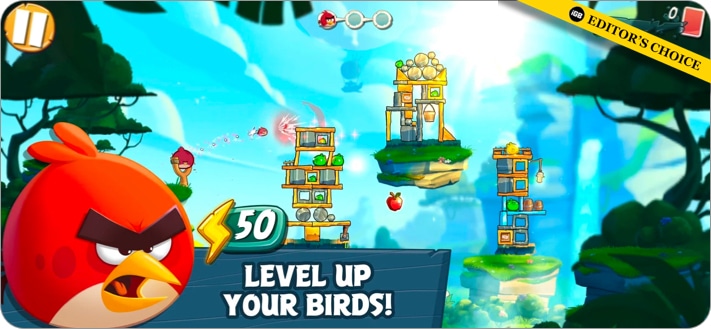 Angry Birds was one of the first viral smartphone gaming franchises. It's been so influential that you'll find multiple copycats using the same concept and adding their twists to the gameplay. However, the original franchise is still the best.
With Angry Birds 2, you get a more varied level design, better content, and a refined gameplay mechanic. The graphics have been improved since the previous iteration, and now toppling towers holding the piggies have never looked better!
In this game, you get everything you loved about the first game, just in bigger and better amounts. The major issue with Angry Birds 2, unfortunately, is the number of microtransactions.
Price: Free (In-app purchases start at $0.99)
2. Cut the Rope 2 – Excellent puzzle elements
Cut the Rope 2 is another sequel that vastly improves the original game. It's a great game for your kids, thanks to the puzzle elements and the cute aesthetics.
In this game, new puzzles, gameplay elements, and locations have been added to improve upon the base formula. New characters have been added to keep the game fresh, and new collectibles keep you engaged throughout your journey with Om Nom. Candy collecting has never looked this fun!
The game tends to crash quite often, though. The developers need to fix this issue as soon as possible.
Price: $1.99 (In-app purchases start at $2.99)
3. Fruit Ninja 2 – Test your reflexes
Fruit Ninja is one of the best iPhone arcade games you can play today, without a shred of doubt. The original Fruit Ninja was one of the most addictive games. I remember playing it for hours to reach a high score and check if my reflexes were as fast as that of a ninja. Spoiler alert – they're not.
Regardless, you'll still have plenty of fun with this new game's iteration. You can now play against other players worldwide for fruit-slicing supremacy, which was one of the important aspects missing from the first game. There are different arenas, characters, and blades as well. Overall, you can't go wrong with this game.
However, players have reported that the multiplayer mode tends to crash far too often.
Price: Free (In-app purchases start at $1.99)
4. Jetpack Joyride – Insane level designs
This game is by the makers of Fruit Ninja and is one of the most action-packed arcade games for iPhone. In Jetpack Joyride, you have to run an endless level while being equipped with innovative jetpacks and crazy costumes to beat scientists to the lab.
There's so much content to explore here, with you flying to avoid grenades and other obstacles. Not to mention the fact that the Ghostbusters make an appearance too!
Jetpack Joyride's level design is where it shines. The levels are insane and won't bore you despite being an endless running game. There are always some new obstacles to avoid or a jetpack to ride in this game.
The game features far too many ads, though. It can often ruin the game's flow.
Price: Free (In-app purchases start at $0.99)
5. Plants vs. Zombies 2 – Innovative gameplay
As far as iOS arcade games go, Plants vs. Zombies 2 brings in plenty of innovation in the gameplay. It features an excellent mix of action and strategy to provide game mechanics that will keep you engaged for long hours.
The game's premise is interesting. To protect yourself from a horde of zombies, you must grow different plants with special powers. These plants will save you from the zombies munching on your brains. Which plant you place and where will also determine how good your defenses are.
Moreover, you can enter the multiplayer arena to see who's plants and planning are the best. Face off against other players for plant supremacy!
The game often takes a long time to load, however. Some people have reported that their devices have started to overheat because of the stress this issue can put on your smartphone.
Price: Free (In-app purchases start at $0.99)
6. PAC-MAN – Ultimate retro arcade game
If you're talking about the best arcade games, you can't possibly miss out on PAC-MAN. This game defined video games for so many generations that no words can do justice to PAC-MAN's achievements.
This old-school game is now back for more on iOS devices. With all-new level designs, powerups, and customization options, PAC-MAN has never played better. Moreover, you also get a brand new Story Mode!
Despite the new additions, the developers have paid homage to the original game by ensuring that the 8-bit aesthetic style remains. Overall, it's the perfect reincarnation of a classic arcade game!
Unfortunately, people have faced plenty of glitches in the game. Clearly, it needs a bit more polish on the developer's end.
Price: Free (In-app purchases start at $0.99)
7. Subway Surfers – Content champion
Subway Surfers is another endless running game that has perfected the art of content creation. Despite being a relatively old game, it still finds relevance in today's gaming world due to the content it offers.
Constant updates have ensured that new content keeps getting added to the game. In fact, there's a World Tour mode in the game that adds cities worldwide. Whether it's Venice or Copenhagen, running along the subway line will never grow old.
The game's addition of microtransactions is a bit disappointing, however. Subway Surfers follows the freemium model to the very end.
Price: Free (In-app purchases start at $0.99)
8. Candy Crush Saga – Perfect for every age
Candy Crush Saga is famous as a meme now, thanks to the elderly getting hooked on it. However, the game is quite fun to play, regardless of your age.
The game's puzzle elements are polished and can challenge you to go for the highest scores possible. Moreover, Candy Crush Saga provides some sweet aesthetics to give you unparalleled satisfaction when you mix and match candies in a long line or in the quickest ways possible. Additionally, it has an almost endless number of levels to keep you occupied for long.
The major con of this game is the number of ads you have to watch. This mechanic isn't a dealbreaker, but it can be annoying.
Price: Free (In-app purchases start at $0.99)
9. Galaxy Shooter – Classic action
Galaga is another retro game that inspired hundreds of games after it. If you didn't get the chance to play Galaga, don't worry. Galaxy Shooter is the closest rendition of Galaga that you can find today.
As one of the best arcade games for iPhone, Galaxy Shooter will provide endless action and nostalgia for the olden days of gaming. It has the same aesthetics as the old shooter games, albeit with a new sheen to ensure that it's attractive to modern gamers. Battle evil alien forces and face some of the toughest boss battles in arcade gaming history!
The game suffers from some game-breaking glitches, however. The developers should iron these out in the next update.
Price: Free (In-app purchases start at $1.99)
10. Sonic the Hedgehog 2 – Vintage shine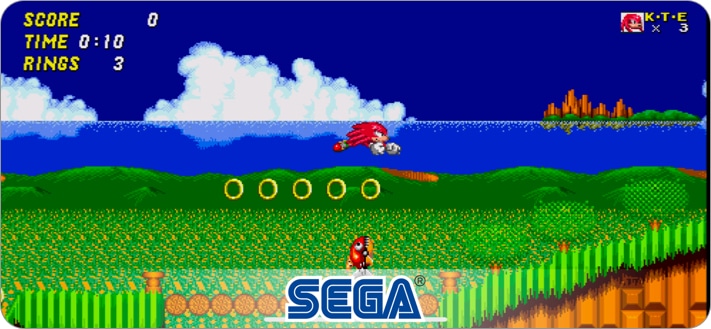 Sonic the Hedgehog 2 brings this vintage arcade game to modern iOS devices. This time, every element of the original SEGA classic has been retained, from the gameplay elements to the graphics.
It's your job as the fastest hedgehog in the world to stop Dr. Eggman from collecting the Chaos Emeralds. Apart from the main game, which features a lot of content to cover, you can also play the game online. It has a Time Attack mode and Boss Attack mode where you can compete for the highest scores amongst your friends.
Unfortunately, players have reported that the game suffers from too many ads.
Price: Free (In-app purchases start at $1.99)
The takeaway
Classic games are called classic for a reason. No matter how many generations of video games pass, these games eventually return to the fore. Arcade games offer a fun and challenging way to experience the olden days of gaming.
With these amazing iOS arcade games, you will surely have an engaging and exhilarating gaming experience!
Check out these games I'm sure you'll enjoy:
Anirban is a literature post-grad who delves in philosophy and postmodern novels when not writing on tech and gaming. His love for research is only trumped by his love for chai and heavy metal.