Love experimenting with your photos and are tired of those same old photo editing apps? Here's something to keep you hooked for hours – iPhone apps to turn your photos into cartoons! They are fun to experiment with and have a high artistic quotient.
You can play along with custom filters, hues, and artistic styles and see which one suits the photo better. In this article, you'll discover the 10 best photo sketching apps on your iPhone to cartoon yourself. Let's get started!
1. Photoleap by Lightricks: Editor's choice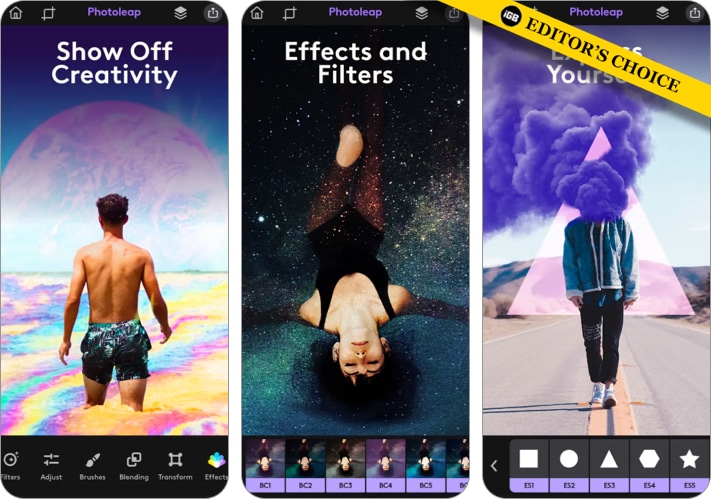 Photoleap by Lightricks is one of the most remarkable photo editor apps for the iPhone. You don't have to look further for a more sophisticated, tech-sassy photo app as this one has it all. It can make you feel like a mastermind who draws great attention with the subtle sophistication of the filters.
It gives you such mind-blowing filters as the dispersion effect or the double exposure, taking your creativity to the next level. You can play along with the fine adjustment, modifying every aspect of the filter, exposure, and custom settings.
You can build upon layers, keeping various layers at different exposures to create the most unreal version of the original photo. Talk about the diversity of filters available; you'd become obsessed with this app. It's the one I will recommend to any photogenic, creative artist who would love to add some scientific and magical expression to their photos.
Pros
Great level of customization
Excellent prebuilt effects
Make PNGs by cutting backgrounds with ease
Cons
Can save pic only with premium
Annoying watermark without a subscription
Price: Free (Subscription starts at $7.99)
2. Prisma: Best for classic artistic styles
Lovers of art – here you go! This is the classic app that offers a wide range of artistic styles that go down the timeline. The mosaic, Leya, and gothic filters gave me chills as they brought forth the quality the art styles stood for. There are many artistic styles that fit the modern vibes too.
You instantly fall in love with the versatility of the app's fine-tuning features. Playing around with the exposure, contrast, and saturation elevates the cartoon animation to the next level. New filters are released every day, keeping you occupied.
The only glitch is that you have to subscribe to get the ultimate access to all the filters.
Variety of cool features
Exceptional originality
Fine-tuning is excellent
Many great features are paid
Technical glitches at times
Price: Free (Subscription starts at $7.99/month)
3. Cartoonize – Cartoon Yourself: Quick and simple app
Cartoonize – Cartoon Yourself is the perfect app if you want a hand-drawn quality cartoon. It embraces the power of AI techniques to generate cartoon portraits instantly. You can turn your picture into a cartoon with only a few taps. No graphic design skills are required.
Further, it allows you to customize the cartoon in one tap and choose different head shapes, body templates, actions, cartoon backgrounds, and more. Moreover, there's also an online version called "imagetocartoon.com."
While some cool samples are on the site, the app has more amazing cartoon filters and templates. I spotted some unique filters and effects and thoroughly enjoyed playing with the app. I am sure you will enjoy it as well.
Pros
Easy-to-use app
Fun effects and filter
A cool and smart web version
Track your creation history and edit old images
Cons
Limited freemium templates
Slightly expensive subscription
Price: Free (Subscription starts at $6.99/Month)
4. Photolab: Sensational portrait styling app
This is the app you should first be looking for to get the ideal Portrait look. The pencil sketches of this app are on point, adding the right amount of artistic touch to your portrait. The smart filters are a great place to get you started as it gives you the room to play around with various settings.
I just enjoyed styling myself with the filters while also bringing background effects that bring the picture to life. Although the filters work well, certain AI looks and cartoon animations can change your look altogether.
Overall, I like the app as it gives you so much variety to choose from. You can play with the exposure and color tones to add extra dimensions to the already vibrant photos.
Pros
Great portrait sketches
A variety of cool filters
Super-neat interface
Cons
Cartoons aren't that accurate
Low-quality final output
Price: Free (Subscription starts at $4.99/month)
5. ToonMe: Dynamic range of cartoon filters
You're on for a wonderful ride with ToonMe. The app explores various cartoon animations and gives you an abundance of filters to choose from. The filters expand from the usual cartoon portrait filters to filters that can blur or edit the background to make you look even better.
Not to mention, the AI used in this app is powerful in transforming photos into realistic cartoon segments. The app also features custom stickers and gifs that help you create cartoon versions of yourself riding a bike, muscling up, or even as a superhero.
However, the app doesn't edit photos with more than one person. So, you can't edit a group picture. To overcome this, you can edit the photos individually and create a collage using a collage-making app. Too much work, right?
Further, this app keeps up with the trends to find a cartoon filter that you can relate to. So, worth a shot!
Pros
Excellent free cartoon filters
Blurs the background effortlessly
Easy to use
High-quality pictures
Cons
Some filters change the face completely
Removing watermark requires a subscription
Price: Free (Subscription starts at $4.99/month)
6. Clip2Comic & Caricature Maker: Optimize your cartoon
What I liked about Clip2Comic & Caricature Maker is how it allows you to experiment with a versatile editing tool. You can remove unwanted outlines and play with the color gradations in your picture. You can work closely on the details of your face and determine how the final cartoon must turn out.
The only drawback is that you don't really have the option of playing with multiple filters in the free version. You have to subscribe to access cool filters for which the app is acclaimed.
Another feature that I found interesting is turning videos into cartoon videos. You can see the tech power of this app with the video signaling.
Pros
Optimize cartoon portraits
Cool editing options
Amazing cartoon video processing
Cons
Limited cartoon styles with free app
Removing watermark requires a subscription
Price: Free (Scale to premium at $1.99 per month)
7. PhotoMania: Custom filters and amazing gradients
The diversity of effects to choose from stole some of my time digging into PhotoMania, a wonderful photo filter app. I instantly fell in love with some of the photo effects and gradients as they are personalized to your liking.
When it comes to high resolution and picture-perfect clarity, PhotoMania is my best pick. On a serious note, the filters are so dynamic that they add life to your photos. You would also fall in love with the amazing patterns you can play around with.
I've used a pattern filter called 'Color Checkers' to illustrate how these patterns are creatively designed to fit the modern look and feel. I just felt the app would have been much better if you could edit the filters, which, unfortunately, the free app doesn't provide.
Pros
High-resolution filters
Amazing effects and patterns
Great user interface
Cons
Good pencil sketch only with premium
Price: Free (Subscription starts at $4.99)
8. Watercolor Effect: The go-to app for watercolor pics
If you love watercolor painting, you're going to fall in love with this app. This one falls in line with the best photo editing apps for iPhone. The originality produced with the watercolor effect is just mind-blowing. Each filter conveys varying emotions, depending on the feel and vibe you're going for.
You can see the depth of the watercolors used in the above image. Each outline is clearly visible, which can be an interesting quirk for creative artists. But as the name of this photo editor suggests, it's an all-in-one watercolor effect app.
You won't find any other artistic styles or HD filters if you're looking for a post-modern look.
Pros
Excellent watercolor paintings
Outlines and strokes on-point
Easy to use interface
Price: Free (Unlock everything at $2.99)
9. Sketch Me: Best for simple pencil sketches
Sketch Me is a cool app. It does the work for you, turns photos into sketches in a matter of seconds or probably milliseconds. Some filters give you detailed pencil sketches, whereas others don't provide much detail to your pic. Another great feature is the provision to paint your pics. You can choose from a set of colors to add some background color to your pic.
But it's worth mentioning that the process is time-consuming and might not be a winner if you're looking for something fast and quick. You can also have a tough time editing the borders of the paint-work. Auto-fill would be a better option, I feel.
It's a fun app. You can play around with the sketches and paint yourself up if you're looking to do some work yourself.
Pros
Variety of pencil sketches
Option to paint
Fast and quick results
Cons
Time-consuming to paint manually
Price: Free (Unlock all sketches with just $1.99)
10. Painnt: Versatile paint and sketch app
This is a million-dollar winner app customized to give you chills every time you apply a filter. This app turns photos into cartoons, sketches, and paint models with such intense tech going behind it.
The hair strokes are individually outlaid, and I've also featured myself with a groomed mustache. Yes, there are several effects, add-ons to layer your painted photo to perfection. You can also see how natural landscapes and scenic pictures get attention to detail and on-point gradation with this app.
Just exceptional! Further, you can adjust the transparency, contrast, and exposure too to your liking. Kill the look with this mind-blowing app.
Pros
Great attention to detail
Likable add-ons
Diverse paint styles
Price: Free (Subscription starting at $0.99 per week)
11. Photo to Cartoon Yourself Edit: Maintain original resolution
This is a pretty decent app. The cartoons animations are great for most filters, and they make you vouch for the developers of this app. I also loved editing and blurring the backgrounds. It impacted my cartoon portrait in a great way.
You can also modify the image to suit the tonality and expression of art you're looking for. As art is all about expression, it is up to you how you want your cartoon to look. I also tried out the filters and feel they're pretty cool. There's a lot of variety of art styles, but the cartoons stand out the most.
Pros
Interesting cartoon animations
Good background editing option
Customization on-point.
Cons
May encounter

technical glitches
Price: Free (Subscription starts at $3.99)
Love photography? Check out the below articles too!
Readers like you help support iGeeksBlog. When you make a purchase using links on our site, we may earn an affiliate commission. Read Disclaimer.