There is no doubt that the iPhone has one of the best cameras available in a smartphone. Apple has improved its camera's so much that it can go against low-end DSLR cameras too. But what if you can push these cameras to the next level? With these photography apps for your iPhone, you can take it to the Pro level it deserves.
1. Photoleap – Editor's choice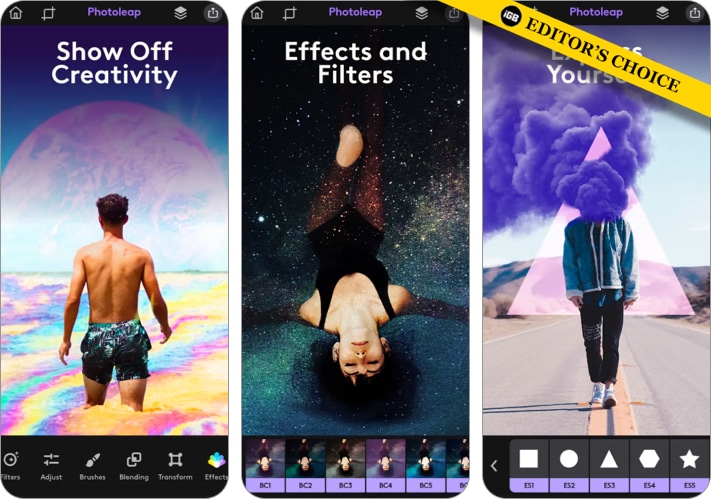 When it comes to photo editing on iOS devices, Photoleap offers a one-stop solution to let you edit images with precision. This photography app for iPhone comes with more intuitive photo mixing so that you can create stunning double exposures and eye-catching art.
Combine multiple photos with ease and edit each layer in line with your demand. There is also a tool to ideally adjust transparency and blending modes so that your pics look to stand out.
And just in case, you wish to give a bit creative touch to your images, you can draw and doodle on your pics, create impressive graphic designs, and even make adorable social media posts. Another feature worth noting is the spot-on blemish remover, 16-bit image depth support, and the ability to edit even RAW images.
But bear in mind, Photoleap – Photo Editor's freemium variant is quite limited and you will need to subscribe to the premium model to access all the powerful tools.
Price: Free (In-app purchase starts from $1.99)
2. Photo Lab – Art face editing iOS app
"Photo Lab" comes with over 600 amazing effects which instantly transform the look of any pics. Using photo montages with automatic face detection, you can become a tiger, scientist, astronaut or even a gangster.
Place your pic on the screen of iPhone, dollar bill, or even an ancient book to present yourself as an iconic star. Draw your photos to give them some artistic touch. Moreover, you will collect multiple memorable photos to make an impressive collage.
Price: Free
3. Afterlight – Real film filters & effects
This app offers the perfect balance of easy-to-use yet powerful features. It helps you transform photos in an instant with filters, effects, and light leaks. Moreover, you have an array of pro tools that can also handle RAW image processing.
The filters library is particularly impressive and is consistently updated. Further, the interface is straightforward to use and is very user-friendly. It's an excellent app for both beginners and advanced editors.
Price: Free ($2.99 for Monthly membership)
4. VSCO – Creative photo and video editing iPhone app
How long can you keep a photo and video app out of sight that's been highly popular among both aspiring and pro photographers? Yeah, I'm talking about VSCO which is highly rated for pro tools including over 200 top-of-the-line presets. Using the professionally designed presets, you can augment your pics with precision.
Features like HSL and borders offer more flexibility to edit images. But what headlines for VSCO is the option to explore a ton of tips, tricks, and tutorials that can go a long way in enhancing your photography skills.
But do keep in mind, that VSCO's free version lets you access only limited features and you will have to take the membership ($20/year) to take advantage of all the presets and pro tutorials.
Price: Free (In-app purchase starts from $0.99)
5. ProCam 8 – Nondestructive editing
Boasting a top-grade camera, ProCam 6 has you fully covered. The app features several shooting modes like a slow shutter, burst mode, portrait mode, 3D photo and more.
With the manual control over a wide range of pivotal things like focus, shutter speed, ISO, white balance, ProCam 6 lets you shoot stunning images. There is also an option to capture RAW photos.
Packed in with 60 professionally designed filters, the camera apps lets you adorn your images with more freedom. Not to forget the 17 lenses including vignette, white vignette, fisheye, tilt-shift and more that can add both fun and spark to your photography.
Price: $6.99
6. Focos – DSLR, Bokeh & Large Aperture
What has sold me out on FOCUS is the effectiveness with which it goes about the business. The camera app takes full advantage of the dual camera to let you not just capture top-notch portraits but also adjust the depth control effect.
The app lets you select from multiple simulated aperture diaphragms to get fascinating bokeh spot effects. You can add lights in a 3D space to make your images stand out. Make the most aperture shapes and add a depth filter to ensure your images can look enviable even to the pros.
And with the option to fine-tune color and brightness, snapping great-looking shots shouldn't be a big ask for you. Want to get some pro tips to take better portraits? Check out the video tutorials to enhance your skill.
Price: Free
7. Rookie Cam – Photo & selfie video editor
"Rookie Cam" has got everything that it takes to create mind-blowing photos. With over 150 excellent filters, the app is fully equipped to add magic to your photos with ease.
The stunning blur effect makes the subject look clearer and more appealing. Important features like 6x digital zoom, manual control of exposure and white balance, and flash control with torch mode ensure you are able to capture top-quality photos. You can combine up to 9 photos to make a gorgeous collage. What's more, there are 14 nice-looking themes and 60 textures and light leaks to adorn your images.
Price: Free
8. Flickr – Largest community of photographers
Flickr is one of the most popular platforms to upload and share unique photos and videos. You can auto-upload your photos to the Flicker camera roll. They will remain private until you unleash them.
Browse through the extensive collection of captivating photos and organize them just the way you want. The app also allows you to edit images, and add filters to refine your shots. Interact with the Flickr community and exchange views with like-minded people.
Price: Free
9. Snapseed – Selective filter brush
"Snapseed" is one of the finest photo editing apps. Featuring 26 advanced tools and filters, it makes editing fast and a lot easy.
You can edit any RAW files and export them as JPG. There are seven handy controls to let you perfectly adjust exposure and color. If you want your photo to look more fashionable, make sure to add a glamor glow. Moreover, you can use light leaks and scratches to give the pic a retro look.
Price: Free
10. Halide Mark II – RAW, manual and macro capture
Praised highly both by experts and fans alike, Halide Camera is one of the best photo editing apps for iOS. Lashed with a wide range of editing tools, it lets you design your shots with precision.
You can take advantage of its superior camera to shoot portraits with bokeh effects. And with the tools like focus peaking and RAW capture, it's got the quality to live up to your pro demand as well.
Not to mention the smart auto mode and the elegant manual controls that ensure you have the desired command over your shots. Furthermore, you can fine-tune the shutter speed, white balance, and ISO to suit your workflow.
Price: $5.99
Signing Off
Based on functionality and the advanced editing tools, these photography apps for iPhone have stood up to the mark for me. With the availability of a wide range of options, there is a problem of plenty. However, whenever there is tough competition, it's the end-users, like us, who are the ultimate winners.
Which is your top photography iOS app? Let me know that in the comments below.
You would love to check out:
A tech-aficionado whose superpower lies in blabbering interminably about new technologies. After 4+ years and 4500+ content pieces that helped diverse companies grow, I followed my passion and made iGeeks Media my home. When not gushing over technology, you will find me immersed in a fictional world, either reading or creating one.