The new trends in digital picture frames have changed the ways we used to store and view our cherished memories. They offer a convenient way to show off your favorite photos without having to print them out or worry about running out of wall space.
Our digital picture frame recommendations come with features like Wi-Fi connectivity, touchscreen displays, custom photo displays, and even auto-resizing of your images. Whether you're looking to spruce up your living space or just show off your favorite pictures, a digital picture frame is a great addition!
1. BSIMB – Editor's Choice
The BSIMB digital frame is a must-have for any digital picture enthusiast. The user-friendly interface and the flawless touchscreen experience make this digital frame a perfect choice for people of all ages. The 1280×800 IPS 10.1″ wide range display with high resolution and vibrant colors makes the photo viewing experience phenomenal.
Moreover, its built-in memory allows you to store up to 32GB of photos and videos so that you don't have to hold yourself back during uploads. Thanks to its advanced connectivity options, you can connect your digital picture frame to the internet, giving you access to photos from your cloud storage, social media accounts, and more.
This display can become the ultimate entertainment hub for the whole family with multiple add-ons, including music, an alarm clock, weather, and a calendar. With the BSIMB digital picture frame, you can relive all the cherished moments of your life by either placing it on the table or mounting it on the wall as per your preference.
Pros
Multi-functional
Built-in sensors
Internal storage of 32 GB
Cons
Disconnects randomly
The support app may occasionally fail to respond
2. Pix-Star – Easy to configure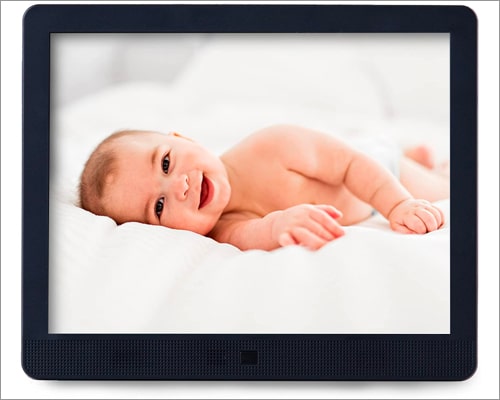 A digital picture frame is the most creative way to decorate your home, office, or any other ambiance with stunning images of your memories and moments. The Pix-Star digital picture frame is just made for that. With its sleek design and 9.7 Inch IPS display, your photos and videos will reflect crystal clear on the screen.
Furthermore, this vibrant display also supports various photo formats, so you're sure to find the best resolution for portraying your memories. Not only can you connect to various cloud services, but users can also upload photos via web browser, email, or mobile app. The inbuilt 8GB storage of the frame allows you to store up to 30,000 pictures at once.
With its built-in Wi-Fi connectivity, you can instantly share photos with friends and family from anywhere in the world. The USB port and motion sensing technology of the frame are just one of a kind. All in all, the Pix-Star digital picture frame is an ideal choice for anyone who wants to display their favorite photos in the best way possible.
Pros
Images will be fetched from synced Facebook account
Enabled with two-way transfer
No hidden in-app purchases
Cons
No network support for 5 GHz bandwidth
Video clips of a maximum of 2 minutes in length can be shared
3. Dragon Touch – Flexible and customizable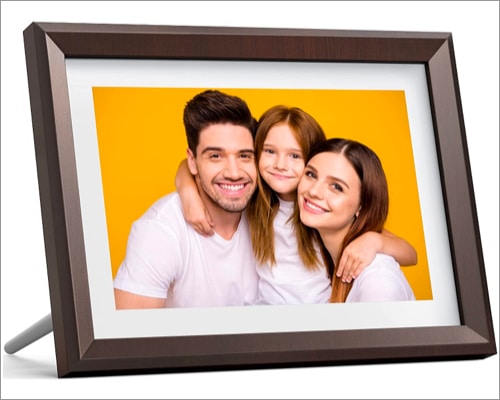 If you're looking to showcase your photos in a modern, minimalistic, and stylish way, then Dragon Touch digital display is a great choice. This beautiful frame will allow you to showcase your favorite photos in a stunning 10.1″ touchscreen display with a 1280×800 resolution display. Additionally, the user-friendly interface makes it suitable for users of every age.
Dragon Touch is packed with a ton of features allowing you to customize your viewing experience to a great extent. The built-in Wi-Fi connectivity allows you to share photos and videos through any device. You can make sure your images are displayed in the correct orientation with the auto-rotate feature or try out the slideshow format to reflect a series of images one after another.
One of the standout features of this digital frame is the wall mount ability. You can hang it anywhere in any corner of the wall, like a normal frame. Thanks to its simple interface, you can set up and get this frame running in a few simple steps. With the Dragon Touch digital picture frame, you can create the perfect way to share memories with friends and family.
Pros
Equipped with sleep mode
Can store up to 40,000 images
Integrated with alarm clock and speaker
Cons
No built-in battery
Occasionally crashes
4. Nixplay – Classic matte frame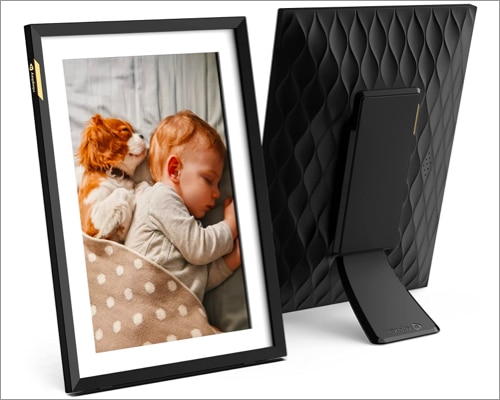 You don't have to get technically involved in a digital frame if you desire a good image representation. Nixplay is an extremely easy-to-use 10.1″ screen smart digital display with a ton of preloaded content. This digital frame takes away your worry about running out of storage or complicated setup processes.
The Nixplay mobile app lets you take control of the frame with unlimited cloud storage services allowing you to access or share your photos from anywhere. Also, you can create personalized playlists with family-focused software like niX-FamilyCircles and share your precious moments together. The integrated niX-SmartFace Framing AI automatically positions the screen for the best viewing experience.
With matte-finished curves and a honeycomb design, this frame is truly visually appealing. It also comes with a range of mounting options, including wall-mounting and tabletop stands, which allow you to display your images in a variety of settings. Get Nixplay and turn your digital photos into a beautiful storytelling experience.
Pros
AI-enabled
Provides wide viewing angles
Remote controlled via the Nixplay app
5. Meta Portal – Video calling frame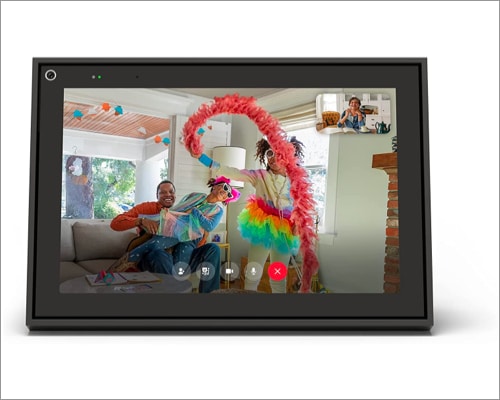 As the name suggests, it truly is a Meta Portal designed by Facebook itself. It comes with a simple design and accessible features making it perfect for every ambiance. The display quality of Meta Portal brings photos to life with its vivid colors and sharp details. What's more, it can even display videos, providing an immersive experience for everyone in your house.
The Meta Portal has access to various apps like Messenger and WhatsApp, allowing users to connect with friends and family, despite not having an iPhone. The intuitive voice and touch controls make this a perfect alternative to traditional photo frames. The auto-adjust camera allows users to move freely and still maintain their presence on the screen during calls.
Plus, with its built-in Wi-Fi and Bluetooth connectivity, you can share and stream content from any device. If you're wary of your privacy while using Meta Portal as a photo frame, you can turn off the camera and be carefree. Experience your photos and videos like never before with Meta Portal.
Pros
Touchscreen
Alexa integrated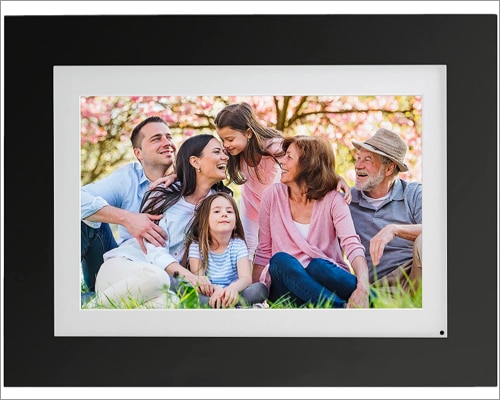 If you're looking for a high-quality frame at an affordable price, then Brookstone PhotoShare is a great option to consider. It boasts a 10.1-inch screen that can display images at a resolution of 1280×800 pixels enabling users to share images directly from their smartphones. This premium black wood frame with a grey design can hold more than 5,000 images in its 8GB internal storage.
Nevertheless, if you run out of internal storage space, you can still add a ton of images using the in-built SD card slot and USB port on the back of the frame. Brookstone allows you to customize your viewing experience with cool features like autorotation and slideshow mode. Furthermore, the Wi-Fi allows you to share images in real time via the BrookStone iOS app.
Not only does the frame allows you to integrate music with images, but the auto-dim feature maintains the lighting of the display according to the surroundings. The beautiful design and sleek finish make it a great addition to any room.
Pros
No subscription required
Easy to set up
Syncs with Facebook, Email, and Google Photos
Cons
Occasionally freezes
Poor body material
7. Skylight Frame – WXGA resolution enabled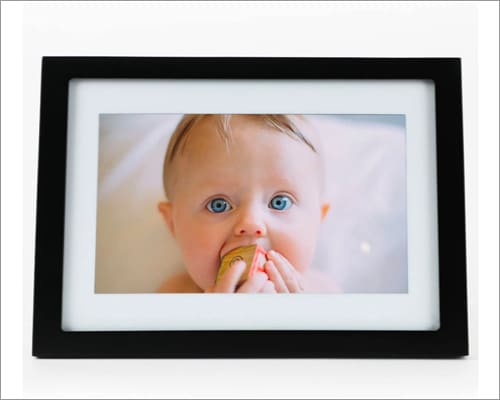 Skylight Frame is a stylish and modern device that allows you to view your photos in high quality and with ease. It features an ultra-bright display, an intuitive touchscreen interface, a 10″ frame size, and a variety of customization options. The frame is ready to fit in any ambiance with a great selection of frames, colors, and photo formats.
The cloud-based storage of the Skylight Frame allows users to upload their memories without worrying about running out of storage. Users can simply update the frame with their smartphones with the preinstalled Wi-Fi. Furthermore, if your frame is not connected to the internet via the internet, the frame still remains active without any interference.
This digital display generates a unique email ID for the users to stay connected to the frame. Upon validation, you can upload the images of your choice. It furthermore allows the users to duration of an image slide from 5 seconds to 240 seconds. All in all, the sleek design and the energy-saving feature of the Skylight frame are intriguing enough to try.
Pros
Quick set up
Amazing for elderly
Sturdy design
Cons
Subscription starts at $53/Year
The free version can display only 15 images
8. Aluratek – USB driven frame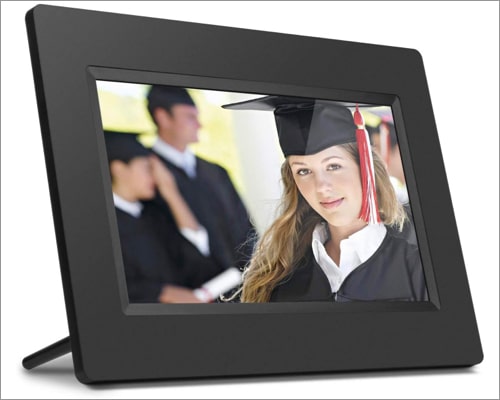 There is no better digital frame available than Aluratek when it comes to affordability and features. This digital frame is enabled with various features like a high-quality frame, easy-to-use controls, and an adjustable body for better orientation. This 7″ digital LCD display provides the best quality results with 800×600 resolution without any degradation.
Unlike other frames, it does not have internal storage; however, it is designed to support SD / SDHC memory cards up to 32 GB. The frames also come with a variety of connectivity options, so you can easily connect to other devices and share your content even further. With a well-devised slideshow, you can enjoy every picture you transferred in this frame.
It is the perfect décor for small spaces and can also be used as a digital signage language if you desire. The navigation push buttons in the frame nullify the need to use the software. Conclusively, Aluratek's frame will ensure that your photos always look their best, and your memories will live on forever.
Pros
Extremely affordable
1 Year warranty
Multiple set rates available
Cons
No remote included
No internal storage
No built-in battery
9. Atatat – Best for all ages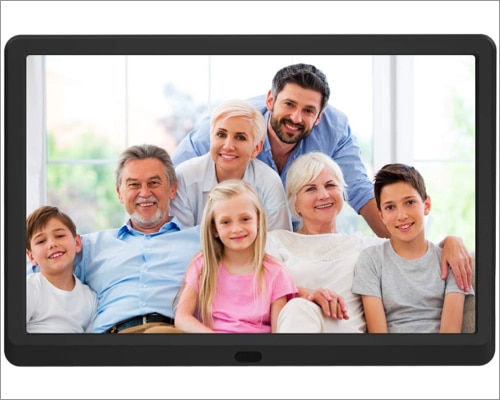 Boasting a 10-inch 1920×1080 IPS display, Atatat features an adjustable frame with an appealing design. With a 178-degree wide viewing angle, this frame is set to provide an amazing visual experience of high quality. The sharp and vivid display of this frame is just a delight to look at as it can be manually adjusted according to a different lighting environment.
It doesn't end here as there are a plethora of customization options available for tweaking. You can control the actions of the frame manually or via a wireless remote supporting 2.4 GHz signal covering the entire area. This frame furthermore allows you to add music to make the experience more blissful.
Playback techniques like slideshow mode, landscape/portrait playback mode, shuffle/sequential play mode, and customizing the pause interval for each photo allow you to easily create a dynamic presentation of your favorite photos. With its slim and lightweight design, this digital frame is perfect for any home or office. A wide selection of sizes and display options, Atatat makes finding the perfect frame easy.
Pros
Comparatively wide viewing angle
24/7 customer service
12 months warranty
Cons
Lacks orientation for some images
Does not stay on for long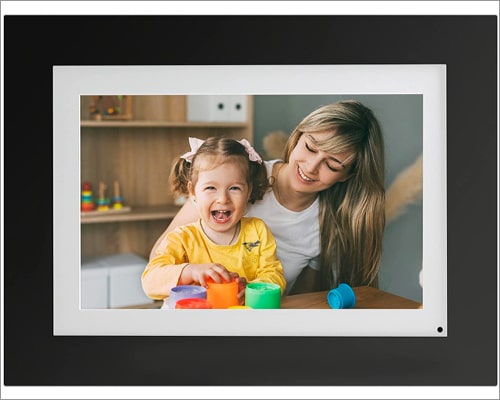 If you're looking to upgrade your traditional picture frame to a modern digital one, then Simply Smart Home PhotoShare is the best option out there. This 8-inch black wood frame with an internal storage of 8 GB can hold more than 5000 pictures at once. The response rate of the frame makes it the perfect way to showcase an entire collection of memories without having to switch out physical frames.
You can share pictures and videos via the PhotoShare app, available for both Android and iOS, Facebook, Email, or Google Photos without any inconvenience. The display is also available in black matte, white matte, and frameless options, so you have something to your liking. With no hidden subscription fees, you can create your own personal space in under a minute with a quick setup.
This digital frame is also equipped with amazing features like auto-dimming, an alarm clock, and music integration to the pictures on display. Whether you opt for a USB cord or power cable, just plug in the Smart Home frame to lift up your ambiance.
Pros
Works with 1080p resolution
No hidden charges
Multiple users can share images at the same time
Cons
Photos will remain in cloud for 2 days without internet
Tricky interface
So, what are you waiting for?
The digital picture frame is a great way to keep your treasured memories alive and to have them on display at all times. With a wide range of options and features to choose from, finding the right digital picture frame for you can be a daunting task. However, in this article, we've highlighted some of the best digital picture frames available today.
Each of these frames has its own unique set of features and benefits, so it's important to choose one that meets your specific needs. Ultimately, the best digital picture frame is the one that will suit your needs, display your photos in the highest quality, and fit within your budget.
Read more:
Yash is a driven individual with a passion for technology and its impact on our world. His aim is to educate and inform others about the newest advancements in technology and how they can benefit society. In consonance, he is deeply indulged in anime and Marvel Cinematic Universe, if not writing.