The Gibson Guitar app is the perfect companion for all guitar enthusiasts – it helps you start taking baby steps and keep guiding until you become a pro. The Gibson Guitar app promises a lot and seems to be delivering as well.
Pros
Custom algorithm based on the skills of users
Huge catalog of songs to practice
Highly reliable tuner
Cons
Some might find it a bit pricey
Editor's rating: 🌝 🌝 🌝 🌝
Price: Free (In-app subscription starts at $19.99)
All of us have at least once dreamed of holding a guitar and playing our favorite songs, but that often remains an unfulfilled dream because of our busy lives. So won't it be great if there is an app that can help us learn how to play guitar with iPad and iPhone? Then again, with thousands of apps out in the market, finding the right one is quite a task.
So here's the Gibson Guitar lessons & tuner app, which promises to help you become the guitarist you want to be. Does it live up to its promises tho? The answer is in this review.
Why should you use app to learn to play the guitar?
Since many talented people can teach you to play the guitar and improve your skills, you might wonder why anyone should depend on an app to learn it. But, of course, the biggest disadvantage is that you can't take your teacher everywhere. That's where an iPad or iPhone app can help you!
Apart from that, many apps provide unlimited revisions and even the option to practice with the song of your choice. So even if you have a teacher to guide you, these apps will still come in handy to practice and work on your skills.
How Gibson makes learning guitar easier with iPhone or iPad?
Since you now know the importance of using the Gibson app while learning to play guitar and to polish your skills, it's time to look at some pros of using the app.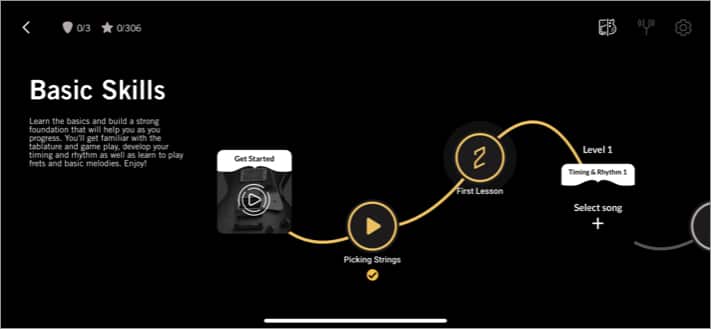 Interactive learning: The Gibson app provides an engaging and stimulating learning experience by providing real-time feedback from the app based on how you play.
Step-by-step guidance: Regardless of your skill level, you can improve it through easily digestible step-by-step video guides. Afterward, put what you have learned to the test with interactive sessions.
Learn from the professionals: The app features classes from many professionals, with video guidance and interactive gameplay to test your guitar skills and keep up the motivation.
Training calendar: Another great feature of the app is that you can track your progress and get reminders about your target with the training calendar.
Tons of famous songs to practice: Apart from the ones in the video sessions, you can also practice with the extensive song collection from iconic artists, such as The Beatles, Aerosmith, B.B. King, Eric Clapton, Santana, KISS, Tom Petty, and countless others. That's not all; there are always new tunes to practice every week.
Built-in Digital Amplifier: Instead of depending on external EQ apps, you can use the built-in Jam guide feature to perform well in your jamming sessions. You must depend on all those cumbersome cables, just plug in your wired headphones with a good headphone adapter, and you're good to go.
Tuner: Apart from the amplifier, you can also use the built-in tuner to suit your needs. Users can choose between automatic or manual string detection. Moreover, if you don't know how to use it, there is even a video guide to help you.
Gibson TV: With this, I think you'll understand how serious the developers were while making this application. It contains original series about guitars, music, and culture, where you can get inspiration and motivation after hearing the stories of your idols.
Metronome: It is a device that can give an audible click or any other sound at regular intervals to help you concentrate. With the Gibson app, you have an in-built option and don't have to be dependable on any other external application.
My experience with Gibson app
Now that we have explored all the USPs of the app, it might not be convincing for many, so I checked all the app's features to see if it really lives up to the promise.
From the moment I installed the app, it gave me confidence that I made the right pick, particularly because of the UI. It oozes professionalism while also being relatively easy for beginners. The setup process is easy, with voice-over tutorials.
The app asks several questions based on which it will organize the content for you. Since I was a beginner, I went with answering that way, and I have to say I was impressed with the content library. But that's not all; there are several options to check out, and I have gone through each one. Here are the details about each feature:
Lessons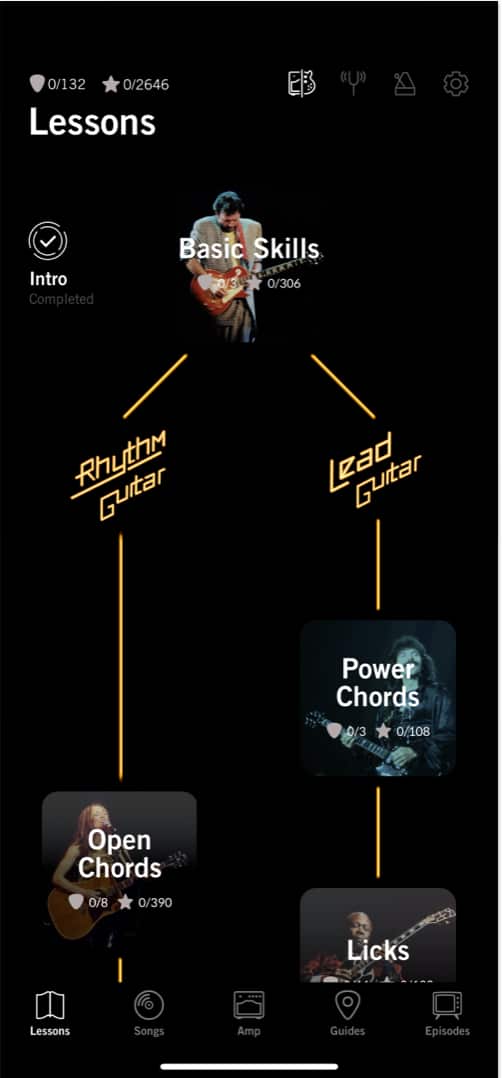 As the name suggests, this is where you make the baby steps in learning to play guitar. Depending on your levels, it will change. You can choose any level you are currently in and climb your way up.
The lessons are sorted based on what kind of guitarist you want to be, i.e., Rhythm or Lead guitarist. Once you select the lessons of your choice, you'll see a pathway.
The best part about this section is that the app has made sure to make lessons as simple as possible by making everything a step-by-step process.
Songs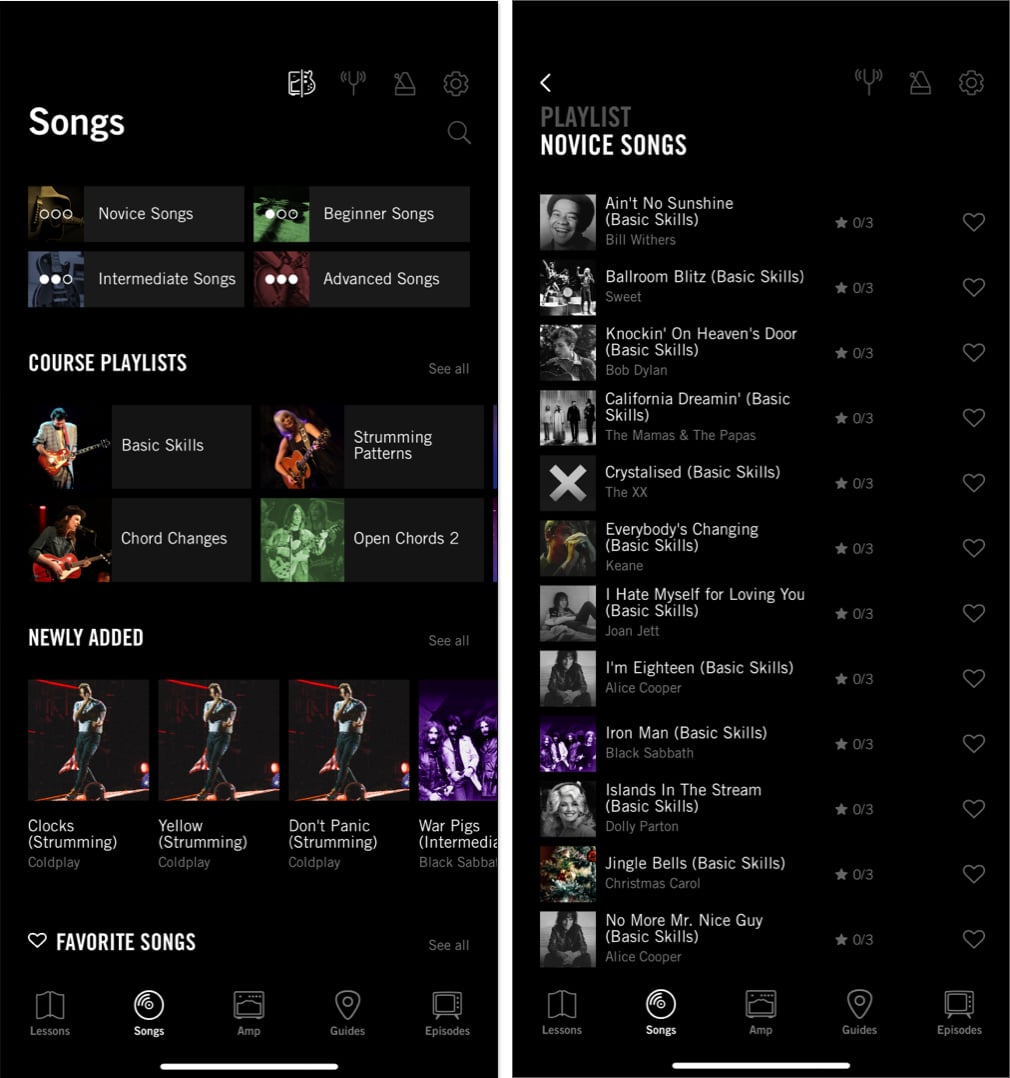 This is my other favorite place in the app. Here, you can discover a huge catalog of songs to practice on. The best part is that even these songs are categorized into different courses and levels.
Despite having multiple categories, it is easy to choose a song instead of getting confused about what to choose. This is an area where many apps and services struggle, and the people at Gibson were successful in categorizing their catalog without creating any confusion.
AMP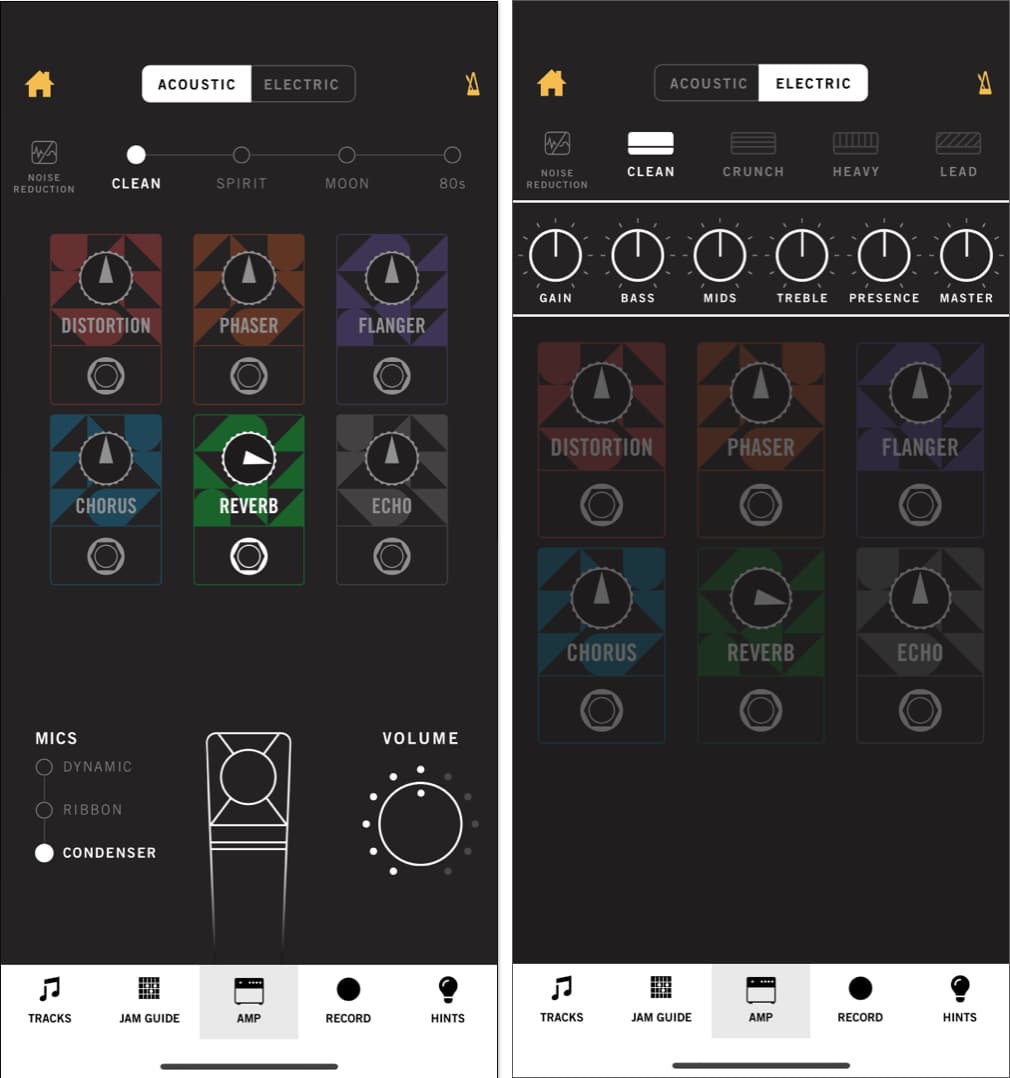 Don't you remember me mentioning that the Gibson app also gets an amplifier? Well, this is where you can find it. To use the feature, you must use wired headphones, and if it has a built-in mic, that will further help improve the output.
No, you are not supposed to use a Bluetooth headset. There might be some audio lags since the data is transferred wirelessly. Here, you get access to tracks to practice, a section to Jam, and an option to record your work.
For those who don't know how to use all these features, you can simply use the Help option, which explains all the points appropriately.
Guides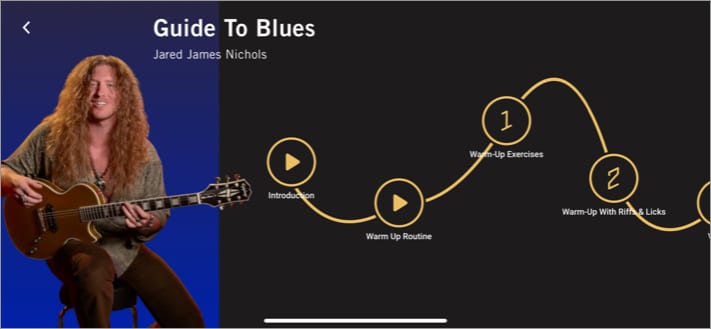 This is where you will get video tutoring from one of the famous people in the industry. The best part is that each of the ones showcased in the app has excelled in their own field and will give you lessons on how you can also be best in that.
Episodes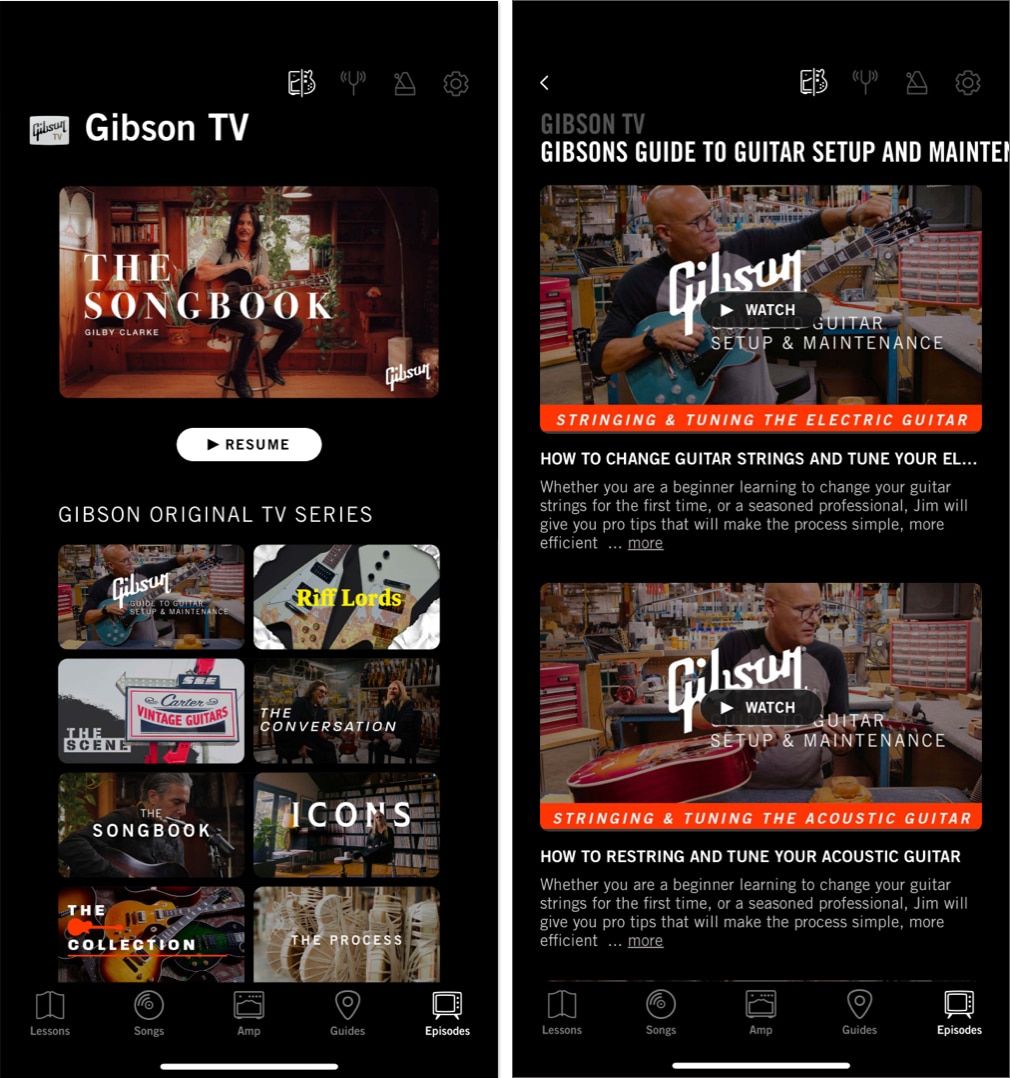 This is another interesting part of the app where you get original series on various music-related topics and much more. When you are not studying, you can roam around this area to maintain your interest and stay motivated.
Other features
Apart from that, there is also an option for easily accessing the AMP, Tuner, Metronome, and settings option, where you can customize the audio quality and contact customer care.
What I think about Gibson app
I knew the app was from one of the best brands for music. Gibson is the place where most people get their dream guitar. I also had set my expectations high, and guess what? The app has performed much better than I expected it to.
The app has everything you need to learn to play the guitar, and the way it organizes its content based on your skill set is amazing. There are no gimmicks, and it will be a delight for anyone who's a guitar enthusiast.
I like the Metronome and Gibson TV, which helps you to continue your enthusiasm and motivation. The UI is also amazing so does the content library.
Room for improvement
Among all the reviews I have done for iGeeksBlog, only on a few occasions have I failed to spot any cons. Gibson Guitar lessons & tuner is one of them!
Apart from being a bit pricey and the small number of tutors in the guide section (which Gibson promises to keep adding), I don't have any other suggestions.
In fact, I'm excited to see what the team will do to improve the app in the future, as it is already rich with some amazing features.
Should you get Gibson Guitar app?
Instead of just using the brand name to attract users, Gibson has worked on every bit of the app, and you will feel the same while using it. The Gibson TV series is well made, and so does every class. You'll appreciate the well-detailed class, both the AI algorithm and the video classes.
The Tuner is another feature that my friend, who's pretty good at playing guitar appreciated. So overall, I would definitely suggest getting this app.
iGeekometer
User Interface
Easiness to learn
Content Library
Value for money
Review summary
Review summary
Gibson Guitar learner and tuner app continues the brand's tradition of creating best-in-class products. This app is a must-have for every guitarist out there as it has features and options that every enthusiast will appreciate.
Gibson Guitar learner and tuner app continues the brand's tradition of creating best-in-class products. This app is a must-have for every guitarist out there as it has features and options that every enthusiast will appreciate.
Readers like you help support iGeeksBlog. When you make a purchase using links on our site, we may earn an affiliate commission. Read more.
Anoop loves to find solutions for all your doubts on Tech. When he's not on his quest, you can find him on Twitter talking about what's in his mind.