The best iPhone 13 Pro Max belt clip cases ensure that you get a case that not only looks good and feels durable but also fastens securely. These clip cases provide a secure holding front, ensuring no matter how many bumps you hit on the road, your phone remains intact.
So, without further ado, let's jump right into the list!
1. SUPCASE Unicorn Beetle Pro Series – Editor's choice
This belt clip case for iPhone 13 Pro Max is my absolute favorite. It not only looks modern and sleek but also offers unparalleled durability.
Whether you want hands-free carrying or have to set your phone properly for conference calls, this case does it all it comes with a swiveling belt clip and a kickstand. Apart from this, the case has also won the "Best Case Scenario" by CNET, showcasing its durability.
The case also comes with an added screen protector to ensure full body protection. You won't find this in most belt clip cases for iPhone 13 Pro Max. However, the screen protector often acts as a fingerprint magnet.
Pros
Sleek
Excellent durability
Also functions as a kickstand
Added screen protector
Cons
The screen protector is prone to fingerprints
Check out on: Amazon | SUPCASE
2. OtterBox Defender Series – Durable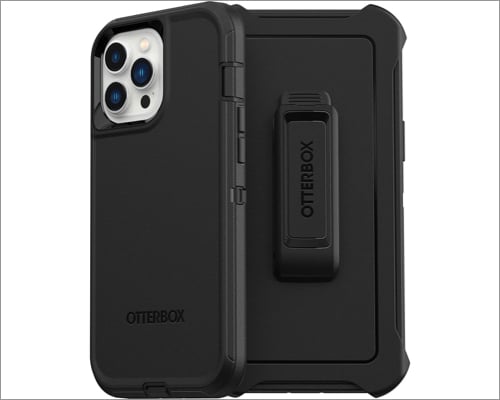 This OtterBox case with belt clip is one of the most durable cases for iPhone 13 Pro Max, if not THE most durable. It features raised edges to protect the screen and camera bumps and has been tested to survive four times the bumps of a Military Grade case.
The case also features port covers preventing dust and lint from getting into the phone's jacks and ports. Moreover, the case is made from 50 percent recycled plastic. This ensures protection from drops and bumps while helping save the environment. Finally, the case comes with OtterBox's lifetime warranty.
The belt clip holster provided with the case isn't great, unfortunately. Users have complained about it not being secure enough.
Pros
Highly durable
Raised edges for camera and screen protection
Port covers
Made from 50% recycled plastic
Cons
The belt clip holster isn't very secure
Check out on: Amazon | OtterBox
3. Encased Showcase Series – MagSafe-compatible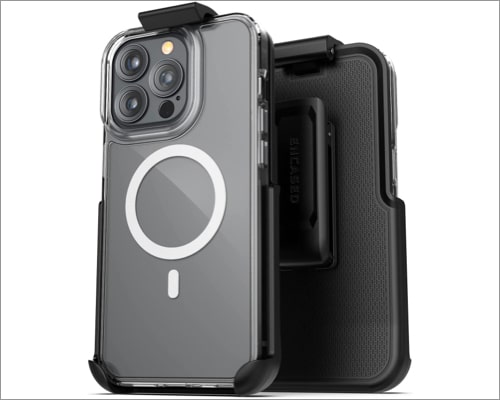 Not many belt clip cases for iPhone 13 Pro Max provide MagSafe compatibility. Considering the fact that Apple is shifting rapidly towards a wireless charging domain, this has become an important factor to consider when buying phone accessories.
Thankfully, the Encased Showcase Series is MagSafe-compatible, ensuring you don't face any issues when wirelessly charging your phone. It also helps that the case is sleek and looks beautiful. Additionally, the case has a dual-hybrid construction. There's an outer protective bumper featuring a scratch-resistant MagSafe-compatible polycarbonate cover.
Finally, you also get the manufacturer's lifetime guarantee with this belt clip case. However, the rotatable belt clip can cause issues and obstruct the camera lens.
Pros
Provides compatibility with MagSafe
Good design philosophy
Scratch-resistant MagSafe compatible cover
Lifetime guarantee
Cons
A rotatable belt clip can obstruct the camera lens
Check out on: Amazon | Encased
4. Ghostek NAUTICAL belt clip case – Waterproof
Ghostek has been producing some of the best-looking and functional belt clip cases for iPhone 13 Pro Max. With the Ghostek NAUTICAL case, you not only get a beautiful but also an IP68-rated water-resistant case!
It features both a lens cover and screen protector. Additionally, it has a 360-degree shockproof design rounded off through port covers that don't allow dust or dirt into the phone's ports. If you were looking for MagSafe, the built-in magnetic ring also supports MagSafe charging.
It's pretty expensive, though. Not everyone would be willing to spend this much on a case.
Pros
IP68 waterproof certification
Decent design
360-degree shockproof features
Supports MagSafe
Check out on: Amazon | Ghostek
5. Stronden holster case – Added versatility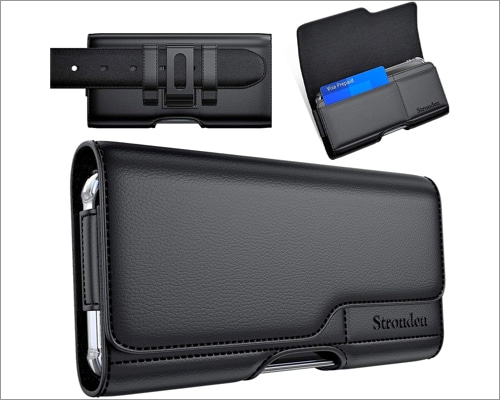 When you pair belt clip cases with a holster design, you get plenty more space to store your valuables. In fact, it adds a layer of versatility.
The Stronden holster case is one of those versatile belt clip cases for iPhone 13 Pro Max. It is not only compatible with a range of phones but also has extra spaces to store your cards and cash. Additionally, there's a magnetic enclosure for extra security.
On top of this, you also get a nylon ballistic belt clip between two belt hoops. This ensures that your phone and case don't fall under any circumstances.
It's quite big, though. So, your phone may not fit snugly inside the case.
Pros
Versatile
Extra space to store your cards and cash
Magnetic enclosure for added security
Cons
Your phone may not fit in snugly due to the case's size
Check out on: Amazon
6. AICASE holster case – Minimal design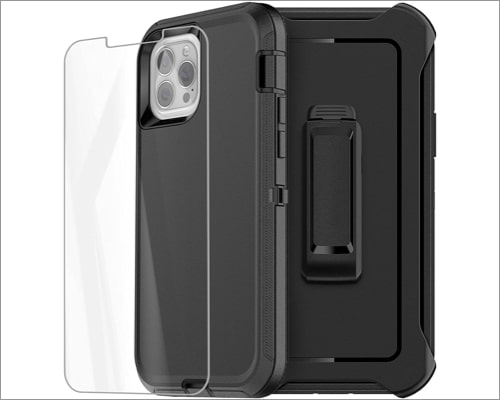 For those who don't want flashy belt clip cases, this case by AICASE is one of the best options. It features the usual fundamentals, with raised screen and camera lens bumps that provide added protection from drops and shocks.
Additionally, the combination of the outer rubber shell and inner polycarbonate shell offers good protection for the price. The case also has military-grade protection.
The provided belt clip functions both as a swiveling belt clip and a kickstand for more versatility. Finally, you get a screen protector and a year's worth of warranty with the product! However, some users have stated that the holster clip is slightly loose and jiggles.
Pros
Simple and elegant design
Good protection
Also functions as a kickstand
1-year warranty
Cons
Holster clip can be loose at times
Check out on: Amazon
7. Fingic Holster Case – For tight budgets
It's rare to find affordable belt clip cases that provide elegant looks. Thankfully, the Fingic holster case does exactly that!
The holster shell comprises two interlocking plastic pieces providing ample protection against drops and shocks. You can also grip the phone easily, thanks to the ubiquitous rubberized texture present on the case, even for the swivel belt clip.
Moreover, the swivel belt clip can rotate 180° to help you adjust the phone your way. It also functions as an added kickstand. While it looks great, users have complained about subpar build quality. So, you should be careful when using your phone with this case.
Pros
Affordable
Belt clip can rotate 180° and function as a kickstand
Rugged looks and rubberized texture
Cons
Build quality could've been better
Check out on: Amazon
8. Vena vArmor rugged case – Loaded with features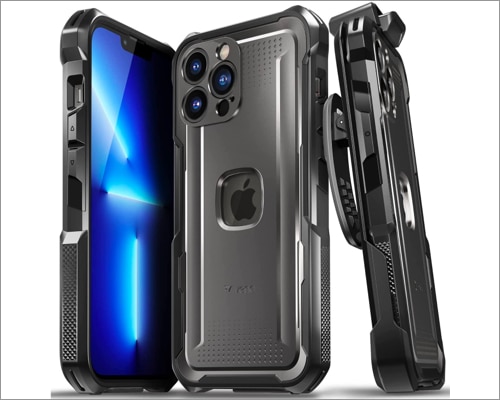 If you want your iPhone 13 Pro Max case to have the most features, check out the Vena vArmor rugged case. You'll be blown away by how loaded this product is!
The case provides heavy-duty protection backed by its military-grade protection certification and is also MagSafe-compatible. It also works with Apple Pay, which isn't a common feature in this price segment.
The provided swivel belt clip also functions as a kickstand when needed. Lastly, the dual-layer polycarbonate with TPU and CornerGuard provides an excellent rugged feel to the phone case.
However, as is evident with the design of the belt clip case, it's heavy and bulky.
Pros
MagSafe-compatible
Works with Apple Pay
Rugged and heavy-duty build
Check out on: Amazon
9. PiTau Holster Case – Easy to use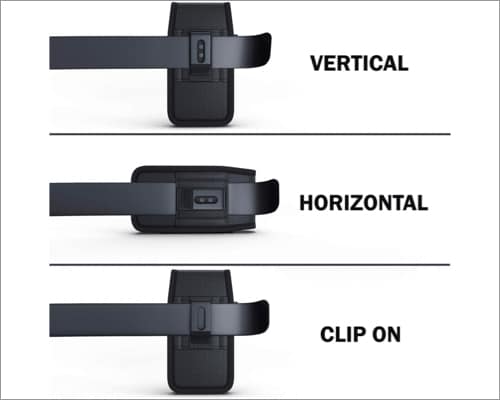 At first glance, the PiTau holster case seems like any other holster case. However, it provides ease of use and quality unmatched in this price range. This is undoubtedly one of the best iPhone 13 Max Pro holster cases compared to its price range!
The case is made of high-quality nylon, adding sturdiness to the case. Additionally, the nylon clip has been upgraded from a metal and plastic clip in previous iterations to provide more durability. There are also two pen holders on either side of the pouch for added utility.
However, the velcro added for enclosing the case is loud. This isn't a dealbreaker but can get quite annoying.
Pros
Convenient
High-quality nylon adds durability
Two pen holders on the pouch's exterior
Check out on: Amazon
The takeaway
What did you think about my picks for the best iPhone 13 Pro Max belt clip case? While these cases may not be used often in today's day and age, they're still highly useful and look great. If I haven't listed your favorite belt clip case, let me know in the comment section below which one you like using and why!
Read more:
Readers like you help support iGeeksBlog. When you make a purchase using links on our site, we may earn an affiliate commission. Read more.
Anirban is a literature post-grad who delves in philosophy and postmodern novels when not writing on tech and gaming. His love for research is only trumped by his love for chai and heavy metal.