Macs, especially their Pro line, are one of the most powerful and technologically advanced devices in the market—hence the hefty price tag. That said, you'd want to keep it safe from bumps, scratches, and spillage by investing in a good MacBook Pro 13-inch case. As a perk, cases also add some style and personality to your machine.
Here's a round-up of the best MacBook Pro 13-inch cases in the market to keep your 13-inch MacBook Pro in its pristine condition.
1. Mosiso Hard Shell Case: Editor's choice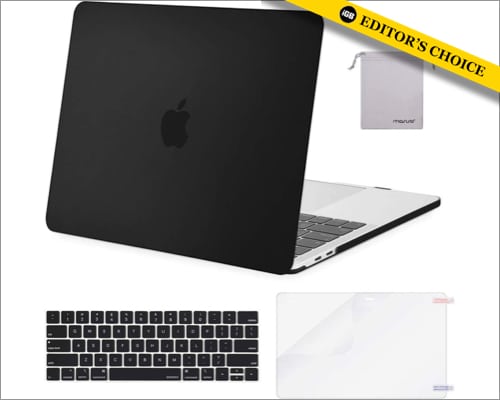 The best MacBook Pro 13-inch case should provide a balance of design and protection without being too heavy for your pocket.
This ultra-slim, lightweight MacBook Pro 13-inch hard shell case covers all your needs; it comes with over 40 vibrant color options, comes and with a screen protector, keyboard cover, and a small storage bag for your cables.
The Mosiso case is a nice deal if you want to protect your Mac from the wear and tear of daily grind while supporting your on-the-go lifestyle. It has over 32,000 global ratings on Amazon. Many people love how easy you can snap the cover on and how it adds almost no weight to their devices.
Pros
Many color options
Comes with a screen protector and keyboard case
Cons
Not the best option for durability
Shiny case is prone to collecting fingerprints
2. ProCase MacBook Pro 13 Case: Best budget case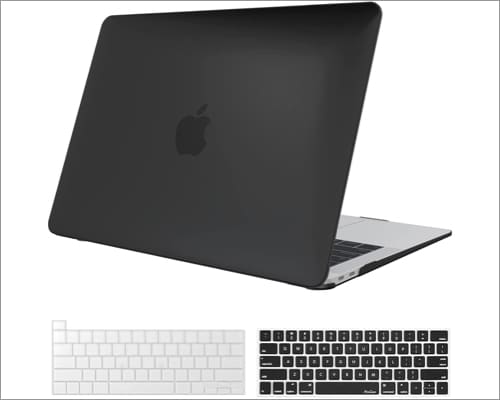 The ProCase hardshell cover is another affordable option for your 13-inch Mac. Similar to Mosiso, it comes with two protective keyboard covers, but without the screen cover. This sleek case fits and stays on your Mac securely, using a snap on design for easy attachment and removal.
It comes with a high-quality rubberized soft coating for a matte look and feel. It also comes with several color options.
Cons
Does not offer the best protection

Check out on: Amazon | ProCase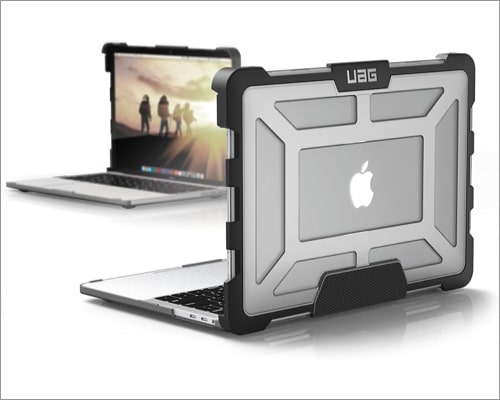 True to its name, Urban Armor Gear products make the best rugged cases for a variety of devices. This patented UAG MacBook Pro design combines a hard outer shell with impact-resistant bumpers and bottom skid pads, offering a 360-degree protection.
It meets military drop-test standards, which means that it can survive multiple drops from up to four feet, protecting your Mac from drop and shock. While it offers superior protection to your Mac, it adds little to no weight to it, making it perfect for on-the-go travelers.
Cons
Bulky
Can be difficult to remove
4. Dongke case: Most unique case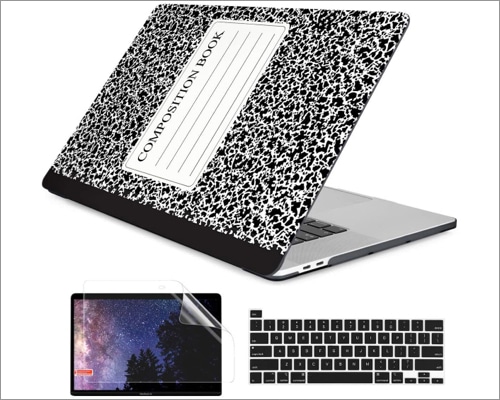 Dongke hardshell case offers a range of quirky, unique designs that's sure to stand out from the crowd. Like the others, it is easy to snap and remove from the Mac. One thing you may also like is that they offer a 100% money back guarantee.
For an overall aesthetic look and protection, the Dongke case comes with a color-coordinated keyboard cover and a screen cover. Some even come with silicone dust plugs.
Pros
Unique
Comes with a keyboard protector and screen cover
Check out on: Amazon
5. Lacdo 13-inch laptop sleeve: Best on-the-go sleeve
This water-repellent and moisture proof sleeve is ideal for office workers and students who need to travel around with their Macs. With Lacdo, you don't have to worry about your Mac, accessories, and even your files from getting wet or dirty.
It has a fluffy fleece fabric lining interior to absorb shock and impact while keeping your device scratch-free. It fits all sorts of notebooks with a 14-inch screen and smaller.
If you're not into carrying multiple bags, it comes with two extra pockets in front, allowing you fit all your documents, pens, and cables in one place.
Pros
Can be used with different laptops
Comes in six colors
Cons
Bulkier than other sleeves
6. IBENZER: Great all-around MacBook case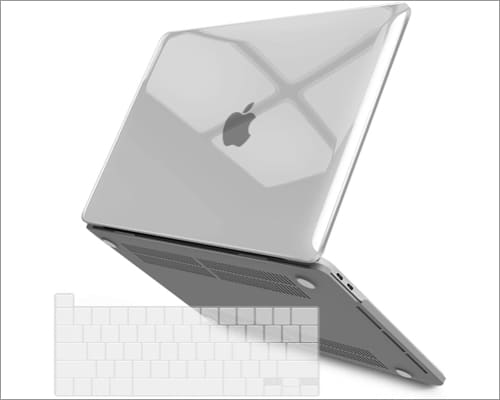 IBENZER is another provider of hard shell cases for Mac. It offers a mix of plain vibrantly colored cases with aesthetically designed covers. What's more, cases come with matching keyboard protectors.
It has over 13,000 reviews on Amazon. Many love its easy installation and snug fit. Some users also note that the brand offers some colors that others don't sell.
Pros
Affordable
Comes with different designs and colors
Cons
Not the best option for durability
Check out on: Amazon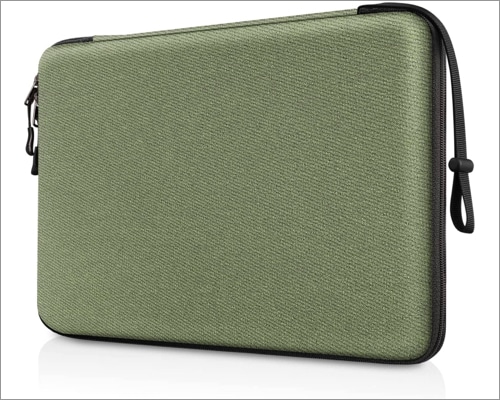 Of all the reviewed cases, FINPAC has the highest overall rating, topping others with 4.8 over 5 stars on Amazon. It has a sleek, luxurious feel and offers protection to your MacBook Pro without the bulk.
It features four layers for protection for your device:
a hard shell cover is made of a semi-hard EVA shell
a 1600high density polyester outer fabric, making the outer shell water repellent and scratch and wear resistant
a 5 millimeter thick air cushion padding, which protects your device from bumps and shock
an elastic Lycra layer that protects your Mac from scratches
Pros
Can be used with other laptops
Very durable
Cons
Limited color options
Heavy
Check out on: Amazon
8. TYTX Leather Case: Most sleek sleeve for MacBook Pro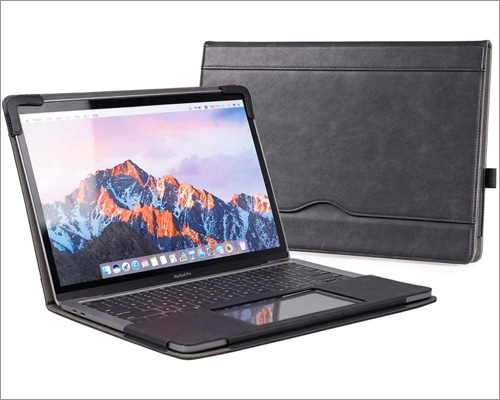 If you're looking for a MacBook Pro 13-inch case for models with or without a touch bar, TYTX leather case is for you. It is made of 100% vegan PU leather and soft microfiber that offers a wrap-around protection to your MacBook Pro, keeping it safe from scratches and surface level damage. It's like an iPad cover made for a Mac.
You can keep some documents and cards in the front pocket. It also has a pen holder for easy access. Another plus? It comes with a stand, preventing wrist pain and allowing you to view your screen from an angle
Pros
Sleek, executive design
Lightweight
Offers a one-year warranty
Comes with a stand and a penholder
Cons
Offers minimal protection against drops and bumps
Check out on: Amazon
9. Woolnut leather & wool sleeve case: Best minimalist design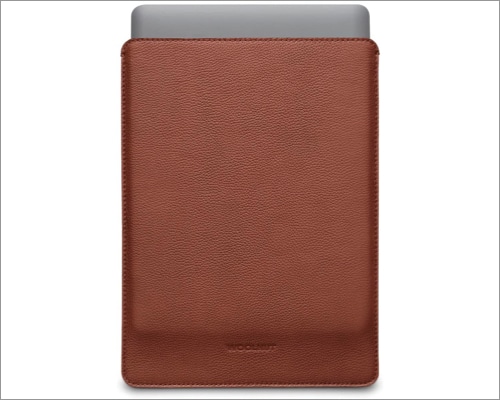 The Swedish company Woolnut offers its leather folio in a classic, timeless minimalist design. Its exterior is soft vegetable tanned full-grain leather and lined with 100% natural grey wool felt from Germany in its interior to protect your Mac from getting scratched as you take it in and out.
The slim, tailor-made fit covers the Mac snugly. Since you slide your device vertically, you can easily charge your Mac while inside the sleeve. It also has inside leather pockets can house your iPhone, credit cards, or passport.
Pros
High-quality materials
Timeless design
Check out on: Amazon | Woolnut
10. KECC Compatible with MacBook Pro: Most aesthetic case for MacBook Pro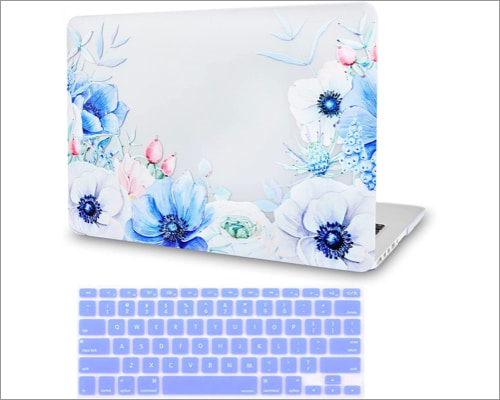 While there are several brands offering different designs, KECC goes out of its way to sell unique and bold designs.
Compared to other hard shell cases in this list, only KECC has cut-outs for the Apple logo. So this may be an option if you want to show off the gleaming, polished Apple logo on your Mac.
Pros
Expressive and bold designs
Cut-out Apple logo for those who want to display them
Cons
Cut-out Apple logo may cause dust to collect inside
What is your top priority when choosing a case for your MacBook Pro?
Is aesthetics more important to you or would you rather a bulky yet very durable case? Whatever you choose, select one that fits your budget and lifestyle. Moreover, keep an eye on add-ons like free keyboard protectors and screen protectors.
More importantly, be sure to check the reviews to ensure that the case you're getting is suitable for your Mac's model.
If you're planning to get a case (or already have one), what is your reason for getting one? Please share them below!
Read More:
Rachel loves anything Apple —from iPhones, to Apple Watches, to MacBooks. She is also a medical writer and a ghostwriter for various publications.