Whether it's for checking notifications on the go, your blood oxygen level, or calories burnt in a strenuous workout, Apple Watch has come a long way. It offers multiple features. However, such extensive use often drains it out of battery. Hence, you need a charger that gets you the full charge fast!
Since there are thousands of chargers, it can be difficult to choose the right one. This is why I've curated a list of the best Apple Watch chargers. Let's have a look at them.
1. Apple Watch magnetic charging cable – Editor's choice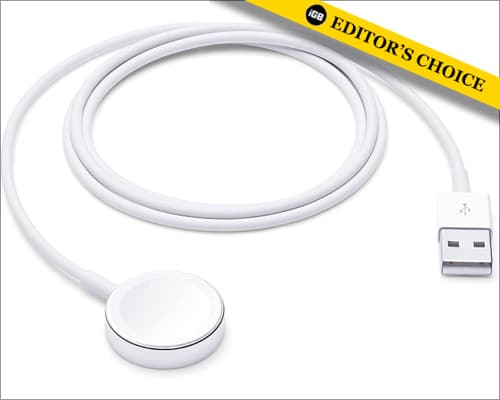 If we're talking about the Apple Watch, the first choice for a charger should always be from the same ecosystem. Thankfully, Apple has made its magnetic charging cable available quite readily if you want to use products of the same company. After all, they tend to be highly reliable.
This cable from Apple has a length of 1m and a USB connector. In terms of looks, it's fairly simple and sleek – designed to fit in with the minimalist approach that Apple is renowned for.
The magnetic connector is large and responsive enough to place your Apple Watch in different positions. It doesn't have to be oriented in a particular or precise way for the charging to begin.
Moreover, there are no exposed contacts in the entire accessory, rendering this charger extremely safe to use. Regardless of whichever Apple Watch model you use, this charger is compatible with all of them.
Unfortunately, most users have complained about the short length of the charging cable. So, if you're looking for an Apple Watch charger with a long cable, this might not be the one for you.
Pros
Decent design for the Apple ecosystem
Magnetic connector is responsive
No exposed contacts
Compatible with all Apple Watches
Check out on: Amazon | Best Buy | Apple
2. NEWDERY charger – Best Apple Watch wireless charger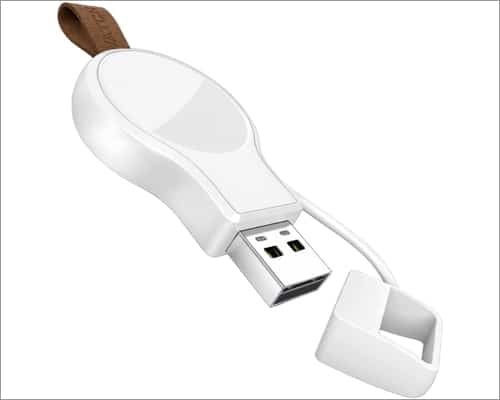 The issue with charging cables has been a longstanding one. When the cable is too short, you might be unable to orient the charger properly. If the cable is too lengthy, it tends to get tangled. The solution? Why not go cableless?
With the NEWDERY Charger, you can say goodbye to the hassle of untangling cables. This magnetic charger comes with a connected USB that can be plugged in for charging the charger itself.
There are no cables involved, making this charger highly portable as you don't have to untangle the charger if it's been sitting in your travel bag for too long. Additionally, the charger's built-in chip is smart enough to charge different Apple Watch models at their preferred speed, extending battery life.
This charger is also safe to use. The company claims that it is shock- and heat-proof. However, some users have reported that the charger runs slightly on the warmer side when used for extended periods.
Pros
Cableless
Portable
Charges different Apple Watch at optimized rates
Shock- and heat-proof
Cons
Runs warm if used for long
Check out on: Amazon
3. Apple Watch magnetic charging dock – Minimalist and elegant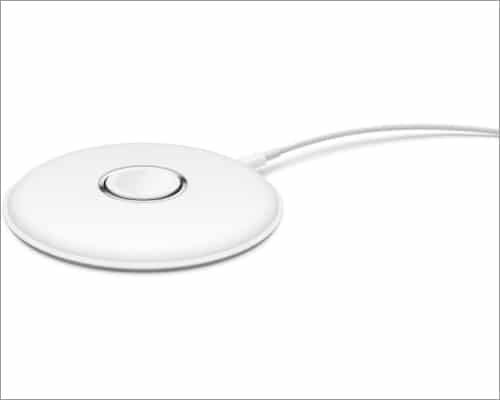 Many users often want to stay within the Apple ecosystem, thanks to the ease of use that you're provided with. However, most of the products within the ecosystem can be quite expensive. While this magnetic charging dock is a fairly expensive option to go for, you'd be rewarded with minimalism and elegance.
The charging dock is meant specifically for your Apple Watch (regardless of the model), thanks to the fact that it uses the same inductive charging connector used by your Apple Watch. You can also orient the smartwatch either flat on the surface or the side. If you put it to the side, it puts the Apple Watch into alarm clock mode.
The dock has an output of 5W for charging your watch. Since this is meant specifically for Apple, you can rest assured that your Apple Watch is receiving the optimal charging speeds to extend the battery life.
The only issue with this device is that it's expensive.
Pros
Minimalist design

Can orient either flat or sideways for Nightstand mode
Helps you stay in the Apple ecosystem
4. CulaLuva charger – Best design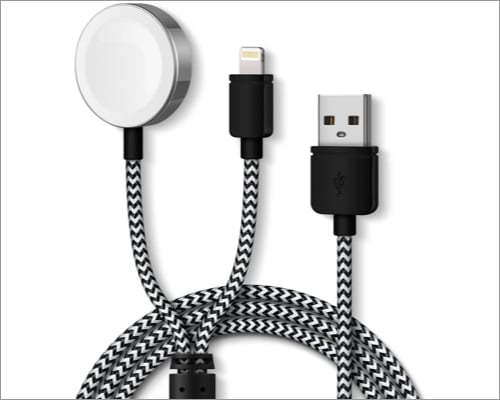 Most portable Apple Watch chargers aren't made, keeping a fancy design in mind. This is even more evident when the charger is directed towards the budget end of the market. Fortunately, the CulaLuva charger for Apple Watch has an elegant design that blends well in a professional and personal setting.
The charging cable has a length of 1.5m, and the design incorporates a black and white braided pattern. Moreover, this charger has a two-in-one feature. One of the chargers is a magnetic connector meant for Apple Watch, and the other is a Lightning connector for your iPhone.
Another advantage of the braided design is that the cable is protected through nylon material. This prevents the charging ends from splitting at unnatural angles.
However, the magnetic charging dock provided isn't very strong. Your Apple Watch may disconnect from it if there's any disturbance.
Pros
Elegant design
Nylon material prevents the ends from splitting
Can charge both Apple Watch and iPhone
Cons
Magnetic charging dock isn't that great
Check out on: Amazon
5. Belkin MagSafe 3-in-1 Wireless Charger – Comes with 2-year warranty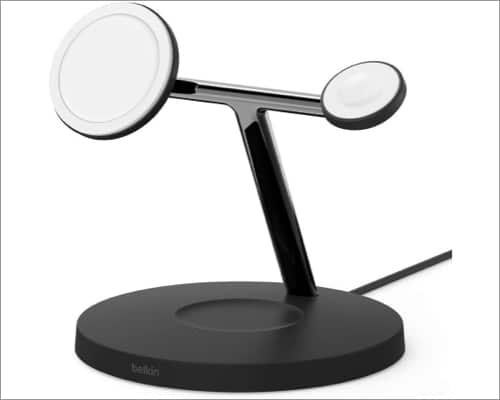 Belkin is a trusted brand amongst Apple enthusiasts. This is especially true because this charger is engineered with the official technology powering MagSafe chargers by Apple.
This particular charger is compatible with all the latest Apple Watches, iPhones, and AirPods. That's right – you can charge up to three devices simultaneously with this wireless charger.
Additionally, the charger offers up to 15W fast charging for your phone and smartwatch. Of course, they have to be MagSafe enabled for optimal charging. There's also the option to orient the charger how you want to, for your convenience. Finally, the charger is protected by a valuable 2-year warranty.
The only caveat with this charger is that the charging speed decreases when charging three devices simultaneously. The developers could improve on this by adding more juice (around 30W) to the next iteration of the charger.
Pros
Uses official MagSafe technology
15W fast charging
2-year warranty
Compatible with major Apple products
Cons
Charging is slow when all three devices are being charged
6. LVFAN Charger – Highly portable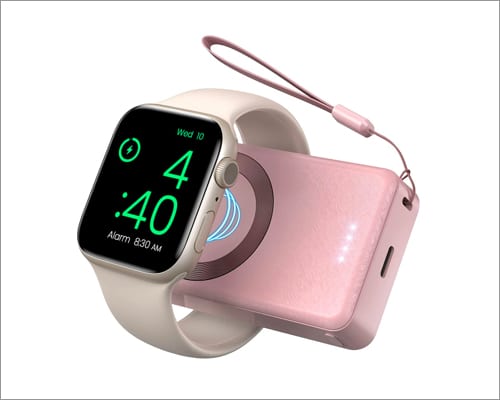 While there are plenty of wireless and portable chargers in the market, you'll be hard-pressed to find a charger that fits so snugly in your pocket. As an added advantage, it looks great too!
This charger by LVFAN functions as a power bank for your charger with a battery capacity of 4000mAh. Further, there's a USB-C port built into the charger, with which you can charge the power bank to its full capacity in 3.5 hours.
If you've got a USB-C to Lightning connector, you can charge your iPhone as well. The charger takes only 3 hours to fully charge your smartwatch.
Unfortunately, some users have had issues with the charger heating up abnormally after short periods. I'd recommend you keep this in mind before you make a purchase.
Pros
4000mAh category
Charges the Watch in 3 hours
You can also charge your iPhone
Cons
Heats up after a short time
Check out on: Amazon
7. BONUS: elago W2 charging stand – Value for money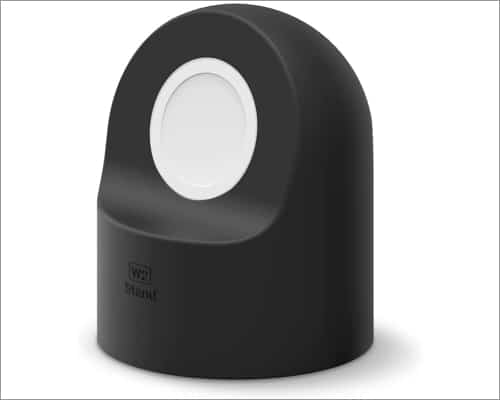 While this is a list of Apple Watch chargers and not charging stands, this is such a good device that I couldn't help putting it on this list as a bonus entry.
A point to bear in mind is that this charging stand isn't compatible with Apple Watch Series 7. For the rest of the smartwatch iterations, it works perfectly.
The charging stand has an elegant design with a matte black finish, preventing scratches. Moreover, the magnetic charging stand has been designed with precise cutouts to keep your Apple Watch and the charger in place. Besides, there's a cable management hole to prevent the cable from getting tangled.
My gripe with this charging stand is that the Watch's orientation on the charger must be just right. Even a slight mismatch in the orientation could stop the charging. However, if you're on the lookout for a minimalist charging stand, this is it!
Pros
Precision design
Minimalist looks
Decent build quality
Cable management hole provided
Cons
Apple Watch orientation can face issues
Check out on: Amazon
Summing up
So, how did you find this list of the best Apple Watch chargers? I've tried to include options for different preferences and budgets into the list.
Have you used any of these chargers? How has your experience been with non-Apple chargers for your Apple Watch? Post your thoughts in the comments below!
Read more:
Anirban is a literature post-grad who delves in philosophy and postmodern novels when not writing on tech and gaming. His love for research is only trumped by his love for chai and heavy metal.