Apple's AirTags make it much easier for you to track your lost items. While I'm sure that we've all used AirTags for some object or the other, it's our wallets that require the most security. So, with the best AirTag wallets, you can keep track of your cards and cash at all times, making them excellent iPhone travel accessories.
Now, you may think you could just slip an AirTag into one of the wallet's pockets. However, that doesn't guarantee safety, especially if the AirTag is prone to falling out of the pocket. This is where wallets for AirTag come into play, as they tend to have a slot meant just for the AirTag. Having said that, let's look at the best AirTag wallets you can get!
1. Spigen wallet S – Editor's choice
Let's start the list of the best AirTag wallets with Spigen's Wallet S. The brand has been a reputable name for iPhone accessories for quite some time now, and with this AirTag wallet, you can see why the company has been so successful.
The wallet is constructed with polycarbonate material, which is combined with aluminum plates to grant the wallet RFID-blocking properties. This ensures that your data is always safe. Moreover, the integrated nylon cash strap comes with circular silicone pads to ensure that your cash is kept intact.
You'll also be able to insert up to 12 cards into the wallet, which is double what most competitor products allow. With all these features, you'll find very few reasons to complain about the Spigen Wallet S.
Pros
Durable construction with polycarbonate material and aluminum plates
Nylon strap and silicone pads to keep cash intact
Holds up to 12 cards easily
Cons
Can be a bit bulky at full storage capacity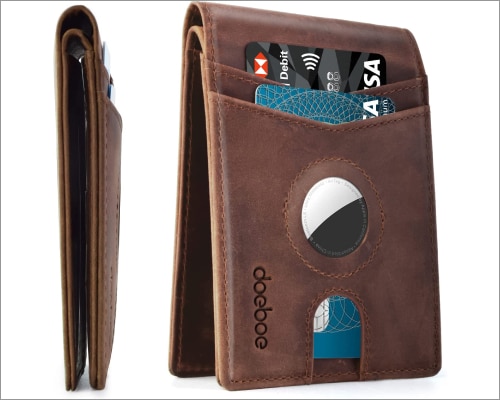 The best AirTag wallets should be able to combine functionality with design. While most wallets come with plastic materials for better storage capacity, they often compromise on the feel of the wallet itself. After all, a wallet is something that's almost always with you. So, when you're carrying it around, either in your hand or your pocket, it should feel decent and premium.
Thankfully, with the AirTag wallet from doeboe, you will definitely have that feel. The wallet is constructed with premium and 100% genuine saddle leather, giving you the feel of old-school wallets. Moreover, it comes with RFID-shielding protection up to a frequency of 13.56MHz.
There's also a bill pocket to provide you with enough space to store some cards. Overall, this is basically an old-school premium leather wallet that also has a slot for an AirTag. However, the wallet's design just shows the AirTag itself quite prominently. So, you'll have to be wary of that as it can be slightly annoying.
Pros
Saddle leather
Holds up to 8 credit and debit cards
Excellent build quality
3. GOACHALE AirTag wallet – Minimalist appeal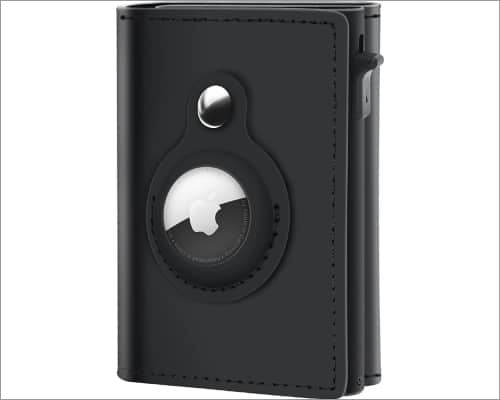 Minimalism has caught on with the younger generation, especially in the early 2020s. So, if you're someone who needs a trackable wallet but also wants the wallet to show a minimalist form factor, this GOACHALE AirTag wallet should do the trick.
This leather wallet has a premium matte finish and a minimalist design. Combining top-grain leather and aluminum, the wallet provides the perfect balance between design and functionality. This adds a slim form factor as well.
Of course, as is customary, the wallet will provide you with RFID-blocking properties. This deters thieves with scanning equipment from stealing your private data, thereby securing your data. You'll also be able to store over 10 cards in the wallet, plus a few notes of cash.
Unfortunately, the wallet isn't water resistant. So, I'd recommend you keep it far away from the water.
Pros
Beautiful and minimalist design
Very slim form factor
Holds 10 credit cards and a few notes of cash
Cons
The wallet isn't water resistant
4. Access Denied wallet – Slim and sleek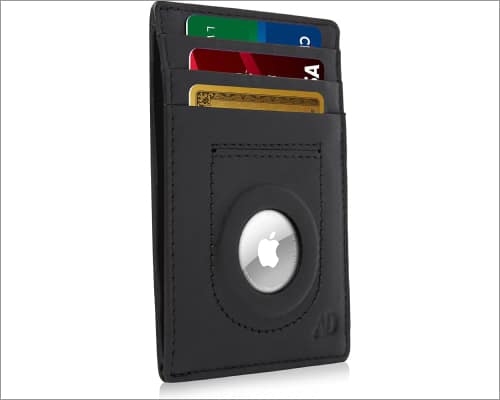 While most AirTag wallets come with a bifold or trifold design, these designs can actually ruin the slim form factor of the wallet. Although you'll be able to fit in 10+ cards and cash, you might face issues with the wallet's bulkiness. If you're looking for a truly slim and sleek wallet for AirTag, check out this product by Access Denied.
The wallet is made from genuine and premium leather. Moreover, since the wallet doesn't come in a folding form factor, you can carry it in your front pocket. Coming to the slots, the accessory has six credit card slots, an ID window at the back, and a center pocket for extra cards or cash. Despite the small form, it can hold quite a few cards!
The wallet is also compliant with FIPS-201 standards, which means that RFID 13.56MHz signals won't be able to scan your credit cards for stealing data. Overall, this wallet is stylish, functional, and light as air!
However, you may have to keep the wallet away from badges or cards operating at lower frequencies (120 – 150 kHz).
Pros
Very slim and sleek design
Excellent build quality
Can hold 6 credit cards, one ID card, and extra cash
Cons
May not block waves at lower frequencies
5. Medrega wallet – Steel for the ultimate durability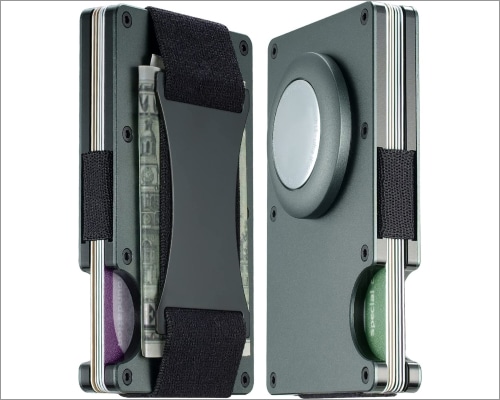 Your wallet is an accessory that is designed to store some of the most important items for your daily operation. So, you can't go around with a wallet that is flimsy and could tear open or break at the slightest tug. Fortunately, with the Medrega AirTag wallet, you won't have to worry about durability at all.
This wallet is made of stainless steel, ensuring complete durability in all situations. Additionally, you'll be able to store up to 12 credit cards inside the wallet, plus some extra cash if required. The manufacturers have also ensured that the metal plating blocks all RFID signals, thereby protecting your data at all times.
Pros
Made of stainless steel for extra durability
Holds 12 credit cards plus cash
Cons
Inserting the AirTag can be challenging
6. Hawanik slim AirTag wallet – Best for tighter budgets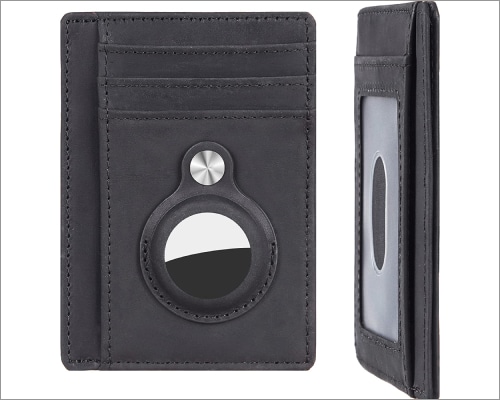 The best Wallets for Apple AirTag will not come cheap. To be more precise, most of them won't come cheap. However, the Hawanik Slim AirTag Wallet is a great value-for-money product that won't be heavy on your pocket. The wallet is made of faux leather, with a leather lining to give it a premium feel.
Moreover, despite the wallet's slim size, it can easily hold 5 credit cards, 1 ID card, and around 6 folded bank notes. Since there's no folding mechanism in the wallet, you're saved from carrying around a bulky AirTag wallet. In fact, you'll be able to place this inside your front pocket and carry it around with ease.
You won't have to worry about RFID shielding either, as this wallet can protect your information from being scanned by thieves. Overall, it's a decent product at a very affordable price.
Pros
Affordable pricing
Holds 5 credit cards, 1 ID card, and up to 6 folded banknotes
No folding mechanism to increase bulk
Cons
Can be rigid and stiff at the beginning
7. TRAVANDO wallet for AirTag – Elegant design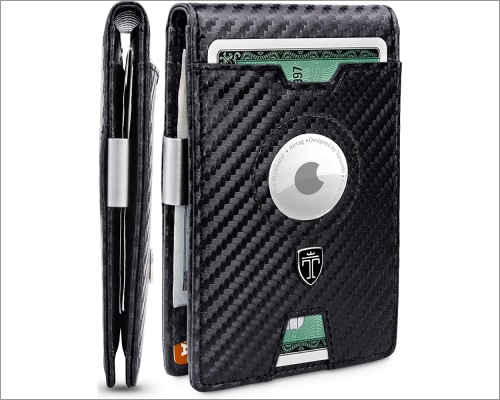 With the TRAVANDO AirTag Wallet, you'll get a wallet that's both elegant and secure. In fact, it's been tested by an independent German facility for security against RFID scanners, and the wallet has passed with flying colors. However, that's not all. You're also getting a decently designed wallet with a bifold enclosure, faux leather lining, and a premium feel.
The wallet is highly functional, coming with 11 card pockets, which are enough to carry all your credit cards, business cards, and bills. There's also an integrated metal clip that allows you to securely clip several cash notes inside the wallet. Basically, the wallet is slim, functional, secure, and elegant. Quite a package for the price, isn't it?
Pros
Independently tested by a German facility for added security
11 card pockets to hold credit and business cards
Slim and sleek design
Cons
No dedicated compartment to keep cash
8. WXM wallet for men- Rugged and robust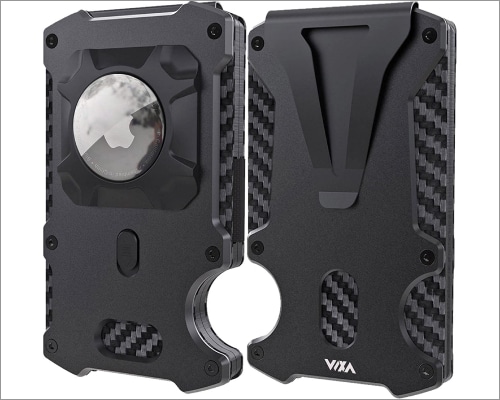 For the final entry on this list of the best AirTag wallets, we've got this WXM AirTag Wallet. Without a doubt, the first aspect of this wallet you'll notice is its build. The wallet is made with a combination of carbon fiber and aluminum alloy for excellent durability and overall robustness.
In other words, this is a tactical wallet made with military-grade materials and is built to outlast other traditional wallets. It's no slouch when it comes to storage either, providing you with enough space to store up to 15 credit cards. Of course, the wallet's metal body helps protect your cards against RFID scanning equipment as well.
Although the wallet is highly robust, it can be quite bulky to keep inside your pocket.
Pros
Very robust construction with carbon fiber and aluminum alloy
Can store up to 15 credit cards
Cons
Can be too bulky to keep inside your pocket
Summing up
AirTag wallets can be an excellent addition to your iPhone accessory list. However, you'll have to choose one that suits your needs best. Hopefully, this list of the best AirTag wallets can help you narrow down your search for the perfect wallet. Let me know in the comments below if I've missed any of your favorite products!
Read more:
Anirban is a literature post-grad who delves in philosophy and postmodern novels when not writing on tech and gaming. His love for research is only trumped by his love for chai and heavy metal.