Due to its strong graphic capabilities, the iPad has always been a terrific tool for designers and artists. Now you can do 3D modeling on an iPad, which was previously limited to CAD software for Mac. So, if you wish to do 3D modeling on an iPad, here's a list of the best 3D modeling apps for iPad.
1. Shapr 3D CAD modeling – Editor's choice
Requirements: iPadOS 14.0 and later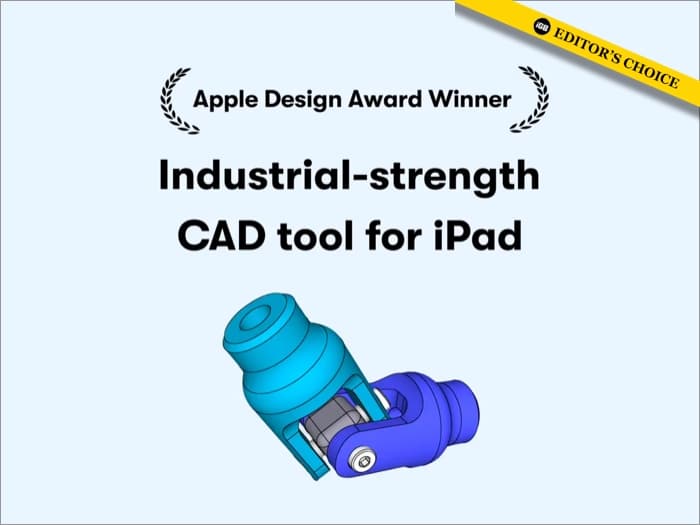 Shapr 3D, the 2020 Apple Design Award winner, is a computer-aided 3D design app for iPad with a full range of 3D modeling features. This app uses the Simens Parasolid engine to generate 3D models. As a result, it has become the most potent iPad CAD app. You can use 2D and 3D modeling tools, export manufacturing-grade 3D models, and more.
So, the app is an excellent alternative for engineers and industrial designers. Also, it allows for connecting to desktop CAD software like NX, Creo, Catia, etc., for more precise formatting and editing. The app got noticeable visualization elements in the recent update, including additional material, lighting, and environment settings. The turn-off for me was that the app only works with Apple Pencil-compatible iPads.
Pros
Advanced modeling engine
Good for parametric modeling
Create 3D designs without internet
Cons
Only compatible with iPads supporting Apple Pencil
Price: Free (In-app purchases start from $29.99)
2. Tinkercad – For beginners
Requirements: iPadOS 12.0 and later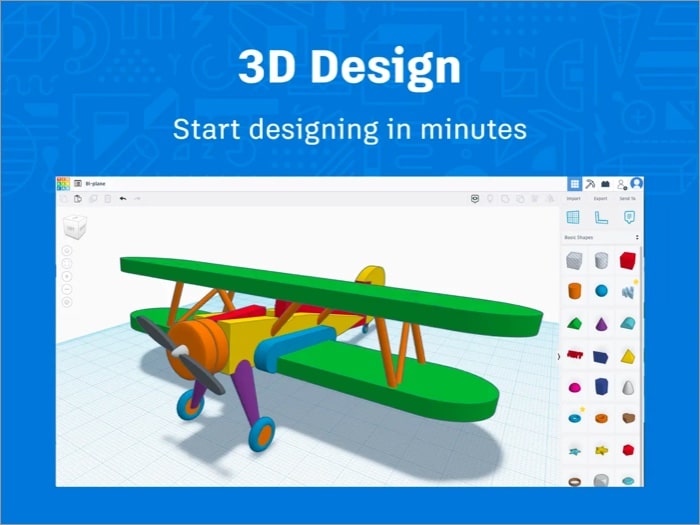 There are very few free 3D modeling apps for iPad, and Tinkercad by Autodesk is one of them. It retains several popular design features of Autodesk, such as a user-friendly interface and Tinkercad Tutorial Plans. So, you may begin learning the fundamentals of innovation, including 3D modeling, electronics, and coding on this app.
You can use Arduino and micro:bit microcontrollers while creating circuits. Besides, the Apple Pencil compatibility helps to draw with ease. And the AR viewer superimposes your 3D model to test its use cases in the physical environment. The best part is the app is ad-free and has kidSAFE certification. So, people of any age can use it.
Also, Tinkercad offers Codeblocks to create 3D designs from code. It supports multiple file types like STL, OBJ, and SVG to import or export projects. But as per my experience, it's not good for professional designs or advanced modeling. Also, I faced some bugs while signing up, as the app automatically logs out sometimes.
Pros
Unique CodeBlocks support
kidSAFE certified
Ads free
Compatible with Google Classroom
Cons
Not for advanced 3D designs
UX needs improvement
Price: Free
3. SketchUp – With unlimited cloud storage
Requirements: iPadOS 15 and later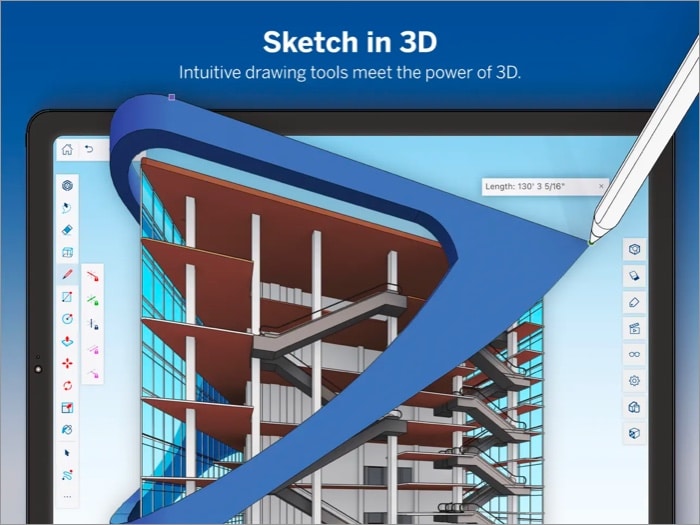 SketchUp is a user-friendly 3D design app for architects, interior designers, construction specialists, and creatives. The only thing is the free version is limited to viewing features. You may take advantage of the seven-day free trial to check out all functionality. And if you like, pay $119 a year for an in-app membership to access premium options.
It's compatible with Apple Pencil, mouse, keyboard, or multi-touch gestures. Besides, the Autoshape feature turns your sketches into 3D models. Also, you can add handwritten notes to 3D models using the Markup mode. I liked the 3D Warehouse with millions of ready-made parts, materials, and programmable objects for free download.
You can see your designs in the actual world using ARKit, the augmented reality (AR) viewing tool. The app allows importing location data, 3D landscape, and satellite photos to produce precise shadow studies. You can also sync files across all your devices with unlimited cloud storage. Besides, by turning Tags on or off, you may change the visibility of certain model components.
Pros
Cloud backup
Add photo textures
Multi-touch gestures
Price: Free (In-app purchases start from $119.99)
4. uMake – Renderings like a pro
Requirements: iPadOS 13.0 and later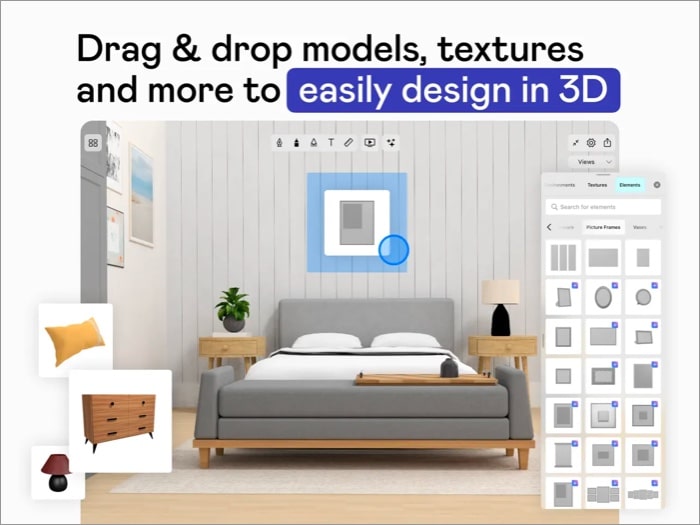 uMake is packed with an array of features and is easy to use, empowering 3D CAD experts and beginners. You can sketch, edit, export, visualize, render, and share your ideas in 3D designs. I found the drag-and-drop 3D models feature and simple lighting and rendering settings. The best part is it supports pressure sensitivity for the Apple Pencil.
You may produce precise, smooth NURBS vector-based curves and surfaces. You may also use mass modeling features, including push and pull, extrude along the path, revolve, array, layers, and geometry grouping. The unique rendering engine produces stunning images quickly and exports them to the STL, OBJ, STEP, and IGES formats. But I feel the free version is very limited.
Pros
User forum
Amazing presentations
One-minute video tutorials
Cons
The free version has fewer features
iCloud sync has bugs
Price: Free (In-app purchases start from $2.99)
Requirements: iPadOS 12.0 and later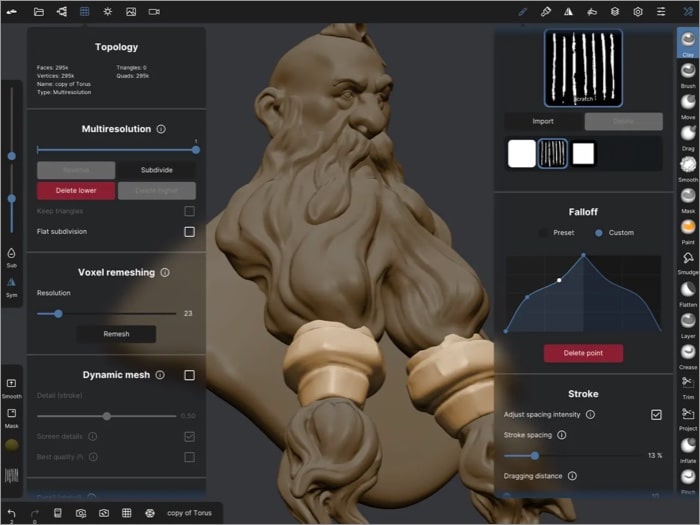 Nomad Sculpt boasts excellent sculpting tools and brushes. So, it is an alternative to Mac 3D modeling software like Zbrush or Blender. Its user-friendly UI was created with mobile usage in mind, and you can modify the interface as you like. Also, you can use several sculpting tools, including Clay, Flatten, Smooth, etc., and customize the strokes.
This iPad design app is unique because it can seamlessly sculpt complex polygons. I liked its Vertex painting technique with multiple resolution layers. The app has PBR rendering by default for previewing how your models will look in the HDRI environment.
Pros
Multiresolution sculpting tools
Stroke customization
Dynamic topology
Cons
Not good for animation
Drains battery fast
Price: $14.99
6. Sculptura – Easiest 3D sculpting app
Requirements: iPadOS 15.2 and later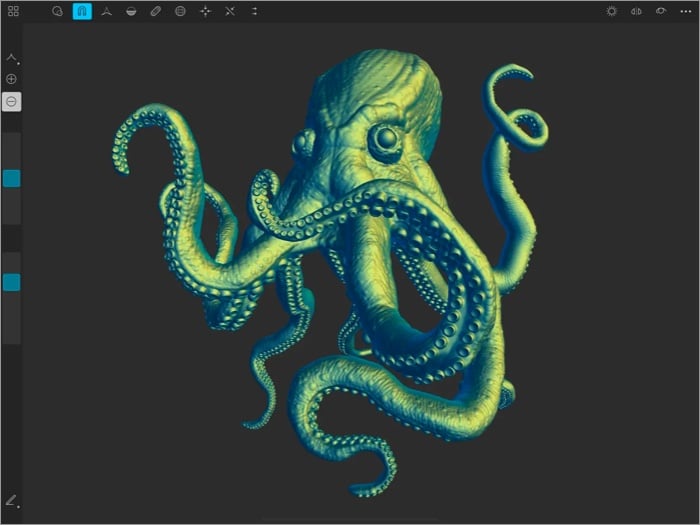 Sculptura is among the most user-friendly and powerful 3D modeling apps for iPad. It has an innovative clay engine with exceptional resolution and tools to create amazing abstract art and 3D models. Besides, I liked its GPU acceleration using Metal to speed up the whole sculpting process. If you want to return any past stokes, you can do that with a long undo history.
Also, the exquisite rendering in real-time makes your sculpture look fantastic. The app supports Files, iCloud backup, Alembic, OBJ, STL, and USD file types. You may get ideas and inspiration from built-in templates and do symmetric sculpting. The best part is your projects aren't exported in large files, so you may save space. But I feel the app should have offered more sculpting options at this pricing.
Pros
Full GPU acceleration
Artist-created templates
Long undo history
Cons
Limited features for professional works
Price: $9.99
7. Putty 3D- Best in budget
Requirements: iPadOS 11.0 and later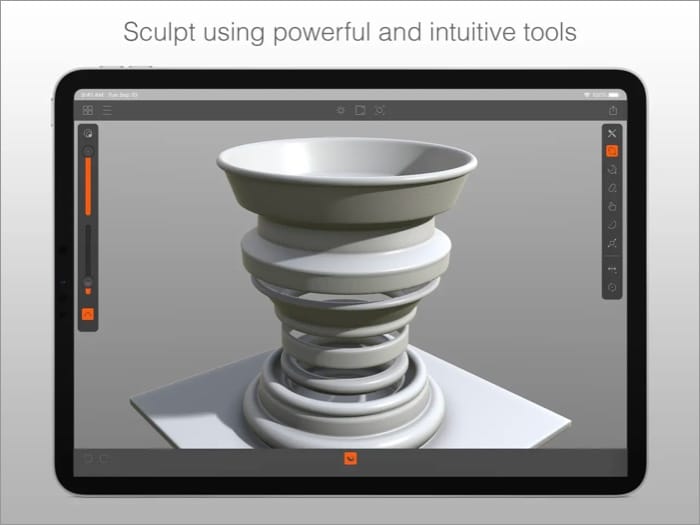 Putty is more of a 3D sketchbook. It uses your iPad's powerful graphics processing to provide a fluid and understandable sculpting experience. So, you can have larger sculpting volumes and even smoother performance with Apple Pencil. Besides, the 3D Touch support provides accuracy and pressure sensitivity.
You may export your creations to your preferred modeling, animation, and 3D printing software for Mac. This is possible because of the built-in support for OBJ and STL export. Also, you can use 3D printing to make your designs a reality. I liked its physicality-based rendering method that makes the materials look real. But I think if the app had a layer option, the 3D models would look more lively.
Pros
Export support for 3D printing
3D Touch support
Record videos of your work
Cons
No layers option for modeling
Complex navigation and controls
Price: $4.99
8. Morphi – Create your NFTs model
Requirements: iPadOS 12.0 and later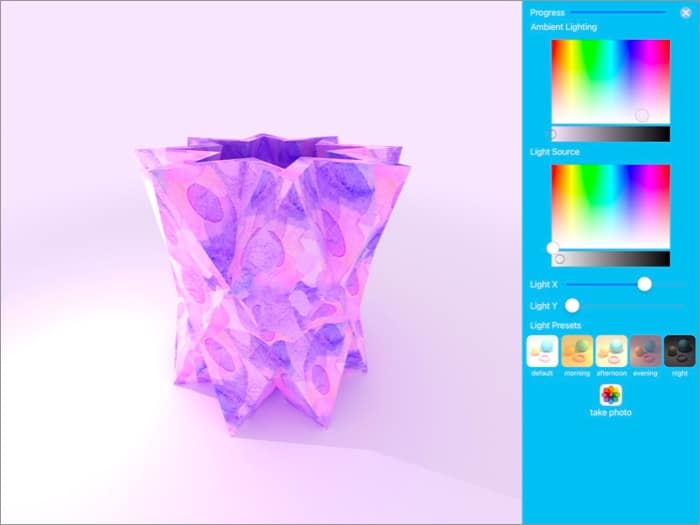 Morphi is an iPad design app for generating and editing 3D models for augmented reality, virtual reality, 3D printing, animation, game creation, prototyping, and NFTs. It's effective and easy to understand. Its free version offers decent features, so you may test every 3D design tool, including AR + 3D Render, before purchasing.
Your iPad should support ARKit to experience immersive AR and snapping. Besides, the premium features include importing and exporting 3D models in STL and OBJ file formats to other AR/VR platforms. So, you can render your 3D models in the highest resolution without a WiFi connection or logins. The powerful CAD tools help in the creation of more complicated designs.
The 3D lithophane tool allows 3D printing. Mostly, I have used it to create editable 3D designs from high-contrast photos. Besides, you may add textures to your models and type 3D text. The best part is it supports backup to iCloud, Google Drive, Adobe Creative Cloud, etc. Also, you can learn and showcase your designs to its amazing community.
Pros
Typing tools for 3D text
Does not require logins or a WiFi connection
Incredible community
Cons
No auto-save option
The app may crash while changing views
Price: Free (In-app purchases start from $0.99)
9. Onshape 3D – CAD for free
Requirements: iPadOS 14.0 and later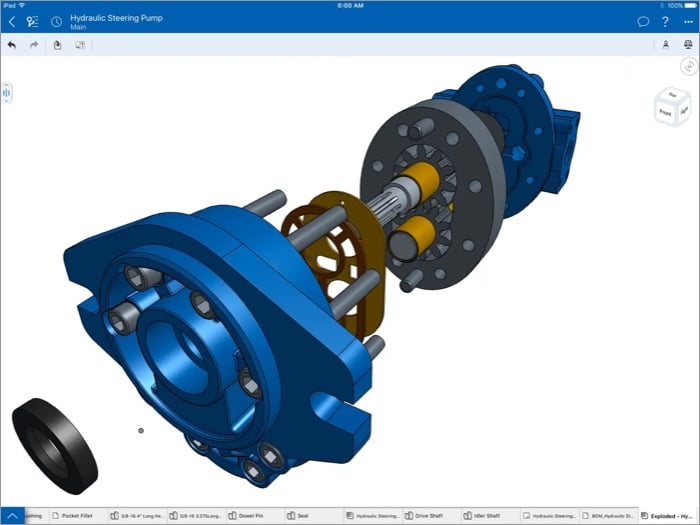 Onshape is a mechanical iPad CAD app for seasoned users and large teams. Thanks to the secure cloud workspace, you may create, edit, and collaborate with other users in real time. Also, you can work on a single project from multiple devices. But you are required to have an internet connection. Besides, the app offers a comprehensive set of parametric modeling tools.
You may use the built-in commenting feature in Onshape's Follow mode. Also, the Apple Pencil compatibility makes drawing, navigating, and precise selecting easier. I recommend this app as it's an open-source public workspace to support educators and students at no cost. The app updates dozens of new features and user-requested improvements every few weeks.
Pros
Full mechanical CAD platform
Collaborate with team
Easy data management
Cons
Don't have a dark mode
Hard to find commands
Price: Free
So, that's all for today, folks!
All these 3D modeling apps for iPad are dependable, practical, and creative. These apps allow you to do your CAD work anywhere. Pairing it with Apple Pencil boosts efficiency and designing capabilities. There is an app for everyone, regardless of whether you are a student, professional, or hobbyist. So, choose the app that best meets your design requirements.
Read more:
Readers like you help support iGeeksBlog. When you make a purchase using links on our site, we may earn an affiliate commission. Read Disclaimer.