Computer-Aided Design (CAD) software has made a designer's life easier; it's quicker and gets more accurate results. And don't forget the tons of extra tools like rendering, simulation, etc. If you're new to the field or can't decide which software to pick, this list of the best CAD software for Mac can help you out.
The list is not merely suggesting the names, but I'll be digging deep into each software to help you decide which one works best for you.
How to choose the right CAD software?
While a lot depends on your skill and talent, a significant portion also depends on your software. So, learning, adapting, and employing the right CAD software is absolutely necessary. But how do you find the right match? Consider the below points:
Your design need – What do you do or intend to do? Will you be doing 2D drafting or 3D modeling, or both? Will you be designing buildings, jewelry, interiors, furniture, or cars?

Features – This stems from the previous point, what features will you need to design your object. Every CAD software does not support all kinds of tools. So, look for the industry-specific tools you require.

User interface – Once you've narrowed down the type of CAD software and specific tools, the next step is to judge the interface. How steep or shallow is the learning curve? Will it suit your style and skill set (beginner, intermediate or professional)?

Market expectation – What skill does your job profile require? Does the industry prefer AutoCAD designers over Rhino3D or vice versa?

Budget – Generally, CAD software are on the expensive side, so you'll have to think hard before you swipe your card. A thorough comparison of price vs. features and subscription vs. one-time purchase is necessary.

Compatibility – CAD software are CPU/GPU-intensive programs, so having the right compatibility is a must. Check whether the software of your choice is compatible with your Mac and macOS versions.
Our criteria for choosing CAD software for Mac
Almost all the criteria mentioned above have been taken into account and broadly categorized into:
Ease of use
Design and simulation tools
Templates and customization
Collaboration
5 Best CAD software for Mac
1. Rhino3D – Editor's choice
Interface: Beginner to intermediate level
Great for: Industrial design, product and jewelry design, and architecture
Compatibility: Mac (Intel and M1 via Rosetta 2), Windows
Software overview: Getting Started with Rhino 7 by Rhinoceros3d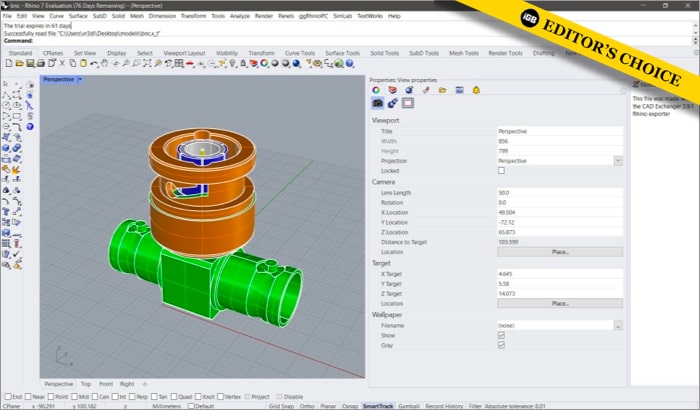 Rhino3D takes a different route for 3D designing. Instead of a polygon mesh-based approach (used by most CAD software), Rhinoceros employs a NURBS mathematical model (produces a mathematically precise representation of curves).
In simpler terms, the software gives you better freedom for drawing curvaceous designs and manipulation. So whether it's an automobile, jewelry, furniture, machinery, architecture, or graphic design, you get better output.
Furthermore, it can be used as a standalone app or paired with other CAD, CAM, MCAD, CAE, and BIM programs.
Ease of use
Rhinoceros has a similar interface to Autodesk products, so the learning curve is significantly shallow if you're a designer. But even if you're a newbie, a few video tutorials from Rhinoceros3d or fellow creators would suffice.
And not just tutorials, you'll also find a host of inspiring images and videos of what can be achieved.
Design and simulation tools
Rhino3D enables you to create, edit, analyze, document, render, animate, etc. In fact, the software claims that there are "no limits on complexity, degree, or size beyond those of your hardware."
Accordingly, it is jam-packed with tools of all kinds, including model creation, editing, rendering, presentation, drafting, mesh, digital fabrication, etc. Furthermore, the latest Rhino 7 has the most significant upgrade in its history, so the tools keep getting better.
Templates and customization
Customization is a key feature of Rhino3D. You can personalize the interface completely to suit your needs. You can create custom commands and menus, save them as templates, or use default templates from the app.
What's more? Rhino supports hundreds of different CAD, CAM, CAE, rendering, and animation products. So, you can import and use numerous file formats in Rhino; plus, the openNURBS libraries allow other applications to read and write Rhino's native 3DM files.
Collaboration
Rhino3D is not designed to compete with other designing software. Instead, the multi-limbic software complements and supports them by offering extensive compatibility. Though, the key strength of the software is plug-ins.
Depending upon the task, these plug-ins help you delve deeper into industry-related tasks or automation. Some of the most popular Rhino plug-ins include LunchBox, Kangaroo Physics, Flexible BIM, and Ladybug.
Final words
Rhino3D's use case is almost endless; while designers use it to create life-like objects, 3D printing, fabrication, and more, some also use it for reverse engineering. Currently, it is becoming an in-demand skill.
If you're a budding designer, I advise you to tip your toes into the water and test it at least once. The software doesn't follow a subscription fee, and the one-time purchase price is pretty decent. However, you might have to chip in extra to get the latest update and features.
Price:
Trial – 90 days
Rhino 7 – $995
2. Autodesk AutoCAD – The most popular option
Interface: Beginner to intermediate level
Great for: Architects, decorators, engineers, construction professionals, etc.
Compatibility: Mac (Intel and M1 via Rosetta 2), Windows
Software overview: AutoCAD beginners tutorial by Skills Factory
AutoCAD is among the pioneer of Computer-Aided Design software; consider it the Photoshop equivalent of this industry. It started as a 2D tool and later progressed to include 3D design.
Furthermore, the recent updates have improved the Mac app drastically. It now boasts features almost at par with the Windows alternative and includes additional advantages like trackpad and Touch Bar support, multitouch gestures, split screen, etc.
Although, support for the native M-series chip is still missing. It works via Rosetta 2, but that certainly affects the performance and speed.
Ease of use
The basic interface is pretty generic; an extensive menu on the top and toolbars on the left and right corners of the frame. AutoCAD is quite intuitive; even new users can find the required settings in a few clicks (if not less).
Moreover, the platform's popularity guarantees a host of step-by-step tutorials on YouTube and third-party blogs. So self-learning, creation, and exploration are super accessible and easy.
Design and simulation tools
AutoCAD brings a lot to the table, starting with basic drawing and editing tools like geometric shapes, trim, extend, mirror, rotate, merge, group, etc. Plus, advanced features like 3D modeling and visualization, mesh modeling, photorealistic rendering, object selection and isolation, 3D Navigation, etc.
Furthermore, you can write scripts to automate repetitive tasks, record and run action macros, create custom line types, hatch patterns, shapes, text fonts, define command aliases, etc. The AutoCAD 2023 also boasts features like floating windows (multiple monitor support), drawing history, My Insights, etc.
The software can simulate and illustrate how the object will look in real life. But it cannot animate the object and how it will move or react; Autodesk Simulator might help you with that.
Templates and customization
The great thing about using AutoCAD is the number of resources available. AutoCAD brings an array of pre-build DWTs (custom drawing templates) for starters. And some online communities and websites share special templates, similar to how video creators share/sell their Final Cut Pro plug-ins.
You can create a drawing template suiting your requirements or mold an existing one to suit your needs. Moreover, AutoCAD incorporates several subsets with industry-specific toolsets to cater to specific design areas, like mechanical design, product design, electrical engineering, architecture, etc.
Collaboration
AutoCAD boasts an extensive ecosystem with Mac, Windows, mobile, and web apps that enable seamless integration between one or more devices. And if you're part of a team, you can collaborate or annotate drawings, quickly gather drawing data, and share it safely and securely.
AutoCAD also inculcates 1,000+ third-party apps support, APIs, and more to smoothen out users' workflow.
Final words
AutoCAD supports both 2D and 3D designs plus boasts industry-specific tools. So, we can safely call it an all-in-one solution. Looking into its offerings, I won't call the software super expensive. But it can be difficult for freelance designers and beginners to chip in that much.
Although, if you only deal with 2D designs, a cheaper Autodesk AutoCAD LT can be a worthy contender.
Price:
Trial – 30 days
Monthly – $235
Yearly – $1,865
3. TurboCAD – Cost-effective AutoCAD alternative
Interface: Beginner-friendly
Great for: AEC industry, woodworkers, and furniture designers
Compatibility: Mac (Intel and M1 via Rosetta 2), Windows
Software overview: TurboCAD beginners tutorial by TurboCAD Design Group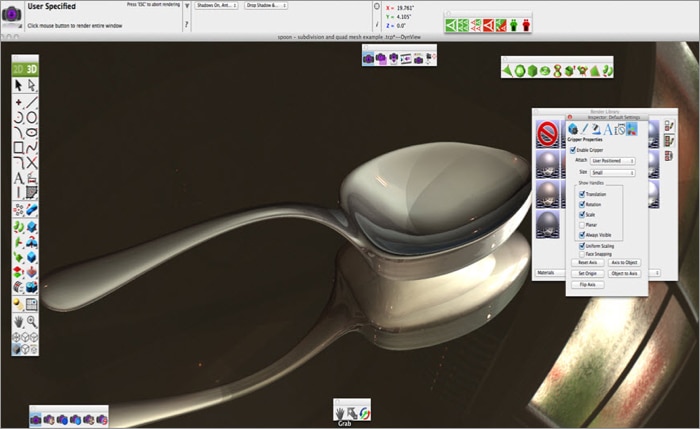 TurboCAD offers a similar feature set as AutoCAD. It enables users to draw free-form 2D renders and 3D designs. Although, TurboCAD takes a more beginner-friendly approach with an easier to adapt learning curve and cost-efficiency.
Let's put it this way, the concept/functionality of drawing and creating design is similar. However, the tools and UX are a bit different. In fact, the developers provide an interesting ebook resource that helps users transition from AutoCAD to TurboCAD.
Ease of use
TurboCAD is a great place to start if you're new to 2D or 3D modeling, as the learning curve is not as steep. Furthermore, the developers offer a range of step-by-step tutorials on YouTube to help you grasp the basics and master the new features.
Additionally, they also host Community Forums, where designers of every level can interact and resolve their queries. Although the forums seem to be a bit of a dud, you can always search on Google or ask on Quora and Reddit; the software is popular enough to get your answers.
Design and simulation tools
TurboCAD is packed with tools for 2D drafting, 3D surface and ACIS® solid modeling, 3D printing, assembly, advanced architecture, woodworking, and whatnot. It also excels at photorealistic rendering with thousands of built-in symbols, materials, decals, etc.
The latest TurboCAD Mac Pro v12 further brings advanced features like split mesh, wrap, mesh booleans, photo-rendering, best fit line/circle, weight and volume tables, etc.
Templates and customization
TurboCAD doesn't have a pre-cooked template gallery, but you can create, save, and edit templates to be used later. Interestingly, the software supports import/export DWG and DXF (AutoCAD extensions), Adobe Illustrator, PDF, SketchUp 2020, etc.
So, you can use these resources and their pre-built templates to build your designs. While the software offers plenty of customization tools, it lacks in the automation sector, like you can't create macros to repeat certain menial tasks.
Collaboration
TurboCAD doesn't have dedicated mobile apps, but it has the next best thing. The software seamlessly integrates with various mobile apps such as TuroSite, Turboreview, DroneScout, etc.
Thanks to it, you can import live feedback from the field and collect aerial data via DJI Phantom Series drones. There's also an expensive TurboCAD for teams/professionals edition offering a complete set of collaborative tools.
Another smart feature in TurboCAD is the extensive support for the import/export of various file types. While adding a step still allows users to share and collaborate without chipping in extra.
Final words
If you compare TurboCAD and AutoCAD in features and output quality, the latter will lead. However, TurboCAD stands as a perfect candidate for beginners; it's affordable and easier to use.
Notably, many designers/companies/institutions use TurboCAD as a stepping stone. Once they became deft, they advanced to AutoCAD. Although, you should note that TurboCAD is not as low-priced.
It smartly offers the basic tools for a base price for a single user. And when you need the latest features, add collaborators, or get specific-advanced tools, you'll have to pay extra for what you need.
Price:
Trial – 15 days
TurboCAD Mac Pro v12 – $699.99 (professional 2D/3D design and rendering)
TurboCAD Mac v12 PowerPack for Deluxe – $299.99 (extra for 3D printing tools, mesh tools, and more)
4. Fusion360 – Cloud-based 3D modeling software
Interface: Intermediate level
Great for: Product designers, 3D printing, prototypes
Compatibility: Mac (Intel and M1 via Rosetta 2), Windows
Software overview: This is Fusion 360 by Autodesk Fusion 360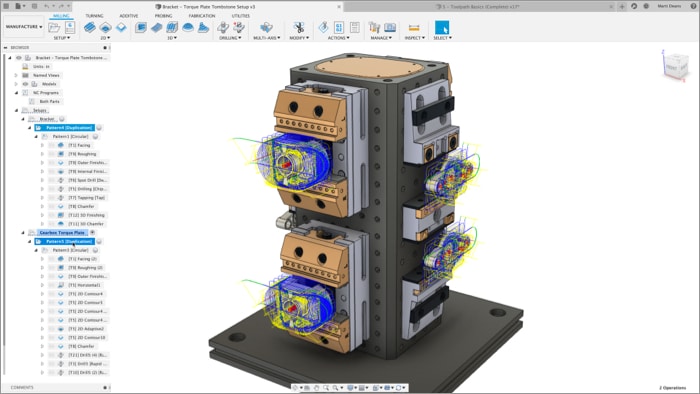 From the house of Autodesk (creators of AutoCAD) comes another CAD software, Fusion360. And while there are some similarities, a lot is different between the two. For one, Fusion360 is a cloud-based 3D CAD, CAM, and CAE tool that concentrates heavily on 3D modeling.
Furthermore, it is an entirely cloud-based system with unlimited storage and access. It keeps the data safe and secure plus makes cross-platform access and real-time collaborations a breeze.
Ease of use
With 3D modeling at its forefront, Fusion 360 has a slightly complex UX and a steep learning curve. But as usual, there are plenty of resources from product documentation and videos to community forums that'll make things easier.
What's great is that the software fuses freeform modeling and solid, parametric, and mesh modeling. So once you get the hang of it, achieving great results is a certain possibility.
Design and simulation tools
Fusion360 is a complete 3D modeling software, and accordingly, it has all the tools one would need, from a full suite of sculpting tools to simulation tools that can test fit, motion, and pit designs against real-world conditions.
Furthermore, it integrates CAD and CAM, allowing users to streamline additive and subtractive manufacturing and 3D printing enthusiasts to create prototypes. Fusion360 also employs extensions to make workflow seamless.
Thanks to it, you unlock various complex capabilities like machining strategies, generative design, and additive manufacturing workflows.
Templates and customization
Fusion360 can seamlessly adapt to AutoCAD drawing templates (DWT), which means you have a host of pre-built templates at your beck and call. You can also build a custom template and employ extensions to suit your workflow.
Collaboration
Thanks to the cloud-based design, Fusion360 enables synchronized bi-directional changes. That means you can invite multiple team members and make simultaneous changes in the projects. Naturally, you can also track changes.
Final words
In many ways, Fusion360 is the advanced version of AutoCAD. It makes processes like sculpting, fabrication, live simulation, and collaboration quite simple. If your major workflow is surrounded by 3D modeling, prototyping, or printing, there's barely any product better than this.
It's like taking advantage of all the perks of AutoCAD and then some at a considerably lower price tag.
Price:
Trial – 30 days
Monthly – $60
Yearly – $495
5. Blender – Best free 3D modeling software
Interface: Beginner to intermediate level
Great for: Game design, digital sculpting, CGI, character animation, illustration
Compatibility: Mac (Intel and M1 via Rosetta 2), Windows
Software overview: Blender 3.0 Beginner Tutorial by Blender Guru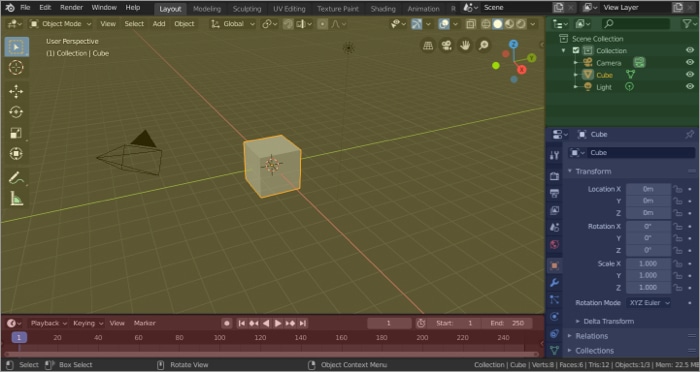 Blender is the answer to all the prayers of students, beginners, and hobbyists. The free and open-source software brings some strong tools to the table. Plus, an equally strong community to support and encourage your endeavors.
Furthermore, it is the real jack of trade. You can render, model, animate, rig, sculpt, simulate, create VFX, edit videos, etc.
Ease of use
Blender isn't the most beginner-friendly software. The UI can get daunting between the many features and toolsets. However, everything becomes smooth sailing once you get the hang of it.
You can even expedite the workflow by customizing the keyboard and mouse shortcuts and training them to do your bidding. And thankfully, there are endless resources and support. Whether you prefer step-by-step written or video tutorials.
One of the key strengths of Blender is its community. You can easily interact with fellow beginners, professionals, students, etc., to clear out doubts or get inspiration.
Design and simulation tools
Blender is a multipurpose software, and its tool belt is packed with some exclusive and fine tools designed to smoothen a 3D artist's workflow.
The users are also privy to UV editing, rigging, texture painting, rendering engines (built-in and third-party), and the usual drawing and editing features.
Furthermore, Blender offers organic and exceptionally smooth 3D modeling tools that aid digital artists in sculpting natural shapes with unparalleled fluidity.
Templates and customization
The benefit of a strong community is that you'll find a jarring array of Blender templates online. You can make a specific Google search or check out the demo files published on the main website.
And whether you want to explore modeling, sculpting, fluid simulation, or geometry nodes, demos, and templates are readily available for almost every tool/feature.
Collaboration
Quite like plug-ins in Rhino3D, Blender has an add-on. And while most of them are built to automate, enhance, and smoothen out the workflow, a few allow real-time collaboration. The three that I personally feel work best are multi-user add-on, Mixer, and Evercast.
Final words
Blender is a blend between CAD and CGI software, which gives it some obvious benefits, such as the 3D modeling being more natural. However, it might not be suited for architects, engineers, etc., as the tools and calculations you need for precision are missing.
But if you're a product designer, animator, graphic designer, or game designer, Blender is a worthy option.
Price: Free
Signing off…
I hope I was able to help you find the right CAD software for Mac. If you have any other suggestions or would like us to explore and review some other apps, share the recommendations in the comment section below.
Other interesting Mac apps you should check out:
A self-professed Geek who loves to explore all things Apple. I thoroughly enjoy discovering new hacks, troubleshooting issues, and finding and reviewing the best products and apps currently available. My expertise also includes curating opinionated and honest editorials. If not this, you might find me surfing the web or listening to audiobooks.