Apple AirPods have been dominating the wireless earbuds market for a long time. Ever since the first generation AirPods arrived, several companies started replicating the design, and then came the boom of TWS earbuds.
However, none has given true competition to Apple AirPods Pro until now. Now, we have a worthy competitor who could pose a serious challenge to Apple's AirPods Pro. Nothing, a tech startup founded by Carl Pei, OnePlus co-founder, has recently launched a unique and innovative pair of earbuds called Nothing Ear (1). Let's see how it fares against the mighty Apple AirPods Pro.
Apple AirPods Pro vs. Nothing Ear (1): Specifications
Before we delve into the nitty-gritty, check out these specifications of both earbuds to draw a fair comparison.
Specs
Nothing Ear (1)
AirPods Pro
Design
In-ear
In-ear
Noise-canceling
Yes
Yes
Case size
2.3 x 2.3 x 0.9 inches
1.8 x 0.9 x 2.4 inches
Weight
5.4g per earbud
4.70g per earbud
Connectivity
Bluetooth
Bluetooth
Wireless charging
Yes
Yes
Battery life
– 4 hrs with ANC
– 5.7 hrs without ANC
– 27 hrs ANC with charging case
– 38 hrs ANC off with charging case
– 4 hrs with ANC
– 5 hrs without ANC
– 18 hrs ANC with charging case
– 24 hrs ANC off with charging case
Water-resistant
IPX4 rating
IPX4 rating
SoC
NA
H1
Additional features
– Transparency mode
– EQ presets
– Find My earbuds
– Customizable gesture settings
– Fast pairing
– In-ear detection
– Transparency Mode
– Adaptive EQ
– Dual beam-forming microphones
– Spatial audio with dynamic head tracking
– Audio sharing
– Siri support
– Automatic switching
– Live Listen Audio
Price
$99
$249
As you can see in the table above, Nothing Ear (1) and Apple AirPods are equally feature-rich, at least on paper. Now, let's compare both on other parameters to see which comes out to be the winner.
Design
It would not be wrong to say that design is the USP of Nothing Ear (1). The company has imparted a 'transparent' look to the earbuds to make its design stand out from its competitors. Through the transparent design, you could almost see the circuitry inside the earbud. L and R are marked with red and white spots to avoid any confusion.
Apple AirPod Pro, on the other hand, have a very specific design with short and tilted stems. Both the earbuds have a similar earth design with an oval tip to fit snugly inside the ear.
There is also a difference in the weight of the two, Nothing Ear (1) being the lighter ones. If you plan on wearing the earbuds for a long time, Nothing Ear (1) would probably be more convenient due to their lightweight.
Coming to the charging case, AirPods Pro have a wide but small case that is easy to carry in your pant pocket. Similar to its earbuds, Nothing has adopted the transparent design approach in its charging case as well.
Another benefit of having a transparent case is that you can see whether the earbuds are present in the case, as more often than not, you forget whether you've put them inside. However, Nothing's charging case is slightly bigger and could be awkward and uncomfortable to carry in your pocket.
Winner: Nothing Ear (1)
Comfort and fit
The primary concern for many users while buying earbuds is comfort and fit. If you're buying these wireless earbuds for gyming or cycling sessions, it becomes even more essential to own buds that fit firmly inside your ears and don't fall off easily.
Nothing Ear (1) offer a high level of comfort in ergonomics, thanks to a shorter cannula. However, the frequent movement of the head could force you to re-adjust them again and again.
In comparison, AirPods Pro aren't much different. Short stemmed design and slightly tilted earbuds sit firmly inside ears, but during brisk walking or cycling, there are chances that you'll constantly fear that the earbuds might fall off your ear.
Customizable silicone tips offer a cushioned surface to ears. You can quickly wear both earbuds for a long time without feeling fatigue in your ears.
In the comfort and fit department, Nothing Ear (1) and AirPods Pro are fairly square. If you're looking for wireless earbuds for jogging or gaming, you might want to consider other alternatives.
Winner: Tie
Sound quality
Here comes the most crucial parameter – sound quality. Undoubtedly, Apple AirPods Pro fall in the category of premium earbuds with a price tag of $249; therefore, you'd expect premium sound quality, and Apple doesn't disappoint at all.
Fitted with a custom high-excursion Apple driver and a custom high dynamic range amplifier, Apple AirPods Pro deliver excellent balanced sound.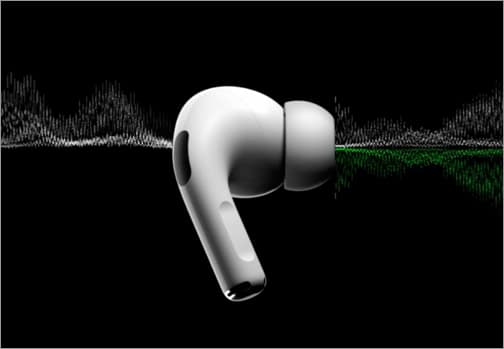 You could feel the sound clarity and detail in AirPods Pro. In addition to detail, Apple's attempt to adjust the sound quality according to your ear's anatomy using DSP results in a tailored sound quality which, of course, varies according to user preference.
Nothing Ear (1) have really tried to offer the same sound quality as AirPods Pro with its 11.6mm dynamic drivers with a graphene coating, but you could feel a slight dampening in the music.
The tonal balance between mids, highs, and treble is well proportioned. Nothing Ear (1) come with sound tuned by audiophile wizards – Teenage Engineering.
However, Ear (1) are still not comparable to AirPods Pro in sound quality. There's an evident lack of punch found in premium earbuds like AirPods Pro and Jabra Elite 85t. But they're still much better than any other sub $100 earbuds.
Winner: AirPods Pro
Active Noise Cancellation (ANC)
If you're in the market for earbuds, ANC has lately turned out to be a vital feature to look out for. Active Noise Cancellation is a feature that blocks ambient noise and focuses on the sound you want to listen to. Unfortunately, Nothing Ear (1)'s ANC is not on the same level as Apple AirPods.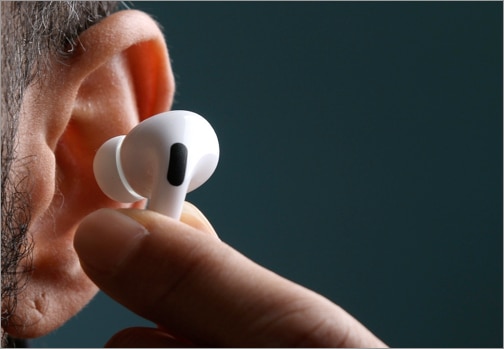 Once you turn on the ANC in Ear (1), the sound minimizes, but it still cannot achieve the noise cancellation that AirPods Pro offer. While Apple AirPods does not throw any issue even when you are in a boisterous surrounding like a moving train or heavy traffic area, Ear (1)'s ANC isn't as effective in blocking out high-pitched sound.
Although Nothing deserves brownie points for including ANC in the sub $100 earbuds, comparing them with AirPods Pro won't be justifiable. It's not Ear (1)'s fault, but the competitor has set the standard so high that it's almost impossible to beat it.
If you're purchasing the earbuds for the first time and want to experience the feature, Nothing won't disappoint.
Winner: AirPods Pro
Controls and features
Apple AirPods Pro come equipped with premium features like fast switching between Apple devices, Siri support, spatial audio, head tracking, and the feature where Siri could read your messages aloud.
On the other hand, Nothing Ear (1) aren't short of features either. You get Android fast pair, find my earbuds, customizable gesture settings, and more.
Gesture control is equally remarkable on both: AirPods Pro and Nothing Ear (1). You can customize the gestures by pairing your Ear (1) with the dedicated app. You also get a couple of EQ presets to adjust the sound according to the music you are listening to.
Here, Nothing Ear (1) emerges as a winner as it comes with a dedicated app that offers a customizable experience to users.
Winner: Nothing ear (1)
Battery life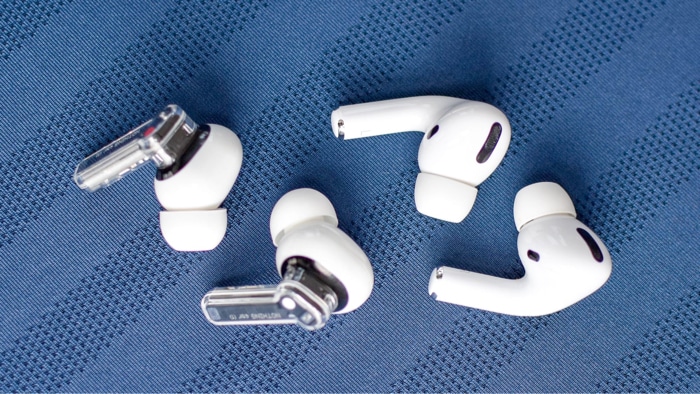 On the specs sheet, Nothing Ear (1) have a clear advantage over AirPods Pro in battery life. Nothing claims to offer 5.7 Hours of uptime without ANC, while Apple promises the uptime of 5 hours.
With the charging case, both offer almost similar battery life. However, Apple's H1 chip is much better in battery management as we know Apple's optimization level is superior.
The real-life results could vary depending upon your usage, but there won't be a substantial difference, it seems. Additionally, both Nothing Ear (1) and Apple AirPods Pro support wireless charging.
In this department, Apple could face tough competition from Nothing's transparent earbuds.
Winner: Tie
Value for money
Price becomes an essential factor when we compare AirPods Pro and Nothing Ear (1).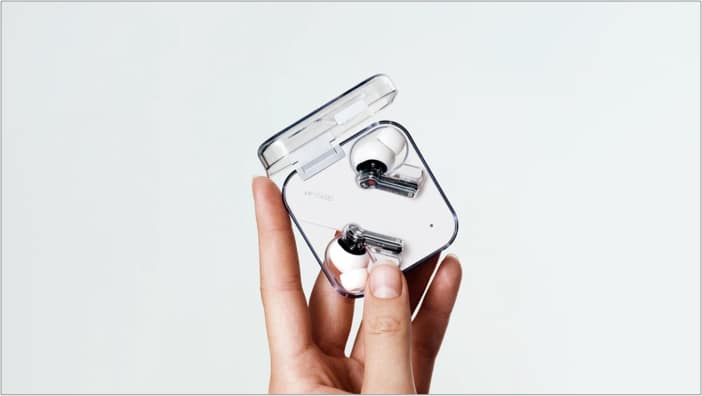 Nothing has done a remarkable job pricing their earbuds under $100. Moreover, Nothing Ear (1) is currently available for sale in 45 countries including the UK, and the USA via the official store and select retailers.

Note: You may have to wait for sometime to get your hands on them!
Apple AirPods are premium and available at Amazon and official Apple Stores.
There is a stark difference between the price of the two. However, if you want a value for money product, Nothing Ear (1) are the one you'd want to pick.
Winner: Nothing Ear (1)
AirPods Pro or Nothing Ear (1): Our verdict
As the comparison states, Nothing Ear (1) aren't better than AirPods Pro, but they come really close. Packing a load of features under the $100 tag is an achievement in itself.
AirPods Pro must be your choice if you own an iPhone, but Nothing Ear (1) can be the perfect budget AirPods Pro alternative for Android users.
This is Nothing's first product, and it's already sharing the podium with one of the best in its segment. They are almost on the same level as their premium competitors. We expect Nothing to ship an even better pair of earbuds next time, which could be positioned as the true Apple AirPods Pro killer.
You may want to take a peek at:
Readers like you help support iGeeksBlog. When you make a purchase using links on our site, we may earn an affiliate commission. Read Disclaimer.