After much speculation and rumors, AirPods 3 are finally here. And as predicted, they are more like AirPods Pro than their predecessor. The duo sports many standard features, which begs us to question whether one should go with AirPods 3 or AirPods Pro.
So, let's take a deep dive and compare the two from every aspect to find the right match for you!
AirPods 3 vs. AirPods Pro: Specs compared
Specs
AirPods 3
AirPods Pro
Price
$179
$249
Weight
– Pods
– Case

4.28 grams
37.91 grams

5.4 grams
45.6 grams
Chip
H1
H1
Bluetooth
5.0
5.0
Water-resistant
IPX4
IPX4
Siri Support
Yes
Yes
Audio Features
Spatial audio
Yes
Yes
Adaptive EQ
Yes
Yes
Active noise cancellation
No
Yes
Transparency mode
No
Yes
Sensors
Skin-detect sensor
Dual optical sensors
Dual beamforming mic
Yes
Yes
Inward-facing mic
Yes
Yes
Motion detect
Yes
Yes
Speech detecting
Yes
Yes
Force sensor
Yes
Yes
Automatic switching
Yes
Yes
Accessibility
Live Listen
Yes
Yes
Headphone levels
Yes
Yes
Headphone Accommodations
Yes
Yes
Conversation Boost
No
Yes
Battery & Charging
Earbuds battery
6 hours
4.5 hours with ANC
Case battery
Up to 30 hours
Up to 24 hours
Wireless
Yes
Yes
MagSafe
Yes
Yes
Fast charging
5 minutes charge in 1 hour
5 minutes charge in 1 hour
Design: Same same but different
AirPods 3 adopt a similar look and feel to AirPods Pro. They boast a force sensor, oblong buds, and shorter stems than Airpods 2, but without the changeable silicone ear tips.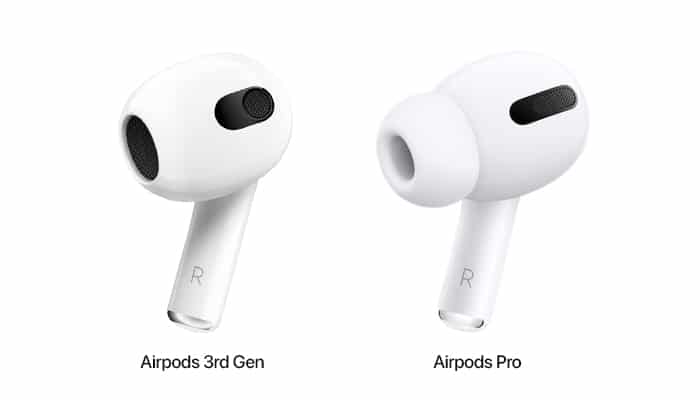 So, a great pick for those who don't enjoy the silicone, in-ear fits. However, the open design also means that you won't get a secure seal or enjoy the ANC.
Notably, AirPods 3 appear to boast a larger capacitive touch sensor on the stem. So, it is speculated that AirPods 3 might have easier and smoother controls than AirPods Pro. However, it can only be firmly stated after hands-on testing, which isn't that far. So stay tuned!
Is there a difference in AirPods 3 and AirPods pro case size?
Since the AirPods 3 case is similar to AirPods Pro, this question is natural. However, both dimensions and weight differ.
| | AirPods 3 Case | AirPods Pro Case |
| --- | --- | --- |
| Height | 1.83 inches (46.40 mm) | 1.78 inches (45.2 mm) |
| Weight | 2.14 inches (54.40 mm) | 2.39 inches (60.6 mm) |
| Depth | 0.84 inch (21.38 mm) | 0.85 inch (21.7 mm) |
| Weight | 1.34 ounces (37.91 grams) | 1.61 ounces (45.6 grams) |
Barring the height, AirPods Pro are bigger and heavier than the AirPods 3 case.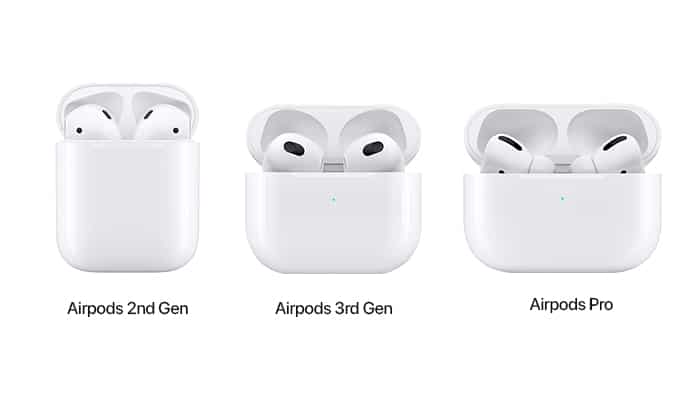 Sound quality: How important is ANC for you?
In terms of driver, both AirPods 3 and AirPods Pro boast the same custom high-excursion Apple driver and custom high dynamic range amplifier. So, we expect the same crisp, clean, and powerful sound from AirPods 3.
Well, there are some features MIA in AirPods 3. Still, they also boast massive improvements from their predecessor. All thanks to the H1 chip, you can enjoy features like Headphone Accommodations, Live Listen, and Headphone levels in both the AirPods.
Spatial audio and Adaptive EQ
Another feature previously reserved for the AirPods Pro and AirPods Max will now be available on AirPods 3. Spatial audio allows users an immersive, theatre-like surround sound experience.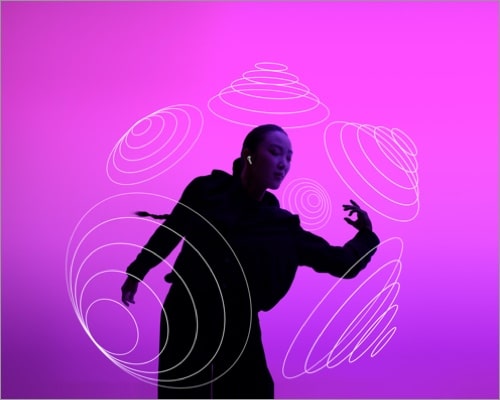 It also houses head tracking that moves the sound as you move. And then, there is Adaptive EQ, which automatically adjusts the sound based on your ear share and the fit of the buds.
Noise cancellation
Until now, both AirPods 3 and AirPods Pro stand almost equal, but the tables are about to turn. ANC, i.e., Active Noise Cancellation and all its accomplishments like transparency mode, are reserved for the premium model, AirPods Pro.
While the new design and hardware give AirPods 3 a lot of power, this particular feature is not its cup of tea.
Performance and Battery: At par with the Pro
The H1 chip is quite powerful, and Apple keeps introducing new features that make the most of this power. AirPods 3 and AirPods Pro accommodate hands-free Siri activation, Find My support, Announce Notifications, and other features.
The duo also has similar sensors and acoustic mesh cover on the microphone, so I expect their performances in terms of calls, playback, music listening to be at par.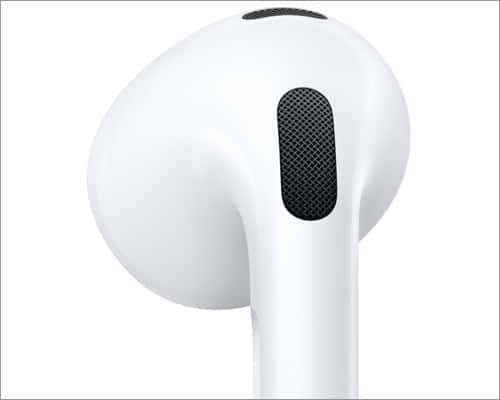 AirPods 3 also boast a new skin-detect sensor that accurately discerns if AirPods are in the ear, pocket, or table and accordingly play/pause the audio. While AirPods 2 and AirPods Pro could already do that, I guess the new sensor will make things smoother, so that's a definite plus.
Wireless charging and MagSafe
AirPods 3 and their case outperform AirPods Pro in the battery department, even if ANC is turned off.
| Description | AirPods 3 | AirPods Pro |
| --- | --- | --- |
| Buds | | |
| Listening time without ANC | Up to 6 hours | Up to 5 hours |
| Talk time with a single charge | Up to 4 hours | Up to 3.5 hours |
| | | |
| Charging case | | |
| Listening time | Up to 30 hours | More than 24 hours |
| Talk time | Up to 20 hours | More than 18 hours |
What's great is that you don't have to chip in extra for a wireless charging case like with AirPods 2. Amazingly, AirPods 3's case supports both Qi and MagSafe charging.
AirPods Pro also support these convenient charging methods. So while it loses the battery battle, it ties the charging one.
Sweat and water resistance
Another tie, AirPods 3 and AirPods Pro, both are suited for outdoor/indoor activities like running, gym, pilates, etc. However, the silicone tips have an edge, as the chances of a fall-out are a bit less. But then you can always buy an accessory like ear hooks to fix that issue.
Price: The primary deciding factor
The price difference between the two is almost $70. AirPods Pro are available at $249, whereas AirPods 3 are priced at $179. Notably, since AirPods Pro are not the latest model, they may observe better discounts during the upcoming sales than AirPods 3. This may also lead to AirPods Pro's price at par with AirPods 3. Hence, wait for the sale before upgrading or buying a new pair!
Moreover, Apple hasn't discontinued AirPods 2, so that's also in the running. But in front of these two gems, that one fades a bit.
Which is better – AirPod Pro or AirPods 3?: Our verdict
The AirPods 3 vs. AirPods Pro decision is basically a choice between
Silicone ear tips vs. no ear tips
ANC vs. no ANC
Up to 24 hours vs. up to 30 hours
$249 vs. $179
I won't call AirPods the best-priced entry-level Truly Wireless Earphones (TWF), but they are pretty decent. The galore of features you get is remarkable. Moreover, the increased battery life and seamless integration with Apple's ecosystem are undoubtedly a plus to consider.
If you like the open, no ear tips design and can go without ANC, AirPods 3 are the one! However, if ANC is important to you, add AirPods Pro into your shopping cart right now!
Want to know more about AirPods? Check out these hacks:
A self-professed Geek who loves to explore all things Apple. I thoroughly enjoy discovering new hacks, troubleshooting issues, and finding and reviewing the best products and apps currently available. My expertise also includes curating opinionated and honest editorials. If not this, you might find me surfing the web or listening to audiobooks.