At WWDC23, Apple unveiled the much-anticipated 15-inch MacBook Air. At first, it seems like a mere redesign of the existing M2 MacBook Air. But knowing Apple, you would definitely expect some improvements under the hood. So, I will take a closer look at the new 15-inch MacBook Air and provide you with all the details regarding its features, specs, performance, display, battery life, and more.
So, whether you are considering upgrading to the new 15-inch MacBook Air or are just curious about what it has to offer, this article has you covered!
15-inch MacBook Air – Specs
Size
13.4 x 9.2 x 0.63 inches
Weight
3.3 pounds
Display
15.3-inch
CPU
Apple Silicon M2 chip 8-core
GPU
8-10 core M2 GPU
(configurable up to 10-core)
RAM
8GB to 24GB
Storage
256GB to 2TB SSD
Ports
MagSafe 3 charging port, 2 Thunderbolt USB 4 ports, 3.5 mm headphone jack
Battery
18-hour battery backup
Camera
1080p HD camera
Audio
Six-speaker sound system
Price
Starts at $1,299
Design of 15-inch MacBook Air
The 15-inch MacBook shares similar specifications to the 13-inch MacBook Air (2022), including the availability of four stunning colors: midnight, starlight, space gray, and silver.
Furthermore, weighing only 3.3 pounds, the latest addition to the MacBook Air family stands out as one of the most lightweight and slim laptops available on the market. In fact, Apple has labeled it as the thinnest 15-inch laptop out there.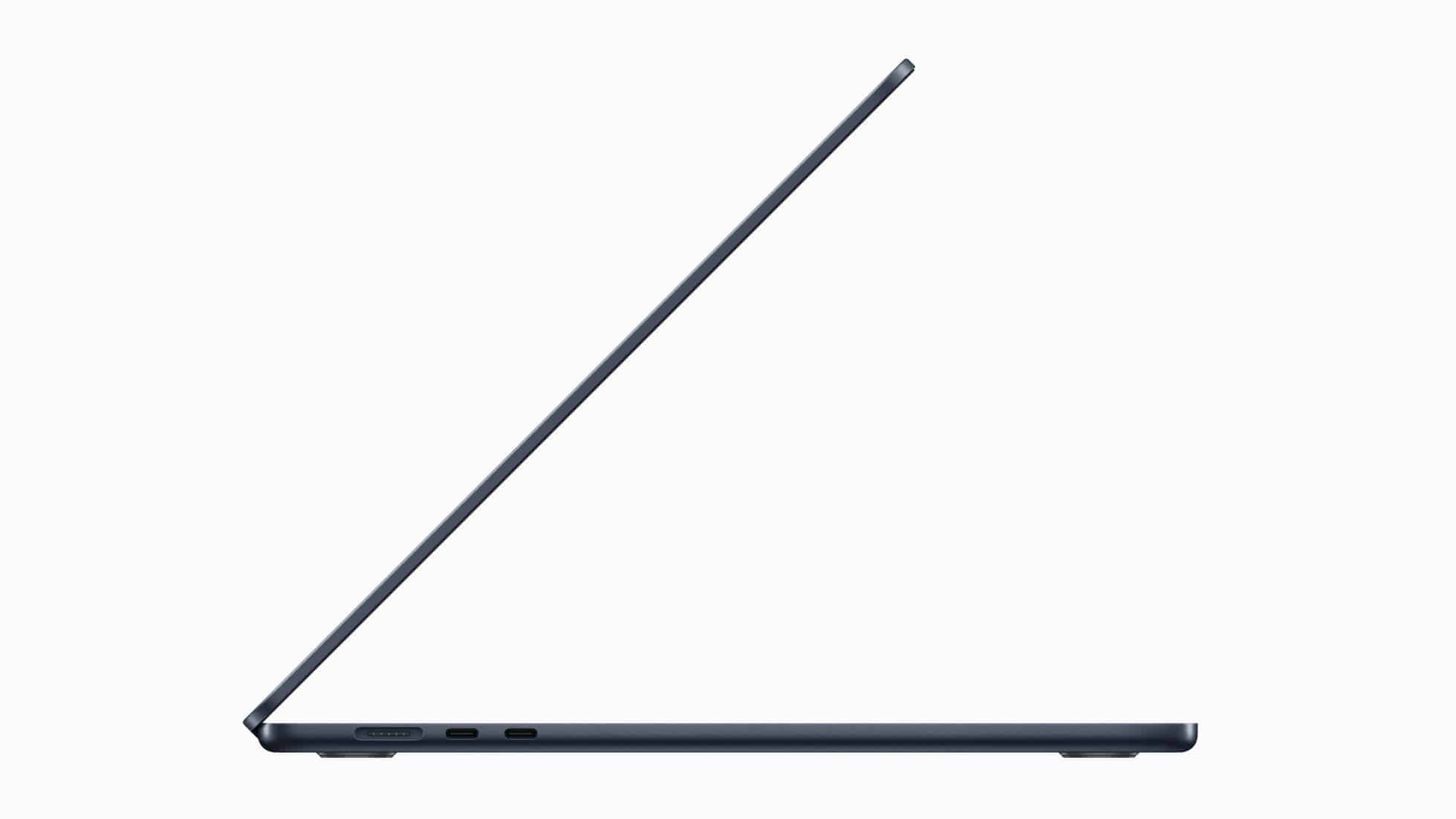 Not only that, but it also boasts a big display with a 15.3-inch main screen and relatively thin 5mm bezels. The display size and weight combine to improve the video consumption experience while retaining the signature portability of a MacBook Air.
In Apple terms, the 15-inch MBA is 40 percent thinner and half a pound lighter than the majority of PC laptops on the market.
15-inch MacBook Air – Processor
The 15-inch MacBook Air comes equipped with the M2 chip, which has an exceptional 8-core CPU, 10-core GPU, and 16-core Neural Engine and is hailed as one of the most efficient chips available today.
The makers claimed that the new 15-inch MacBook Air delivers on the performance front, outpacing the best-selling 15-inch PC laptops with Core i7 processors by up to two times in speed. That's quite something!
Display of 15-inch MacBook Air
The 15.3-inch Liquid Retina display on the new MacBook Air is large and gorgeous, providing you with a great visual experience. Additionally, it is capable of displaying a mind-boggling 1 billion colors and providing up to 500 nits of brightness.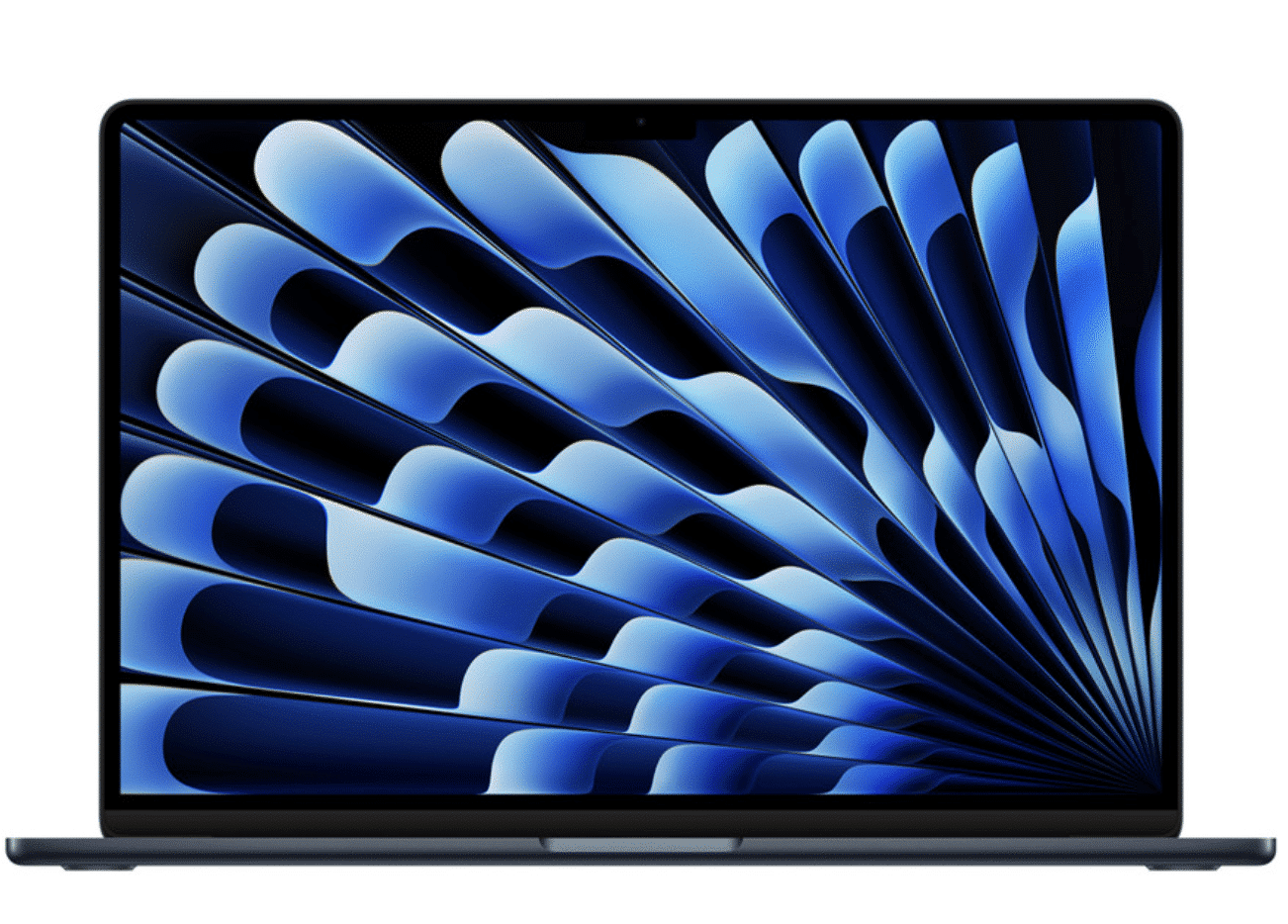 Every piece of content displayed on the screen shows exceptional richness and vibrancy, backed by the remarkable Liquid Retina display. Moreover, it also outperforms a comparable PC laptop by doubling the resolution and providing a 25% increase in brightness.
Memory of 15-inch MacBook Air
The 15-inch MacBook Air maintains the same specifications as all of its other family members in the memory segment. It comes with a reliable 8GB of unified memory, and you can configure it to either 16GB or 24GB at the time of purchase.
Apple also provides a generous storage capacity of 156 GB, which you can further customize to suit your needs, ranging from 512GB, 1TB, and all the way up to 2 TB.
Battery life
The battery life of the 15-inch MacBook Air is truly impressive, allowing you to work, create, and play for extended periods without worrying about running out of power. According to Apple, the new 2023 MacBook Air can offer exceptional battery performance with a battery life of up to 18 hours when tested under ideal conditions.
Ports and expansion of 15-inch MacBook Air
You can easily connect and charge your device with the practical MagSafe 3 charging system that comes with the 15-inch MacBook Air. It also has two Thunderbolt/USB 4 ports, giving you a variety of connectivity choices for peripherals and accessories.
15-inch MacBook Air Price
One thing that has got everyone talking about the 15-inch MacBook Air is its pricing.
This machine is available for purchase at $1,299. What's even more exciting is that students can enjoy a whopping discount of $100, bringing the price down to just $1,199 when they present their student ID card.
However, the 13-inch MacBook Pro (M2) starts at about the same price ($1,299) and is blurring the lines between the Air and the Pro line-ups.
Now, that gives potential buyers a bit of a headache, and the final call could ultimately come down to the preferred screen size! Yeah, I never thought I would write that about a Mac line-up, and it is what it is.
Is it the right time to switch to a MacBook?
The 15-inch MBA might turn out to be a great daily driver. It provides a fantastic screen and is light in weight while being powerful enough to complete routine tasks with ease.
So, that was my overview, and I am eager to learn what you think of the latest Mac! Share your opinions in the comments below.
Read more:
Readers like you help support iGeeksBlog. When you make a purchase using links on our site, we may earn an affiliate commission. Read more.
Bhaskar is a tech guru who turned wordsmith. Hiding his B.Tech degree in a closet, he ditched the corporate path to simplify tech for everyone. For the past 5 years, he's been dishing out how-tos, reviews, and sharp insights. But there's more! He's a witty interview champ and has been sharing his wisdom for 3 years. Furthermore, he has honed his editing skills for 1.5 years and is now delving into marketing to assist newcomers. When not jamming his fingers on those mechanical keyboards, you may find him on strings or engaging in sports. And by evening, his quotes will be appearing on your Instagram feeds.