Vertical content is a thing of today. Snapchat first did it with discover and subscription. And now, the company has introduced a new feature called Snapchat Spotlight that aims to go head to head with TikTok.
With the vertical scrolling content taking over the world, every app had to adjust and make some new strategies. Traditionally a photo-messaging app, Snapchat is also re-thinking its strategies now. In this guide, I'll tell you what Snapchat Spotlight is and how you can earn money out of it.
Note: Snapchat Spotlight is currently available in Australia, Brazil, Canada, Denmark, France, Germany, India, Ireland, Mexico, New Zealand, Norway, Sweden, United Kingdom, and the United States.
What is Spotlight on Snapchat?
Snapchat Spotlight is like Instagram's Reels, where people upload their short videos. Spotlight Snaps are up to 60 seconds long and work pretty much like TikTok. However, there are a few key differences.
What to know about Snapchat Spotlight?
There's no comments section in Spotlight to protect users from online harassment.
It suggests the content based on your location, what content you like to see, and how well the content is made.
It hides the uploader's Snapchat username if they're under 18 years of age.
How to make money on Snapchat Spotlight
Yes! With Spotlight, Snapchat is offering money to motivate users to create content on its platform. Originally, Spotlight was open only to verified and popular creators. However, Snapchat has changed that. The company says regardless of how small or big your following is, you must get paid if your content is good.
So, every day, the photo-messaging app shortlists snaps for Spotlight. If your snap becomes eligible to appear, you'll get a payment for it.
Moreover, unlike regular Snapchat Stories, Spotlight snaps, if accepted, stay on for more than 24-hours. The life of the Spotlight depends on how well the users receive your content. If it's viral, it will stay for longer. The longer the content stays, the more money you'll get.
How to access Snapchat Spotlight
Launch the Snapchat app.
Tap the last tab with ▶ symbol.
Now, browse Spotlights.
Tap the heart to 'favorite' a snap.
You can send the snap to others and follow the creators.
How to post on Snapchat Spotlight for potential payments
1. Submit Spotlights via the mobile app
Open the Snapchat app.
Tap the camera to record a snap and make necessary edits.
If the video is too short, you can't submit it to Spotlight.
Once done, tap Send to at the screen's bottom.
Now, select Spotlight and tap Okay if prompted to accept Spotlight guidelines.


Tap #AddTopics to add relevant hashtags for more reach.
Finally, tap send. It's done!


2. Submit Spotlights from the web
Go to my.snapchat.com on your desktop web browser.
Log in with your Snapchat username and password.
Drag and drop the video into the browser.
Click Post to Spotlight.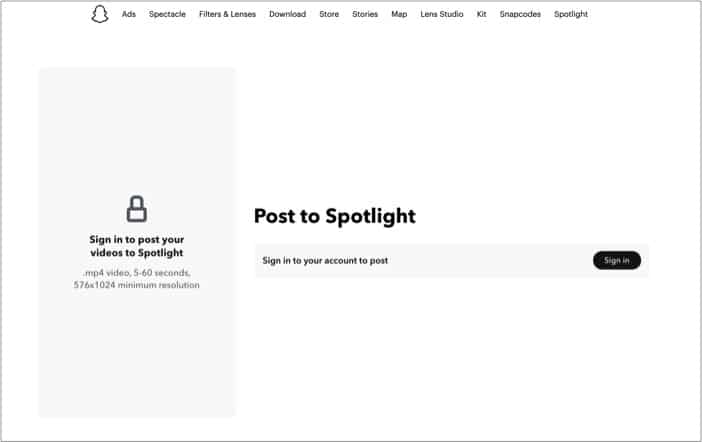 Now wait for Snapchat to accept your submission for a payout.
Check the submission status of your Snapchat Spotlight
After you've submitted a snap to the Spotlight, you'll receive a notification from Snapchat informing you about your eligibility for a Spotlight Payout. You can then add your payment info in the app and receive the payout.
To manually check if your snap has been accepted into Spotlight, head over to Snapchat's profile section and select your snap. If it shows Submitted, your snap was submitted but isn't live yet. If it shows Live, your snap has been shared.
How to save or delete a snap from Spotlight
Tap the Settings button in your Profile.
Now, tap Spotlight & Snap Map to view all your Snaps.
Hit the Save button to save the Snap to Memories.
Tap the Delete option to delete the snap.
Tips for creating a Snapchat Spotlight that pays
If you want to monetize your Spotlight, you must meet the below requirements before submitting it.
Your Spotlight must be a video of up to 60 seconds. It can't be a text-only image.
It must be vertical, fill the frame, and clear.
The video should have an aspect ratio of at least 3:4 and a minimum horizontal resolution of 640 pixels.
Snapchat recommends adding hashtags to your snaps for more reach.
Be original and add creative elements like gifs to make the video more engaging.
Don't sell or promote products through your snap.
Spotlight on Snapchat offers a unique opportunity to the users to earn money while creating content. Have you tried this feature yet? Share your experience in the comments below.
You might want to read these as well:
Readers like you help support iGeeksBlog. When you make a purchase using links on our site, we may earn an affiliate commission. Read Disclaimer.