iOS 14 boasts several privacy features that are designed to keep you safe. Among these are new indicators on the right side of the status bar at the top of your iPhone or iPad. They appear as green and orange dots, and they indicate when the camera or microphone of your device is in use. That is, whenever an app accesses the camera or the microphone, you will know about it through the appearance of the colored dots. This is aimed at ensuring that you are never recorded without your knowledge. Let's learn more about what do the green and orange dot mean in iOS 14.
What Does the Orange Dot Mean on iOS 14?
When the orange dot appears on your iPhone, it means that an application is using the microphone. This means that the app is listening to the microphone and might record it too. For instance, you will see this indicator when making an audio note, sending a voice message, using Siri, etc.
Therefore, you should only see the orange dot on your iPhone when you're doing something that involves using the microphone.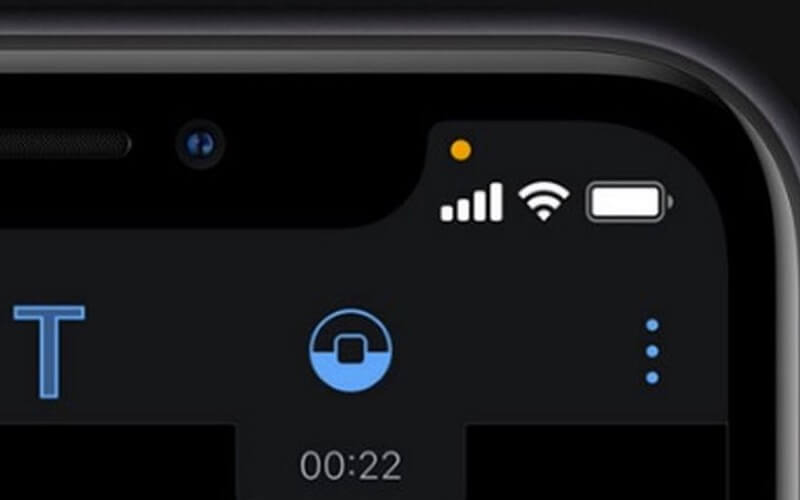 Suppose you see it in situations when you're doing something that doesn't need the microphone. In that case, it might mean that the app is violating your privacy, and it might be trying to use your recording for unscrupulous purposes.
For instance, it should not show up if you're playing a game with no voice input component. In such situations, it's a good idea to contact the app developer. There could be a logical reason for it, or there may be a bug which the developer can fix.
Alternatively, you can opt to delete the app or disable its  access to your microphone as follows:
Go to Settings and tap on the app
Toggle OFF the switch next to Microphone.
In previous versions of iOS, you could only know when the microphone was being accessed when the app was in the background. This was in the form of a red pill indicator on the left-hand side of the notch. This feature remains the same in iOS 14, but the orange indicator dot will simultaneously appear on the right-hand side of the notch.
What Does the Green Dot Mean on iOS 14?
You will see a green dot in the status bar on an iPhone running iOS 14 when an app accesses the camera. This also implies that the microphone is being accessed simultaneously.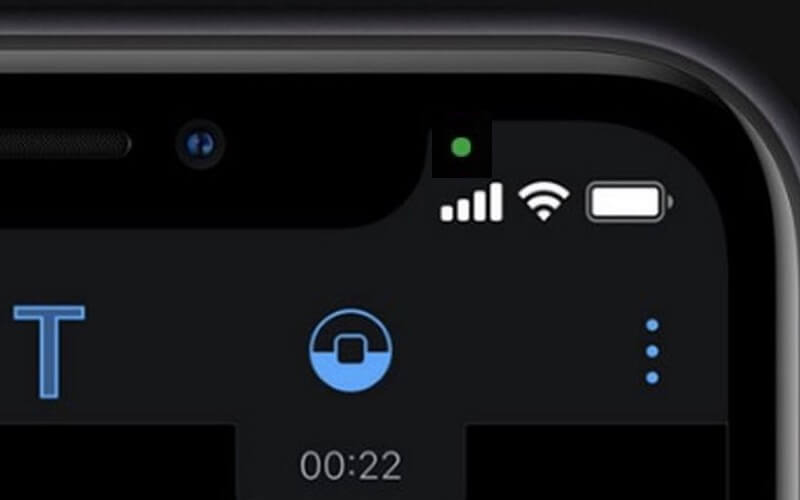 If you find that an app accesses your camera without any apparent reason, it's a good idea to contact the developer or customer support. If they are not able to give you a logical explanation and you suspect the app is spying on you, it's a good idea to delete the app or revoke its camera access as follows:
Go to Settings and tap on the app.
Toggle OFF the switch next to Camera.
Control Centre Info about the iOS 14 Green and Orange Dots
If you want to see which app accessed your camera or microphone, just open the Control Center within a few minutes of the indicator appearing.
It will show you the name of the app along with whether it accessed the camera or microphone.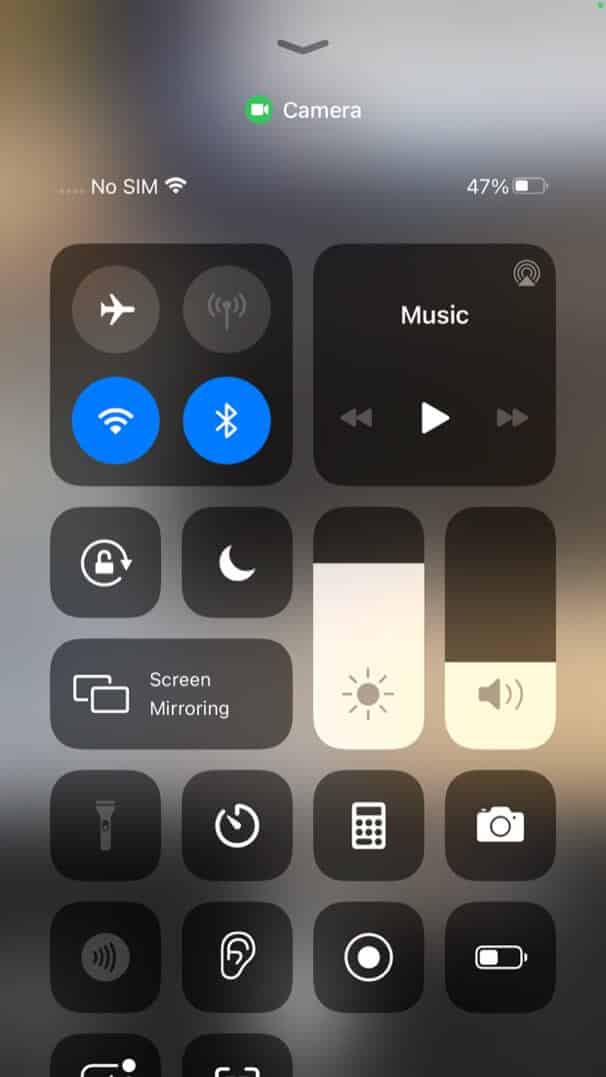 However, do note that iOS cannot know what an app does with the data. The data could be kept on your device, or it could be transmitted over the network. The feature's purpose is to let you know when apps gain access to the mic and camera. This will encourage apps to be more transparent as they risk being rejected by users if they are unnecessarily accessing your iPhone's sensors.
Video: What is Green or Orange Dot on iPhone in iOS 14
Summing Up
What do you think of this orange and green dot privacy feature on iOS 14? Share your thoughts with us in the comments below.
Read Next:
I have been writing about tech for over 10 years now. I am passionate about helping people solve their tech problems with easy and practical solutions. At iGeeksBlog, I write and edit how-to guides and accessory reviews for all things Apple. My work has previously appeared in Live IT and Woman's Era magazines. When not working, I love reading and traveling.