Individuals with speech difficulties encounter unique challenges impacting their social interactions and communication. Unfortunately, these difficulties can lead to anxiety, self-consciousness, and, sometimes, shame. Live Speech is one of the newly added accessibility features Apple designed to help individuals with speech difficulties.
Live Speech lets users type what they want to say and have their iPhone, iPad, Mac, or Apple Watch speak them out loud during in-person or digital conversations. Here's everything you need to know.
What is Live Speech, and where can you use it?
Live Speech is an accessibility feature designed by Apple to help people with speech difficulties. It lets users type what they want to say and lets the devices speak them out loud. The feature works on the following:
Regular phone calls
FaceTime calls
In-person conversations
Other communication apps that use voice and video calls, like Facebook Messenger
Assistive communication apps that use voices, including Personal Voice
Requirements to use Live Speech
You need to have a compatible device to use Live Speech. Below are the compatible Apple devices that support Live Speech:
iPhone XS or later
Mac with Apple silicon
iPad Air (5th generation)
iPad Pro 11-inch (3rd generation) or later
iPad Pro 12.9-inch (5th generation) or later
Apple Watch Series 3 or later
Further, to use Live Speech, your device should run at least iOS 17, iPadOS 17, macOS Sonoma, and watchOS 10.
Aside from Live Speech, running the latest OS lets you utilize other newly added accessibility features like Personal Voice and Assistive Access.
How to use Live Speech on iPhone and iPad
Open Settings → Accessibility.
Under Speech, tap Live Speech.
Toggle on Live Speech.

Under Voices, choose your preferred voice. Live Speech works with any voice, including Personal Voice (if you've already set up one for yourself).



When you're ready to use Live Speech, triple-click your iPhone or iPad's Side or Home button to access Accessibility Shortcuts.

If you've assigned more than one accessibility feature for the Accessibility Shortcut, select Live Speech from the popup that will appear. The Live Speech window will appear on your screen.
Tip: If you plan to use the Apple Live Speech feature on a call, wait for the call to connect before using the Accessibility Shortcut to access Live Speech. Pressing the Side button before the call connects might cut the call.
How to use Live Speech on Mac
Go to Apple menu → System Settings.


Select Accessibility on the sidebar → Tap on Live Speech.


Toggle Live Speech on.


Select a voice to use next to Voice. Select Manage Voices to see more voice options.

If your preferred voice isn't downloaded into your Mac yet, click the Download button beside it first. You can use the voice once you've finished downloading it. You can also increase text size by increasing or decreasing pt size besides Font size.



Open Live Speech and launch the messaging or call app you want to use. Click the Type to Speak text field in the Live Speech window and begin typing. Click the Speak (>) button or press Return.



The participant should hear your words spoken through their device's headphones or speakers. If you're using your Mac to aid you in speaking during in-person conversations, the voice will be heard through your Mac's speakers.
Apple's Live Speech feature is also very accessible on your Mac's desktop. Tap the Live Speech icon in the menu bar to hide or show the Live Speech window.
How to use Live Speech on Apple Watch
To activate Live Speech on your Watch, go to Settings → Accessibility → Live Speech.
Choose a voice you want to use (you must download it before selecting it).


To initiate Live Speech on your Apple Watch, simply triple-click the Digital Crown.

If you have previously assigned an accessibility feature, you might encounter two features when activating the Accessibility shortcut. In this case, select Live Speech to proceed. Enter the message you want your watch to speak and hit Send.
You can also use the feature while making regular or FaceTime calls with your Apple Watch.
How to add or remove favorite phrases on Live Speech
Typing during conversations can be time-consuming. Consider preparing ahead by saving phrases, questions, or answers to your device to make interactions more fluid and allow for quicker responses. This preparation can help ensure conversations run more smoothly and enable you to participate more promptly.
On iPhone or iPad
Open Settings → Accessibility → Live Speech.
Tap Favorite Phrases.
Select the Add (+) button at the top-right of the screen.
Type on the text field beside Phrase and tap Save.


To remove a phrase, tap Favorite Phrases. Choose the phrase you want to delete from your list of Favorite Phrases. Swipe left and tap Delete.


To use it, tap Phrases at the top of the Live Speech window. Your iPhone will read the phrase as soon as you tap it.
On Mac
Go to Apple menu → System Settings.
Select Accessibility from the sidebar and click Live Speech. Under Saved Phrases, click the Add (+) button and type a phrase in the text field.


To remove a phrase, select a phrase from the Saved Phrases and click Remove (-).
To use it, type the saved icon beside the play button, select the favorite phrase you like, and hit Return or Play.
On Apple Watch
Add a favorite phrase on your Apple Watch by doing the following:
Go to Settings → Accessibility → Live Speech.
Select Favorite Phrases.
Tap Add a phrase → Create a phrase.


Type a phrase and tap Done once you're finished → Tap the Done button to confirm.


Remove a phrase by going to Favorite Phrases and swiping left on the phase you want to remove. Tap the Delete button.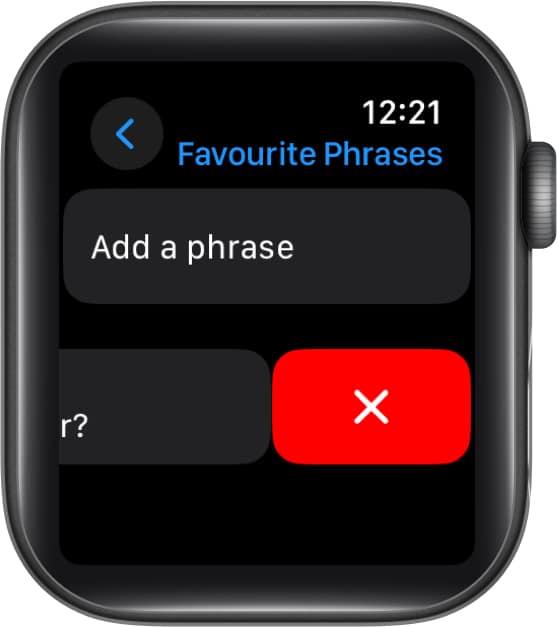 Who is Live Speech for?
Life Speech is for everyone who has trouble producing speech. This includes those with temporary voice loss due to strain or those with health conditions that cause speech difficulties or conditions that result in progressive loss of speech.
Or, if you simply don't want to speak at the moment, you can also use Live Speech to make your device speak for you. This feature can also be handy in scenarios where speaking could be disruptive, such as during conferences or meetings or in environments where background noise may hinder clear communication over the line.
Wrapping up…
Live Speech is an excellent addition to the array of accessibility features Apple has in store for its users.
What are your thoughts on Live Speech? Can you think of any unique applications or situations where it might be especially beneficial? Share them below!
Read more:
Readers like you help support iGeeksBlog. When you make a purchase using links on our site, we may earn an affiliate commission. Read Disclaimer.