Ugreen Nexode 300W GaN desktop charger has everything you could ask for – quality performance and compact design. With 1 USB-A and 4 USB-C ports, the charger offers a stunning 300W maximum power output. It is, for sure, a good pick for multi-device users.
Pros
GaN technology
Portable design
5 ports easy access
300W charging support
Cons
Charging brick heats up a bit when used for longer periods
Editor's rating: 🌝 🌝 🌝 🌝🌜

Price: $269.99
Are you tired of carrying multiple chargers? Or are you eager to get rid of cord clutter on your desk? Congrats, because UGREEN has heard your wishes. Starting September 5, 2023, you can get your hands on Ugreen's latest creation- the UGREEN Nexode 300W GaN desktop charger.
Are you curious to know whether you should get the UGREEN Nexode 300W GaN charger? From its physical specifications to the power output, I delve into every teeny-tiny detail about the device. Here's my complete review.
Unboxing
Inside the box: UGREEN Nexode 300W GaN Charger, 1 charging cable, 1 USB-C to USB-C cable.
Can a packaging box woo you? If someone had asked me this question earlier, my answer would have been a big NO. But this was me before seeing the packaging box of the UGREEN Nexode 300W GaN charger. The charger came inside a rectangular black box with a stylish yet sturdy look. It was a sliding box that opened upwards.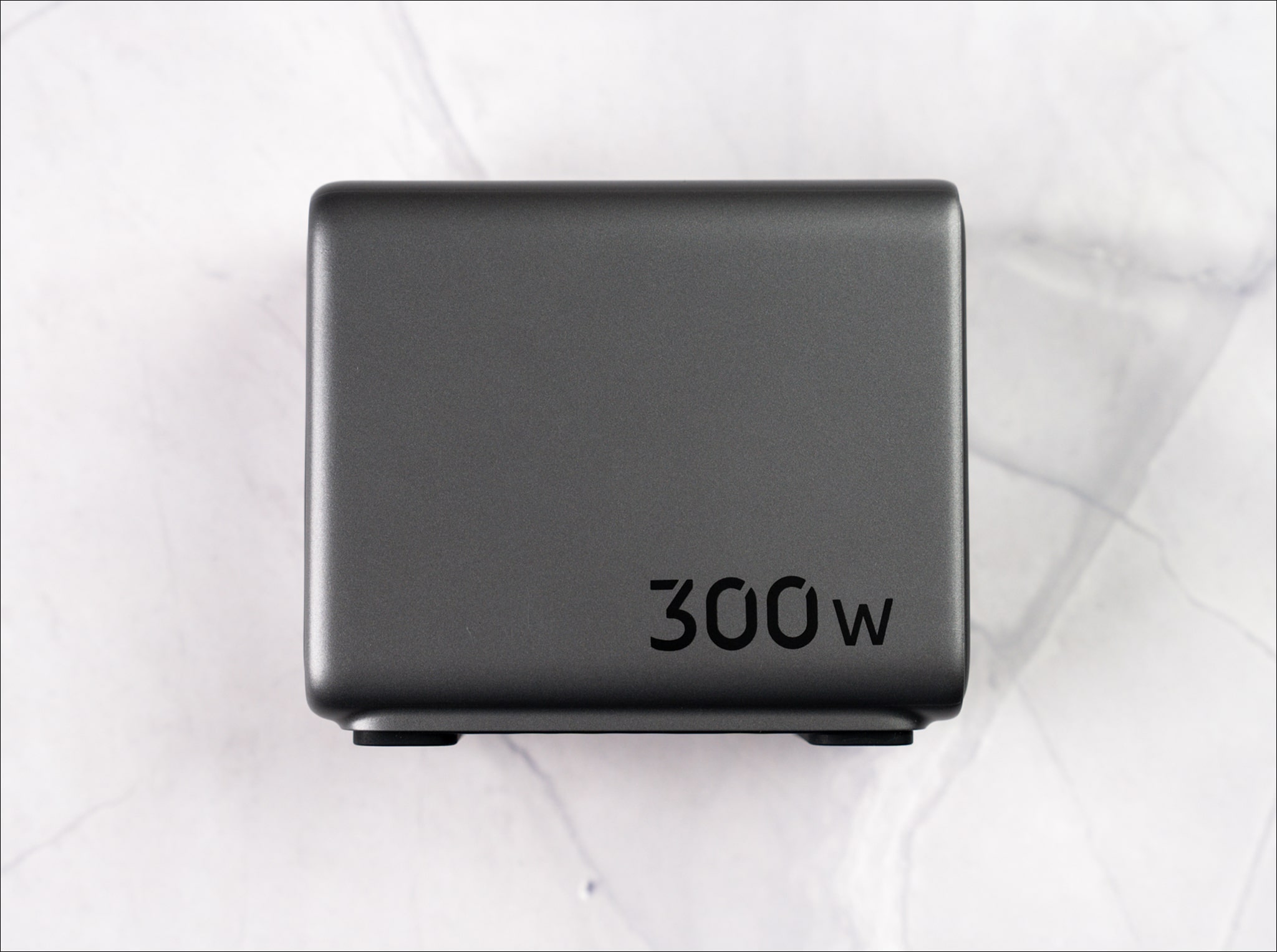 Removing the slipcover, I came across the star of our discussion: the UGREEN Nexode 300W GaN charging station. The device came wrapped inside a plastic pouch and placed on a paper frame inside the inner box. Right beneath the Nexode 300W charger, I found another black box carrying one charging cable, one USB-C to USB-C cable, a user instruction card, and a 13-page user manual.
While skimming through the multilingual manual, I learned about the specifications, working system, and power distribution of the five ports available on the gadget — a must-go for an easy understanding of the charger workarounds.
Build and design
I might sound slightly biased here, but UGREEN is an expert in creating products that exude style and performance. With the Nexode 300W charging hub, the case was just the same.
All five ports are placed in a top-to-bottom alignment on the front of the charger. Below each port, you can see the maximum power output they can deliver. The portioned gap between the ports gives you a clean look even when the occupancy is full. Also, the bottom has two rubber pads to ensure no slips, falls, or drops.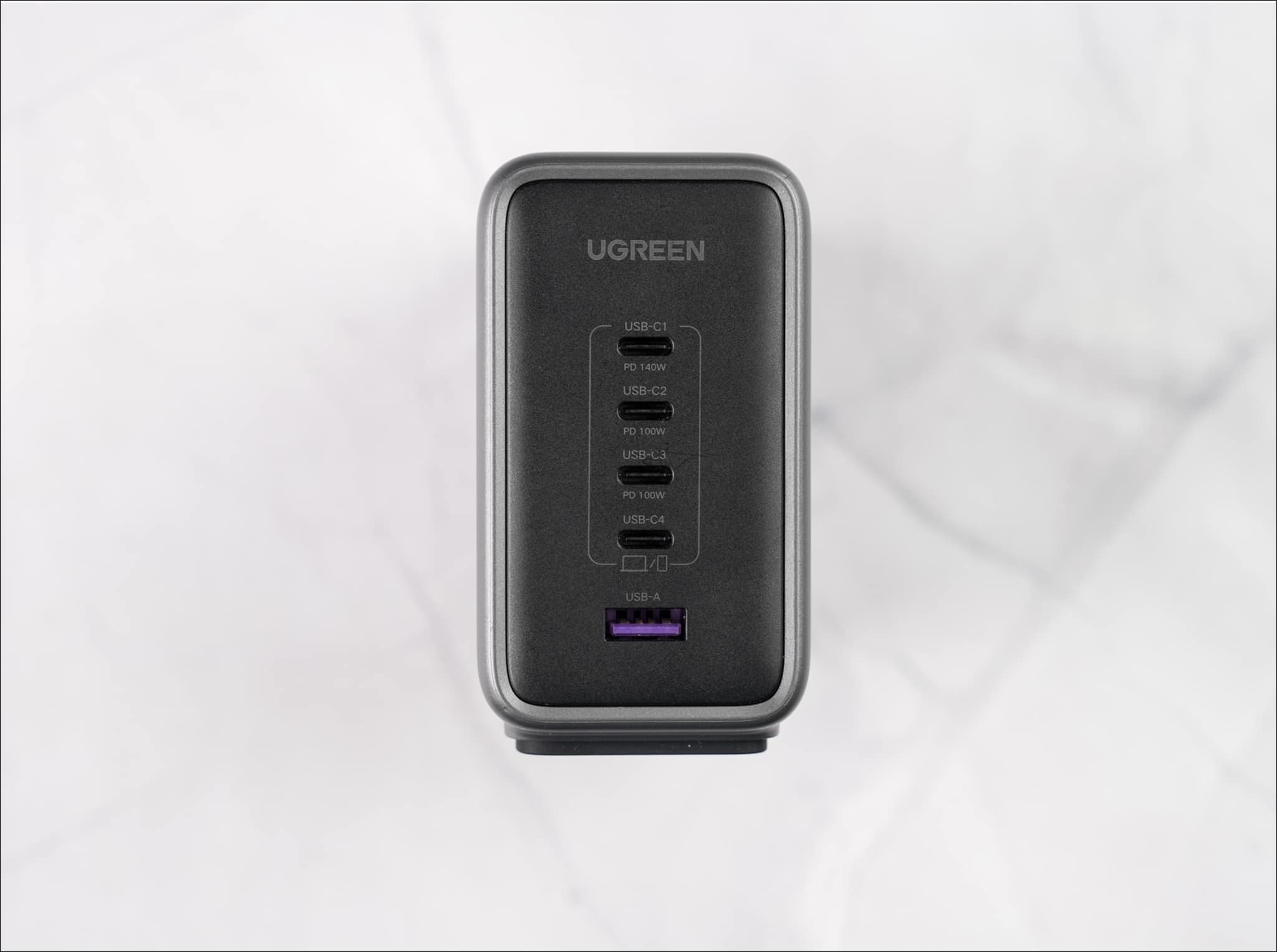 The charging kit comes with two cables. One is the 5-feet-long (approx.) USB-C to USB-C black cable with a braided design, giving top-notch metallic strength.
The other is the charging cable that measures 6.6 feet in length. Though not braided, it is made of a thick outer covering that feels strong, safe, and durable. You get the adapter plug on one end of the charging cable while the other boasts the connector.
Both the cables excel in terms of quality. I tried twisting and bending the wires with no evident bruise or dent. The metallic prongs and the extended neck sections ensure your wires do not break from the junction points.
Overall, the compact size settles well in your backpacks to keep your iPhone, iPad, Apple Watch, or any other device charged during your trips.
Charging Ports
With five charging ports, the UGREEN Nexode 300W charger is a giant power booster for your gadget cluster. This single charging hub has four USB-C ports, namely USB-C1, USB-C2, USB-C3, USB-C4, and one USB-A port, called USB-A1. Presently, most of your gadgets, including MacBooks, offer USB-C charging support. So, with Nexode, you can keep all USB-C devices charged and always running.
Every plugin of the Nexode GaN USB-C charger provides 140W output through USB-C1, 65W from USB-C2, 45W via USB-C3, 20W from USB-C4, and 22.5 from USB-A1 port. As you can see, the first port is the most powerful from the lot and is perfect for charging your MacBook or any other laptop. FYI, this output delivery is attained during single or individual port use.
Given below are the detailed tables highlighting charging outputs achieved at different occupancies using Nexode 300W charger.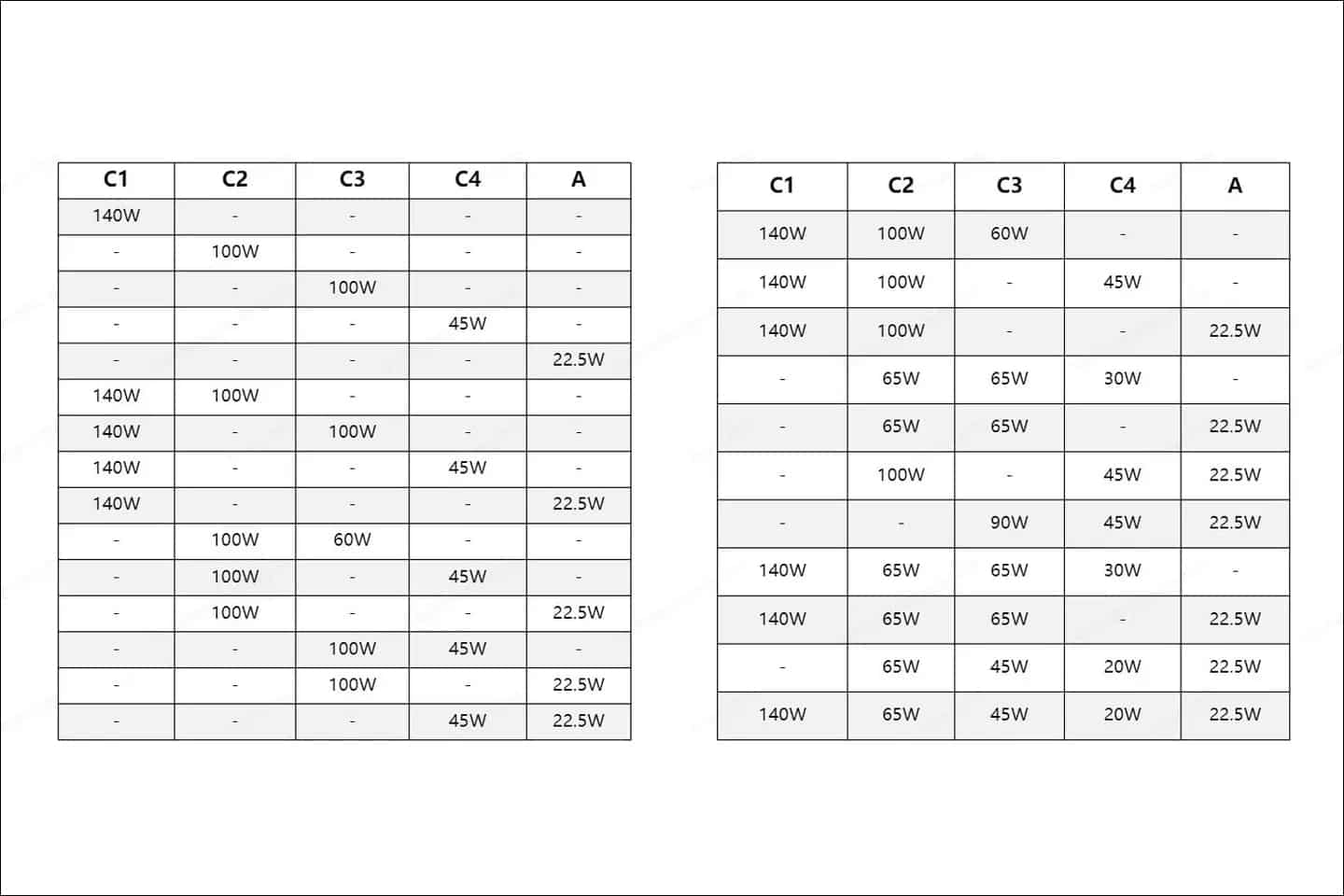 Real-life testing
After all the statistical information, let's talk about the real game. Nexode 300W charger is a classic example of performance and design.
To test Nexode's 300W GaN charger, I plugged my MacBook Air in USB-C1, another MacBook Air in USB-C2, and a smartphone charger in USB-A1.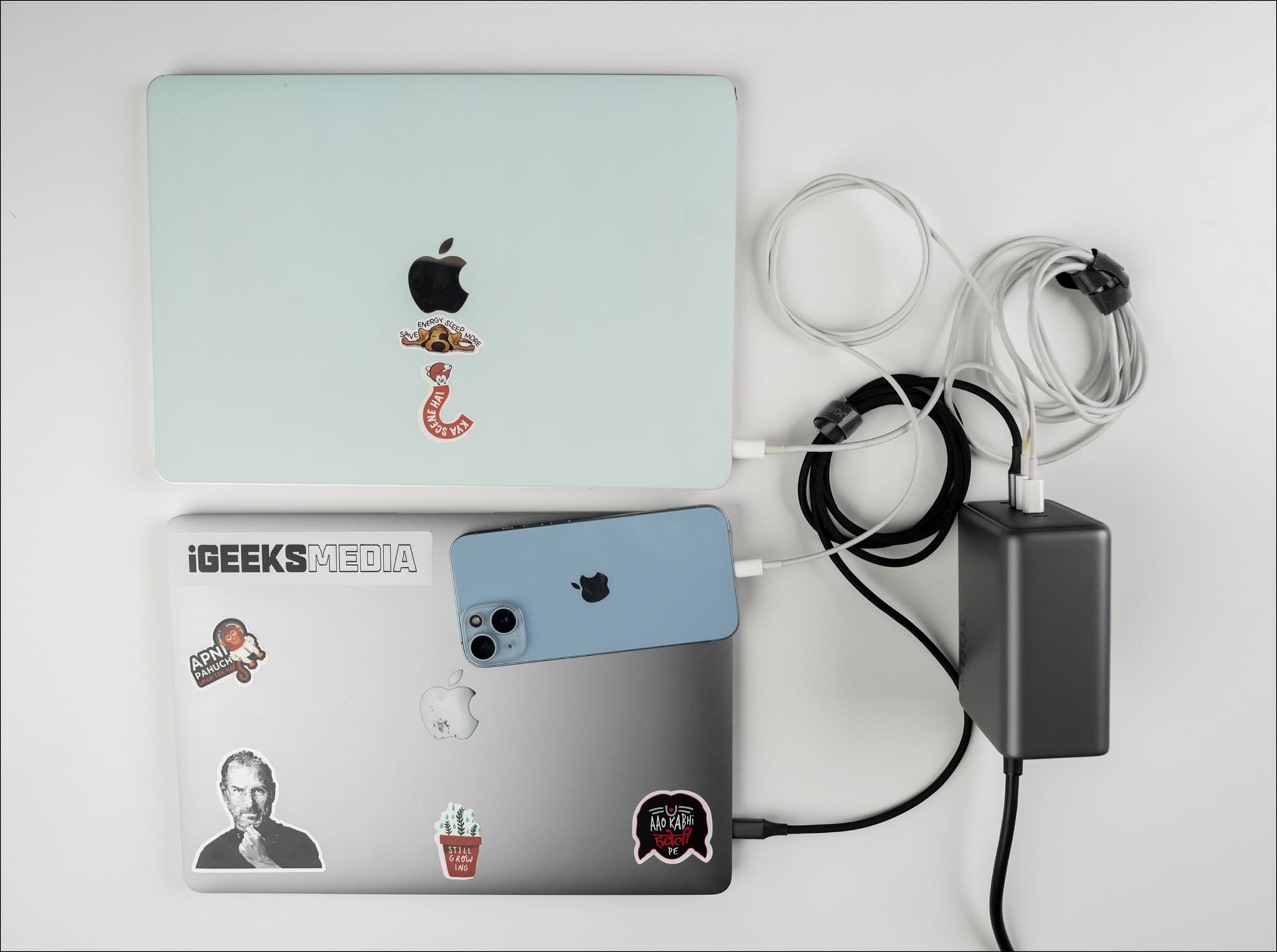 After 40 minutes of charging, the power percentage of the MacBook Air in USB-C1 went from 18% to 67%, the MacBook Air in USB-C2 changed from 42% to 77%, and my smartphone's battery went up from 82% to 98%.
The good
Over the week, I tried and tested multiple combinations of port occupancy with the UGREEN Nexode 300W GaN charger. Every time, the outcome was impressive. The power dissipation across each port was satisfactory, even with five devices plugged in.
Further, using Gallium Nitride (GaN) instead of silicon ensured that Nexode offers improved energy efficiency and speed in its portable-sized body.
The rubber pads at the bottom of the charging hub gave a firm grip to the device. Even when I tried pushing it, the charger was steady in its place. You can easily place the charger on any surface that can bear its weight.
The not-so-good
UGREEN promotes the 300W charger with a built-in robust thermal monitoring mechanism that records the temperature every half a second. This system aims to resolve overheating. However, after 40 minutes of continuous charging, the surface of the charging brick did feel a bit warm to my bare fingers, even when it was below UGREEN's thermal limit.
Another problem that I faced with the charger was with the Type G-designed adapter plug. Unfortunately, I didn't have a socket that supported the Type G, so I had to buy one, especially for this charger. An added expense, phew!
Verdict: Should you get the UGREEN Nexode 300W Charger?
iGeekometer
Design
Build Quality
Performance
Practicality
The UGREEN Nexode 300W charger is a unique one-size-fits-all product in the tech space, and it surely is a marvel when it comes to performance. So, my answer is a definite YES!
Not only can you charge five devices simultaneously, but you can also do that in less time. Cool, right? Moreover, Nexode's sleek design fits almost anywhere.
Talking about the limitations, there is not much to say. The pricing will decide how well the product sells in the market. Further, if some of you have an aversion to heavyweight build and heating issues, it could affect your choice.
Properly analyzing these pointers can help you reach the decision point easily. I hope this article will be a guiding light for you. Don't forget to share your input in the comments section.
UGREEN Nexode 300W GaN charger review
UGREEN Nexode 300W GaN charger review
UGREEN Nexode 300W GaN is a revolutionary charger that lets you charge up to 5 devices simultaneously. The compact build offers smooth portability while the smart technology ensures top-notch performance.
UGREEN Nexode 300W GaN is a revolutionary charger that lets you charge up to 5 devices simultaneously. The compact build offers smooth portability while the smart technology ensures top-notch performance.
Srishti is an avid writer who loves exploring new things and letting the world know about them through her words. With a curious mind, she will let you move through the nooks and corners of the Apple ecosystem. When not writing, you can find her gushing over BTS like a true BTS Army would.