The MagEZ Folio 2 for iPad Pro is a premium-grade choice for those looking to add an extra layer of usability and safety to their iPad Pro.
Pros
Sleek, lightweight design
Magnetic strap for Apple Pencil
Made of PU Leather
Cons
It might collect dirt on corners
Editor's rating: 🌝 🌝 🌝 🌝 🌜
Price: $59.99
Apple is a crafter! When I say this, I am hinting at the unparalleled dedication the tech giant puts to building user-friendly products. Following this, let me draw your attention to one of my recent obsessions – the iPad Pro. This multipurpose device offers a big touch display, easy portability, and robust UX. A complete package.
But what if there is a product that can add some extra stars to your nearly perfect iPad Pro? I am talking about PITAKA's MagEZ Folio 2 magnetic case for iPad Pro.
This folio case is guaranteed to change how you have used or carried your iPad Pro until now. I have seen the change and wanted to share my experience with all of you.
In this detailed review of the MagEZ Folio 2 for iPad Pro, I will cover all the titbits about the product. I'll discuss the design, pros and cons, features, cost, and everything about the Folio. And don't worry; you won't whiff any prejudice here, Promise!
PITAKA's MagEZ Folio 2 – Your iPad Pro's best companion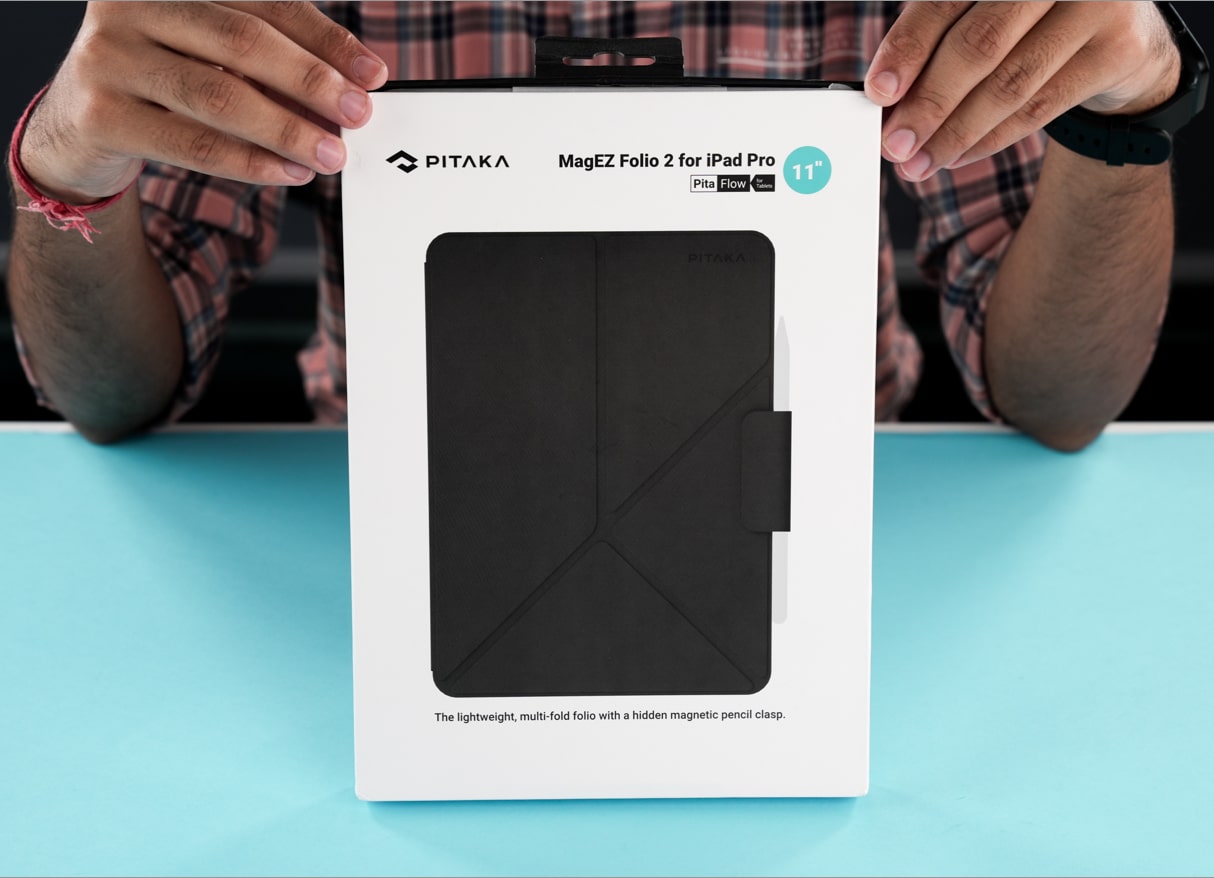 By integrating the M series chipset into the iPad Pro, Apple has taken the device's sales to new heights. The impact is so powerful that some people have started considering replacing their MacBooks with iPad Pro.
People are investing in Magic Keyboards to enjoy the Mac experience on the Apple tablet. Adding PITAKA's MagEZ Folio 2 to the setup would just take the iPad experience to another level.
With the MagEZ Folio 2, you will get a unique design that will help you use your tablet from multiple viewing angles. More angles mean different heights and work positions you can use this iPad. This was one of the main reasons for my purchase. I love art, and having a cover that lets me place my iPad Pro in different angles without a wobbling effect is bliss.
MagEZ Folio 2 Specifications
Compatible devices
– 12.9" iPad Pro (2021, 2022, 2020, 2018)
– 11" iPad Pro (2021, 2022, 2020, 2018)
Weight
12.9″- 325g
11″- 240g
Material
PU Leather and Microfibre
Colors
Black and White (Monochrome)
MagEZ Folio 2 – Features & details
Let's skip my bragging and move on to product details.
Unboxing – Simple yet satisfactory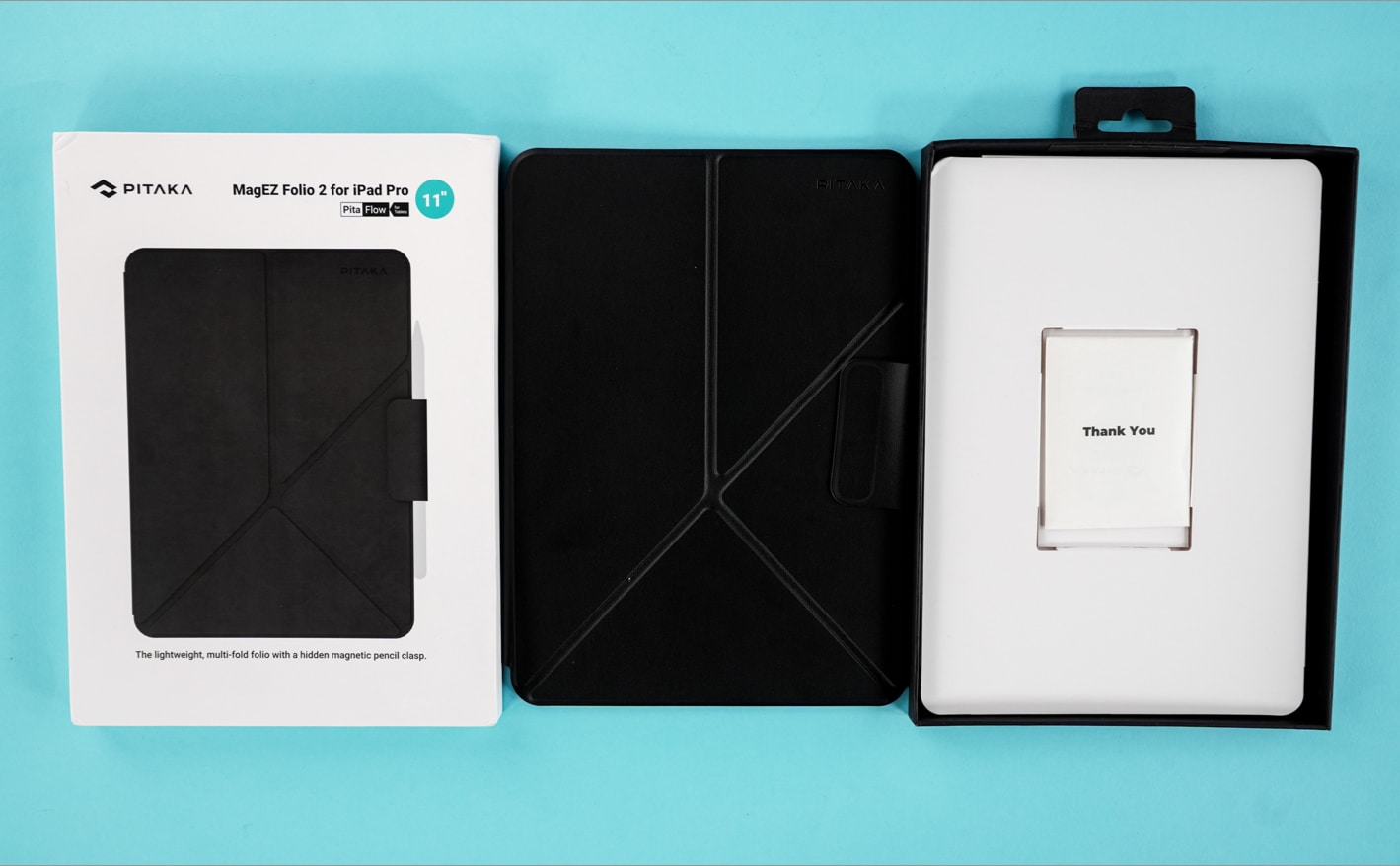 No matter your age, unboxing a new product always gives you butterflies. However, satisfaction skyrockets when the product is from a brand that puts much effort into making unboxing special. Luckily, PITAKA ensures you get the best-in-class experience when opening the MagEZ Folio 2.
My MagEZ Folio 2 came in a solid, thin, compact packaging box. Seeing the top-notch packaging, I was sure my folio was safe during transportation. Inside the box, a slim, sheer paper cover draped the folio. It was easily removable. Further, on opening the folio flap, I found a cardboard sheet similar to the size of the product. There was also an envelope with a small booklet featuring different products offered by PITAKA.
The overall unboxing experience of MagEZ Folio 2 was satisfactory. PITAKA never compromises with its packaging, an attribute that makes it a user-favorite brand. Now, let's learn more about the folio's design.
Build quality – Compact and durable
Regarding quality, PITAKA always delivers top-grade product assortments, and MagEZ Folio 2 for iPad Pro is no exception. The outer cover of the folio is made of premium polyurethane (PU) leather, which is a cost-effective alternative to natural leather.
This skin-friendly material ensures that your folio is dust-free and scratch-resistant. The MagEZ Folio 2 has insides wrapped in a soft material that ensures that the screen of your iPad Pro is safe from even the tiniest damage.
The material used to design this folio cover is super lightweight and smooth to the touch. You won't feel the grainy texture that usually comes with leather cases. In addition, the triangular, origami folding support will give you horizontal and vertical stability for your iPad Pro.
Magnets – Functionality personified
Multiple strong magnets have been used to design the product. They allow you to connect your iPad Pro to this dual-sided cover within seconds. In addition, it comes with an auto wake-and-sleep feature. Wake up your iPad Pro by opening the folio and put the same to sleep by closing the cover. Simple, right?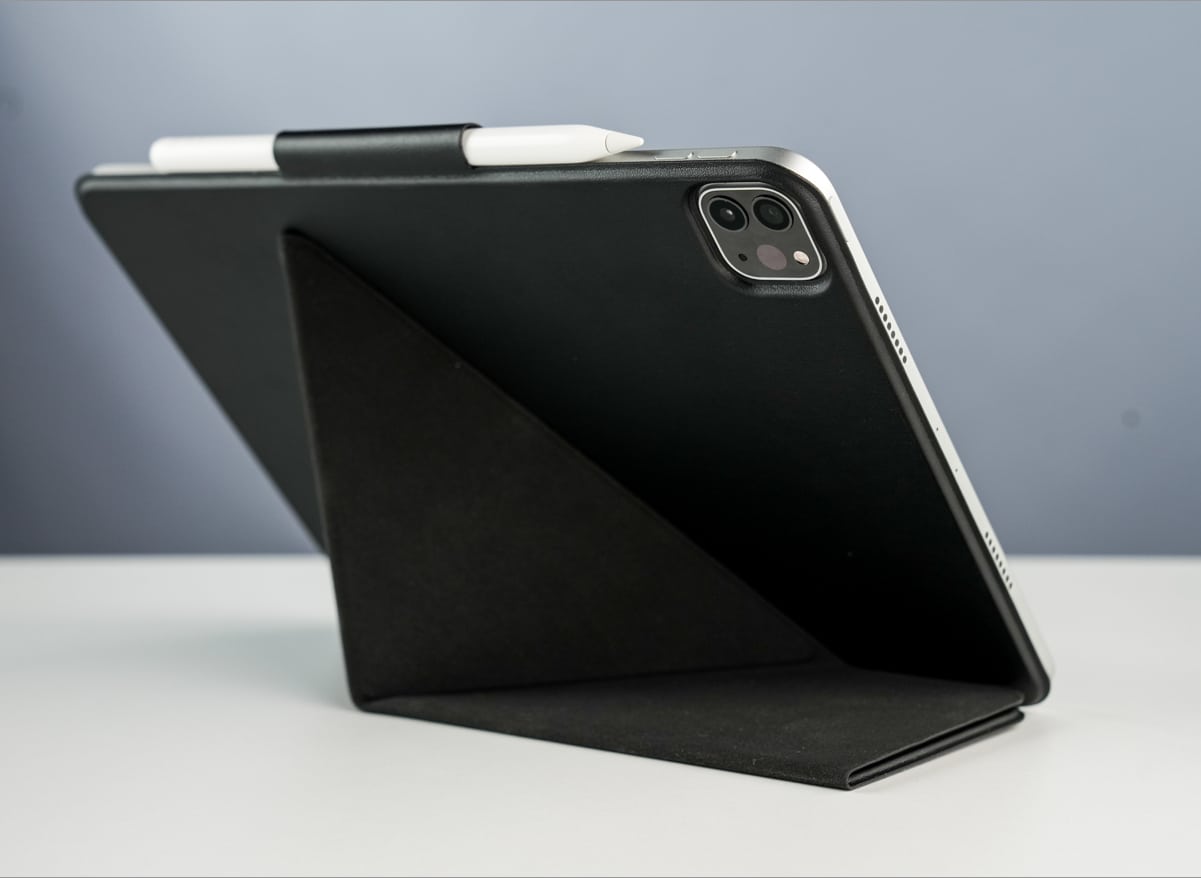 Further, the product has a tiny hidden magnetic strap on the side. With a firm grip, the small strap snugs the Apple Pencil close to the tablet. If you don't want the strap to stick out, you can flip it inwards so that it gets stuck to the folio via magnets.
Attaches smoothly
The MagEZ Folio also earned some extra stars from me for its high-end compatibility with devices. You can bundle up the folio with MagEZ Case 2 for iPad Pro 12.9-inch and 11-inch models.
With the perfect combo of MagEZ Folio and Case 2/Pro, you enjoy better grip, unique style aesthetics, and improved portability in a snap. This magnetic folio case for iPad Pro will give you an unmatched working experience for sure.
Also, the folio has a big hoop cut at the back to accommodate the iPad Pro camera and light sensors.
Standing positions – Pick your comfort
The flexible design of the MagEZ Folio 2 for iPad Pro supports two-way folding – landscape, and portrait. This, in turn, gives you the power to set your device in four unique standing positions. Remember, better viewing angles for your iPad boost productivity exponentially.
Moreover, switching between the different variations of the folio stand is super easy. All you need to do is keep changing the stand's triangular positioning. You can set the stand's angle at 62 degrees to make your iPad Pro perfect for reading, 57 degrees for video-calling, or 53 degrees for streaming. It won't ever get easier than this anytime soon.
You must know that iPad Pro is one of the most coveted devices for drawing and animation creation. So, PITAKA allows art lovers a customized working experience with MagEZ Folio 2. A simple angle setting at 34 degrees gives the stability required for drawing. In addition, the strong stand eliminates the wobbly effect, which might affect the overall design experience. I guess this makes the product a superior multi-angle Folio Case for iPad Pro.
Should you invest in PITAKA's MagEZ Folio 2?
iGeekometer
Build quality
Portability
Efficiency
Value for money
MagEZ Folio 2 is an intelligent purchase if you are an extensive iPad Pro user. This solid outer cover will add a layer of safety to your tablet while you travel from one place to another. High on durability and portability while being low on pockets- what better deal can you get than this? In addition, the cover will snug your iPad Pro like its second skin. So, say bye to scratches with PITAKA's protective folio case for iPad Pro!
Price: $59.99
PITAKA MagEZ Folio 2 review summary
PITAKA MagEZ Folio 2 review summary
MagEZ Folio 2 is a good choice for those looking to enhance the usability of their iPad Pro. The multi-angular support ensures you can use the tablet for many uses, including art, reading, writing, etc. In short, an efficient budget-buy product for iPad Pro owners.
MagEZ Folio 2 is a good choice for those looking to enhance the usability of their iPad Pro. The multi-angular support ensures you can use the tablet for many uses, including art, reading, writing, etc. In short, an efficient budget-buy product for iPad Pro owners.
Readers like you help support iGeeksBlog. When you make a purchase using links on our site, we may earn an affiliate commission. Read Disclaimer.