PicWish removes image background with ease and AI-level smartness. Moreover, it's quick, and the web version is absolutely free, perfect for one-off users, beginners, and intermediates.
Pros
Super easy to use
The AI is quite accurate
Quick background removal
Free web version
More tools in the web version
Cons
Different features in the apps and web
No cloud sync between app and web
App features locked under a paid wall
Price: Web – free, iOS app – $6.99/month, $49.99/year with a free trial
We all take photos, whether all day, every day or once a month; that varies. And sometimes, we need to remove the background from an image. However, not all of us have the required skills. The good news is that you don't need them because PicWish can help you get rid of the background in one click.
PicWish: A transparent background for any image, any time
PicWish is an easy-to-use background removal tool available for web, iOS/Android, and Windows. Using a smart AI trained on millions of real-world images, the platform can smoothly and accurately remove background from even complex images.
I presented the AI with some simple and challenging photos to see how it performs, and here are the results.
Sample image : 1
Sample image : 2
During my exploration, I also observed that AI is indeed pretty smart and can help you extract
People – Group, solo, ID card, digital scrapbook, etc.
Animals
Cars
Products – For social media, eCommerce, advertisement, presentations, and more
Graphics – Logos, posters, etc.
Whether you want to design something for a special one or remove background from the product for eCommerce or social media, achieve everything and anything you want from a transparent image.
How to remove background from any image
Go to PicWish.com on a browser of your choice.
Click Upload Image, select the image, and click Open.
The PicWish AI will auto-erase the backdrop of the image.
To refine the removal, click Keep or Erase, select the brush, and draw on the areas to add/remove.
Once you've perfected the image, click Download.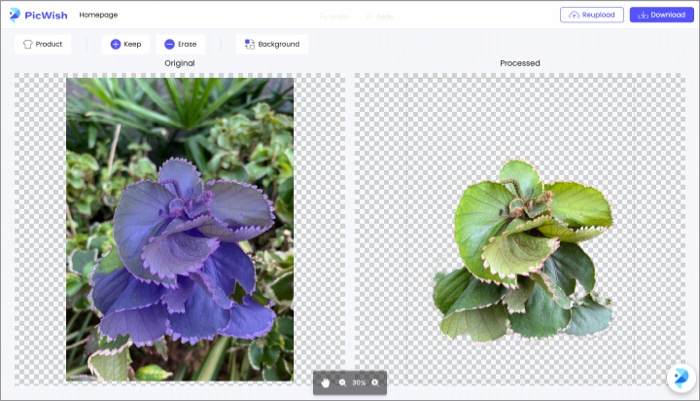 Note: You will have to sign up for a free account or log in with an existing ID to download images. Don't worry, your information and data remain secure and confidential.
Why pick PicWish background remover?
For starters, it is pretty simple to use, as illustrated above. You don't need to manually outline/crop an object or learn any special skills. Then there are a few more perks.
Accuracy matters
You wouldn't like a hand or a portion of the head missing from the image, would you? PicWish has been impeccably accurate in most cases, so kudos to the AI. And in instances with immensely complex images, there were errors, but not too major or catastrophic.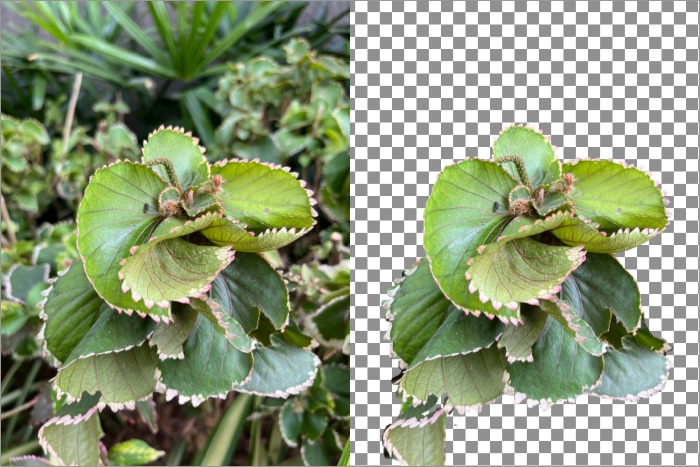 Instant photo enhancer
When you click the Background button, many options are presented. You can pick a solid color or upload an image or pre-designed template (only in-app). So, you don't need another app to accomplish this menial task; PicWish can handle it efficiently.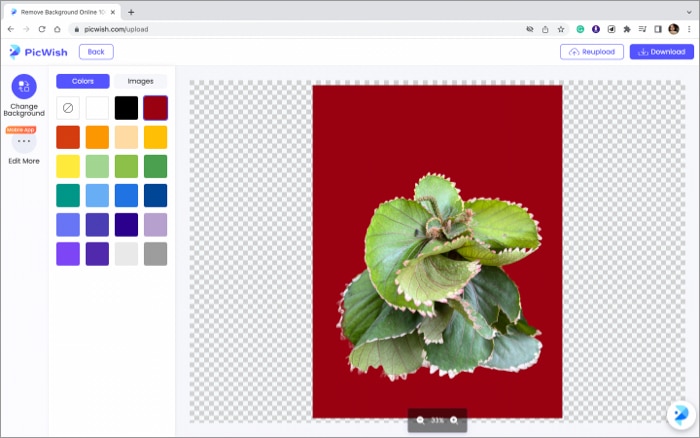 Additional benefits of using PicWish AI
The PicWish website offers not only a free background removal but also a bundle of other great free tools.
Face enhancement
Photo retouch
Photo enhancer
Image compressor
Image cropper and enlarger

Do more with the PicWish iOS app
While the free web version boasts limited features, the iOS app makes up for it. You can:
Batch remove background from images
You can select up to 30 images and bulk remove their background. It took less than 5 seconds to bulk erase the background during my testing. So that's a big plus👍. However, you can't refine the removal like in the web version.
Image resizer
A great feature for marketers, you can resize the image as per the default size used by Amazon, Shopify, Etsy, or more without compromising quality. Although, you can't crop it as per social media websites or a custom ratio.
Is PicWish a wish come true or not?
iGeekometer
User interface
Features
Accuracy
Value for money
It's almost there; I am cool with the concept that additional features are locked under premium. But the discrepancy between the app and web features doesn't bode that well for me. You can't edit the selection in the app; I mean, that's what I loved the most in the web version.
Then you can't resize while using the website; why oh why? The app doesn't even boast a cloud or some sharing system that'll allow me to move from iPhone to Mac or vice-a-versa.
Overall, PicWish needs some tweaks to become the perfect tool. However, it's a great tool for startup businesses, solopreneurs, crafters, content creators, and more; it's quick, smooth, accurate, and easy to use.
Read more:
Readers like you help support iGeeksBlog. When you make a purchase using links on our site, we may earn an affiliate commission. Read more.
A self-professed Geek who loves to explore all things Apple. I thoroughly enjoy discovering new hacks, troubleshooting issues, and finding and reviewing the best products and apps currently available. My expertise also includes curating opinionated and honest editorials. If not this, you might find me surfing the web or listening to audiobooks.