Considering the fact that a substantial amount of the world has moved online, finding the right tripod is absolutely essential. They not only let you take pictures and videos for content but also stabilize your phone when engaged in meetings. In both cases, professionalism increases and helps you make a good impression.
Keeping these points in mind, I've made a list of the best iPhone tripods that you can use today for your business and content needs. Let's have a look at them below!
1. Joby GripTight ONE GorillaPod stand – Editor's choice
If you're looking for a tripod that doesn't empty your wallet and also provides ease of use, the Joby GripTight ONE GorillaPod Stand is your best bet.
The most important features of the tripod are its flexible legs. These legs can be wrapped around any vertical surface and still maintain peak stability, especially for situations such as astrophotography. Moreover, the tripod is small in stature, adding a portability factor essential for vlogging.
The tripod is compatible with most phones and doesn't face any issues, even if paired with a large or heavy device. The only thing that I didn't like about this tripod is that you can't extend it beyond 6.5 inches. So, if you're looking for a tripod that also acts as a selfie stick, this may not be for you.
Pros
Not too expensive
Great build quality
Flexible and sturdy legs
Portable
Cons
Cannot extend beyond 6.5 inches
Check out on: Amazon | Best Buy
2. Bluehorn portable iPhone tripod – Best for selfie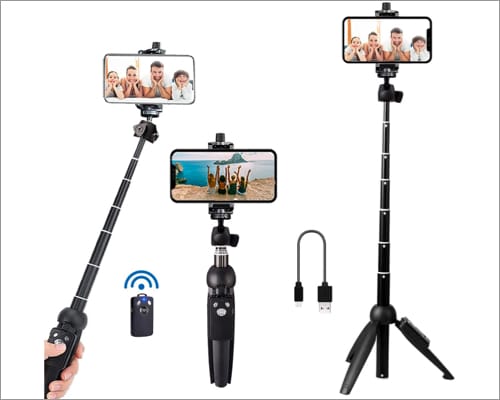 Speaking of iPhone tripods that double as a selfie stick, the Bluehorn portable 40-inch selfie stick is a good option.
When you want to use this as a tripod, you can unfold the legs at the base and place them on a flat surface. For the selfie stick mode, you'll have to extend the column and fold the legs back into their original position.
There's a ball head at the top of the column where you can set the phone. This allows you to move the phone freely in any direction. This aspect is particularly useful for content creators as it widens the variety of shots they can take.
There's also a Bluetooth remote that can be attached to the tripod legs. This enables you to take pictures without having to touch the phone. Unfortunately, once you extend the column, you can't set it up like a tripod. Attaching the phone at the top makes the entire system heavy and could topple the stick.
Pros
Extends up to 40 inches
Portable
The ball head allows free movement of the camera
3. Lume Cube 18″ cordless stand – Best tripod with light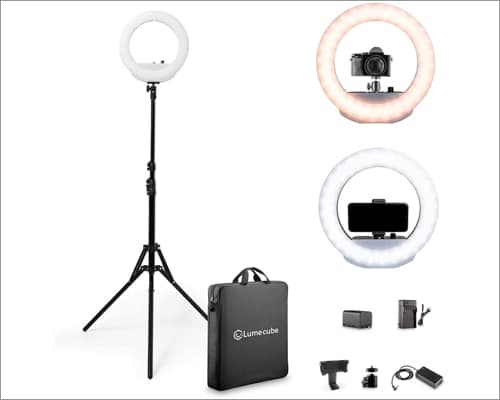 With Instagram and YouTube becoming viable sources of business, content creators are always on the lookout for tripods and ring lights. With this offering from Lume Cube, you get the best of both.
This is a full-size tripod that can extend up to 6 feet. Moreover, the ring light has a diameter of 12 inches, which should be enough for providing ample light even in the worst lighting conditions.
Coming to the kit, you can adjust the angle at your convenience. The ring light's temperature and brightness are also controllable. Best of all, despite the kit's size, its entirety can be folded and transported. The batteries provided with the kit can be used for over an hour at full brightness.
I'm not happy with this kit's build quality, though. It's flimsy, and there have been reports of the phone stand breaking off.
Pros
Great for content creators and virtual calls
Extends up to 6 feet
Ring light temperature and brightness can be adjusted
Folds for easy transportation
4. Ubeesize tripod with remote – Ultra-portable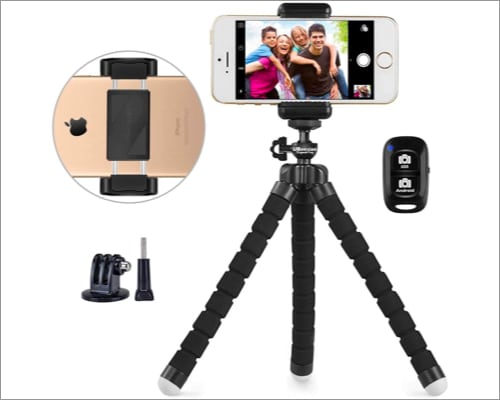 For people always on the go for their content or vlogging purposes, portability becomes a major issue. This is even more pronounced if there are budget constraints. If these statements ring true for you, consider the Ubeesize portable phone tripod.
The tripod weighs just shy of 0.5lbs, and each of the legs is designed in the OCTOPUS style. This implies that the legs of the tripod are flexible and can be wrapped around different surfaces for better angling of shots.
At the bottom of the tripod's legs, you'll find ball heads that provide extra grip on flat surfaces. Additionally, the mount at the top can hold smartphones, cameras, and GoPros.
A problem you might face with this tripod, however, is the mediocre Bluetooth remote. Unfortunately, the remote disconnects far too often for my liking.
Pros
Highly portable
Lightweight
Octopus legs are pretty flexible
Cons
Bluetooth remote disconnects frequently
5. Geometrical Pocket Tripod Pro – Most compact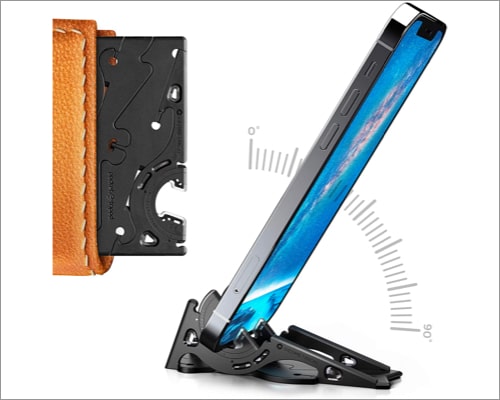 This, quite literally, is a tripod that fits into your pocket. While it can't handle the very intensive tasks, I'll give you a few reasons as to why you should consider this one.
The tripod's legs are made of carbon fiber, lending it stability and durability. You don't have to worry about orientations either, as the mount allows you to tilt the phone to various degrees. This lends the tripod more versatility.
When you fold the tripod, it'll transform into the shape and size of a card. This makes it so easy to carry around that you can put this into a wallet and forget about the hassle of carrying around a tripod. It's also compatible and works with phones thinner than 12.5mm.
Despite these great features, I think that this tripod's rather expensive for what it offers. I'd recommend you keep track of the pricing and buy the tripod at a lower price.
Pros
Fits into your pocket
Carbon fiber body
Offers different orientations for angles and tilts
6. SmallRig tripod – Bets mini tripod for iPhone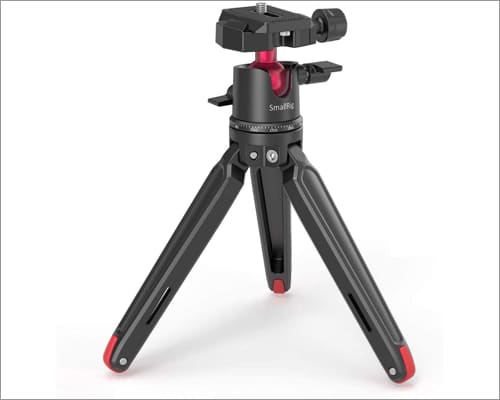 This mini tripod is meant for professionals who want to control each aspect of their photography or videography.
When you look at the tripod's design, you'll see that the legs are inclined at 130 degrees. This is important as any change could upset the tripod's balance. For progressive panning, the ball head is engraved with different measurements for more accurately angled shots.
The build quality is stunning, with the entire body of the tripod made of aluminum alloy. This lends the tripod an extra level of durability that is difficult to acquire at this size. This heavy-duty body helps the tripod legs to support up to 44lbs of weight.
The rubber padding at the bottom of the legs seems subpar, however. The tripod might slip on smooth and flat surfaces if not fixed properly into place.
Pros
Sturdy build quality
Can support a lot of weight
Perfect for professionals
Cons
Rubber padding at legs aren't great – tripod may slip on some surfaces
7. BZE extendable selfie stick – Tall iPhone tripod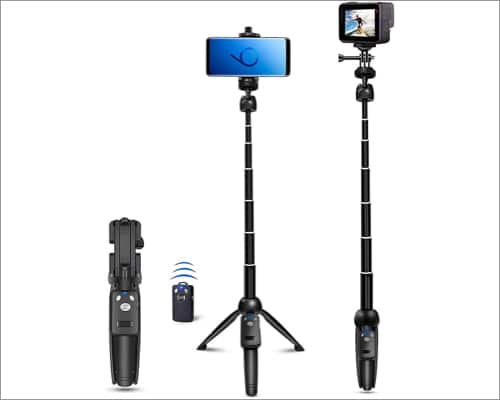 When broadcasting or calling for business, you need a tripod that performs the basics well, isn't flashy, and won't cost you an arm and a leg. The BZE extendable selfie stick just might be what you need.
The base of the selfie stick itself has collapsible legs that transform the stick into a tripod. You can shift from one mode to the other with ease.
There's also a built-in remote control that's completely wireless. You can click over 1000 photos, thanks to the battery, and the range is up to 10m. This makes it perfect for setting up the tripod for shots with a higher aperture and field of view.
The build quality seems satisfactory, with aluminum alloy and ABS used as the main materials. Moreover, you can extend the stick from 8 inches to 40 inches.
The phone attachment pivot isn't good, though. You can't turn it at any angle or tilt with precision. If you're a professional, this imprecise pivot could hamper your work.
Pros
Offers both selfie mode and tripod mode
Built-in remote control
Good battery backup
Cons
Phone attachment doesn't provide precision
8. Pivo Pod Lite – AI-powered iPhone stand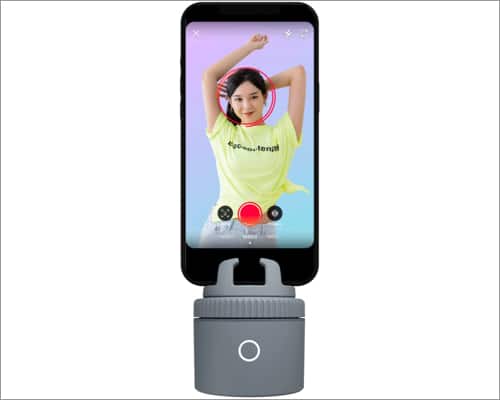 When you're making reels or videos, especially those in which you have to talk or feature extensively, your face going out of focus looks highly unprofessional. The Pivo Pod Lite aims to fix this situation.
The iPhone stand is small and can easily be added to your bag when traveling. Once you connect the stand to your phone, it uses artificial intelligence to keep a steady focus on your face. This ensures that your face is focused on at all times.
It also helps make different types of videos, with over 12 Creative Modes to experiment with. That's right – you can use these creative modes in conjunction with the best photography apps.
The holding space for the phones is a bit narrow, however. If you've got a phone with a heavy or thick case, your phone may not fit into the space.
Pros
Autofocus assist is a boon
Creative modes for extra depth
Good build quality
Cons
You'll have to remove the case to fit your iPhone in it
9. Linkcool flexible octopus travel pod – Best for solo traveling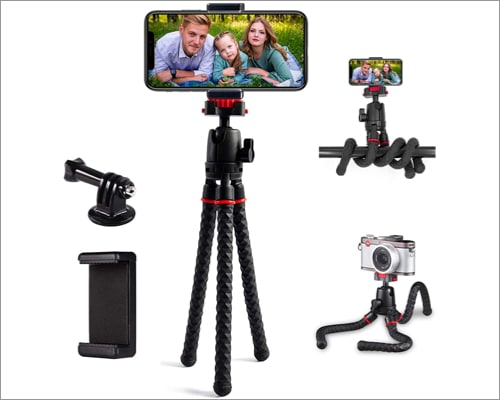 Travel vlogs have become a regular feature on social media platforms. Most seasoned travelers often need a flexible tripod to help them get the precarious shots. If this sounds relatable, you should look at the Linkcool flexible travel pod.
This tripod is compatible with a whole host of phones and cameras. From iPhones to GoPros, this tripod offers plenty of versatility.
The swivel ball head enables you to capture 360-degree shots, and the octopus flexibility of the tripod legs will offer you some mind-boggling angles and orientations for your favorite shot.
There's also a wireless remote that helps you use the camera remotely, from a range of up to 30 feet. You may face some connectivity issues with the remote, though, as it isn't completely optimized for various devices.
Pros
Universal compatibility
Octopus legs flexibility
Ball head allows 360-degree shots
Cons
Bluetooth remote could have been better
10. Joby JB01507 GorillaPod – Versatility champion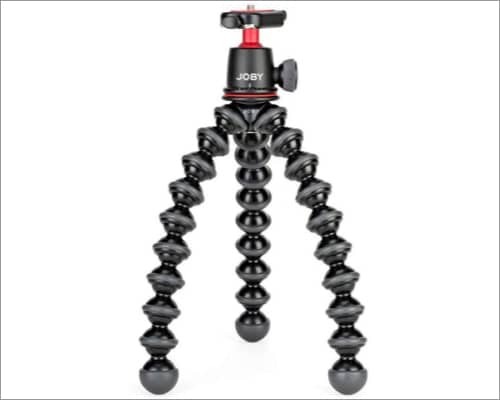 How good would it be if you could attach various peripherals such as lights, mic, and monitors to a tripod? You don't have to wonder how it'd be like – the Joby JB01507 GorillaPod does exactly that.
The first thing that you notice about this tripod is its build quality. The tripod is sturdy enough to comfortably handle up to 3kg of extra equipment. Moreover, the legs are flexible and can be bent at any angle for more stability on uneven surfaces.
You can also tilt the mount up to 90 degrees and rotate it for a full 360 degrees for a range of videos and photographs.
One thing I would ask you to keep in mind is that this tripod is heavy for its size. While it provides versatility when being used, it's not travel-friendly.
Pros
Versatile with a range of attachments
Excellent build quality
Offers a lot of orientation options
That's it!
So, what's your opinion on this list of the best iPhone tripods? Tripods have been on the rise ever since social media became a fad. And honestly, it's not going away anytime soon.
Have you ever used a tripod? If yes, what do you usually use it for, and what's your preferred product? Write down your thoughts and opinions in the comment section below!
Read more:
Readers like you help support iGeeksBlog. When you make a purchase using links on our site, we may earn an affiliate commission. Read more.
Anirban is a literature post-grad who delves in philosophy and postmodern novels when not writing on tech and gaming. His love for research is only trumped by his love for chai and heavy metal.