Pairing your selfie stick with a decent wireless shutter control completes the technology. Whether you're in for a Zoom call, a distant snapshot, or making a YouTube video, a tap on your wireless selfie remote control is all you need to do it yourself. Plus, a shutter remote helps you take stable, crisp photos since you'll fix your selfie stick in a position.
Here for the best wireless selfie controls? Go no further. Keep reading, and you'll find them here.
1. Xenvo Shutterbug – Editor's choice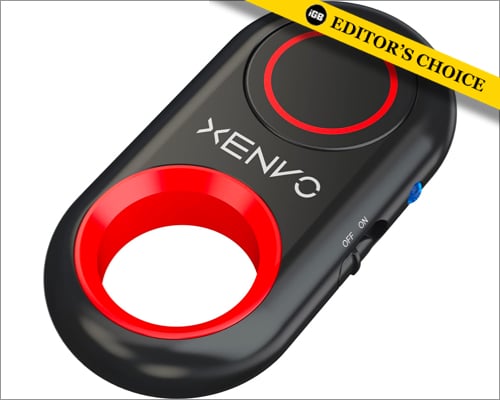 The Xenvo Shutterbug commands a handy utility for the job. An essential attribute that makes this a reliable choice is its compatibility with all iPhones, cameras, and other smartphone models. There are also a couple of miniaturized details on this one. For instance, you'll find its key-holder opening valuable. And once connected, you'll know instantly via its blue indicator light.
Xenvo has a maximum range of 30 meters for the record, wide enough to cover most camera distances. Another alluring attribute of Xenvo is that it has proof for shutter loss despite its wide-range coverage. So it maintains camera quality, regardless of the distance between you and your selfie stick. Well, all thanks to its built-in Ericson Bluetooth technology.
Ultimately, as expected, Xenvo uses a replaceable lithium battery, but this has a long life span. Of course, once the battery wears out, you can replace it with a new one from a battery store nearby. You only need to open the battery cover on the rear, pull out the old one, and insert another lithium battery. One complaint I have about Xenvo Shutterbug is that its shutter release doesn't work with Snapchat sometimes for some reason.
Pros
The 30-meter distance coverage is suitable for nature capture
Comes with a lifetime warranty
The strong Bluetooth connection prevents shutter control loss
Battery is replaceable
Compatible with a wide range of devices
Cons
The shutter release might fails with Snapchat
Check out on: Amazon | Shutterbug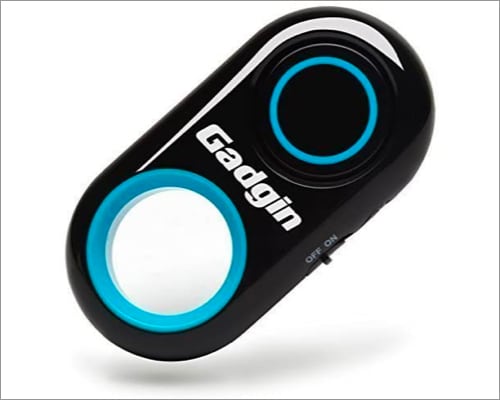 The Gadgin Premium Selfie Remote is a compact gadget that fits the thumb, almost smaller than most selfie remote controls you'd find out there. Its Bluetooth distance cap is fairly impressive, transmitting at an approximate frequency of 2.4835GHz and covering a maximum shutter control distance of 10 meters.
The Gadgin selfie remote uses two replaceable lithium CR2 batteries; pretty ideal for a three-month use at a stretch, as it has a 3-volt capacity. This one also comes with a carrier bag and hand strap, which are handy considering its size and negligible weight of 8.0 grams. This miniaturized gadget is compatible with all smartphone and iPhone models running iOS 6.0 and later. Indeed, this might be all you need, whether you want it for a video or just a random snapshot.
However, an annoying con of the gadget is its control button only starts and stops a video. Hence, you might look further elsewhere if you want something that pauses video recording.
Pros
Multi-compatibility
The battery is easily replaceable
Lightweight and handy
There's no shutter loss within the specified coverage distance
Cons
You can't pause a video while recording
Check out on: Amazon
3. Zttopo Wireless Camera Remote – Most multi-compatible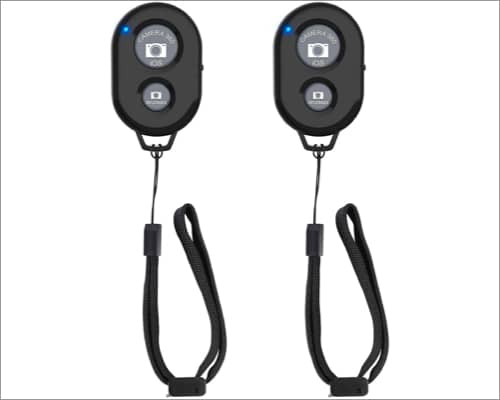 For a selfie remote control close in size to Gadgin's, Zttopo is an ideal alternative, and it's valuable for the price. Of course, also minute enough to fit into your pocket or hand, even when you attach it to a keychain. And you can play, pause, and stop video with this one.
With the Zttopo wireless camera remote, you can stand up to 30 feet away from your selfie stick to make a video or take a picture. Anything beyond this might result in signal loss. Further, it's also compatible with many devices, including iPhones and smartphones. I also find it intriguing that the shutter control works in-app on social media like Snapchat and Instagram.
Pros
Works with Snapchat and Instagram
Offers more value than the price
Impressive Bluetooth coverage
Wide range compatibility
You can play, pause, and stop video recording
Cons
Some users have reported seldom signal loss
Check out on: Amazon
4. Aiker Bluetooth Remote Control – Most sturdy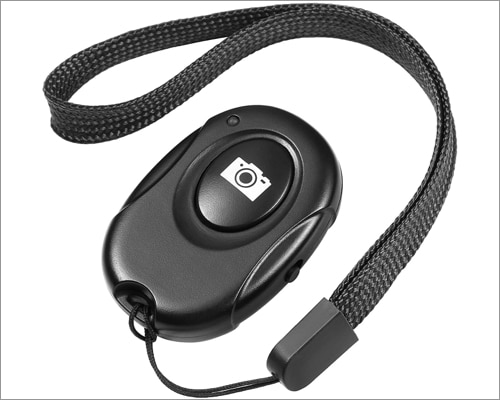 The Aiker Bluetooth remote control wins the heart of many because it's sturdy, clean, and good to behold. It's compatible with iPhones, iPads, and most Samsung smartphones.
The Aiker Bluetooth remote control connects with your device over a maximum range of 20 meters, and its response speed is impressive at about 0.07 seconds. The operational mode of this Bluetooth selfie remote control is simple, featuring a single, large button that covers almost half its entire surface for taking pictures and recording videos.
There's an indicator at the top side that lets you know if there's an established connection. The battery on this one is a replaceable CR2 lithium battery. And the battery cover is easy to remove if you need to replace it. However, one primary problem to look out for in this one is that many users have complained that it takes time for the shutter button to wake your iPhone once your screen goes to sleep. Hence, you might need to move closer to your phone to trigger it back on.
Pros
Sturdy and easy to use
Compatible with iPhones and iPads
20-meter range coverage is ideal for taking long-range pictures and videos
You can easily replace the battery
Cons
The shutter control button might not wake your phone once the screen sleeps
Check out on: Amazon
5. TNP Bluetooth Multi-Media -Multifunctional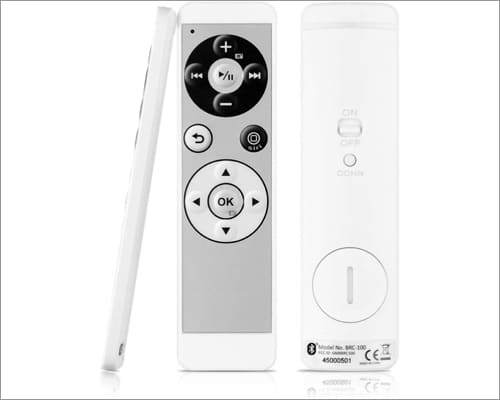 If you're in for a multi-endowed device, the TNR Bluetooth Multimedia is all you need. This selfie remote control deviates from the earlier ones in that it has many control buttons and is pretty bigger—not enough to prevent it from fitting in your pocket.
Although the TNP Bluetooth shutter control is a multimedia controller, this doesn't reduce the quality of its selfie control feature, which is top-notch. Like most control devices, TNP uses Bluetooth connectivity and covers a maximum range of 10 meters. It's suitable for making zoom calls and taking pictures on social media apps, including Facebook, Instagram, and Snapchat.
There are many buttons on the panel, but notably, those for playing, pausing, and stopping video recording will receive frequent use. The battery is a replaceable CR-2025-coin cell, which lasts up to 6 months with consistent usage.
Pros
Multifunctional
The battery is easily replaceable and durable
Works for taking pictures and making videos in-app on social media apps
Compatible with many devices
Cons
Not as handier as some other alternatives

Check out on: Amazon
6. CamKix Camera Shutter Remote Control – Most compact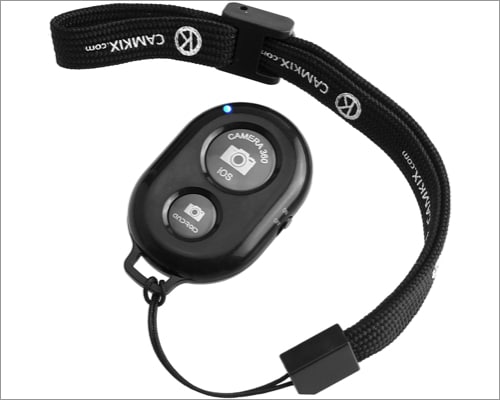 CamKix Camera Shutter Remote Control is another compact and selfie wireless control, compatible with various smartphone types, including iPhones and iPads. This one has similar features to the ones I've recommended earlier. However, it has a 10-meter range coverage and a replaceable lithium-ion battery, capable of taking it for up to three months at a stretch. This isn't bad for the price indeed.
CamKix shutter control also has a strap hole for holding your keychain, and what I admire more is that the small device comes in various colors. This doesn't add to its functionality, though. But you might find the aesthetics alluring when paired with your keychain.
Additionally, the connection speed of the shutter control is impressive. And, of course, you can't expect a signal loss as far as you don't exceed the 10-meter range limit. The control device might work with third-party camera apps, depending on the native functionality of the app.
Pros
Comes in various colors
Offers value for money
Battery is replaceable
Pocket-friendly and handy
Cons
Might fail to work when using the camera in third-party apps
Check out on: Amazon
7. ASHUTB Bluetooth 5.0 Remote Shutter – Best value for money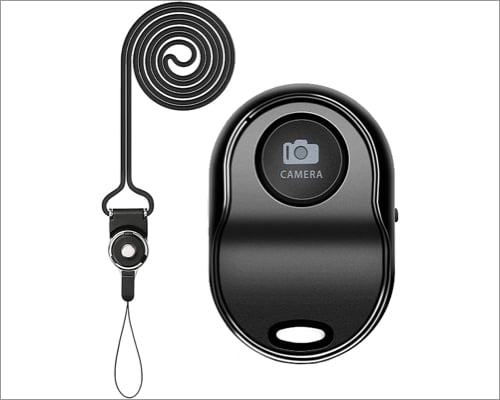 ASHUTB boasts in this version of its upgraded remote shutter, and it's worth it. Coming with a newer Bluetooth version 5.0, this upgrade now uses less power, ensuring that its new 3-volts CR2032 coin cell lithium battery lasts up to six months before you replace it.
It's also worthy of note that ASHUTB didn't stop at minor upgrades but overhauled the battery with an additional capacity, three times more than the previous shutter. You'll also find the attached strap valuable for preventing loss, considering that the device only weighs 12 grams. However, this selfie stick's wireless control isn't unique to others like it. But its selling point is its reduced price.
The shutter is also sleek to connect, with almost zero lag. You're also unlikely to experience attenuated signal as far as you don't exceed a distance of 15 meters from the remote control and your selfie stick. One turndown of the device is that it doesn't support hybrid third-party cameras.
Pros
Instant connection and shutter control
The coverage distance is decent
Cheaper than most shutter controls
The battery model is stronger than most other lithium batteries
Compatible with many smartphones
Cons
It doesn't work with non-native cameras
Check out on: Amazon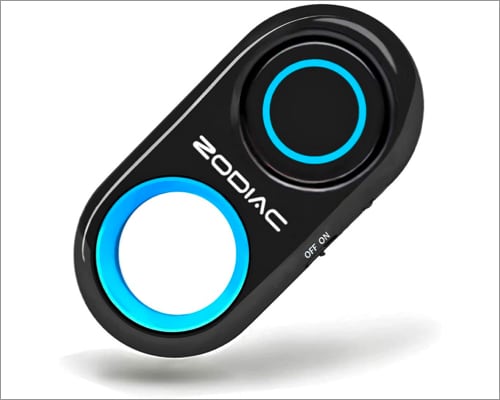 Selfie World shutter remote control features the typical pattern you've seen earlier. However, there's no denying that this 2-inch long gadget is handy and fancy. And there's a keychain hole for pairing this with your key or strap to prevent loss.
Selfie World is compatible with any smartphone that has Bluetooth. Its shutter control is impressive and has little chance of signal loss—as far as you don't separate the shutter longer than 10 meters from your iPhone.
This selfie stick remote control is also easy to use. As with the other brands, all you have to do is switch it on with the power button, connect it to your iPhone, and press or long-press the shutter control button to take a snapshot or make a video. Unfortunately, this one doesn't work when using social media app-based cameras like TikTok or Snapchat.
Pros
Fanciful and handy
An impressively strong shutter control signal
Easy to use with one shutter button
Cons
It might not support using non-native third-party cameras
Check out on: Amazon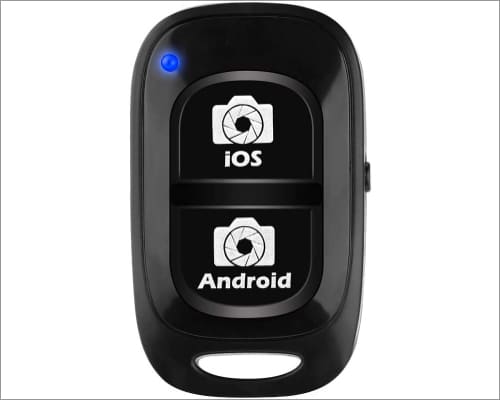 UBeesize is one of my collections of pocket-friendly selfie stick remote controls. And it's strong too. This one also delivers all the expected features of shutter control. However, the well-outlined shutter buttons are admirable. So these let you know which button to press for a particular platform (Android or iOS).
It has a maximum Bluetooth range of 10 meters, and the shutter transmits at an average frequency of 2.4GHz, giving your shit speed the optimum boost it needs within the specified distance range. This selfie remote control also uses a CR2032 lithium battery, which lasts up to six months even with consistent use. UBeesize also wins a point in that it works with social apps, including Facebook, Instagram, and Snapchat.
Pros
Long-lasting replaceable lithium battery
You can use it to take pictures on most social apps
Easy to use and well-delineated buttons
Cons
Some users have reported seldom signal loss
Check out on: Amazon
Selfie sticks make life easier while taking long-range photos or videos, but pairing them with an appropriate remote control makes life even sweeter. Most selfie stick remote controls have similar features, but these picks are worth the penny. Did you find your choice from the recommended ones? Let me know in the comments section below.
Read more:
Idowu is an avid tech writer and a software surfer who loves covering knowledge gaps in consumer software, including anything related to iPhones. Well, when he's not reading and learning new things, you'll find Idowu losing gallantly on a solid chessboard or virtually on Lichess.