Apple's engineering prowess has made MacBooks known for their best-in-class trackpads. To ensure that desktop-class Macs are not left behind, Apple offers two equally great choices of external input devices: the Magic Trackpad and the Magic Mouse.
Although both the Magic Trackpad and the Magic Mouse serve the same purpose, they also have some key differences that can make choosing between them very difficult. Hence, in this detailed comparison, I'll take a closer look at each device to help you decide which one you should get.
Magic Trackpad vs Magic Mouse – Design and ergonomics
In terms of design, both the Magic Trackpad and Magic Mouse showcase Apple's minimalist design language and offer solid build quality. These bad boys come with an aluminum enclosure that's built to last. However, the similarities end here as both the devices provide a very different form factor aimed to cater users with very specific requirements.
The Magic Trackpad is designed to be used with your fingers while the heel of your palm rests on the table. It offers a smooth glass surface that allows your fingers to glide while providing ample room for gestures. Moreover, the Magic Trackpad has an ergonomic design that mimics your hand's natural resting position making it comfortable to use for extended periods of time.

In contrast, the Magic Mouse is designed to be used with both your palm as well as your fingers. It has a curved body that easily fits under your hand for better maneuverability and precision. However, its lower height and smaller size can make your fingers feel cramped after extended periods.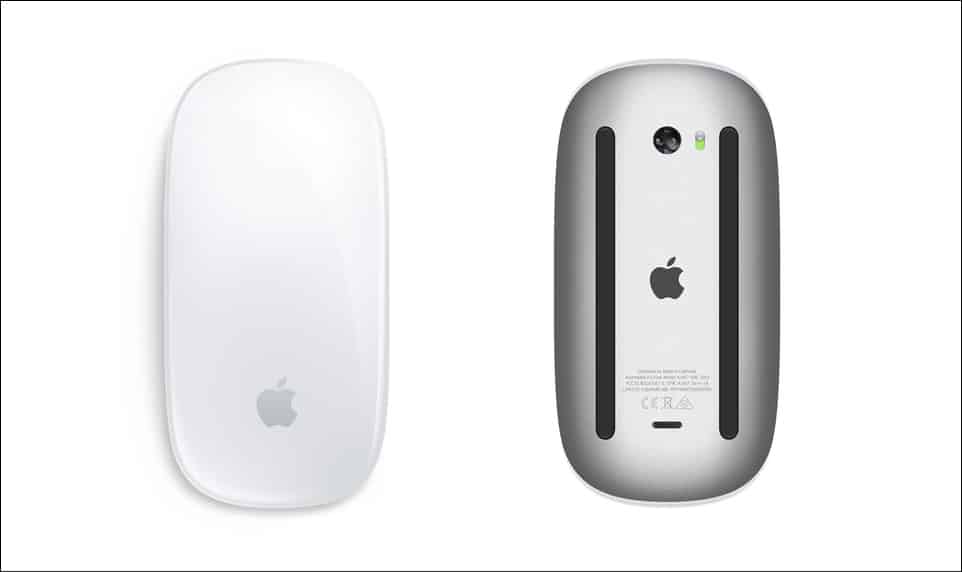 In a nutshell, the Magic Trackpad is larger and more comfortable to work with, making it great for gesture-based navigation for extended periods of time. On the contrary, the Magic Mouse is smaller and more portable but can be uncomfortable to use for extended periods if you have large hands.
Additionally, when it comes to weight and portability, the Magic Trackpad is a bit heavier than the Magic Mouse, which could make the former a less desirable option for users who travel frequently.
Magic Trackpad vs Magic Mouse – Gesture support
The Magic Trackpad shines in this area. It supports a wide range of Multi-Touch gestures like swiping, scrolling, and pinch-to-zoom, which makes navigating through documents, web pages, and applications in macOS a breeze. Besides, it also supports Force Touch for realistic haptic feedback.
On the other hand, the Magic Mouse does support gestures, but their range is pretty limited. You can only use the Magic Mouse to scroll through a web page by dragging your finger across its surface, swipe between pages in a document or perform a two-finger tap to open Mission Control in macOS.
Battery life and charging
Both the Magic Trackpad and the Magic Mouse are powered by a relatively sizeable non-removable battery, in addition to offering support for multi-touch gestures. Apple claims that it can last for almost a month or more between charges once you fully charge it via the trusty old lightning port.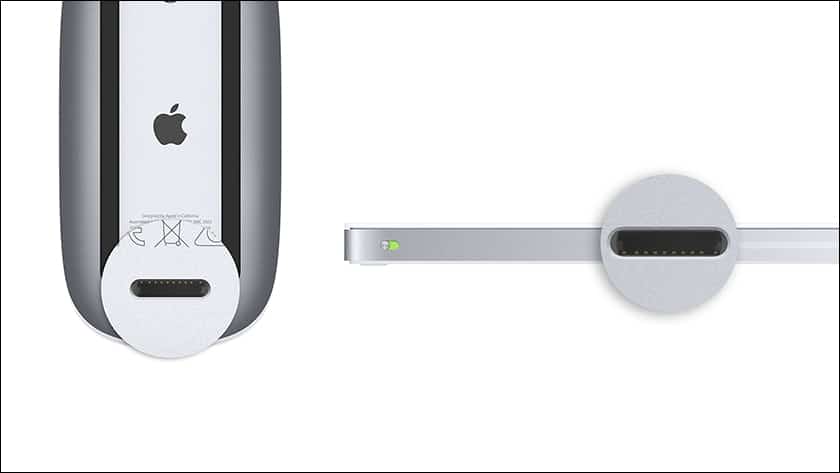 While that's great, the Magic Mouse has one major design flaw which adds to the general appeal of the Magic Trackpad. Unlike the Magic Trackpad, which one can use while it's connected to the charger, the Magic Mouse has a lightning port that's located under it, making it impossible to do so.
Magic Trackpad vs Magic Mouse – Connectivity and compatibility
Both the Magic Trackpad and the Magic Mouse are equally great when it comes down to their connectivity and compatibility. They both seamlessly integrate with most devices that run macOS and iPadOS over Bluetooth.
However, If you want to check if your Mac or iPad is supported, you can take a look at the respective product specifications for the Magic Trackpad 2 and Magic Mouse 2 over at Apple's support website.
Pricing
As far as the pricing is concerned, both pointing devices cost significantly higher than their third-party counterparts, mostly in part due to their premium build quality and somewhat due to the infamous "Apple tax."
If we overlook that, the Magic Mouse 2, the latest model of the Magic Mouse, can be bought from any Apple Store for as low as $79. Whereas the Magic Trackpad 2 starts at $129. However, you might be able to save some bucks on both devices if you get them from Amazon or other third-party retailers.
Final verdict: Magic Trackpad vs Magic Mouse
Both the Magic Trackpad and the Magic Mouse are excellent input devices that support multi-touch gestures and offer native compatibility with macOS and iPadOS, despite their $50 difference. However, If you need to choose between the two, it's safe to say that the decision really comes down to your specific workflow and personal preferences.
If you are someone who seeks a MacBook-like experience on your Mac, the Magic Trackpad should be the ideal choice. Its larger control surface, along with support for a wide range of gestures and Force Touch, make it perfect for creative professionals and users who don't mind paying the extra $50.
On the other hand, if you are someone who prefers a traditional mouse with basic gesture support, the Magic Mouse will serve you better. Moreover, the Magic Mouse is affordable, making it suitable for students and casual users who may want to use their Mac to browse the web or run productivity apps.
Read more:
Readers like you help support iGeeksBlog. When you make a purchase using links on our site, we may earn an affiliate commission. Read more.
Ayush is a tech enthusiast turned tech journalist and how-to writer with a knack for explaining complex topics clearly and concisely. When he's not writing, you can find him studying the latest trends in consumer technology, binge-watching videos from his favorite tech YouTubers, or diving into immersive open-world games.